Christmas markets in Copenhagen for 2013
After covering Berlin and Stockholm we're keeping it Scandinavian by popping down to the Danish capital, Copenhagen. Here you'll find a variety of Christmas markets to check out, and don't forget to sample one of the many Christmas beers produced by the city's excellent craft brewers.
Copenhagen, Denmark – Christmas markets are just another reason to visit
Photo credit: Comrade Foot via photopin cc
Tivoli Christmas market
Tivoli is wonderful at any time of the year but it's extra special in the run-up to Christmas. The Tivoli-style version of St. Basil's Cathedral from Red Square in the Kremlin with its 21 metre tall tower still remains the focal point as it did when introduced in 2011. The nine domes compete for attention with the equally impressive Christmas tree beside it and there are shops and food stalls here too. But the overall theme is once again Nordic – you'll find Father Christmas in the ancient Pantomime Theatre. The Christmas market itself is set up along the paths in the fairgrounds and comprises around 50 stalls selling gifts, decorations, hot drinks, sweets and food. The stalls and decor are inspired by Danish and Scandinavian tradition and the presence of real reindeer add to the magical Christmas atmosphere. Don't forget the spectacular fireworks Festival between Christmas and New Year (26-30 December to be precise.)
Open from 14 November 2013 to 31 December 2013
Højbro Plads Christmas market 
From mid-November the scent of Danish (i.e. alcoholic) gløgg, steaming cocoa and Yuletide sweets fills the air on Højbro Plads right near the main drag, Strøget. This Christmas market boasts of having something for everyone and the stands sell products from many different countries. Taste some German pastries and Italian cheeses before sampling chocolate, coffee and sausages. Just make sure you don't go home without trying traditional Danish æbleskiver (pancakes) and the aforementioned gløgg (mulled wine). It's not just food though – you can pick up a woolly jumper or two (perhaps inspired by Sarah Lund?) or add to your collection Christmas decorations; find some unique jewellery, a fun hat or other clothing. The kids can ride the festive train in the Christmas city and have their picture taken with Santa from Thursday to Sunday between 13.30 and 17.00.
Open from 15 November 2013 to 23 December 2013
Nyhavn Christmas market
Nyhavn is usually one of the first places visitors to Copenhagen make for but in November and December it changes from its usual picture-postcard waterfront cuteness into er, picture-postcard Christmassy waterfront cuteness. Market stalls are set up selling the usual suspects of gløgg and æbleskiver along with Christmas beer, foodstuffs and handicrafts.
Open daily 15 November 2013 to 22 December 2013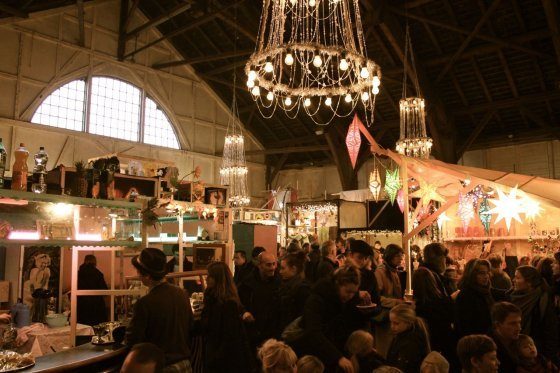 Image (c) planet-dad.com
Christiania Christmas market
Yes, the hippies, freaks and star children do Christmas too, albeit in their own way. The free town of Christiania plays host to a Christmas market more akin to an Eastern bazaar. Here you'll find a large number of stalls selling  handicrafts, mirrors, wrought iron candle holders, hand-made jewellery, Christmas mobiles cut from paper, clothes, leather masks and much else (though presumably not their own aromatic version of Frankincense). It's an exciting place to visit and takes place in the Grå Hall in Christiania.
Open from 6 December 2013 to 20 December 2013
Image (c)visitcopenhagen.com
Kronborg Castle Christmas market
For a very different atmosphere away from the city make the journey to Hamlet's castle (Kronborg) for the Christmas market on the first three weekends in December. On the first two (30/11-1/12 and 7-8/12) you will find high quality arts and crafts and the opportunity to meet local artists. New for 2013, the third weekend (14-15/12) is dedicated to food and drink and you can sample genuine Kronborg beer as well as other delicacies. As well as the market itself the setting has much to offer: you can take a ride in a horse-drawn carriage to admire the castle as you sweep past, make decorations in the Christmas workshop or join in singing (or perhaps humming along to?) Danish Christmas songs in the castle chapel. The Museum shop is beautifully decorated for the occasion and has a range of unusual gifts.
Open at weekends from 30 November 2013 to 15 December 2013