This article is part of the series "City Breaks in Germany"
"Teaser" with original itinerary
City Breaks in Germany: Part One – Lüneburg
City Breaks in Germany: Part Two – Celle
City Breaks in Germany: Part Three – Hannover
The #CitybreakGermany campaign rolls on – in case you missed it you can find more details about the project and the itinerary here as well as the first article about Lüneburg here. Next on the programme was a new destination for me, the town of Celle.
As before I want to point out that my trip was sponsored by the German National Tourist Office for the Nordic region but also assure you that all opinions are my own, as they always are.
After spending this particular Friday morning wandering the streets of Lüneburg for some last-minute sightseeing, we collected our bags and checked out of the hotel.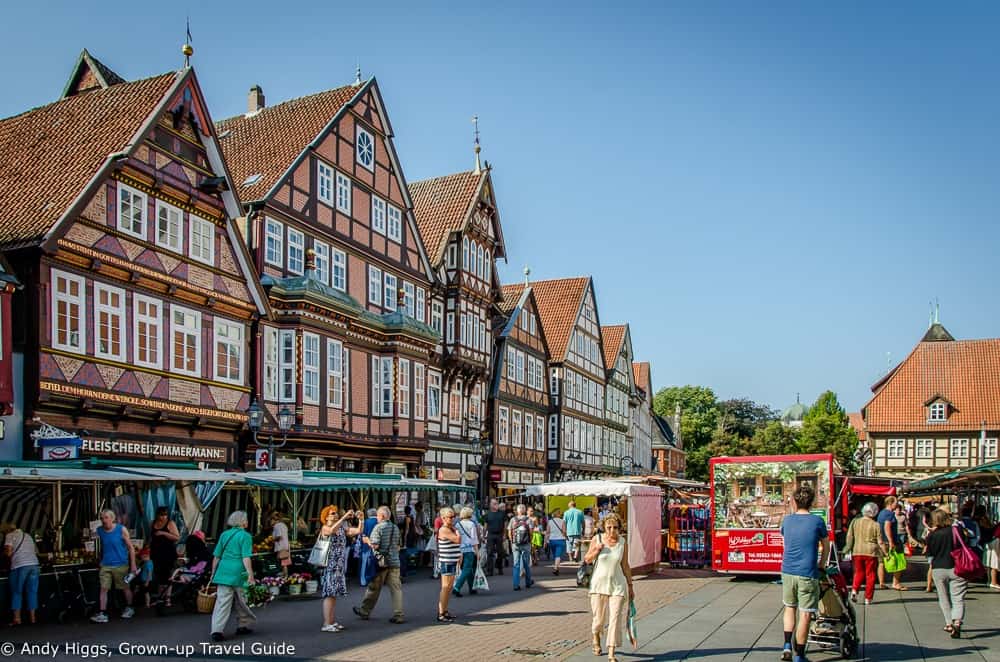 If anything the weather was even hotter which made the admittedly short walk to the station feel like a bit of an ordeal, but we made it in time for the train to Celle, about 40 km back towards Hannover and a quick journey on the regional service.
Upon arrival we were met by our guide from the local tourist office (whose slogan I thought very clever) and driven to our hotel.
I soon found out I was right about the temperature.
After dropping off our luggage we drove into the centre of Celle and had lunch at a cosy cafe.
KombinierBar
Combining a home decor store with a cafe, KombinierBar has a broad appeal. With a quiet courtyard location and cozy outdoor seating, it is also perfect for lunch on a hot day.
We enjoyed the pasta salad and home-made lemonade. The cakes here looked fantastic but it was a little early in the day. The menu is excellent value and I recommend a stop here during your time in Celle. Fun fact – one of the staff speaks excellent Norwegian (as well as near-perfect English) after spending a couple of years here.
KombinierBar, Kanzleistr. 7/Marktpassage, 29221 Celle
Now it was time to explore.
About Celle
Celle is a similar size to Lüneburg, with a population of around 71,000. It's a more conservative place, lacking a university and known in the area as the civil servant's town. Just 40 km from Hannover, it is home to plenty of commuters to the bigger city but is also a popular tourist destination, attracting some 2 million visitors each year.
The first mention of Celle was made in the year 985 when the settlement was referred to as Kiellu, which means fishing bay.
In 1378 Celle became the Residence of the dukes of Saxe-Wittenberg and, in 1433, the princes of Lüneburg moved into the palace located on a triangular plot of land between the River Aller and its tributary, the Fuhse.
Following the death of the last duke of the Brunswick–Lüneburg line in 1705, Celle passed back to the Hannover line of the Welfs. To make up for losing its status of Residence town, a number of administrative institutions were founded in Celle, including the State Stud Farm, the Higher Court of Appeal and the prison.
The town is still well-known for its prison and locals may tell you that its citizens voted for a jailhouse rather than a university with the aim of protecting the virtue of their daughters. It has proved impossible to verify whether this was in fact the case – or whether it worked, for that matter…
Celle has strong connections to Britain. In August 1714, George Elector of Hanover, Duke of Brunswick–Lüneburg (King George I) ascended to the British throne. Between then and 1866, Celle was a possession of the British Hanoverian line.
In 1842 the Cambridge Dragoons Barracks was built in Celle. From 1976 to 1996 it was the headquarters of Panzerbrigade 33 in the Bundeswehr and was renamed Cambridge-Dragoner-Kaserne in 1989. Since 1996 the property has housed one of the largest youth centres in Lower Saxony.
The Nazi era was a dark chapter for the town. During Kristallnacht, the synagogue in Celle escaped total destruction only because of the risk to the adjacent leather factory and other parts of the historic old town. The Bergen-Belsen concentration camp was built near Celle.
During the Third Reich, Celle was an important garrison location and was also the headquarters of a military district command and a military records office.
8 April 1945 saw the only major allied bombing attack on the city which destroyed 2.2% of the town – mainly its industrial areas and railway freight terminal. Tragically a train in which about 4,000 prisoners were being transported to Bergen-Belsen was hit, killing hundreds.
Some of the prisoners managed to escape into the nearby forest where they were hunted down by SS guards and Celle citizens in what became known as the 'Celle hare hunt'. Hundreds more were killed over two days but the exact number of victims will probably never be known. Several of the perpetrators were later tried and convicted of this war crime.
Celle surrendered to advancing allied troops without putting up a fight on 12 April 1945, so the historic city centre and palace survived the war undamaged.
After the Second World War, British troops were stationed in Celle until 2012. As with all German towns with a foreign military presence there were tensions between locals and soldiers, but in general the effect of having the British army was positive for Celle. Since its departure the economic loss has been a painful one as can be seen by the relatively large number of vacant commercial properties.
Celle is currently the twelfth largest town in Lower Saxony.
Once again I recorded our walking tour for prosperity – and for you, naturally – just have a look at the video below to get a real feel of Celle:

Half-timbered houses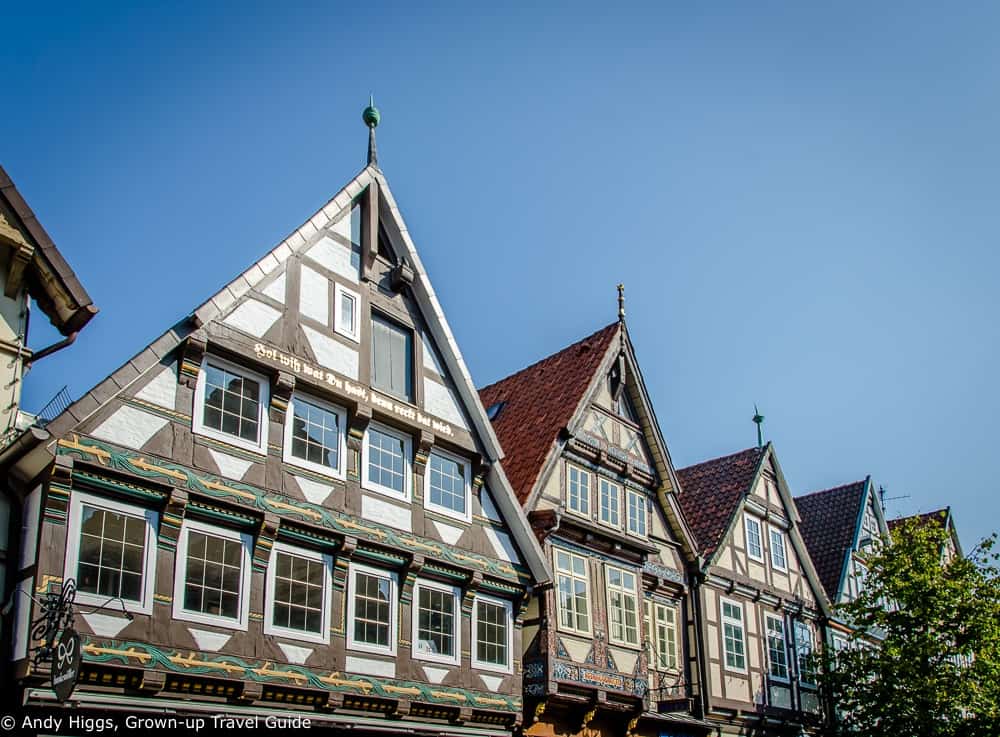 The main reason tourists visit Celle is to marvel at its beautifully preserved, restored – and protected – half-timbered houses. We had already learned to look up in Lüneburg – but here our neck muscles got a full work-out.
Starting at the market square, the first part of our tour was spent wandering the pedestrianized old town centre. As you can see from the video, modern stores and restaurants take up the ground floors of most of the buildings while the upper facades maintain the original style. It's an attractive mix and makes for a pleasant place to stroll.
Along the route we stopped at several places of interest and specialist shops.
Raths-Weinschenke
Our first port of call was this paradise for wine lovers. As well as a huge selection of quality wines in the store – and expert help – there is also a wine garden out back. Open in the evenings, it's a lovely place to sit out and sip on a glass or two.
Raths-Weinschenke, Zöllnerstraße 29, 29221 Celle
Schuhkay
Yes, I am recommending a shoe shop. Not to browse shoes, though – that would be weird. The reason to visit Schuhkay is to see how the architects managed to convert the old pharmacy into a modern shoe store while keeping many of the original elements from the former building. As well as exposed rafters and walls, you will even find the pharmacy counter near the entrance – complete with its labelled drawers.
Schuhkay, Zöllnerstraße, Celle
LICHTART Celle
Ever been told a story by a street lamp? Well, now's your chance. LICHTART comprises five streetlights that regale passers-by with tales of old Celle. This being Germany, there a set times for the presentations and they even break for lunch. It's a novel idea and well-executed.
LICHTART Celle, Corner of Runde Straße/Poststraße, 29221 Celle
Großer Plan – Christmas market square
This smaller square plays host to the town's Christmas market. Obviously nothing was happening when we visited but I can imagine Celle is a fantastic place in December and the historic buildings provide the perfect backdrop to Glüwein and gingerbread…
Huth's Kaffee
The square is also where you will find this old-world coffee emporium. A bag of freshly roasted beans makes a perfect souvenir but the store is worth visiting just to browse. They also sell local beer and delicacies and the staff in their white uniforms are highly photogenic.
Huth's Kaffee & Feinkost, Großer Plan 7, 29221 Celle
Lobetal-Frischmarkt
This supermarket is not like other supermarkets. Providing employment to a large number of disabled workers, Lobetal is a superb initiative that is well supported by the local community. Its selection of produce is second to none, too.
Lobetal-Frischmarkt, Bergstraße 41, 29221 Celle, Germany
Alter Provisor
On the other side of the street is another part of historic Celle. Here they still produce a famous local tonic which is guaranteed to wake you up. I had a taste and can attest to the fact that you certainly feel more protected against illness after a swig…
This place also doubles as an antique store with an eclectic mix of items on sale. It also houses some of the original fittings from the pharmacy that is now the shoe shop I mentioned earlier, including the old sign and another cabinet (which they had to shorten to enable it to fit inside).
Alter Provisor, Bergstraße, Celle
Old Town Hall
The old town hall of Celle is one of its oldest buildings, believed to date back to the founding of the town in 1292. It was twice extended and consists of two distinct sections.
Altes Rathaus, Markt 14-16, 29221 Celle
Marchelle
If you are looking for looking for local products of the edible variety, don't miss this delicatessen. With a wide selection of sausages, condiments and other goodies, you're sure to find a souvenir or two here. Just be warned that they may not last long…
Marchelle, Mauernstraße 18, 29221 Celle, Germany
The Ducal Palace
The oldest building in Celle is probably its biggest attraction, too.
With four wings and design elements from the Gothic, Renaissance and Baroque periods, as well as a splendid park, it's easy to see why. Its history and development from a castle to a ducal palace is visible in its different construction stages.
The Residence Museum provides visitors with an extensive insight into local and regional history. To visit areas of the palace open to the public it is definitely a good idea to join a guided tour which includes a visit to the museum.
The Ducal Palace, Schloßpl. 1, 29221 Celle, Germany
Schlosstheater
The Schlosstheater Europe's oldest baroque theatre still performing with its own permanent ensemble.
It is also a beautifully-restored auditorium.
Outdoor theatre
In the summer, regular performances take place in the outdoor theatre with Shakespeare being a regular favourite. Even though these are of course in German, the atmosphere and location can be enjoyed by all.
Palace Chapel
The Palace Chapel is the only surviving virtually complete ecclesiastical building in Germany from the early Protestant period. None of its equipment and furnishings were removed over the centuries and only a few changes have been made.
Visitors can admire the incredible interior from behind glass but that's as close as you can get. Too delicate to cope with throngs of tourists, the chapel is justifiably protected.
Stadtkirche (St. Mary's town church)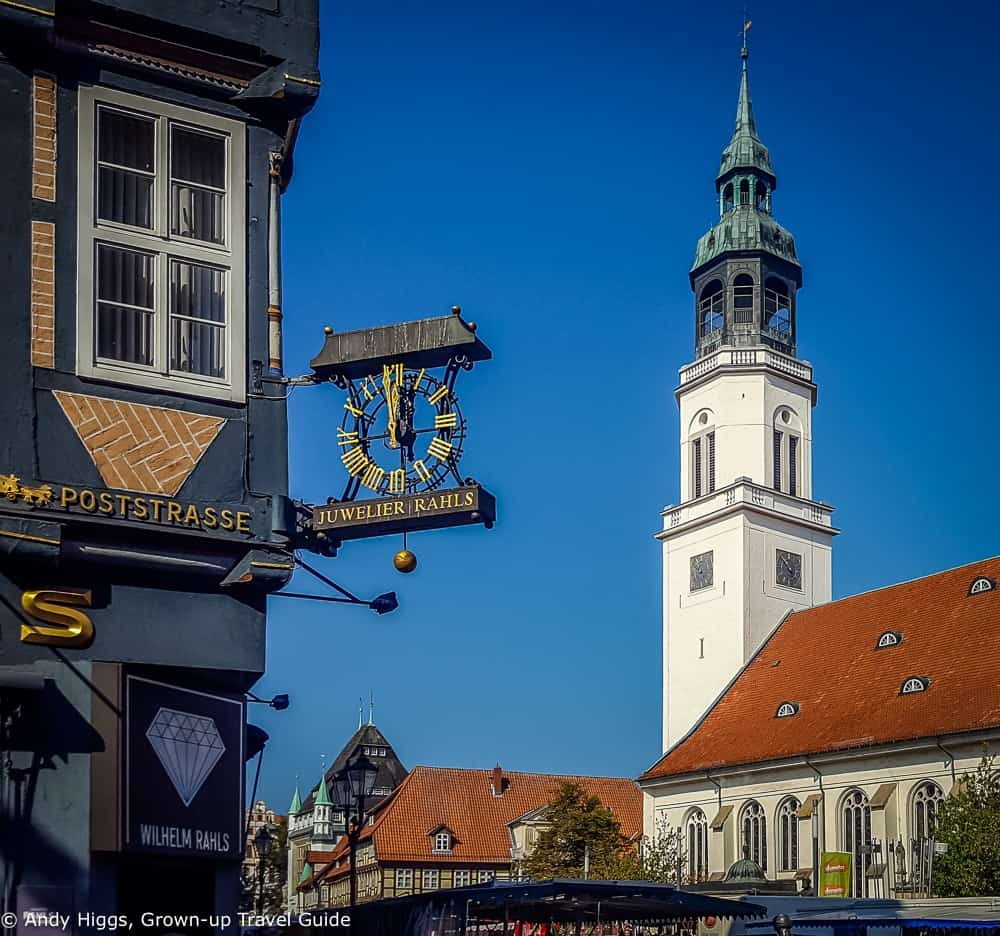 With its tower dominating the main square, the Stadtkirche is an impressive sight.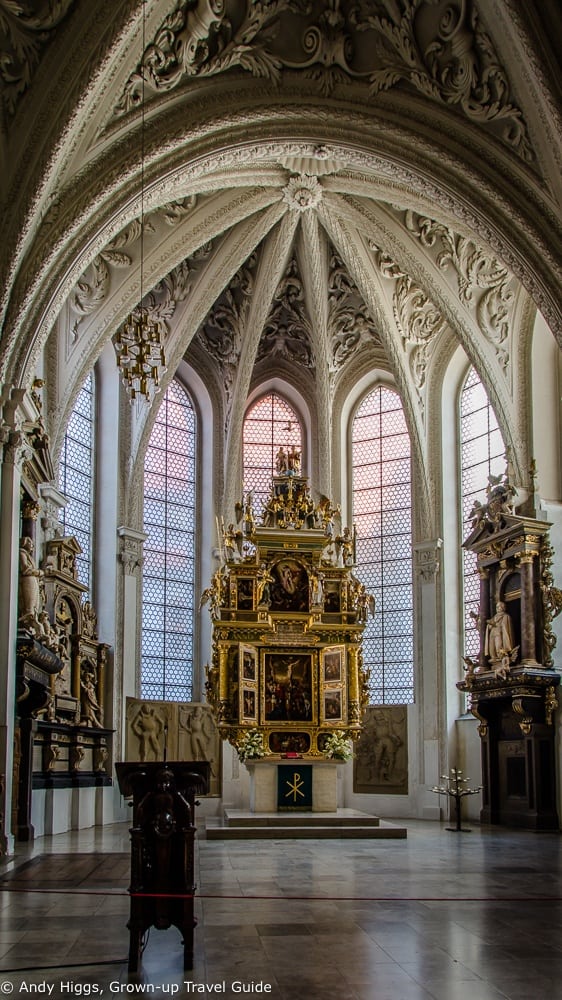 But it's the interior that really dazzles.
Consecrated in 1308 by the Bishop of Hildesheim as St. Mary's Church, it has been extended and altered many times since.
On the left side of the altar are religious carvings and decor.
Yet the right side features 'normal' people – or at least the local rich folk.
The organ is also a sight to behold.
You can also climb the 74.5 m high tower of the church for an excellent view of Celle, and each day a trumpeter plays a choral in all four directions from the tower, too.
Stadtkirche, An der Stadtkirche 8, 29221 Celle
Farmers' Market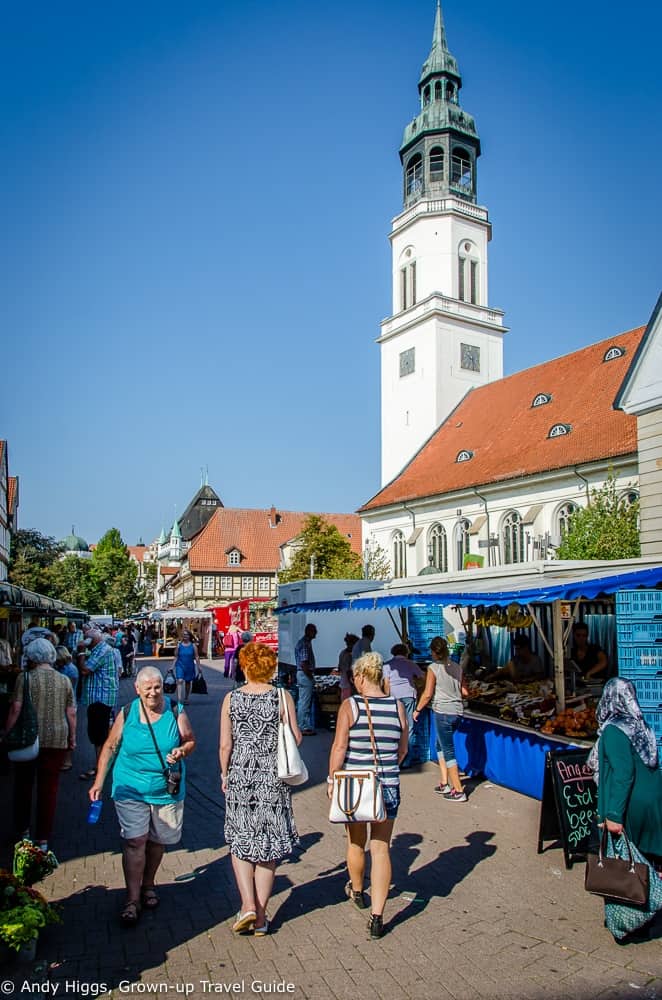 Celle has been a market town for around 700 years and twice a week you can browse regionally grown produce at the Farmers' Market.
Local farms, bakers, butchers and cheesemongers vie for your attention and you'll find fresh fruit, vegetables as well as fish and flowers.
Organic produce is in abundance here and samples are offered freely. The market is particularly busy in asparagus season between May and June as the area is renowned for producing some of the best in Germany.
The market takes place on Wednesday and Saturday.
Celle Art Museum
Touted as the world's first 24-hour art museum and featuring modern and contemporary art from the Robert Simon Collection, there is something to see here any time of day.
You can visit the indoor exhibitions during the day and after closing time the building becomes a light installation.
After sunset the glass cube of the museum's foyer starts glowing brightly, changing colour every hour.
Art Museum Celle with Robert Simon Collection, Schloßplatz 7, 29221 Celle
Dinner – Thaers Wirsthaus
Later in the evening we had dinner at this sports bar and restaurant across the street from the hotel.
Naturally we had to try the local specialities, which for my main course consisted of the 'Lion's Plate'. A roulade of beef tartar with bacon, onions and bread. It was as delicious as it looks and sounds.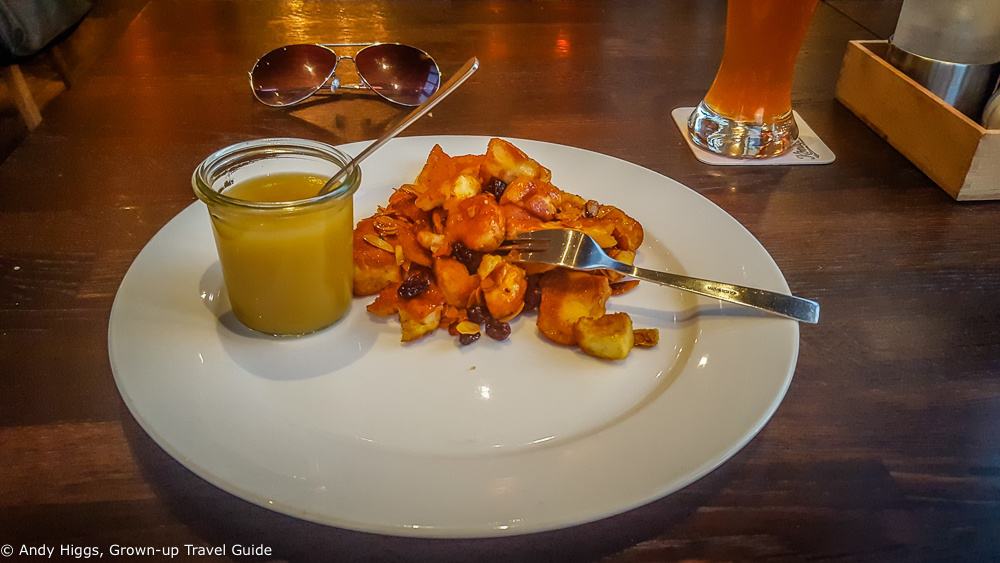 Then for dessert came caramelized pancakes with apple sauce, which was equally tasty.
Thaers Wirtshaus, Thaerpl. 1, 29221 Celle
Hotel – Althoff Hotel Furstenhof
For our time in Celle we stayed at this five-star property about ten minutes from the old town.
My room was large and well-appointed with plenty of storage space and an incredibly comfy bed.
There was a desk and plenty of power sockets and a nice balcony, which was a bonus on such a hot day.
The bathroom was modern and well designed, with an excellent shower.
Breakfast was superb, served here in the main restaurant which is renowned for its excellent cuisine.
The hotel also has a contemporary Italian restaurant with a more laid-back feel and a lovely outdoor area.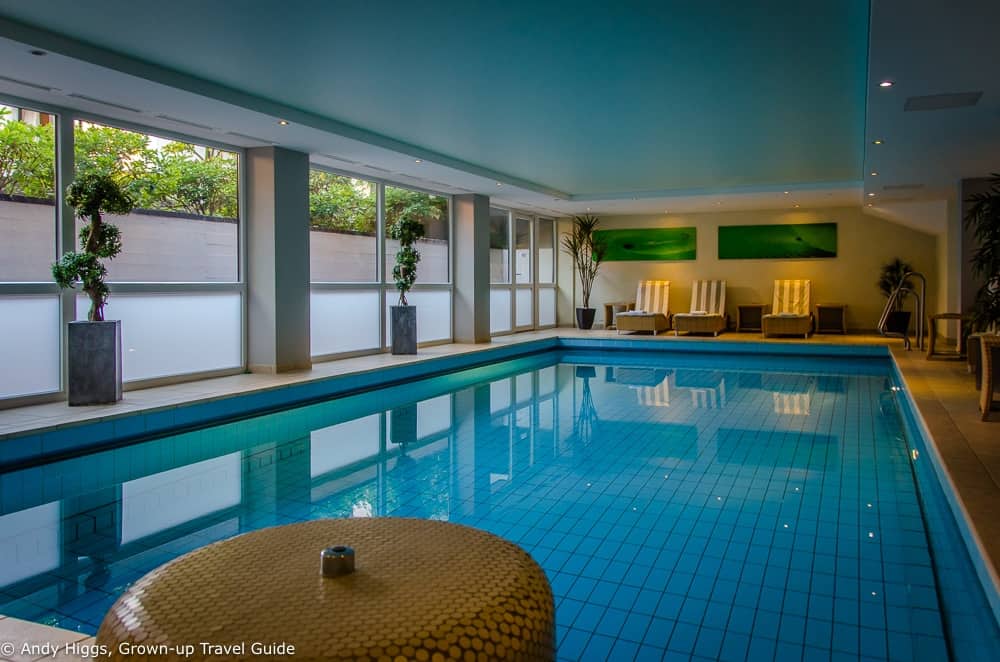 And there is a wonderful swimming pool and sauna, neither of which I had the time to enjoy, unfortunately.
Here is a video of the room:

I would recommend this hotel for its facilities and location for visitors looking to be pampered. The size of the rooms makes it a good choice for couples and the pool and restaurants are a great bonus.
I also liked the lobby and bar area in the main, historic building and look forward to returning to make the most of the hotel facilities.
Althoff Hotel Furstenhof, Hannoversche Str. 55, 29221 Celle
And that was that – another all-too-brief stay in a lovely German town. Celle is perhaps more for the older tourist than the backpacker – which suits me just fine. There is enough to see and do here for a few days and it's an easy trip from Hannover. It also has a good reputation as a foodie destination.
To summarize, Celle is a hot tip for a lesser-known German destination and especially for its Christmas market in December – although it was lovely in the blazing sun, too.