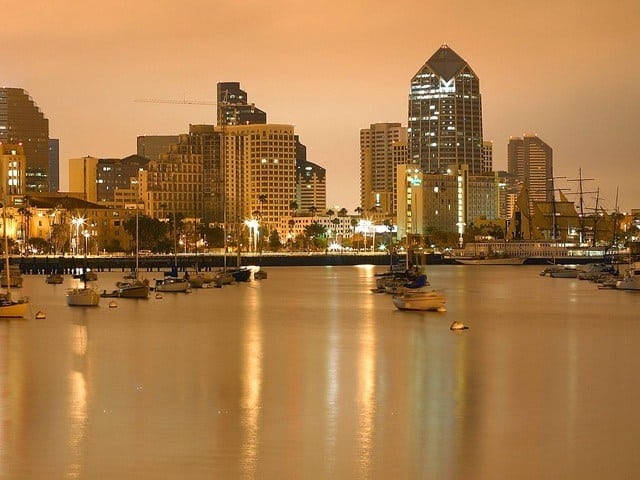 Here are a few tips to make your night of painting the town in San Diego the best night of your life!
1. Wear Something Comfortable, Yet Classy
In San Diego's famous Gaslamp Quarter, a historic district consisting of 16 blocks of bustling nightlife, you will be on your feet most of the night. For this reason, we suggest swapping out those stiletto heels for a lower heel or perhaps even a flat. There is so much in San Diego to experience and you'll regret not being able to experience it all if your feet are crying two hours into your night.
While you want to dress comfortably, keep in mind that many nightclubs have strict dress codes, and will not let patrons in if they do not abide by the rules. Picking an outfit can be tricky, so have your friends take a look at your options and help you decide what would be best. Getting ready as a group is especially helpful for ensuring that you can all get into the same clubs and bars. If everyone in the group matches the dress code except one, your whole party may not be allowed in the establishment.
2.Map out Your Night
With over 180 restaurants, 50 bars, 10 nightclubs and more spread out over 16 blocks it will be impossible to enjoy everything in one evening, or even in a weekend. Do your research and decide which venues fit you and your parties taste. Once you've decided on your must visits you can plan out the path you will take using a map of San Diego's nightlife.
One of our favorite must-visit Clubs in San Diego is the unique Oxford Social Club. This San Diego Nightclub has an atmosphere unlike any other. A classy venue at first glance but take a look closer and you will see just how whimsical and creative this joint actually is. With seasonal cocktails crafted by some truly amazing mixologists, and a wide variety of music played nightly, there is something for everyone's taste.
3. Visit a Rooftop Bar or Restaurant
San Diego's beautiful warm weather is rarely ruined by rain. Rooftop bars have been popping up all over town. With a number of different options to choose from, you can choose a rooftop bar that has exactly the atmosphere and experience you crave.
If possible you should start your evening at a rooftop bar. Arriving at a rooftop bar or restaurant just before sunset, gives you the opportunity to view the awe-inspiring sunset while feeling like a million bucks. This can also provide a great transition into an evening of dancing under the moonlight.
4. Look for a Speakeasy
Speakeasies were secret bars that were open during the alcohol prohibition in America in the 20s and early 30s. These were often hidden in back rooms of restaurants or in cellars and basements. While alcohol is legal in modern times, the elusive and unique feel of these speakeasies keeps them a popular attraction. If you can find them, that is.
Several of the Speakeasies try to maintain a certain level of secrecy by only taking reservations at a barely advertised, and difficult to find phone-number or website. These speakeasies avoid heavy marketing to keep them uncrowded, so as to give the feeling of being a very exclusive member of secret nightlife experience. They also don't need much advertisement because the bars are so memorable that word of mouth provides more than enough exposure.
There are two speakeasies to keep your eye out for while in San Diego. First, The False Idol, is a tiki bar with a delicious menu of island-inspired drinks. Second, is a more sophisticated and electric option, The Noble Experiment. These speakeasies are a must-visit nightlife spot in San Diego. Half the fun is in finding them.
5. Have a Positive Mindset
As with any event, you should go into your evening with a positive mindset. Having a positive outlook means you will be pleased no matter how your night may turn out. Taking on a calm, go with the flow attitude will leave you unphased if the bar you wanted to go to has reached capacity, or if your outfit isn't what the bouncer deems club appropriate.
Understand that you are stepping into one of the largest and busiest nightlife areas in the country. This means that there will be a lot of people. Some venues you enter may be uncomfortable for those who don't do well in close quarters. Keep your attitude in check if issues arise, and always be prepared to change your plan at the drop of a hat.
Hopefully, this list gives you some insight into how to have a great night in San Diego!