6 of the best…travel blogs and websites for Grown-up Travellers
The internet is a wonderful place. It's hard to imagine how we ever lived without it (or made a living without it, in some cases) but the downside is the dreaded I.O. That's Information Overload, and it applies whether you're surfing for a review of a pair of shoes or looking for where to spend your next holiday. When it comes to travel blogs and websites, the statistics are against you as hundreds of new blogs appear every day (every hour, if you believe some sources).
So we figured we'd help out. Despite never having even read a travel blog before starting this site late last year, I have now got up to speed and can thus present 6 of the best sites I read on a regular basis which should also appeal to readers of Grown-up Travel Guide.
There are, of course, a ridiculous number of blogs about people who leave it all behind to backpack around the world and spend as little money as possible. If this is your thang, then please Google your way to what you need. But trying to find other websites catering to the post-backpacking generation is not so easy. The six blogs I have included here have an angle similar to our own, albeit with various distinct areas of focus. What they do have in common is the shared belief in the value of travel as opposed to the need to stick to an unrealistic budget.
So here we go – presented in no particular order other than that in which they popped into my head – six other sites you should check out for travel inspiration and tips along with a brief summary provided by the owner of the blog:
The Barefoot Nomad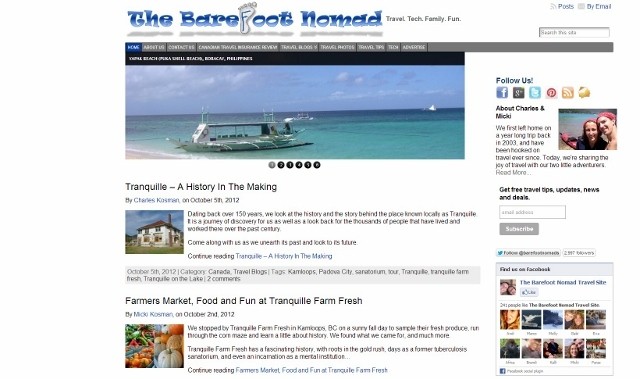 Charles and Micki Kosman: "Micki and I created this website as our journal of the world of adventure travelling. We've been to numerous locations around the globe with a major emphasis on Southern Asia. We've literally spent years travelling and are always eager to pack our gear and head out again. We've changed our travelling habits over the years from light backpacks and dodgy hostels to larger backpacks and reputable accommodations, but our sense of adventure has remained the same. We decided to pursue a family life these past few years and are now teaching our little ones the joys of travel.  We've taken them travelling through Cuba, Hong Kong, the Philippines, Costa Rica, Mexico, and the USA so far, with more to come. With two small children in tow, we've just finished off our latest adventure in beautiful Hawaii. Last winter we spent six months checking out some warm southern climates. We spent two months in Mexico followed by two months in Costa Rica. After that we decided to check out a few warm US states and spent the next few months in Florida, Texas, Nevada and Arizona. While in Arizona we decided to come back to Kamloops, British Columbia for a year contract and to enjoy our Canadian summer here with friends and family."
http://www.thebarefootnomad.com/ 
Inside the Travel Lab
Abigail King: "Hi, I'm Abi, a writer who swapped a career as a doctor for a life on the road. Inside the Travel Lab started as a place where I wrote about my experiences of the world that didn't fit into mainstream media. It pretty much still is. This is a blog about finding unusual journeys. About bringing travel inspiration home with you, even if you can't be on the road. About laughing at the crazy things we humans do and sparing a thought for those in need. About learning about the world and, yes, as cheesy as it sounds, trying to make it a better place. It's about adventure, it's about luxury. It's about history, tragedy, laughter and photography. These days, I work as a journalist and photographer but like all good writers, I trained in neuroscience research, headed to medical school and then worked for several years as a doctor in Emergency Medicine. It's that scientific background that explains the name Inside the Travel Lab. To me, a lab is a place for insight and discovery, for inspiration and for looking at a "problem" in a whole new way. To be inside that, is to be right where the action is.
http://www.insidethetravellab.com/
Heather on her travels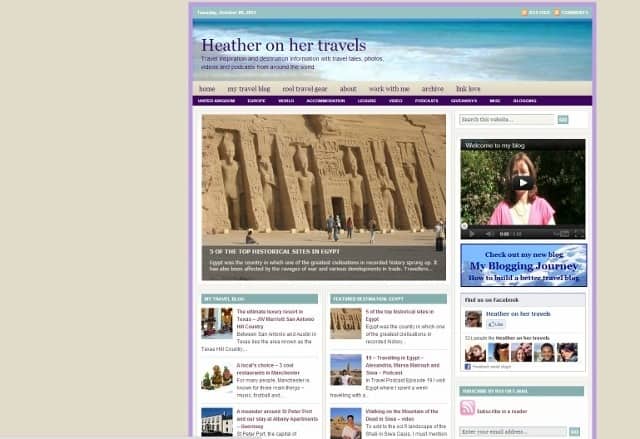 Heather Cowper: "Welcome to Heatheronhertravels.com where you'll find travel inspiration and information , whether you're a seasoned traveller or enjoying some escapism and dreaming of your next adventure. This is where you'll find tales from my travels, where I take you with me to meet the people, taste the food and experience the sights and sounds I came across along the way. I have some great great guest posts too featuring even more fabulous destinations you'll want to put on your wish list. As well as seeing my photos and videos here on my blog, you can explore them in greater detail on my Flickr site and Youtube Channel. You'll find reviews of must-have travel books and products and there are some great giveaways too."
http://www.heatheronhertravels.com/
Velvet Escape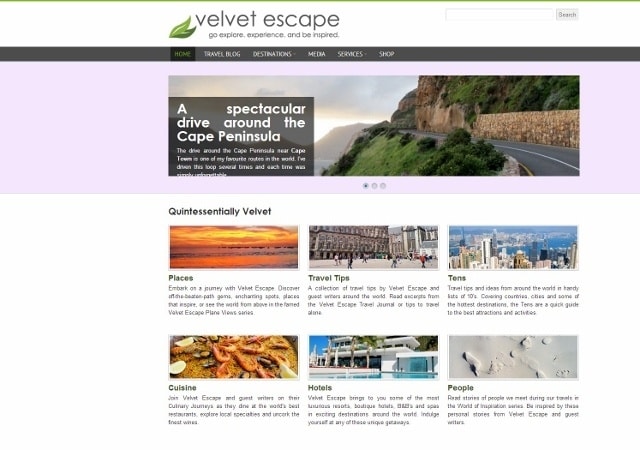 Keith Jenkins: "I'm Keith Jenkins and I'm based in Amsterdam, The Netherlands. For a decade I had a very successful career in corporate and investment banking.  Like many, despite my success, my career had begun to feel empty.  Through circumstances I was able to leave and take time for myself, never anticipating that the collapse of the financial sector in 2008 would end my chosen career. Not one to allow circumstances to get me down for long, I have created an entirely new career for myself, following my passions for travel and writing in a way that I'd never realised was possible before. I wrote about my transition in my (free) ebook 'Travelations'. 'Velvet' is the context I've chosen for my new ventures:  soft, plush, rich …some would say sexy.  When you run your hand over velvet you know there is a certain depth and richness to it; you know you are alive. In December 2008, I launched the Velvet Escape luxury travel blog. My aim with this blog is to convey my enthusiasm about the places I've visited through my experiences and photography. I hope to inspire people to travel, to stimulate their curiosity about the world we live in and foster an open mind that is receptive to different perspectives and new ideas. And to do all that in style! In this sense, Velvet Escape is a luxury travel blog but it goes beyond staying in five-star hotels or eating in Michelin-star restaurants. To me, it's about the experience and what we gain from it. This is my definition of luxury travel."
Green Global Travel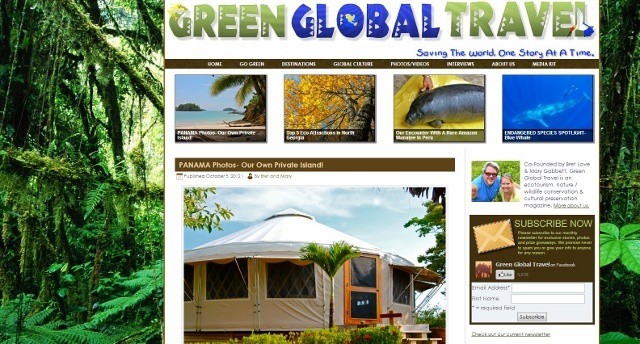 Bret Love & Mary Gabbett: "We launched Green Global Travel because we are insatiably curious about new people, new places, new experiences and new ideas, and love sharing those things with other people in a way that will hopefully inform and inspire. We launched Green Global Travel because we are passionate about ecotourism, and believe in its potential to help save the world's precious nature and wildlife by encouraging sustainable practices that both benefit and respect local indigenous cultures. We launched Green Global Travel because we truly believe that the words, photos and videos we capture along our journeys will both entertain you and help draw attention to the importance of environmental conservation. We launched Green Global Travel because it is our dream."
Landlopers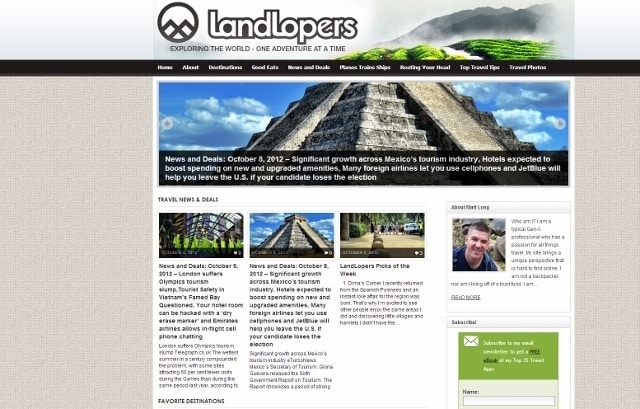 Matt Long: "Who am I? I am a typical Gen-X professional who has a passion for all things travel. My site brings a unique perspective that is hard to find online. I am not a backpacker, nor am I living off of a trust fund. I am just a normal person who has learned how to get the most out of the travel experience. LandLopers is a reflection of the things I have seen and learned, as well as a place to find information on a variety of travel topics. I want to make travel more fun and accessible for everyone by providing information on how to experience the best the world has to offer. A Landloper is a wanderer, an adventurer. At heart, that is who I am and I hope you enjoy reading about the art and science of travelling the world."
We hope you enjoyed these tips – if you think we've missed any sites deserving of inclusion out or you have questions or comments please do let us know in the box below – and make sure you sign up for email updates or subscribe to the RSS feed by using the links on the right so you don't miss a thing from Grown-up Travel Guide!