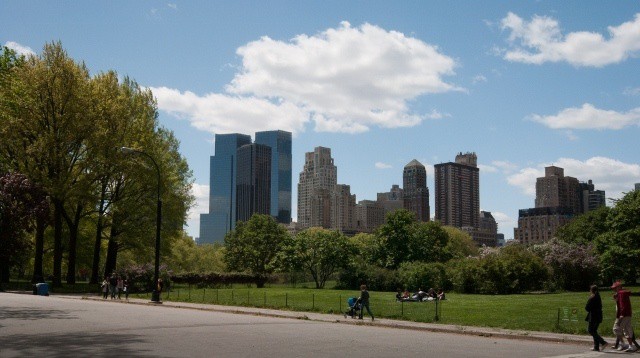 Image (c) Andy Higgs, Grown-up Travel Guide
Backpacking can be a great way to get across the globe but budget is always a chief concern. If your travel arrangements have moved up a level, it doesn't have to mean spending a lot more. Even getting around an upmarket destination like New York is reasonable if you're armed with a few key recommendations.
Central Park is an obvious choice for freebies: there's the lake, sports facilities and 843 acres of green parkland. But there are also reasonable extras like hiring a boat or bike to explore the surroundings, or see a concert, which may include free Shakespeare, opera or rock music.
The Rockefeller Centre isn't just about shopping. It's possible to get a real flavour of the city at little cost, by touring the plaza, notable architecture and artworks, taking your pick from delicious on-the-go eateries or have a spin on the renowned ice-rink in winter.
There are in fact many free ways to see the city, just by walking and touring. The Staten Island Ferry trip costs nothing but is top of most itineraries for a reason and tours of Times Square and the Grand Central Terminal are also available. Walk across Brooklyn bridge at sunrise or sundown to steal the best views.
You can even pick up some culture by getting your timing right. The Museum of Modern Art has 'free hours' on a Friday, normally between 4 and 8pm, although you may need to queue. The Musuem of Natural History has only 'suggested' admission prices so if you buy on the day, you can pay according to your budget.
Accommodation-wise, you can stick to a budget without having to stay in a hostel by looking outside of Manhattan, in neighbourhoods like Queens or Brooklyn. Self-catered apartments in a more central location are a good way of sharing costs with friends and leaving you with a more flexible budget for meals and attractions.
Eating out in New York can range from freshly-baked goods from a corner-stand to sampling the gourmet shops of Chelsea Marketplace or doing as the locals do and taking a picnic to the park. The city may have some of the best fine dining in the world but a lot of this can be found at street level.
Good value that doesn't feel restrictive is certainly possible and with flights to New York coming down in price all the time, it doesn't have to cost a fortune to experience the classier side of travel.
Image (c) Andy Higgs, Grown-up Travel Guide
About our guest author:
Jenny Sanchez is a freelance travel writer from Oakland, California. She has spent the last two years driving around North and South America and writing along the way, but California will always be her home!