If you read our review of Lancaster London and saw the teaser post a while back, you'll know we were in London for the second half of Easter and stayed in two different hotels in three days.
You'll also know that we found a lot to like at the first place; yet we're always keen to review properties we haven't stayed in before. Here at Grown-up Travel Guide we've already checked out a number of quality London hotels for you to consider next time you're in the city and are in the process of uploading reviews.
Read on to see whether you should add The Rockwell to your list…
The Rockwell
181 Cromwell Road, London SW5 0SF, ENGLAND +44 (0) 207 244 2000
Email: enquiries@therockwell.com
When?
Mid-April 2014
Vital stats:
Four stars. Opened in 2006. 40 rooms over 6 floors
Location, location, location?
The Rockwell is located in South Kensington on the Cromwell Road, making it a perfect base for the perennially popular Natural History and Science Museums. The nearest Tube station is Earls Court which is less than a five minute walk away. South Kensington Tube takes just a few minutes more to reach in the opposite direction. Buses pass the hotel on a regular basis.
What about parking?
Again, London is no place for driving but if you have no other option you'll need to pay to use public parking facilities. The hotel staff can give you advice here.
Why choose this place?
The Rockwell is near the museums and other attractions of South Kensington and has excellent access to public transport. It is located within Zone 1 which means that your transport costs will be lower and you'll save valuable time if you are planning to spend most of your time in the centre of London.
It's an intimate place in a restored terrace and is marketed as an affordable design hotel with an emphasis on personal service. The Rockwell offered a media discount in exchange for an impartial review and I jumped at the opportunity – there is quite a buzz online about this property and I was keen to see what it was all about.
Room
Four types of room – Single, Standard Double, Deluxe Double and Mezzanine Suite.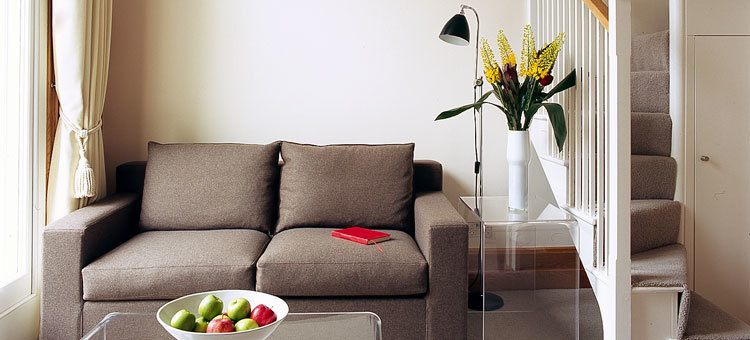 For our stay we enjoyed the use of a Mezzanine Suite; a two-level design which felt more like an apartment than a regular hotel room. On the main floor the sofa had been made up into a bed for Rebecca and we had the upper area with a very comfortable King Size bed. Here's a quick walkthrough video:
As you can see from the pictures and film clip the room was bright, airy and with modern furnishings. With the sofa in bed form there was less room to maneuver and it was a little cramped in the hallway where the wardrobe was located. However I was impressed with how much the architects had packed into the space and despite its chic boutique style there was more function than just form.

Flat-screen TV, work desk, The White Company toiletries, stocked mini bar, free in-room internet, direct dial telephone, bathrobes and slippers, portable hairdryer, laptop-sized safe. All rooms are non-smoking.
Carpets?
Yes, but immaculately clean and cozy. Hey, I'm almost beginning to get won over in the carpet versus wood floor issue. Almost…
Bathroom
The bathroom was small but well equipped. The shower cubicle was just about big enough but the water pressure was excellent and toiletries first rate. Good quality towels, too. Storage space was limited but we managed – and there's three of us.
Free internet I hope?
Yes, free and very fast Wi-Fi. That's the way to do it – other London hotels, take note. We had three devices online at the same time without any problems and were able to stay connected in the lobby and restaurant too.