The Swedish capital is absolutely one of our favorite Grown-up destinations and we never tire of singing its praises. It is of course not cheap; and finding good mid-range accommodation can be a challenge.
You're not one to shirk from a challenge though, are you now?
Certainly not, and the last time I visited I stayed at the Best Western Time Hotel and found that it ticks most of the right boxes.
Okay, let's have the low-down then…
Coming right up:
Best Western Time Hotel

Vanadisvagen 12, Stockholm 11346 SWEDEN +46 (0)8 545 473 00
Email: info@timehotel.se
When?
Mid-September 2011
Vital stats:
Four stars. Built in 2007. 144 rooms over 7 floors
Location, location, location?
The hotel is located in the mostly residential Vasastaden district of Stockholm. It is a little way from the city centre and the nearest metro stop is about a 10-15 minute walk, but there are regular buses that stop close by. During the warmer months you can (and should) make use of the city bike scheme and there is a cycle stand just round the corner from the hotel.
What about parking?
There is a garage under the hotel.
Why choose this place?
I was arriving on a Monday and found a deal online through a third-party site – Stockholm mid-week can be a real killer, so it pays to hunt around on a weekday. Best Western claims it will match and beat any rates but as with most of these guarantees there is a lot of small print. But read our tips page and try calling the hotel directly. So it was the combination of a reasonable rate along with modern facilities that swung it for me.
Room
Five different types of room – Standard, Superior, Executive, Terrace and Junior Suite as well as studio apartments. I booked a Superior room but got a complimentary bump up to Executive on arrival, which was nice. Pretty stylish and modern with trendy colour schemes.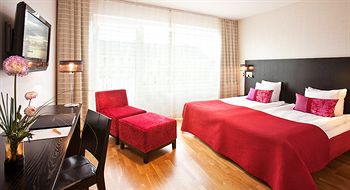 LCD TV, work desk,  hairdryer, parquet flooring, complementary wireless internet access. All rooms are non-smoking rooms.
Carpets?
Nope. Lovely clean wooden floors. I cannot stand grimy carpets in hotel rooms, and I don't understand why every hotel doesn't go with parquet instead – not least for hygiene and allergy reasons.
Bathroom
Modern bathrooms with underfloor heating and the usual complimentary toiletries. My executive room had a bath (which is the main step up from Superior) but it was clearly designed for those at least 30% shorter than myself, so wasn't such a great perk. Hair-dryer provided.
Free internet I hope?
Yes, but it was excruciatingly slow in my room at least, so I ended up using my mobile internet USB stick. Clearly the hotel needs to boost its signal in some areas.