It can't have escaped your notice that I am off to Africa again next week – or that I am a tad excited by the prospect. If you did somehow miss the news, have a look at my itinerary so far in this article.
Along with the more obvious reasons to be counting the hours until my departure – this is Africa, for goodness sake; it just doesn't get much better than this – I am also looking forward to testing some very desirable equipment out in the field.
Remember the fun I had in Dubai courtesy of Emirates? Well that trip was organised by the airline's Norwegian-based PR agency. Now that agency also happens to have a number of other illustrious clients on its list, one of which is Panasonic.
After seeing the content we created they asked the agency if we would be interested in testing out any of their products. They even asked us to suggest what we might like to borrow.
I wasted no more than thirty seconds before sending an email and politely begging for the chance to use a Panasonic GH4.
This is a revolutionary  DSLR-style camera that shoots video in 4K quality for less than USD 2000. But it's not a DSLR, it's a micro 4/3 camera which means it's a lot smaller and lighter (the pen is there to provide a sense of scale).
Look I'll get into all the details in a future post but suffice it to say that the GH4 is perhaps the ultimate camera for travel video.
Rather unbelievably they said they'd get me one, and even more unbelievably they sent me a lens kit with no less than five lenses to try. I will certainly do so but I don't have space for more than two for the Africa trip, so I'll be packing the 12-35 shown on the camera body here and the 35-100 for getting a little closer to the action.
Apropos space, I am very limited as to what I can bring on this adventure. A big hard suitcase is out of the question for a safari vehicle so I'm cramming as much as possible into a big holdall and hoping it survives.
I am also taking Dennis the Drone in his carry case so will be checking two items (I'm flying Business, so can do that). No, I'm not paying for business and no, I'm not on a freebie. I'm using miles, of course!
But instead of my faithful Think Tank Airport International roller full of electrical equipment I need something I can take with me in a canoe and a car but with space for all my cameras and my laptop.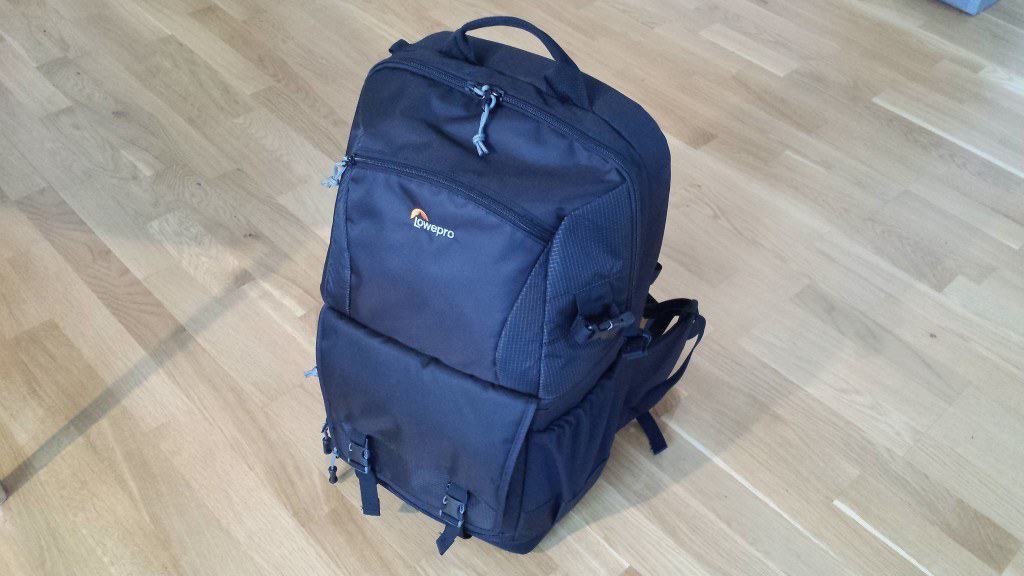 This brings me to exhibit B – the brand new version of the Lowepro Fastback 250. I bought this with my own ill-gotten cash, by the way – and it is a wonderful thing.
If you look closely you'll see I've managed to fit not only my trusty Nikon D7000 with its huge 18-200 lens in there; but also the GH4 with 12-35 lens attached. Then I still have space for the Nikon's 10-24 and 50mm lenses and the 35-100 for the Panasonic.
The MacBook Pro fits neatly in the back section for easy access and I can get my Kindle in there too in a special tablet pocket. I can fit some clothes in the top section as well as a portable hard disk or two and a load of essentials like a washable and so on. Amazing. Comfortable, too.
Apropos a portable hard disk or two (the way the different sections of this article flow together is really something, ain't it? 🙂 ) that's the third item. Western Digital is another client of the aforementioned PR agency in Norway, and they also wanted something tested. I already use their WD Elements portable drives and am a big fan. I've bought three of them so far and they are perfect to take on the road.
But now Western Digital have raised the bar with the My Passport Wireless. With built-in Wi-Fi, an SD card reader and a super-fast USB3 connection, you are spoiled for choice as to how to transfer data over from your camera, phone or PC.
In Botswana I will be without electricity for three and a half days. I am really looking forward to being off the grid but it does pose a challenge as I will be doing a lot of filming and photography. Being able to quickly back up my footage directly from the SD card will make things a lot easier.
My slightly paranoid nature with regard to technology means that I will probably use the last of my phone battery to connect wirelessly to the drive to make sure all the files are copied over before formatting the card for re-use which is a wonderful feature.
Even I should be okay with 1TB, too. Perhaps. Well, I have the MacBook and the other hard drive just in case.
So there you have it – there is going to be a lot to tell when I get back. As well as letting you know all about my travel experiences, you'll get to read what I thought of this equipment when I put it to the real test. And yes, I will also be maintaining the Beer Diary, naturally…