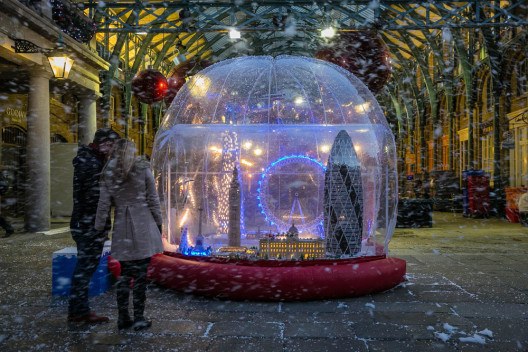 It's a modern Juletide tradition we've come to love – the LEGO installations in London. Not content to merely repeat previous works of art such as 2011's LEGO Christmas tree at St Pancras station or last year's advent calendar in Covent Garden, Duncan Titmarsh and the Bright Bricks team have surpassed themselves for 2013.
Ladies and gentlemen, we offer you the biggest LEGO snow globe in the world! Once again on display at Covent Garden, this is another masterpiece you have to see. It's three metres tall; so large that you can stand up inside it (there is a tunnel so you can walk through it) and consisting of over 120,000 bricks, it took most of the year to design and 75 days to actually build.
Inside the glass is an amazing LEGO version of the London skyline featuring 14 of the capital's most famous landmarks. You'll see the London Eye, the Gherkin and of course The Shard, amongst others.

Duncan pulled out all the stops to make this creation something really special – so of course it snows inside the globe too when a button is pressed. He really must be on the shortlist for holding one of the best jobs in the world; surely up there with Erdinger's beer tasters and the people who test bouncy castles. Mr T is also part of a highly exclusive club – he is the only LEGO Certified Professional in the UK and one of just 12 on the whole planet.

All of this begs a few questions. How do you top this next year? Just how bad are the blisters you get from 75 days of building LEGO? And how on earn do you get his job?
Unfortunately our admittedly rather skimpy research has only found an answer to the first one – apparently Duncan's ultimate dream is to build a full-size London bus. Given that 2014 is the 'year of the bus', his dream may well become reality. Whether he'll manage to convince Transport for London to fund it is another matter, though – but if he started a whip-round now he'd probably get enough donations to make it worthwhile by the summer. Watch this interview with Time Out for more:

You can experience the LEGO SnowGlobe for yourself (that's the official spelling by the way) by getting down to Covent Garden, which has more than enough to do this Christmas to warrant the tube fare.