This is a guest post by Sophie McGovern
Covering every genre and catering for every taste, Europe's great story meanders through a multitude of landscapes from deserted beaches to austere mountains, from contemporary cities to antique villages. European coach holidays are the ideal way to experience this endless contrast, enabling thousands of visitors a year to become a part of this magical tale.
The Wild Wilderness
Fjords, snow-capped mountains and glaciers characterise the mythical landscape of Norway (below). Historic land of the Vikings and gateway to the Northern Lights, this jewelled wilderness in northern Europe feels a world away from the historic cityscapes of Paris or Bruges. Journey north to see the swirling greens and golds of the northern lights in all their glory.
Image obtained Flickr.com under Creative Commons (c) Dag Endre Opedal
In Switzerland and northern Italy too, the roads wind through lofty mountain passes where traditional villages nestle in hillside nooks. Take in the fresh air on hiking trails above mirror-like Alpine lakes where endless shades of green collide with endless shades of blue.
Summer on the Coast
Coral sands, whitewashed villages and emerald sea conjure myths of a different kind along the shorelines of Croatia, Greece and Italy's Amalfi Coast. Candlelit tavernas serving fresh seafood and award winning wines provide the perfect accompaniment to swimming in sheltered coves, sailing around dramatic headland and relaxing on the beach.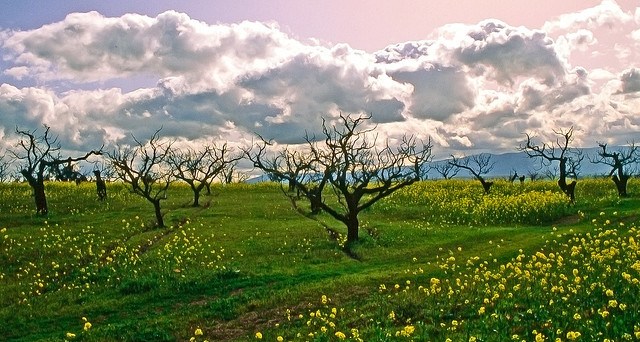 Image obtained Flickr.com under Creative Commons (c) Ken Schwarz
Olive, almond and orange groves add unique scent and colour to these laid-back Mediterranean countries where romance and beauty reign. Further east, the deserted coves of Croatia and Bulgaria provide endless opportunities for seclusion and exploration.
Castles and Culture
Cruising along France's rivers it's easy to believe that you've been transported back in time. Castles and medieval villages await beyond the vineyards and rolling hills of the countryside. Timber framed houses, forts and baroque churches decorate sleepy towns that have changed little over hundreds of years. These are the landscapes where so many of the world's most celebrated artists found their inspiration, and upon which many of the world's most significant battles and revolutions have been fought.
Likewise, there are places in Europe that have almost been forgotten by time. Bruges in Belgium (below) is an immaculately preserved gem of a city where cobblestone streets and canals curve around streets of picture-postcard historic houses. Standing on the magnificent Charles Bridge in Prague, too, there is an overwhelming sense of history living on across the grand cityscape with its gingerbread roofs and clusters of spires.
Image obtained Flickr.com under Creative Commons (c) Neil Thompson
About our guest author:
Sophie McGovern is a traveller, musician and writer. From living on a houseboat near Bath (in the UK) to the slightly warmer climes of Thailand, she shares her travel experiences through her writing. Her work can be found on numerous travel blogs across the internet.