All images (c) Norwegian Air Shuttle. All money spent and opinions expressed (c) Andy Higgs, Grown-up Travel Guide
Before we get into the details of the trip report, a little background seems necessary. I'll admit it, I'm old enough to remember Freddy Laker and his Skytrains offering ultra-cheap travel from the UK to the USA. However I'm also too young to have actually flown with Laker Airways before it went bust after effective sabotage carried out by rival airlines of the time.
Mr Laker's legacy was that he essentially started the low-price air travel movement that we have today, but I've been waiting all these years for someone to rival his crazy prices on long-distance routes. After flying to New York last week it seems that such a rival has at last emerged – and the fact that the contender comes from Norway is likely to surprise many readers. But the paradox of one of the world's most expensive countries giving birth to one of its best-value airlines is not as strange as it may seem; it takes a lot of money to make it in the airline industry. As Richard Branson famously put it, "if you want to be a millionaire, start with a billion dollars and launch a new airline."
By now many readers have probably flown Norwegian Air Shuttle (from now on we'll just call the airline 'Norwegian' like everyone else) on its short-haul routes and most of the feedback I hear is extremely positive. It's not surprising, either – I feel that Norwegian has got the balance right. The planes are modern (often seemingly brand new) with decent legroom, there is usually free WiFi on board, flights are generally punctual and the route network is extensive. Not only have Norwegian made air travel affordable for us up here in Scandinavia but the airline also has hubs in the UK and Spain. On a personal level the decision to move their UK base to Gatwick instead of Stansted and to offer direct routes from Trondheim to London has made living in Central Norway a lot easier for an exiled South Londoner.
But the really big news came a couple of years ago when the airline's CEO Bjørn Kjos began hinting at plans to offer low fares to the US and other destinations. Over time the company's plans became clear and on May 30th this year Norwegian's first transatlantic flight took off from Oslo Gardermoen for New York JFK. Shortly afterwards routes from Stockholm to New York and Oslo to Bangkok were inaugurated and now the airline flies 6 times a week from Scandinavia to New York and 5 times a week between Scandinavia and Bangkok. Initially the long distance routes were served by leased A340-300 aircraft while Norwegian awaited delivery of its 787 Dreamliners, the first of which arrived at the end of June.
"What about us though? Why are you teasing us with stories of Freddy Laker and cheap flights from the UK?" I hear many of you say. Aha, the reason you should read on is simple: from July 2014 Norwegian will be flying directly from Gatwick to New York, Fort Lauderdale and Los Angeles, with one-way rates starting at £149. See?
Sales for the new routes were unsurprisingly phenomenal – affluent Scandinavians crashed the company's servers as soon as the first tickets were available late last year. I witnessed the chaos and decided to wait until the next batch of flights were on sale, and in March I secured a pair of tickets for almost the lowest possible fare after a couple of hours fighting through the system problems. It was strange that the company had clearly failed to learn from its mistakes by not adding enough server capacity this time but I was just glad to have managed to make a purchase. Indeed I was so glad that I managed to input the wrong dates, kudos to Norwegian for allowing me to change them at no charge when I realised a few hours later…
In the intervening few months I read all about the problems with the Dreamliner in general and for Norwegian in particular; delays and cancellations were commonplace and widely reported. Passengers often had to be flown on leased aircraft because the Dreamliner was grounded – a few hours delay or even a cancellation I could handle, provided we got to the Big Apple in the end, but missing the chance to try the new plane would have really irked. I was glad we were to fly in November as I assumed most of the teething troubles would have been sorted out by the time it was our turn to go to the gate.
Just to up the ante a potential strike by Norwegian pilots was also on the cards for the week we were to travel but this was averted and we learned that it would not have affected the long distance routes in any case. These routes are actually served by a subsidiary company – Norwegian Long Haul – more on which shortly.
So finally the big day arrived. On Sunday November 3rd my wife and I arrived at Oslo airport after flying down from Trondheim and checked in for the flight to JFK. We had to go straight to the gate which was on the far side of the international departure lounge and joined the crowd waiting to board for the departure at 1800. It was clear that there weren't going to be many empty seats.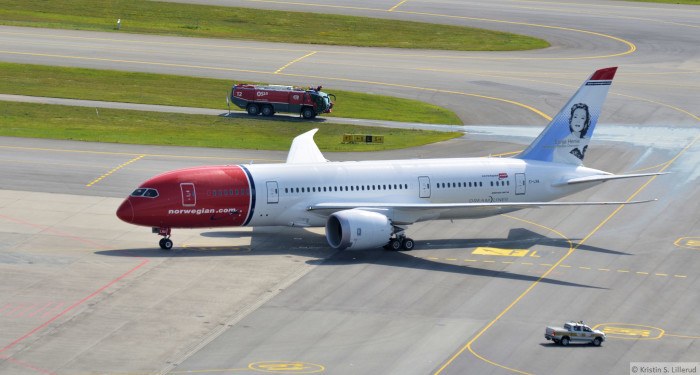 After clearing passport control we caught our first glimpse of the aircraft – and I breathed an audible sigh of relief when I saw that it was indeed a shiny new Dreamliner that was waiting to take us over the Atlantic.
Boarding the plane in Oslo was quite a surreal experience as we were greeted by a crew consisting of Thai nationals, with the exception of one Norwegian staff member who stuck out like a sore thumb and was presumably on hand to assist in language-related problems as much as to serve passengers. It was very like this picture, except I only saw one Nordic guy.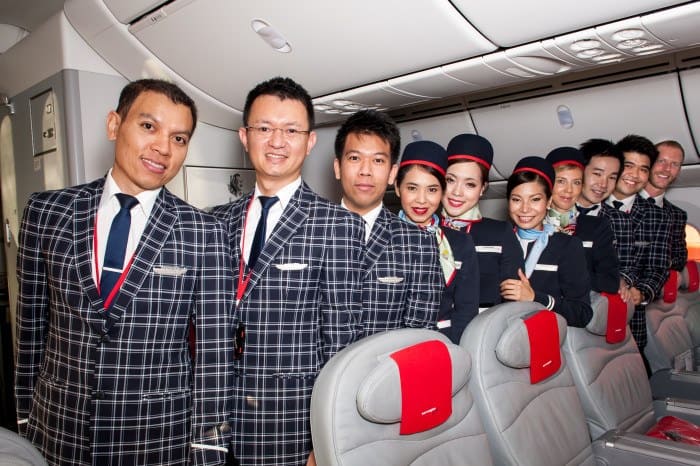 This is one of the ways Kjos and co. are planning to make these flights profitable – by using crew prepared to work at lower rates than those demanded by Scandinavian workers. This is a controversial move which has naturally sparked protests from unions but is really just a sign of the times; I highly doubt any of us who were on the plane had any issue with being addressed in English by a polite and efficient air crew.
First impressions of the plane itself were very good; it looked as new on the inside as it had done from the outside, the overhead luggage lockers were big (I have a carry-on bag full of camera and computer gear that is big and heavy but there was ample space) and the seat was comfortable. The Economy section has a 3-3-3 seat configuration and was almost completely full.
While waiting for takeoff a video played which demonstrated many of the Dreamliner's innovative features which are also explained here on the Norwegian website. The upbeat American narrator made much of the improved air quality and lighting and for once this is not just hype – I was awake for the entire 8 hour flight and yet felt far better than I often do on other, shorter journeys. I was unsure whether this was just coincidence so withheld judgement until after the return flight; I am now sure that there is indeed a difference.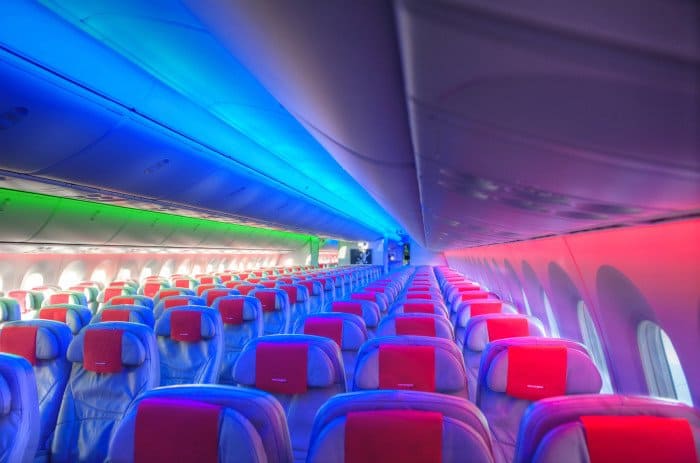 It won't stop jet lag or prevent you from feeling tired, but the cabin pressure, lower noise and fresher air definitely help to make a long journey in Economy bearable. The cabin lighting is less harsh and changes during the flight according to the situation and time which is also a nice touch.
After a short delay we were on our way; the power of the Rolls Royce engines could certainly be felt in the smooth takeoff but the noise was less intrusive and by the time we reached cruising altitude I was sure that the general cabin noise level was lower than on other flights.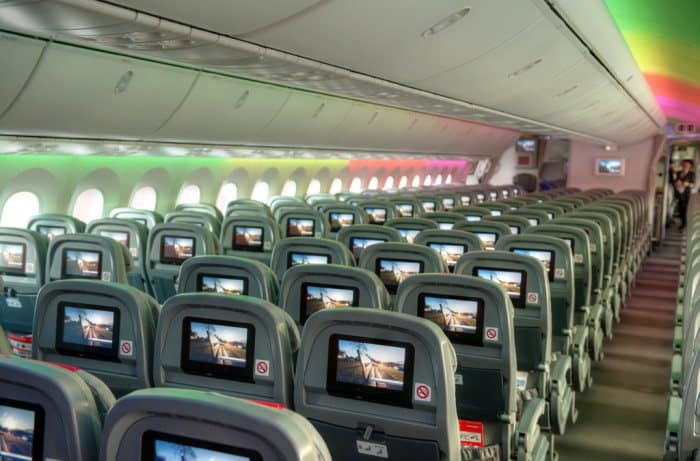 The inflight service procedure is different too; those who pre-order their meals are served first from a trolley. Everyone else has to wait for about two hours until the 'Snack Bar' opens if they want to purchase anything from the menu. So the lesson here is to bring something with you if you haven't pre-ordered. We had, and while it was good to have a hot meal don't expect a gourmet experience – we tried both the chicken and beef varieties on offer and both were fine. You can have one alcoholic drink as well as a soft drink and tea or coffee too. If you are old enough to remember inflight meals when they were included as standard – plastic boxes and foil lids, no metal cutlery etc. – then you'll know what to expect.
It was then time to check out the Android-powered touchscreen entertainment system. This features a seat-back monitor – although we were in the centre of the plane, in the exit row, which meant that we had a flip-up screen instead of the usual seat-back version. The only disadvantages to this are that for tall people like myself the screen has be pushed back to watch it at the proper angle when sitting up, which in turn twists it a little so the display is not fully horizontal. That I can live with, this is not big-screen entertainment after all. The other downside is that you can only watch TV when the plane is fully airborne as the screen has to be stowed at all other times. Again, I'm nitpicking here really. Any standard headphones with a 3.5mm jack plug will work – bring your own or you'll have to buy them onboard.
Our position also meant that we didn't have one of the fancy new windows to play with – these are way bigger than standard aircraft and instead of shutters have electro-chromatic dimming. This basically means you press a button and the window moves from transparent to dark. All very funky.
Norwegian offers a decent enough selection of films and TV series (although I would prefer to have more episodes per series as you can blast through three in no time) as well as music and the best in-flight map I've ever seen. Think Google Earth but with live tracking of your flight too. You can see the simulated view from different positions and zoom in on highlighted cities to view destination guides. There's enough fun to be had with this app for any map geek like myself happy for a while.
There are also power points in each seat so you can charge your devices on board but no WiFi on these flights as yet. On a more low-tech note the Norwegian inflight magazine is excellent too, since its relaunch there are always interesting articles to pass the time.
The aforementioned Snack Bar menu can be found on the monitor too; in addition to a small selection of drinks and snacks you can purchase an amenity kit (for a slightly outrageous $25) or as we decided to, a blanket for a more reasonable $5. Note that cash is not accepted and you will need a credit card to make purchases. Normally you can swipe your card in the reader at the bottom of the screen but this function was not working on our flight so we paid via a terminal in the old-fashioned way.
If you do pony up for a blanket don't forget to take it with you – they are actually surprisingly warm and pack small; ideal for travellers. If you plan to sleep it's a good idea to bring a pillow unless you are one of those people with that infuriating ability to sleep anywhere. My wife falls into this category – I do not…
Breakfast was served when we were about an hour out of JFK; again a fairly standard roll and orange juice affair with some coffee to wake us up. The latter came in handy when filling in the arrival cards which requires a certain amount of concentration.
Our eight hours in the air simply flew by (sorry). Landing went without a hitch and we were soon ready to enjoy New York. Well, after the obligatory hour spent in the immigration queue, of course. A slightly earlier flight schedule would have allowed us to do more on our first night but that's life – Norwegian gets the slots it gets I guess.
We did run into some trouble on the way back – our flight home was delayed by nearly four hours. Fortunately I have a Priority Pass card so was able to get us into a lounge which helped – naturally Mari Anne managed to sleep there too so got the full benefit of this perk but I at least had free WiFi and beer. The actual flight was just as good as the way over, and I even managed to nod off half way through "The French Connection".
Now for the important part: the basic fare from Oslo to New York can be as low as NOK 1199 one-way and I've seen NOK 817 for the return portion. This is amazingly cheap for Scandinavia and anywhere else for that matter; we actually paid NOK 1499 for the outbound and NOK 1321 for the return leg which was half the price we paid to visit Rome a couple of months before.
This rate represents the usual no-frills, no hold baggage option. Checked luggage is NOK 199 extra per item per flight.
If you want hot food on board, the ability to pick a seat with extra legroom or plan to do a lot of shopping and would appreciate being able to check in an extra 20 kg piece of luggage, you can add a 'Plus' package. This costs NOK 399 which is a NOK 248 saving on paying the fees for all three extras. We paid for these and certainly appreciated the extra legroom (we secured seats by the emergency exits on both flights) and the food, but didn't use the extra baggage allowance. Since the meal (NOK 249) and seat reservation (NOK 199) together cost more than Plus, it still makes sense for two out of three.
Norwegian also sells 'Premium' tickets; prices vary but these generally which cost about NOK 3000 extra each way. For this hefty supplement you get to sit 'in front of the curtain' at the front of the plane in a smaller cabin with more room (2-3-2 configuration). Other benefits include a wider seat – 41 inches instead of 31 – seat reservation, food and drink and a USB port. You also get headphones included which you otherwise need to buy or take with you.
In conclusion I think Norwegian are right – the long distance revolution has (re) started, over 30 years since Laker Airlines ceased operations. I swore I would never fly Economy again on a long journey after my experience with British Airways to New York but I am happy to admit I was a little hasty. I will definitely fly Norwegian on intercontinental routes again; in fact we are flying with them to Bangkok next month. We decided to pay for Premium as it's a longer flight so I'll let you know how the two classes compare when we return. We made this booking before the New York trip and with the benefit of hindsight I probably would have saved the money and flown Economy to Thailand too – and coming from me, that is quite possibly the heartiest recommendation you can get.
Have you flown with Norwegian? Are you tempted by the promise of cheap long-distance flights? Did you fly with Laker? We'd love to hear from you so get commenting!