Image (c) Sheraton Krabi Beach Resort
The rumours are true – this year we are breaking with tradition by spending both Christmas and New Year far both Norway and England. We're swapping ribbe and turkey for tom yum goong and pad thai for our first ever family Christmas in the sun. This has been a challenging year on a personal level (more on this in a look back at 2013 later) and we decided that we needed to get away this festive season.
Having enjoyed Bangkok immensly during my brief stay in June despite visiting at the worst possible time – I've never experienced humidity like it – it wasn't difficult to choose Thailand for such an escape. I learned a great deal about the country at the conference I attended in the capital and this made me eager to experience more of what the Land of Smiles has to offer. I also discovered Bangkok to be an excellent city break destination in its own right – not just a springboard to the beaches or a place to spend an extended stopover as so many travellers see it.
With that in mind we will be staying for four nights in the city before flying down to Krabi for the main part of our stay. Whilst this is primarily a holiday we will be gathering information for future articles as well as updating the Grown-up Travel Guide social media channels while in country.
The plan so far:
Trondheim – Oslo – Bangkok
We will be flying the Norwegian Dreamliner again on their new low-cost route directly from Oslo to Bangkok. This time we are trying out the Premium cabin and after our excellent experience flying Norwegian to New York our expectations are high.
Bangkok
Image (c) Sheraton Grande Sukhumvit
In Bangkok we are staying at the Sheraton Grande Sukhumvit Hotel. I'm very keen to try the award-winning basil restaurant and as we're booked for a Thai cookery course with their chef Kesinee Wanta we may even be able to knock out a few signature dishes on our return. Maybe.
We have also secured a table at the Sirocco rooftop restaurant on the 63rd floor of lebua at State Tower, purportedly the world's highest outdoor eatery. After failing to get a reservation in June (it is extremely popular) Tuesday night cannot come fast enough. I did get to enjoy the view from one of the other restaurants at Lebua on my last visit so I'm really looking forward to the reaction of my wife and daughter…click here for a 360 degree view and you'll see what I mean.
Krabi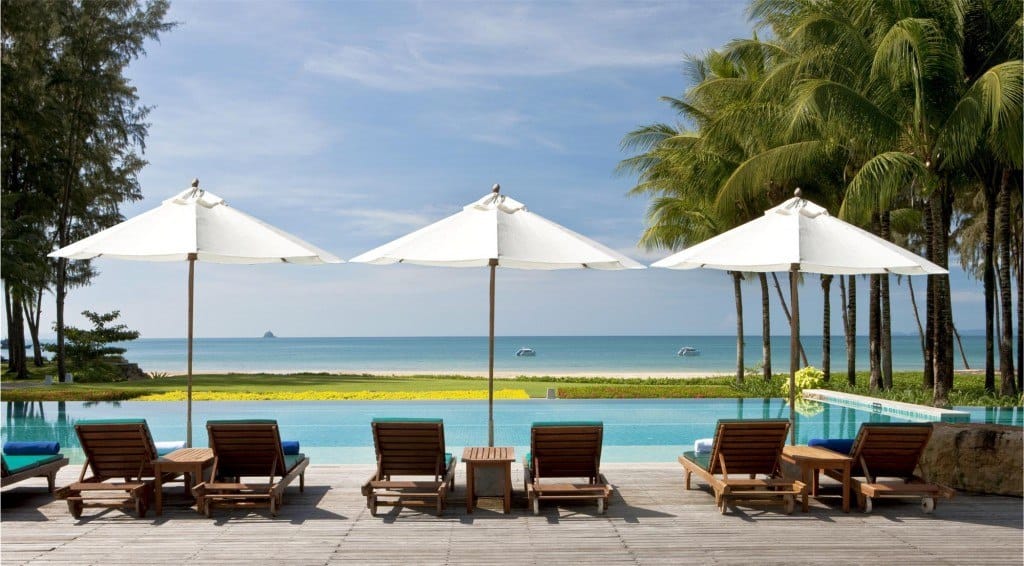 Image (c) Sheraton Krabi Beach Resort
At the end of next week we fly down to Krabi and transfer to the Sheraton Krabi Beach Resort for the rest of the year. This was an absolute bargain using SPG points so our accommodation expenses are minimal – it looks like being amazing value. We'll let you know all about the rooms, the pools, restaurants, beaches, day trips and the spa. It's a tough job – but we'll do it for you, dear readers. Now that's commitment, right? 🙂
You can follow the hashtag for this trip on Twitter, Google+, Facebook, Instagram and Foursquare to make sure you don't miss a thing: #thailandatchristmas
If you have any tips for us in Bangkok or Krabi, or anything in particular you would like us to review or report on while in Thailand please let us know!