Finally, after over 40 years, I made it to the USA. And where better to start than the Big Apple?
You certainly took your time about it. Was it worth the wait?
Absolutely. New York is one city that lives up to both its reputation and the expectations we create for ourselves. I was fortunate enough to have a good friend living in Manhattan who put me up for the first couple of nights, but I had decided not to impose the while time I was Stateside, and needed somewhere to stay three nights.
It seems as though the YMCA wasn't on your mind either...
No. I figured I'd splurge on somewhere good. Now New York doesn't come cheap anyway but I was prepared to up my budget for something memorable. I'd read a lot of good things about the Andaz properties (it's a Hyatt brand – a bit more trendy than their regular hotels) and the hotel on Wall Street fitted my requirements.
Which were?
I like to stay somewhere fairly quiet so I wasn't interested in Times Square. While a pool is always nice I wouldn't be having much time to make use of it so that wasn't a priority. I also had plans for breakfast so there would be no point in paying for a hotel buffet spread. I considered the Andaz Wall Street to tick all the right boxes and with a slightly cheaper rate for booking in advance the choice was made.
Andaz Wall Street, New York City

Image (c) Andy Higgs, Grown-up Travel Guide
75 Wall Street, New York, New York, 10005 USA
+1 212 590 1234
When?
Early May 2011
Vital stats:
Four stars. Opened January 2010. 253 rooms.
Location, location, location?
Er, on Wall Street. The hotel is located inside a rather unassuming former J.P. Morgan building at the opposite (near-waterfront) end of Wall Street from the Stock Exchange. It's quiet here in the evenings after the offices have closed, but you're within easy reach of the subway and buses pass the front door.
What about parking?
If you're nuts enough to be driving in New York city, the Andaz has its own parking facilities which start at US$34 for 24 hours.
Why choose this place?
The quiet yet accessible location was the major factor – it's also convenient for the waterfront, Battery Park and Ground Zero (walking distance to all three). If you're signing the deal of a lifetime on Wall Street it's handy too. But the biggest draw is probably the high standard of the hotel itself and the excellent service and facilities it offers.
Room
Three different types of room – Double, Large and Large King, and three types of suite – Suite, Large Suite and Buttonwood Suite. I booked a Large King (as I said, I was splashing out) which had a huge and very comfortable bed, a bathtub and a shower. The room was large, airy and stylish – it felt like a loft apartment. There was a glass wall between the bathtub and bedroom so if you need privacy this may be a bad option unless your partner is focused on the television.
Image (c)  Marilynn K. Yee/The New York Times
The list of features is impressive: first of all an excellent idea – a complimentary minibar with snacks and non-alcoholic beverages. Of course free beer would have been great but they have to draw the line somewhere. Essentially this was enough for a light breakfast before moving on to eat properly – orange juice, energy bar, healthy potato chips and less healthy chocolate. When returning from a hard day's sightseeing it was also good to have chilled water and soft drinks and more snacks on hand. In addition, the hotel provides a complimentary morning newspaper, 24-hour room service, cable/satellite TV channels,Video on demand, iPod docking station, 42-inch LCD TV, a large desk, speakerphone, voicemail, dataport, checkout and bill display via the TV, safe large enough to store and charge laptop computer, iron & ironing board on request, complimentary beverages in the lounge (featuring excellent coffee), special lighting with dimming controls, radio alarm clock, cordless phone, individual heat control, individual air conditioning control, desktop power strip, opening windows (nice).
Carpets?
No! Beautiful hardwood floors with a rug under the bed. That's what we like – and increasingly expect – from a modern hotel.
Bathroom
Image (c)  Andaz Wall Street
The bathroom was very cool. On one side of the hall was a basin and the toilet, on the other the (big, marble) bath and rain shower (with space for two). Bathrobes provided, as were C.O. Bigelow natural bath amenities to which I became addicted (which is a problem, as they are not easy to find in Norway. Hair-dryer provided.
Free internet I hope?
Yes, free and fast. No complaints here.
Bar and restaurant?
Both, as well as the aforementioned lounge (the area formally known as the lobby) with free coffee and pastries. I didn't get the chance to eat in the restaurant but it has a good reputation and serves locally-sourced food.
Pool, sauna?
No, that would have been the icing on the cake but you'll likely be busy enough in New York not to miss such facilities.
The breakfast was included, right?
No, it would have been extra if I had wanted to eat at the Andaz. Breakfast here is from an interesting-looking menu rather than a buffet and the prices are rather high.
Service
Friendly and efficient staff and smooth check-in. When you walk in you enter an open lounge style area and there is no front desk as such.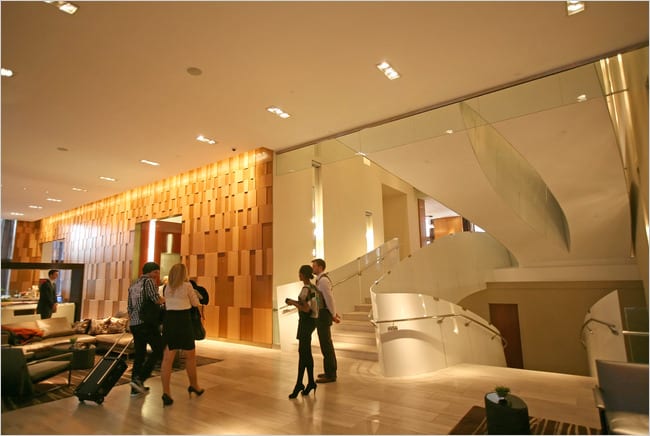 Image (c)  Marilynn K. Yee/The New York Times
You are immediately greeted by your very own 'host' with a tabnlet PC who checks you in and attends to you for the whole of your stay. It's a very American thing, and a little disconcerting at first for us foreigners at first, but the staff are knowledgeable and helpful. Quick and efficient check-out – you can bring up the bill on your TV and settle it before leaving your room.
Any points/miles to earn?
If you book through the hotel you can earn Hyatt Gold Passport points. As ever, make sure you join up if you are not already a member. The Hyatt scheme is okay although their hotels are thin on the ground outside of the USA. You may be able to redeem Hyatt points into another scheme or promotion as I did – swapping them for a lot more US Airways points.
Can they look after your bags after you check out?
Yes, they are happy to do so.
Green or mean?
The hotel website encourages those booking meetings to partake in recycling and other green measures – otherwise I found little specific information but will investigate further and update this review when I get a response from the hotel.
The Damage
The bill for three and a half nights (an extra half day due to flying out late at night) came to around USD 1500.00. In my defence, the US Dollar was extremely weak against the Norwegian Kroner at the time… Rates – as usual – drop sharply at the weekend. You are basically looking at around USD 400 a night and watch out for the sales and city occupancy taxes which are unfortunately hefty in New York in general.
The verdict please your honour...
The Good
Big and beautiful room, heavenly bed. Bathtub and shower cubicle. Plenty of power sockets. No smoking. Friendly service. Free minibar (except alcohol).
The Bad
Some may complain about the location but I found it to be a plus. There is also an Andaz on Fifth Avenue.
The Ugly
If I really had to find something I guess breakfast could have been thrown in for the price. But you are hardly stuck for options in NYC, all of which beat a hotel…
Closing comments:
I loved my stay here – it's cool without being more form than function. The standard (and the price) is high but it genuinely felt worth it. The only factor stopping me awarding the full 6 points is the cost – you really need to be splurging like I was…
Final score: 5/6
Images (c) Andaz Wall Street except where stated otherwise
Please note: The author travelled as a regular tourist – no mention was made of the fact that a review would be written, the establishment was not informed of the author's intentions and no special discounts were enjoyed. This is a vital part of our aim to provide impartial and comprehensive advice.