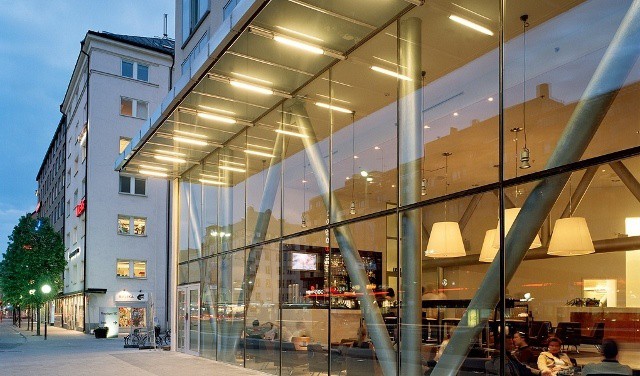 Image (c) hotelwithheart.com
Having recently reviewed the new flagship Clarion hotel in our home town of Trondheim – and not being overly convinced it was a resounding success, at least yet – I decided it was time to include a review of one of the brand's Swedish properties. The Clarion Hotel Stockholm is a large hotel a couple of metro stops from the centre of town, so a little more convenient in terms of locations than the previous hotel we stayed at, the Best Western Time Hotel.
But you loved that place, right?
Yes, so this hotel had rather a hard act to follow. Having said that, my criteria for the stay were a little different so let's see how it shapes up.
Can't wait! I wonder if we're looking at another 6/6 for the Swedish capital?
Well I guess you'll just have to read on and find out…
Clarion Hotel Stockholm, Ringvägen 98, Stockholm 10460, Sweden. Tel: +46 8 462 1000
When?
Mid-July 2011.
Vital stats:
Four stars (unofficial rating as Norway does not use the international star system). Opened 2003, 532 rooms over 8 floors.
Location, location, location?
The hotel is right next to the metro station at Skanstull, which is the fourth stop after the Central station. The airport express has its own platform at the Central Station and crossing to the regular metro for the journey south to the hotel involves quite a walk; worth remembering if you're heavily loaded. It could be worth getting a taxi instead…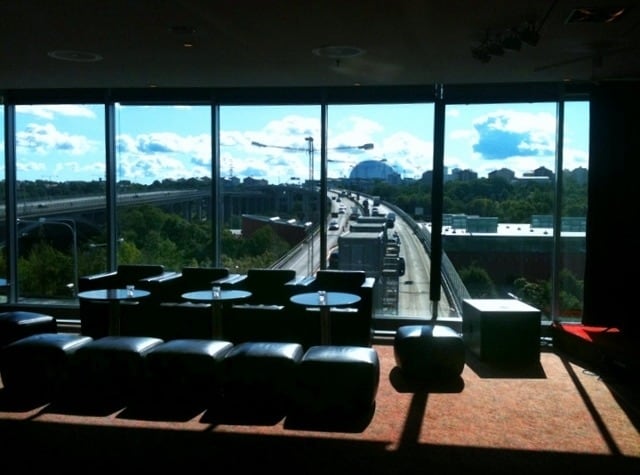 Image (c) petermakela.com
The hotel is built right on top of a motorway tunnel, as this view from an upper floor shows. However, you'll not notice any noise at all as it's evidently well sound-proofed.
What about parking?
Parking is naturally extremely expensive in Stockholm but if you wish to make use of the hotel's secure facility you can do so for rates of SEK 310 and up.
Why choose this place?
This time I was travelling with my wife and daughter in the middle of the summer holidays. So our search criteria were for a quiet but central location with an extra bed in the room, for a reasonable price. The Clarion Hotel Stockholm delivered on these counts.
Room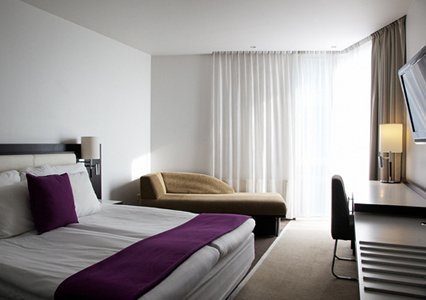 Image (c) Clarion Hotel Stockholm
There are four types of room and two types of suite. We had a standard room, which was cramped with the extra bed even though this seemed to be a permanent feature. We never really decided whether Rebecca was supposed to sleep on the sofa part, just use the mattress or sleep in the 'drawer' arrangement which was just big enough. She thought the drawer option was fun so used that – a proper extra bed would have been a better option but I guess we can't complain as there was no extra charge for what we had. Room features were as follows: LCD flat-screen TV, writing desk with chair, mini-bar, iron, telephone, wireless internet.
Image (c) Andy Higgs
The double bed was large and very comfortable, which is a major plus.
Carpets?
Oddly enough, again there were carpets which while clean, are never as nice as wooden floors. Or is it just me?
Bathroom
Image (c) Tim Hulsen and Miaomiao Zhou
About half the rooms have a bath and half just a shower – ours was one of the latter but you can see one of the former above. The bathroom was small but well designed, modern and light. As in Trondheim, rather than the usual individual bottles of shampoo, conditioner et. al. there was a dispenser by the washbasin and in the shower. These were filled with some sort of own-brand all-in-one gel which is okay (and better for the environment) but probably not the best for your hair. As usual the shower door failed to keep water forming on the floor.
Free internet I hope?
Yes, free to guests who use their room number and surname to get online. You can access the internet via a PC and a smartphone simultaneously without any issues. The service worked fine in all areas of the hotel as far as I could tell.
Bar and restaurant?
Image (c) Clarion Hotel Stockholm
Yes – there is a bar in the lobby with outdoor tables too which was popular and a fun place to start in the evening. There was also a restaurant which we didn't get to try on this occasion.
Pool, sauna?
Neither, but there is a public pool behind the hotel.
The breakfast was included, right?
Yes, and it was okay. A good range of options, enough space despite the hotel seeming to be full and crucially the highly efficient service personnel needed to keep things running smoothly.
Service
All good here; pleasant staff made checking in and out smooth and easy and those in the breakfast room worked very well too.
Any points/miles to earn?
Yes, you can earn Nordic Choice Club points for each stay; the programme is good (at least in Scandinavia) so join up.
Can they look after your bags after you check out?
Yes, they certainly can, and they certainly did. Efficient and secure service here too.
Green or mean?
A serious green profile, as well as the dispensers instead of individual bottles in the bathrooms the hotel is certified for several environmental standards.
The Damage
I paid SEK 1420 for a double room but with advance payment or at the weekends you can get a room a lot cheaper. The rate increases if there are two adults rather than a solo traveller, but there was no extra charge for a 10-year old.
The verdict please your honour...
The Good
Decent enough value, especially with multiple occupancy. Convenient location.
The Bad
Get rid of the carpets and bring in a proper guest bed.
The Ugly
Nothing to report here.
Closing comments:
We enjoyed our stay at the Clarion and would definitely return. The Best Western Time manages to beat it on value but it's a close call – definitely one to consider for the Swedish capital.
Final score: 5/6
Please note: The author travelled as a regular tourist – no mention was made of the fact that a review would be written, the establishment was not informed of the author's intentions and no special discounts were enjoyed. This is a vital part of our aim to provide impartial and comprehensive advice.