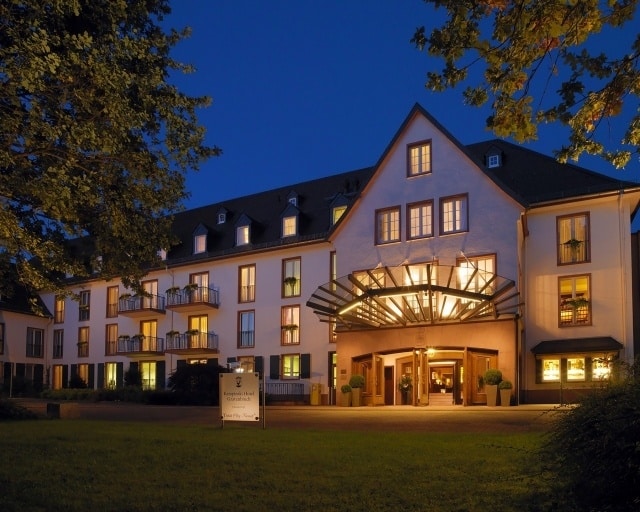 Image (c) Kempinski Hotels
Right, let's assume that you need to stay over near Frankfurt Airport but would like somewhere not directly overlooking the runway. A quick search will reveal a few choices within shuttle bus/taxi distance of the terminal and competition for your cash can often result in some good deals, particularly through third-party websites. As you'll probably know I generally prefer to use the hotel's own website but if (a) there are no good offers or (b) I'm not worried about not earning points then Booking.com, Hotels.com and their ilk are worth checking.
So what did you come up with here?
The Kempinski brand is one I most associate with their immaculate Adlon hotel in Berlin, although I have only ever had a drink at the bar and a snoop around the lobby. So when I saw this place near the airport which boasted of its five stars and was available for a reasonable EUR 160, I decided to go for it. The website listed both an indoor and an outdoor pool and the free shuttle bus was the clincher. A little luxury before my trip to Chicago the next day seemed to be just the ticket.
Yes, especially considering you would be flying first class…
Well, may as well keep up the pretence, right? The reviews were a little mixed but mostly positive, and it did seem that experiences were a little coloured by the room which was allocated – clearly there was a section of the hotel that had recently been renovated and that was the better place to be. Despite the fact that there are many claims to the contrary, I am convinced that the rooms offered cheaply by third-party vendors are worse than those assigned by the hotels if you book directly. I've been through this several times myself and I think I was subject to the same treatment here, but I digress…
Kempinski Hotel Gravenbruch, Graf zu Ysenburg und Buedingen Platz 1, 63263 Frankfurt +49 69 389 88 0
When?
Mid-April 2012.
Vital stats:
Five stars. Opened November 2011. 284 rooms over 3 floors.
Location, location, location?
The hotel is located 10km from Frankfurt Airport in a quiet location on a lake. It takes about 20 minutes in a taxi or driving your own car. Big minus here is that despite what it said on the website at the time of booking (now changed) there was no shuttle bus. I looked in van for the right bus stop only to find that a sticker had been placed over 'Hotel Kempinski' in the list of destinations. I called the hotel and was told that the service had been withdrawn and had to get a taxi. Not a big deal and not very expensive either, but nobody likes misinformation.
What about parking?
If driving yourself there are 350 parking spaces available for a charge of EUR 15 per day.
Why choose this place?
Well it's a five star property that can be had for a three to four-star price if you time it right. Throw in the two pools, an acclaimed restaurant and its peaceful location and that's an appealing package.
Room
There are two different types of room – Classic and Comfort. Go for the latter if you can choose. There are a range of four different suites starting with the Comfort suite aimed at families up to the Presidential aimed at, well, presidents.
Image (c) Andy Higgs, Grown-up Travel Guide
The room I was appointed was a major let-down, to be honest. After the entrance and the lobby, the service at reception and the bar (all of which I made use of before getting to my place for the night) I was expecting something a little better. Musty and dull, it had seen better days. I've had a similar experience in other German hotels with a vast disparity between the public areas of a hotel and the actual rooms and I believe it's to do with the fact that they are slow to renovate.
Image (c) Andy Higgs, Grown-up Travel Guide
Presumably they'll replace the CRT television (I know) when they do. The room had the following features: Big old jurassic television, writing desk with chair, private safe big enough for a laptop, telephone, opening windows, radio. The bed was comfortable.
Carpets?
Yes, the Classic rooms have them and mine was not nice. If you go for a Comfort room you get a hardwood floor but hopefully they'll strip all the carpets out or at least upgrade them when they get round to renovating the section of the hotel I stayed in.
Bathroom
Image (c) Andy Higgs, Grown-up Travel Guide
The bathroom was small but had space for a bathtub. Good quality Kempinski-brand toiletries. Hair dryer provided.
Image (c) Andy Higgs, Grown-up Travel Guide
Rather hilariously there was even an ashtray in the bathroom presumably for when you savour a cigar in a moment of quiet contemplation. This was of course a no-smoking room, although they do offer smoking rooms.
Free internet I hope?
No. The connection was fast but there's a charge. Not unusual for Germany but not good nevertheless.
Bar and restaurant?
Yes both – the bar was very popular and prices were okay – especially given the copious amounts of unusual snacks provided with each beer.
Image (c) Andy Higgs, Grown-up Travel Guide
I enjoyed an excellent dinner in the restaurant which was only spoiled by the late arrival of my wine – after I'd polished off my lamb main course. Apropos the ash tray in the bathroom thing – this is a major feature of many German hotels which has yet to be removed in these days of the smoking ban.
Image (c) Andy Higgs, Grown-up Travel Guide
It's kind of fun to imagine all these places taken up by simultaneously urinating and smoking gentlemen…
Pool, sauna?
Image (c) Kempinski Hotels
This is where the Kempinski gets a big boost. There is a beautiful indoor pool which is actually big enough to accommodate more than three guests at a time.
Image (c) Kempinski Hotels
In addition, and open all year-round (within reason) the hotel offers a heated outdoor pool with a sauna cabin which is a nice touch. I spent a pleasant hour ploughing up and down in the rain before sweating it out in the sauna. The grounds around the hotel (and its lake) are also pleasant.
More extensive spa facilities are also available (at a price) but I didn't try any of these.
The breakfast was included, right?
Nope. It costs EUR 29 per person which is quite a hefty charge but I had to leave so early that I was unable to test the buffet.
Service
Excellent service from check-in to check-out; the concierge knew his stuff and could provide tips if you wanted to go into the city for the evening. It was also very easy to book a taxi even for the crack of dawn and you can arrange to charge it to your room if you so desire (a convenient touch).
Any points/miles to earn?
Yes, the Kempinski brand is a member of the Global Hotel Alliance and you can earn points in the GHA Discovery scheme. I found the promotion for this a little over the top; after staying one night I would be awarded with my first "amazing Gold level Local Experience", which turned out to be a choice of newspaper, complimentary internet access or complimentary bottled water. "Amazing"?
Can they look after your bags after you check out?
Yes, they are happy to do so.
Green or mean?
Not a lot of information provided. The usual efforts are made to limit cleaning of towels but I couldn't find anything else specifically addressing environmental measures. I'll update this section if and when I hear back from the property.
The Damage
Via third-party sites you can get a room for as little as US$100, but you'll be in one like I had. Sometimes you can get a good deal from the hotel itself and it's always worth asking them to match any quoted rate.
The verdict please your honour...
The Good
Great pools and sauna, nice location. Quiet. Quality restaurant. No smoking. Good service. Well-stocked mini bar.
The Bad
Internet access should be free; breakfast could also be included or at least cheaper.
The Ugly
Advertising a non-existent shuttle bus from the airport was bad – they have now changed the website though. The type of room I had was definitely not what you'd expect from a five-star property. I know that the difference between four and five stars is mostly in service and uniqueness but this felt more like three stars.
Closing comments:
Despite the room I had, as long as you get a newer one this is a good option for staying near (but not at) Frankfurt Airport. The leisure facilities and restaurant add greatly to the experience and if you get a good deal this is an excellent choice.
Final score: 4/6
Please note: The author travelled as a regular tourist – no mention was made of the fact that a review would be written, the establishment was not informed of the author's intentions and no special discounts were enjoyed. This is a vital part of our aim to provide impartial and comprehensive advice.