This article is part two of the series "A Latvia Road Trip"
"Teaser" with original itinerary
A Latvia Road Trip: Part One – Liepaja
A Latvia Road Trip: Part Two – Jurkalne, Kuldiga, Edole Castle and Kuksi Manor
If you're reading this with no idea of my trip to Latvia you should really start with the teaser detailing the itinerary and you don't want to miss the first article about Liepaja, since that is a town I now have at the top of my list of great new discoveries.
But to summarize, I was visiting my 57th country as part of the #LatviaRoadTrip campaign arranged by the Nordic Travel Bloggers collective.
I was not alone – the rental car also contained three other travel bloggers – Ann-Mari from Norway as well as Katarina and Helena from Sweden.
The trip was sponsored by Latvia Tourism with its partner Air Baltic and local operators. As I never tire of telling you, all opinions are my own.
So, having thoroughly enjoyed Liepaja and despite wishing we had longer to spend there, it was time to move on. We awoke to a cloudy Sunday morning and enjoyed a last breakfast at the Fontaine Hotel. After cramming our bags back into the Passat we hit the road once more, with our next destination being Edole Castle but plenty to do before sleeping there for the night.
Yes, we would be sleeping in a castle.
The weather was not ideal for taking photographs or filming, but we were assured by our weather apps that it would clear up around lunchtime with sun and blue skies in the afternoon.
As well as our arranged activities we had been given a list of suggestions and were able to decided what we wanted to do up until 1600 this day when we were to meet a local guide in the town of Kuldiga.
After voting on it (long live democracy!) we decided to drive straight to the village of Jurkalne where we could stop for lunch and explore the famous steep cliffs and sandy beach.
The drive there was uneventful – it has to be said that Western Latvia does not have the most spectacular landscape, being essentially flat with farmland and woods being the main features.
That's not to say it's unattractive – just that it's more akin to rural Denmark than Northern Norway.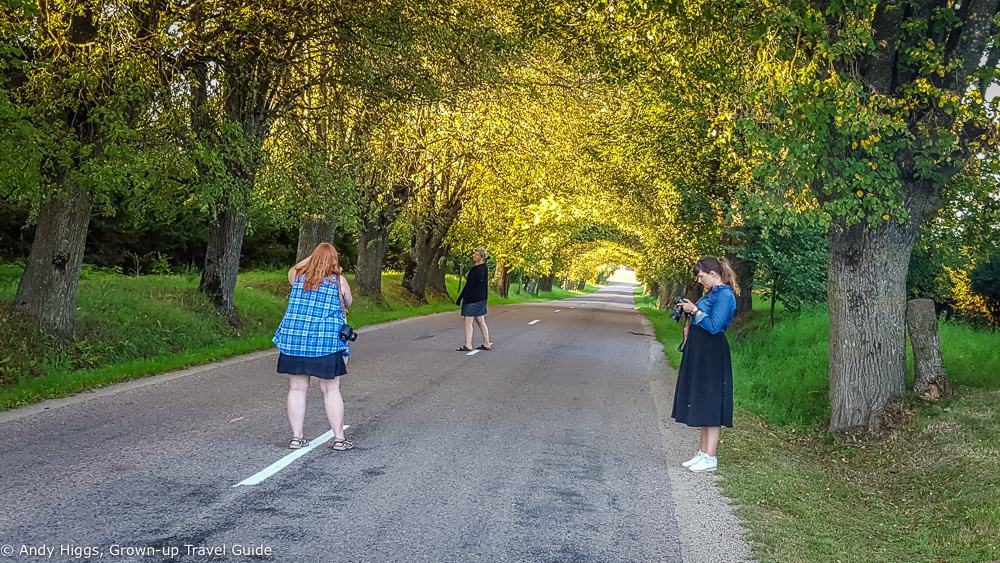 Some travel bloggers take longer than others to take their pictures…
Generally the roads are in good condition or are being rebuilt, so there are no real issues for drivers and the situation will be even better in a couple of years when everything is completed.
Incidentally we searched in vain for blue cows during the entire road trip – Ann-Mari had discovered that Latvia was apparently home to this rare breed. It seems they are shy as well as strange colour – I would love to hear from anyone who has seen them.
Jurkalne cliffs and beach
When we reached Jurkalne the weather was still grey and dull, but we had to go and have a look around anyway.
It didn't take us long to decide that we would come back in the morning if conditions were better and we ended up doing so, which explains why half of this film clip shows overcast weather while the drone footage is in beautiful sunshine.
Call it artistic licence, but at least you get the full picture from the entire video.
As you can see the beach is rather stunning and the cliffs make a neat backdrop.
Even on the sunny day we visited we had the place almost to ourselves although we were there at the end of season on a Monday.
Having said that, the beach is huge so I doubt you would struggle to find a space for your towel.
The whole of the west coast of Latvia seems to be blessed with great beaches so if you have your own transport you can take your pick – there are a number of resort towns and villages or perhaps you prefer more solitude?
Now it's worth remembering that despite appearances, this is the Baltic Sea and not the Med – water temperatures are at their most amenable at the end of August after a good summer but be prepared for a 'refreshing' swim. But as I mentioned before this is not Northern Norway, which holds the record so far for the coldest water I ever dipped my toe in from a white sand beach…
The brisk walk had made us hungry so we returned to the car and visited the restaurant and hotel that was on our list of recommended places for lunch.
Pilsbergu Krogs
Not just a restaurant, but also a hotel and art gallery, Pilsbergu Krogs would be a wonderful place to stay and use as a base to explore this stretch of coastline. There are 13 rooms and prices are extremely reasonable. It only takes five minutes to walk from the front door to the beach, too.
But if you are just passing through you should still pop in for a bite to eat. They use local ingredients, including fish, in their recipes and quality is extremely high. It costs a little more than many places but (a) it is absolutely worth it and (b) it is still very cheap compared to most other European countries.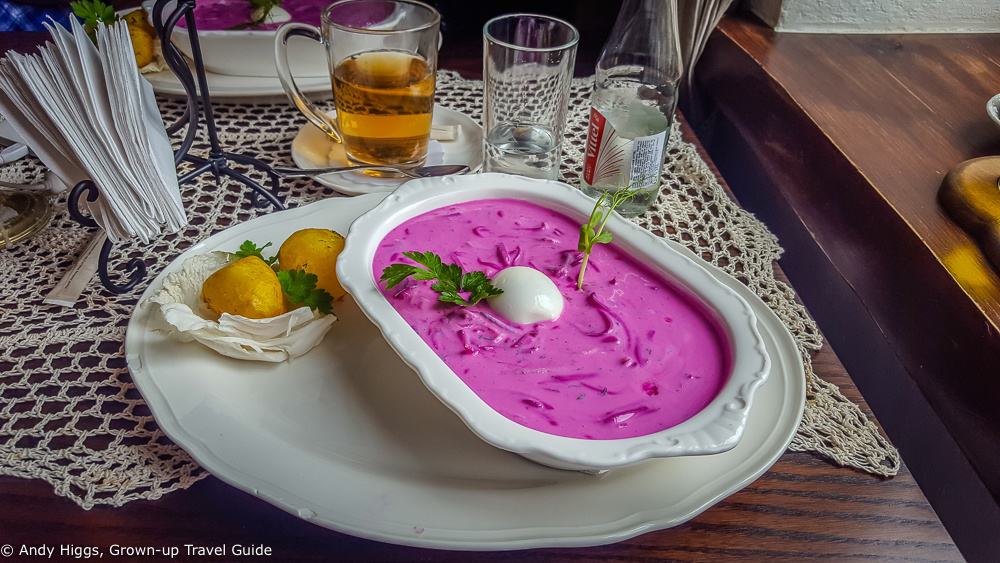 The beetroot soup was amazing.
After lunch we piled back into the car and headed for Edole, but stopped off on the way.
Pilsbergu Krogs, Jurkalne, Pilsbergi, Latvia LV-3626
Alsunga
Not far from Jurkalne, the road to Kuldiga passes through Alsunga. It's the home of the Suiti people – a small Catholic community in this otherwise Lutheran part of Latvia. Today about 940 inhabitants live in the village and since 2009 Alsunga has been a UNESCO designated site due its unique culture.
As we drove into town we noticed a couple of stalls selling some kind of cakes, so stopped to have a look.
Known as sklandrausi, these sweet treats are filled with mascarpone available in different varieties – the apple ones are particularly delicious.
Since we had two Swedes in our group, it was time for a bit of fika. After all, you can take the girls out of Sweden but you can't take the Sweden out of the girls. So we found a quiet spot and had an impromptu picnic.
We also realised that Latvians clearly dress up when going for a walk in the country…
Oh and on the subject of amusing signs, the one above caught my eye for some reason. Pils means "castle", unfortunately.
Note that sklandrausi are heavy going – sharing is a good idea…
We drove through Alsunga the next day but the ladies were not there, so it may be that cake sales only take place on Sundays or the weekend – but get the timing right and I highly recommend making a purchase.
We then drove to Edole Castle to check in and leave our bags, but more about this later. Next stop was Kuldiga for a guided tour.
Kuldiga
Home to a population of approximately 13,500, Kuldiga counts its history from the first time it was mentioned in 1242 when a castle was built. Due to its strategic location where the River Venta waterways and land routes join the Prussian lands with the lower reaches of River Daugava. It became a member of the Hanseatic League in 1368 and in the 17th century Kuldiga was one of the capitals of the Duchy of Courland.
The town is a major attraction in western Latvia because of its distinctive architecture and for having the widest waterfall in Europe.
Other sights include Saint Catherine Church, for which building may have begun as early as 1252. Changes were made on a number of occasions and the altar is decorated with Baroque style wood carvings.
The Town Hall was built in the 17th century. The town square remains the place where people gather and this is a good place to start exploring.
These days it features a modern and colourful fountan that's a hit with locals and tourists alike.
And travel bloggers.
The oldest wooden building in the region is nearby – dating from 1670. The Aleksupite river runs through the historical part of town and each year a slightly crazy race is held in which participants run along the bottom of the river, ducking under bridges.
The old town is the only remaining 17th-18th century development of its kind in the Baltic area.
Kuldiga profited from trading with Riga and Jelgava from the taxes levied on goods taken across the bridge. Yet in 1615, the bridge collapsed due to floods. As if that wasn't bad enough, an enormous fire also destroyed much of the town in the same year. The town was rebuilt with a new market place and town hall, but it took several centuries before a new bridge was added in 1874.
Kuldiga is much in demand as a period film location – Werner Herzog shot "Invincible" here in 2001. He and the crew stayed in the building above, a school.
Here's a video showing you the highlights of our walk through the town:

Ventas Rumba – Europe's widest waterfall
Ventas Rumba is a 240 metre wide, naturally formed waterfall. But it ain't high – it resembles a dam more than a waterfall but facts are facts. In ancient times Kuldiga was known as the place "where salmon were caught in the air". The salmon still jump over the Ventas Rumba in the spring, bringing visitors from near and far.
As mentioned before the brick bridge across the Venta river was built in 1874 and is another one for the record books. It's the longest road bridge of its kind in Europe at 164 metres.
Kuldiga is a lovely town to stroll around with some interesting old buildings and sights. With no major industry remaining, the town is growing ever more dependent on tourism but preserving and restoring the ancient houses is extremely expensive. Many Norwegian experts on wooden construction come to help in the process but it is an ongoing struggle that I hope the town will win.
When our tour was over, it was time for dinner. And boy, were we ever hungry…
Dinner – Goldingen Room, Kuldiga
Sometimes a blog trip turns up a real discovery.
This place turned out to be an unexpected revelation. We knew it was one of the best rated places in the country, and serves Italian food, but who would really have thought that I would eat the best pizza I've ever enjoyed at any restaurant, anywhere? In a tiny Latvian town?
It's true. The owners had training in Italy and it really paid off.
They have a proper wood fired stone oven and know how to use it. The menu includes pasta and other dishes but you can't come here without trying the pizza.
The base was incredible and my four cheese was divine. Topped with blue cheese and slices of pear, this was artisanal pizza of the highest quality.
Add excellent service, a superb wine selection and delicious desserts, and you'll understand why we chose to come back here again the day after.
Quite simply, an amazing experience and fantastic surprise. Spread the word!
Goldingen Room, Baznicas iela 2, Kuldiga, Latvia
Overnight accommodation – Edole Castle
After that magnificent meal, we headed back to Edole Castle. Built in the Gothic Revival style on the banks of Edole Lake, it was built in 1264 and rebuilt in the 16th century. Between 1561 and 1920 the castle was the property of the Baltic-German Baron von Behr and his descendants.
The castle was expanded in the 18th century and underwent major reconstruction in the 19th to become one of the first examples of Neo-Gothic architecture in the Kurzeme region.
Today, Edole Castle is open as a museum with a cafe and restaurant and also has a number of rooms in which to stay the night.
These are traditional in style, spacious and with extraordinarily high ceilings.
I didn't care for the bed cover in my room but underneath the bed was clean and very comfortable.
The bathroom appeared to be brand new and was utterly spotless.
I slept like a log and missed hearing the resident ghost, which two in our group claimed to have heard. Of course it may have been a cat, but that doesn't make for an interesting tale…
In the morning we had a sumptuous breakfast with a selection of hot and cold dishes that filled us up for the day ahead.
We also had a chance to explore the grounds, the museum, climb the tower and for me to fly Dennis the Drone.
Here is a video for you:

Edole Castle is a fascinating place to visit and and even better place to stay – rates are reasonable and it is close to Kuldiga, providing an enticing base from which to visit that town too. Jurkalne is less than an hour away in the opposite direction, too.
Edole Castle, Edole, LV-3310 Latvia
As I said earlier, the weather was great on Monday so after our time at Edole we returned to Jurkalne for a walk on the beach/some drone filming; we then drove back to Kuldiga for lunch at Goldingen Room where the pizza was just as good as the night before.
Oh yes.
Wine tasting in Kuldiga Castle Cellar
After that satisfying lunch we headed back to the old castle grounds and descended into the cellar, which is the only remaining part of the original building.
Here they offer wine tasting in an interesting environment and we were given an introduction to Latvian wine by local producer Alvils Elksnis. He has been making wine from fruit and berries for several years and has achieved success not only at home but also in wine circles abroad. A big part of his mission is to prove that excellent wine can be made from ingredients other than grapes, and we were certainly convinced.
With the help of a translator, his passion for his craft really shone through.
I enjoyed all the wines we tried, which included bottles made from raspberries, redcurrants, strawberries and blackberries. Alvils' company is called Smilškalnu Vīns which is probably easier to pronounce after a few glasses.
But probably not…anyway, check them out on Facebook and don't hesitate to give the wine a try if you get a chance.
With that, we departed for Kuksi Manor which we aimed to reach by sunset for the best photo opportunities.
Dinner and overnight accommodation – Kuksi Manor
We only just made it but I got Dennis up in the air in time for the picture above and the footage in this video, which also includes a walkthrough of my lovely room:
After landing it was time to check in to this wonderful property. We knew it would be hard to top sleeping in a castle, but our trip planners managed it.
Kuksi Manor was in ruins when it was bought by its German owner in 1997, and it took an intensive effort and almost five years of restoration before it reopened its doors to guests. It's like a journey back to a grander era yet all modern facilities have been included. Each room is unique with its own history and this house has plenty of that – documents date the manor house to 1530 and it has changed owners and been reconstructed several times since.
After World War II, the collective farm management moved into the manor. This was followed by restitution to the Latvian owner. The building was left vacant, and as a result its condition deteriorated.
The manor has been declared a national cultural monument. Four rooms are of special significance because their walls and ceilings were completely covered in paintings. It took four years to clean and preserve and then restore the paintings, with all wor carefully supervised by the monument protection inspectorate.
Authentic details have been preserved from the ovens to the staircases. The rooms on the ground floor were preserved to look as much like they did before and restored to their old use.
My room was huge, with a modern and well-equipped bathroom.
High quality fittings all round.
I loved the bath…
The toiletries provided were very good too.
Once again, the bed was great and I had everything I needed.
We ate dinner here, which was a highlight of the trip. Meals are generally made to order with guests choosing from available products; the restaurant is not open to the general public.
The duck was perfect and the wine superb.
Breakfast the next morning was rather incredible too, as you can see from the picture.
A highlight for me was this local goat cheese – possibly the best I've ever tasted.
Kuksi Manor, Kuksasa, Jaunsatu pagasts, LV-3128 Latvia
But unfortunately we were out of time – after making a little progress through dishes on offer we packed our bags and headed for the airport.
How do I sum up this road trip? Well, I loved it and really fell for western Latvia. By combining the coast and Liepaja with the interior and its unique places to stay and explore, you will have the framework for a highly enjoyable short break mixing the beach, food and drink, history and culture and fun all in one exciting package – and a package that offers incredible value for money. I am already looking forward to coming back to Latvia!