So, by now you'll be well aware that I have a bit of a thing for Finland. I've already gone nuts about the food scene and praised the hotel I stayed at for offering excellent value and a great location. But all this focus on Helsinki has been at the expense of a little something called the rest of this vast country. Last month I was in the capital for the third time for a travel trade fair and bloggers conference which underlined how much I love this underrated Nordic gem.
But this time I also had the opportunity to join a post-conference trip to the Mikkeli region a couple of hundred kilometres northeast of Helsinki. This is an area known as the lake district of Finland and is very popular in the summer months; but it is also a magical place to visit in the winter. We were hosted by the Mikkeli tourist board but they have no control over what I write here, just as for all other sponsored trips Grown-up Travel Guide is invited to join.
They don't need to worry, though – I had a fabulous time and I am actually rather tempted not to tell anyone else about winter in Mikkeli so that I can keep it to myself. But that would be a little unfair and somewhat contrary to the aims of this blog, so here goes…
Introduction
The Mikkeli Region is the heart of what's known as Lakeland Finland. The area is dominated by the enormous Lake Saimaa which has the world's longest lakeside shoreline of nearly 15,000 km. There are an astounding 14,000 islands to explore in the area but you might want to stick to a few rather than attempting to tick them all off your list.
The theme for our tour was "Silence, please"; the idea being to experience unspoiled nature, local food and wellbeing in the depths of winter. Sounded great to me…
First of all we had to get to Mikkeli from Helsinki. It's an easy drive but for a relaxing start you can do as we did and take the direct train from Helsinki. It's an extremely comfortable journey by rail and Finnish trains are something else – free and fast WiFi is available, there are quiet zones, play areas for children, luggage lockers (for a returnable EUR 1 deposit), a dining car and even rooms reserved for making phone calls from your mobile so as not to disturb fellow passengers.
On arrival at Mikkeli station we met our local guide from the tourist office and walked through the compact town centre to our first stop – Bistro Vilee.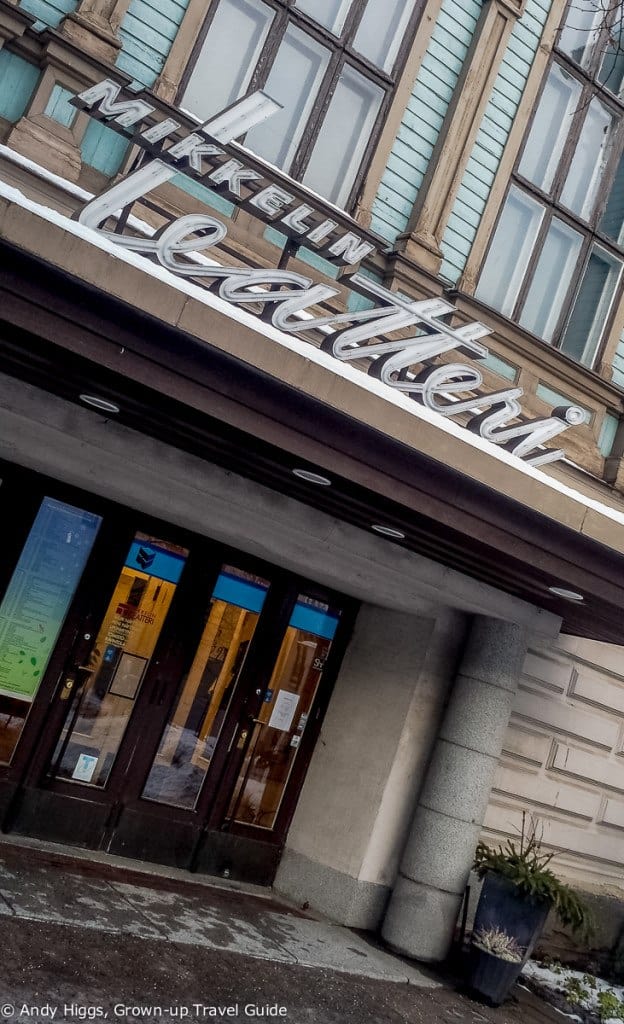 Located in the town theatre building, Bistro Vilee has rapidly gained a reputation for excellent food produced from local ingredients at a reasonable cost.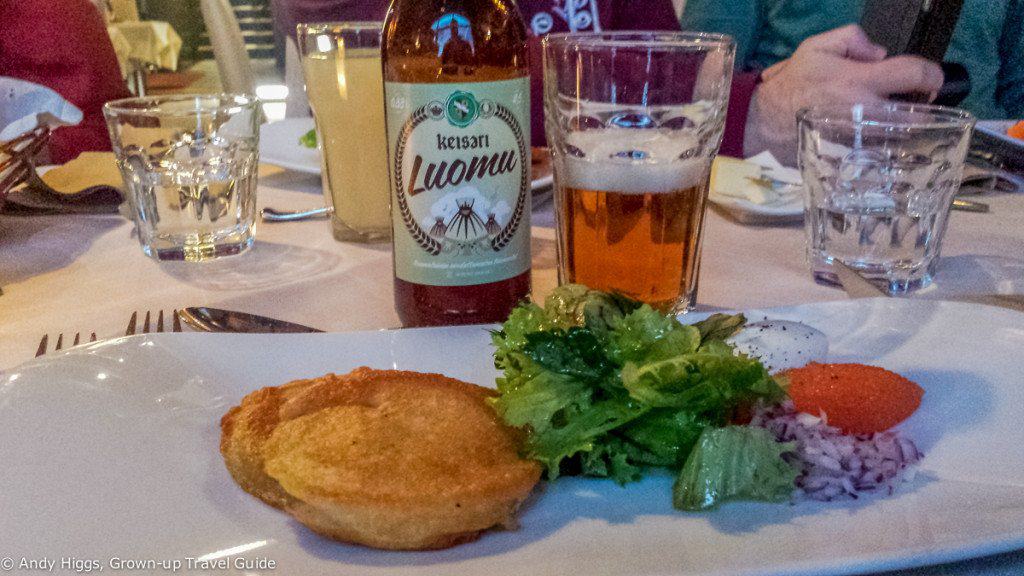 We were served tasty blinis to start before a superb main fish course.
Both presentation and flavour were wonderful and the care taken in preparation was obvious.
This is definitely a place to stop if you are touring the area before heading into the countryside. In fact it's exactly the kind of unexpected treat we love finding here at Grown-up Travel Guide – we will be back!
After our late lunch we had a brief tour of the town with a guide – Mikkeli seems an interesting place to spend a day or two and it would be good to return during daylight hours to see more.
But time was against us and we were soon on the road towards the place we would be spending our nights in Mikkeli region, Sahanlahti Resort in Puumala.
It takes about three quarters of an hour to drive from Mikkeli to Sahanlahti and it's an extremely scenic journey – when it's not pitch dark outside. Luckily we had perfect weather and an earlier start when we returned at the end of our stay so I know this is indeed the case.
Sahanlahti Resort is located on the edge of Lake Saimaa and is very busy during the warm summer, but only open in wintertime for groups or special occasions. The resort's new owners who have only been running operations for a year or so – and have already won an award for boosting local tourism – are however keen to keep things running in the colder months too. Based on our experiences, this would be a very good idea as Sahanlahti is the perfect base for a winter adventure. (Update: Sahanlahti will be open for the 2015/2016 winter season – see information at end of article)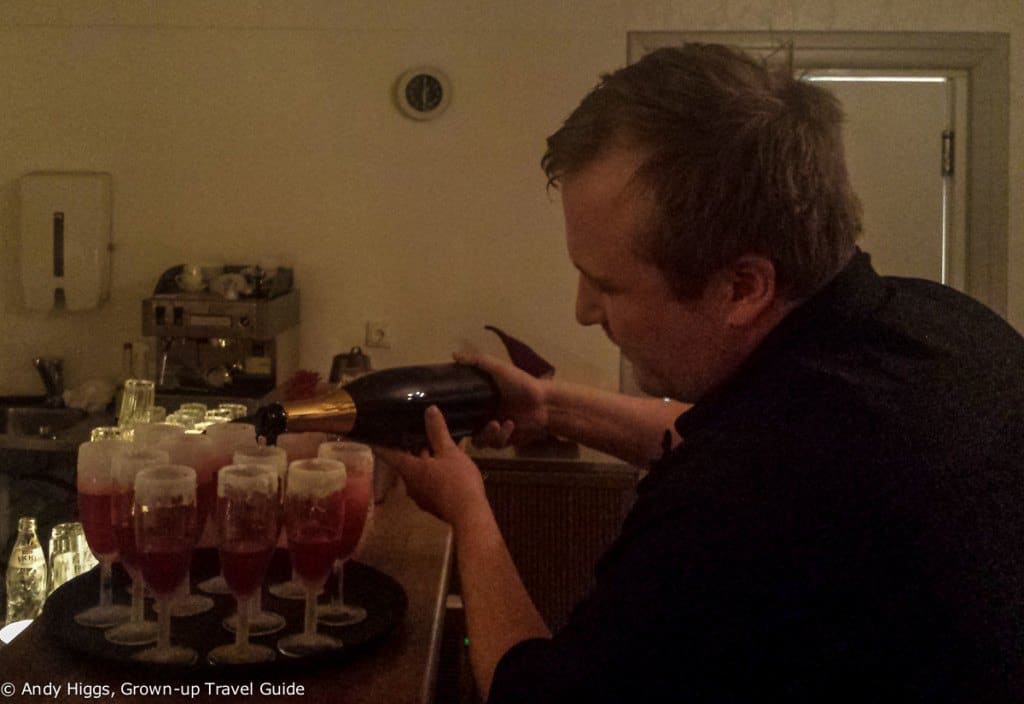 The owners were actually unable to meet us because they were in Mikkeli to collect their award that very evening. We were welcomed by the resort chef who served is what he called an Arctic Sour – don't ask me exactly what was in it but I seem to recall it included gin and cranberry juice. Whatever it contained, it was very tasty.
Feeling suitably refreshed we were given our room keys and set off to check out our accommodation.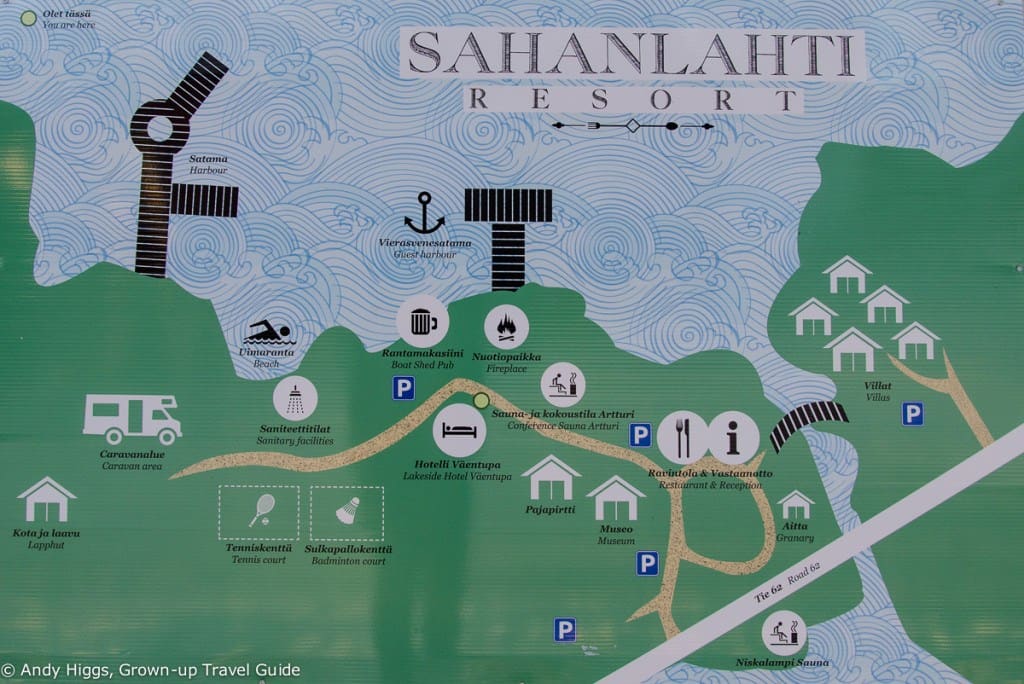 I was in a spacious twin room with the name of 'Mikko' and as you can see from this video it had everything I needed:
After unpacking and a welcome shower it was time to meet the rest of my group for dinner in the cosy Pajapirtti restaurant in one of the traditional log cabins.
Here we were treated to a splendid meal; on arrival our host was already in the process of cooking our main course of salmon on the open fire.
We took our places at the beautifully laid tables where we were served a selection of local specialities.
Before long the fish was ready – this is the first time I've had salmon cooked in this way and it was a minor sensation – succulent and full of flavour. Accompanied by excellent wine and good company a great time was had by all. This restaurant is open to groups on request and is certainly a lovely place to gather with friends.
Some of the more energetic of our group headed off to try the smoke sauna but I was too exhausted. I'm a major fan of the whole sauna thang but I could hardly keep my eyes open, so it was probably for the best. But yes, of course I did regret my decision later…
On Sunday morning we met early for a hearty breakfast. Finnish country-style porridge is a new favourite of mine, not to mention all the other delicacies you can see on my plate here.
The first item on today's agenda was a walk on the frozen lake. This may sound foolhardy but we're talking a 15cm layer of ice – which is strong enough to drive a truck over. At least that's what the locals will tell you – I'm not sure I'd want to test that out myself behind the wheel of a lorry.
In any case we were given walking poles (like ski sticks) which are telescopic and can be adjusted to the right height and then provide balance, stability or a sense of both. Look I'm not really sure of the point of them, to be honest. They are often referred to as 'granny sticks' in Finland although their use is now widespread among younger people too; I believe I read once that using sticks has some kind of health benefit or something.
Anyway we made our way across the ice which was covered in a thin layer of snow so not that slippery. Our goal was to meet a couple of local characters who would show us how they go about ice fishing.
Before I go much further now is a good time to watch a video I put together by compiling clips of most of the activities we got up to in Mikkeli:
As you'll see in the video these guys know their stuff and made a good haul. They took the best fish and cast the rest back into the water – interestingly they don't sell any fish they catch. The local superstition is that were they to do so, they would never catch any more.
So this is just a hobby for these guys, who seem to love it despite the freezing conditions (they are so used to it they see no need for gloves…)
Patience is required, but is usually rewarded.
One thing I learned about fish – it doesn't have to look good to taste wonderful.
Some of these fellas ended up in this exquisite soup we had for lunch a little later back at the main restaurant; I'm not exaggerating when I say this was one of the best fish soups I've had.
It's hard to get more local or fresh than that.
And what about that dessert? I know, I feel like I'm becoming a food blogger. But the feeling doesn't last long, because (a) my food photos are pretty awful and generally out of focus and (b) I forget to take notes of what each dish contains…
In the afternoon we were bussed out to Anttolanhovi Wellness Village, another holiday resort located on the road back to Mikkeli. This is a larger establishment than Sahanlahti with a hotel, camping facilities and luxury villas for rent. Open all year round, it's popular with both holidaymakers and conference delegates.
We were here to learn more about Finnish sauna traditions and we were shown a presentation with some useful tips.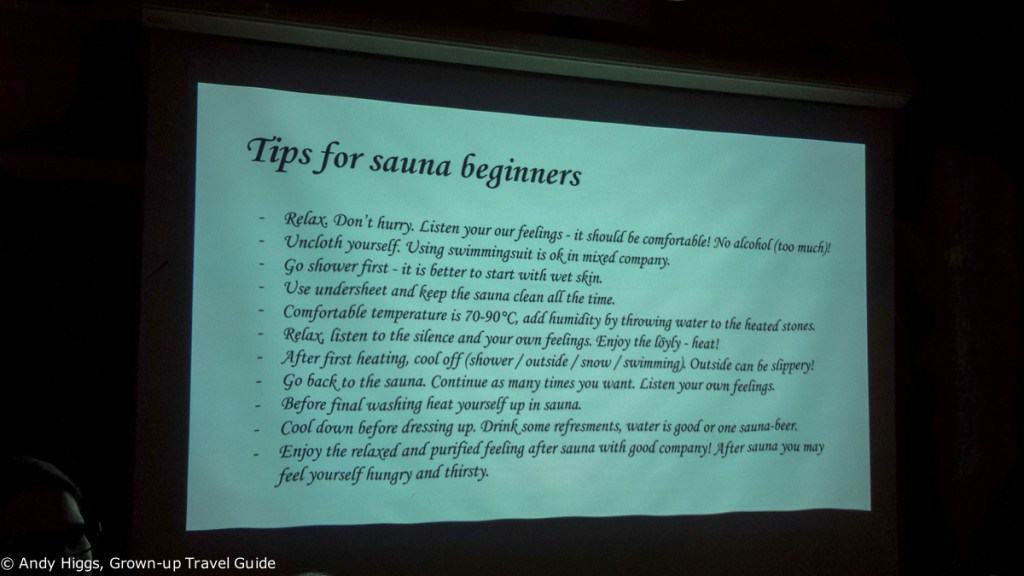 Yes, they could use a little help with their English but you get the jist.
It was then time to try the smoke sauna, which is the traditional style of Finnish sauna but is increasingly rare these days. That's hardly surprising, as you need to burn about a cubic metre of wood to get the thing going, it needs a lot of attention (people had this as their job) and is quite dirty – there's a reason for sitting on those undersheets.
But forget all that – a smoke sauna is a fabulous experience. It's far more fun than the rather sterile electric version. We also tried a peat treatment where we smeared our faces and upper bodies with mud, essentially, and then sweated it out in the sauna. After scrubbing it off in the shower my skin was indeed remarkably smooth so I'm sure it's beneficial. We had our 'one sauna-beer' and chilled out on the outside terrace. A few brave/crazy souls even took a dip in the lake.
After getting dressed again we headed for one of the luxury villas for dinner. This is real designer accommodation with all the amenities and space you could require – and would make a wonderful place to spend a holiday with a group of friends. They don't come cheap, but you don't find this experience in many other places, either.
Dinner was served in the living room of one of the villas and was of the same top quality to which we had become accustomed. Finland is truly a great food destination – it's not just Helsinki.
I think every single one of us nodded off on the bus back to Sahanlahti and I know I slept like a baby when I got back to my room. Nothing beats the silence of the countryside in winter for a good night's kip.
Our Monday morning was a little out of the ordinary.
After another delicious breakfast it was time to go horse-sledding. Or rather, it was time for everyone else to do so and for me to fire up the drone and film it.
I also got a few nice photos here too – in the one above you can really see the scale of the lake and the wonderful emptiness of the landscape.
Next we hopped back on the minibus for the journey to the island of Niinisari. This involves one of the shortest but most efficient – and free – vehicle ferry crossings I've experienced. Running 24 hours a day and 365 days a year, the islanders need never feel cut off from the mainland.
Niinisari is famous for its local delicacies and berry wines, but is also home to an art gallery, museum, blacksmiths and accommodation at Okkola.
Here you can rent a holiday cottage in the summer – but our initial purpose was to collect our kick-sledges.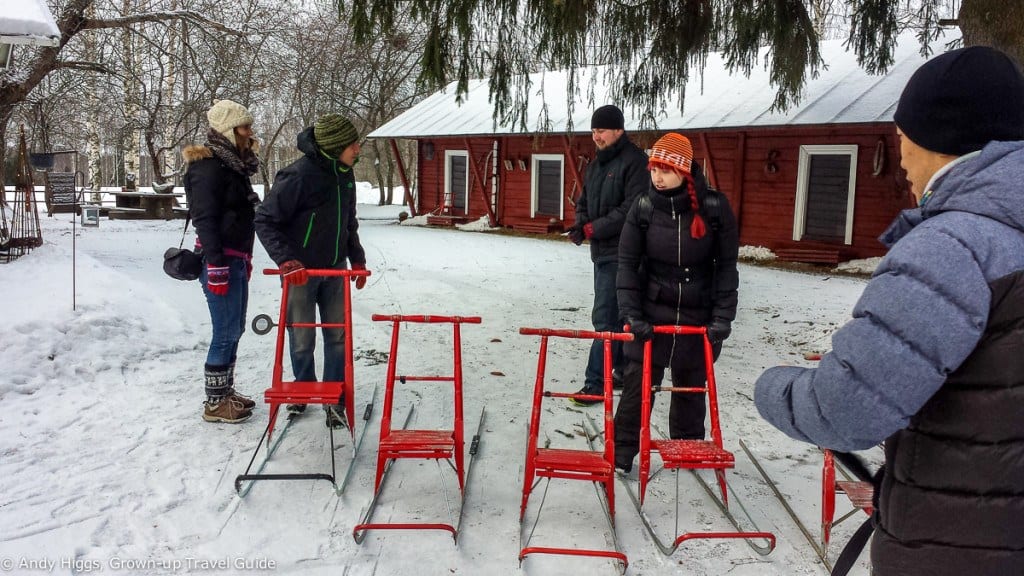 This is an excellent way to get around in winter and we had fun travelling in a slightly chaotic convoy as we made our way to Hanhiniity Smithy.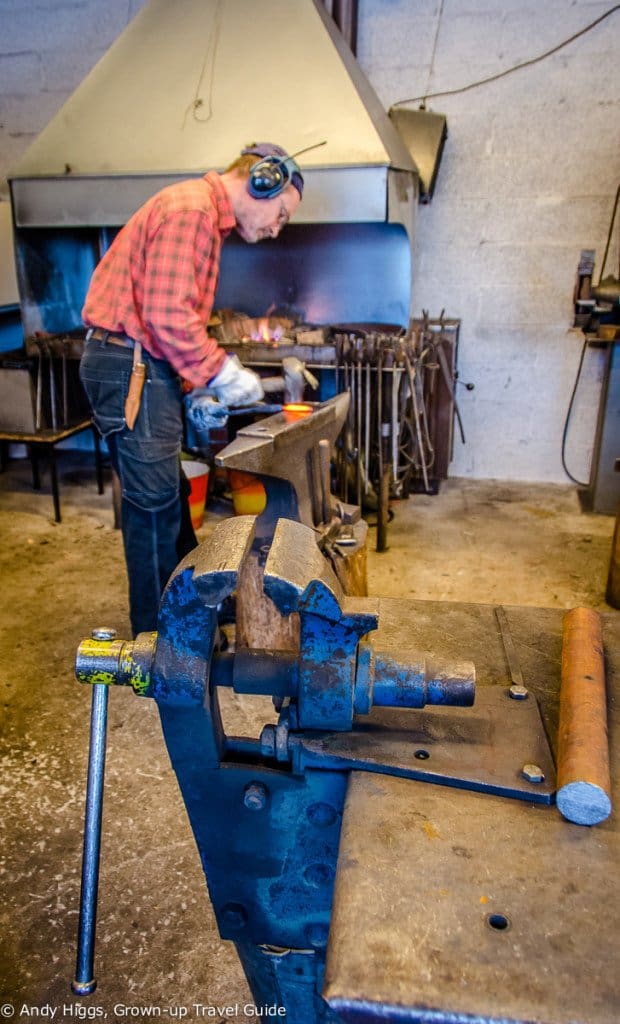 Here we got the chance to watch blacksmith Martti Malinen at work – in the picture above he's making a knife blade. I have a real fascination for this kind of skill and it's rare to be able to witness the process 'live'.
Not only did we get to watch and chat with Martti, he even let us make an amulet. Okay, finish an amulet is perhaps closer to the truth.
We got to decorate it – as my buddy Ben Fan is hard at work doing here.
I was rather pleased with my sun symbol and it made a nice souvenir.
It looked even better when Martti polished it but I'm not sure I'd be able to charge the prices he can command for his work…
We made our way back to Okkola restaurant for a welcome and excellent lunch before our next activity – snow-shoeing. Here we were led by Martti's other half Sanna Korhonen who took us into the silent forest where we were encouraged to be at one with our own thoughts.
At one point we  each headed off in different directions to spend ten minutes totally alone and at one with nature, just listening, sensing, taking it all in. This was a powerful experience and something all of us need to do on a regular basis – far from the junk of modern life.
After a trek through the forest to the lakeside we returned to the smithy and warmed up by the fire inside their tent – baking 'twists' of dough on the embers.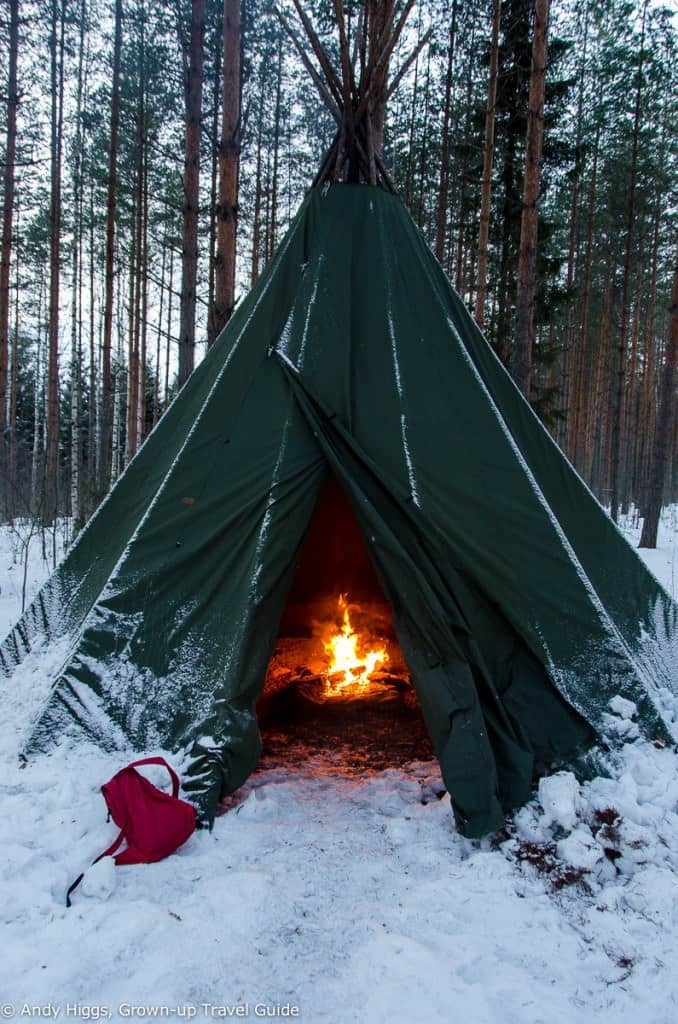 It was a fine way to end our day at Niinisaari.
Back at Sahanlahti we met up for our last dinner with heavy hearts – none of us wanted to leave the next day. Our hosts pulled out all the stops for our final evening though – with a spectacular three-course meal, fine wine and live music provided by a local accordion player.
But it wasn't quite over yet – we made the most of our last night by hitting the sauna and then the outdoor hot-tub under the starry sky. Raising a cold beer to toast this magical place in the Finnish countryside while relaxing in the warm water, we all knew we'd return to Sahanlahti to explore this winter wonderland once more.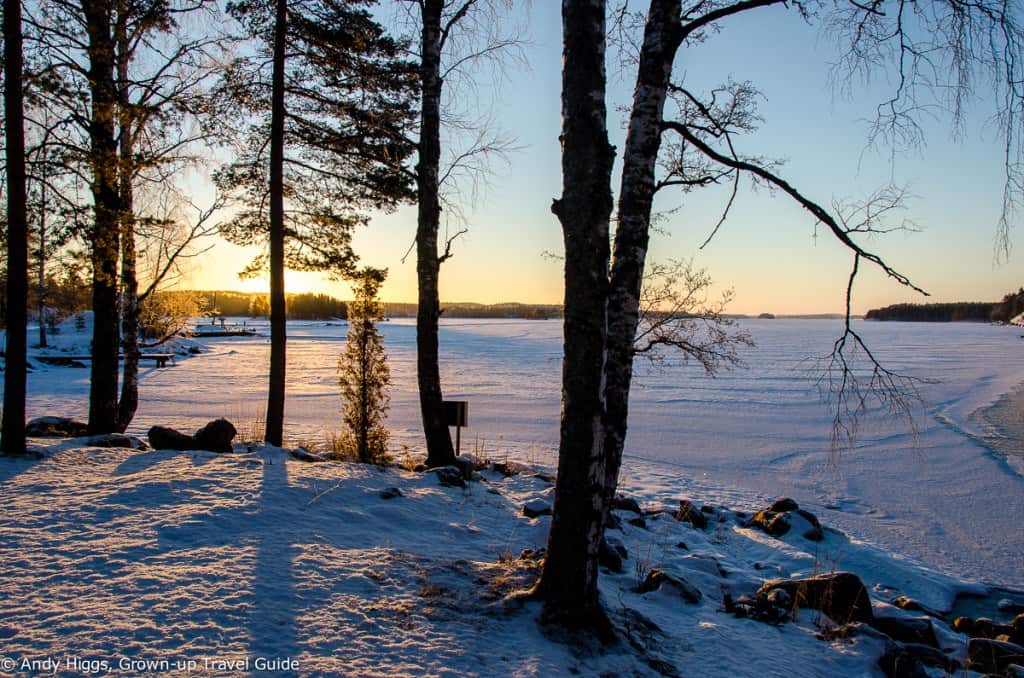 As if to make it even harder to leave, we woke the next day to perfect weather.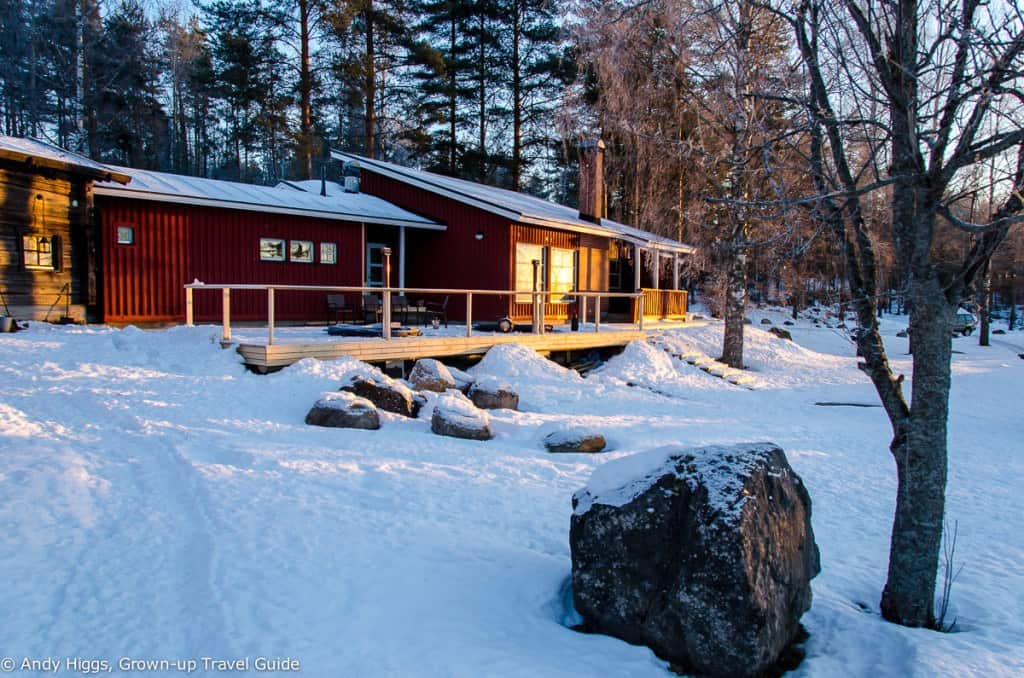 I took a walk around the resort to capture its beauty.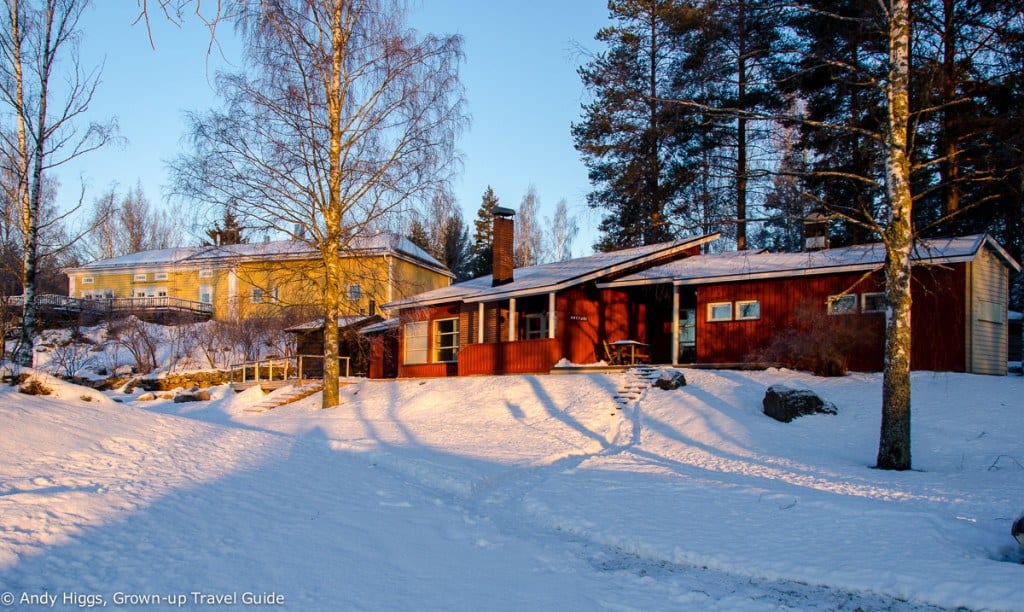 I could have spent all day and would have still only scratched the surface…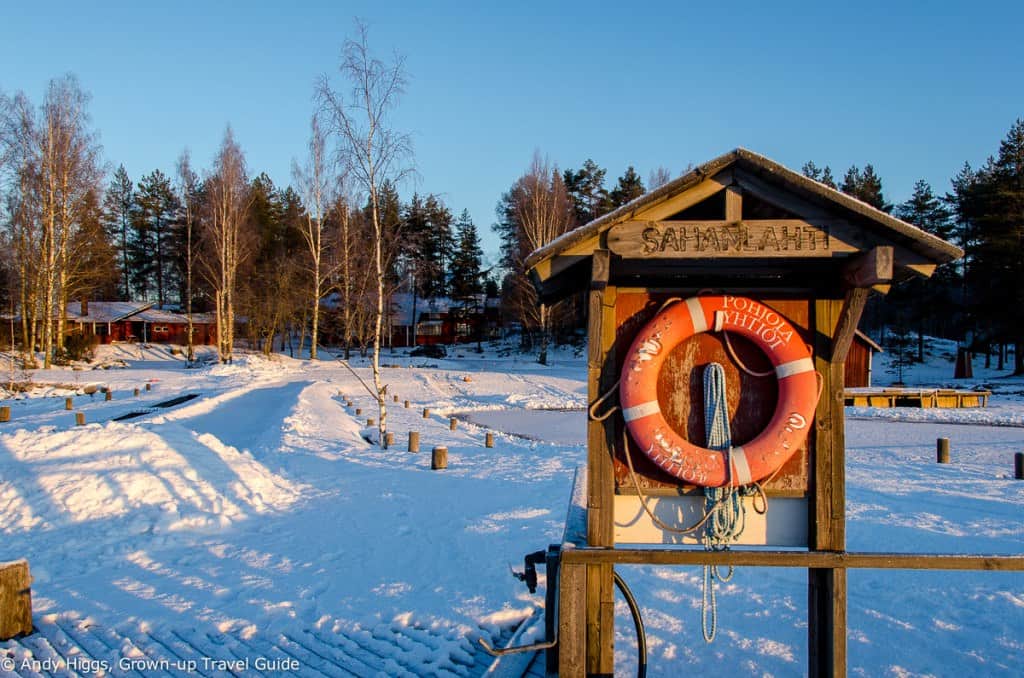 The early morning light is really something, huh?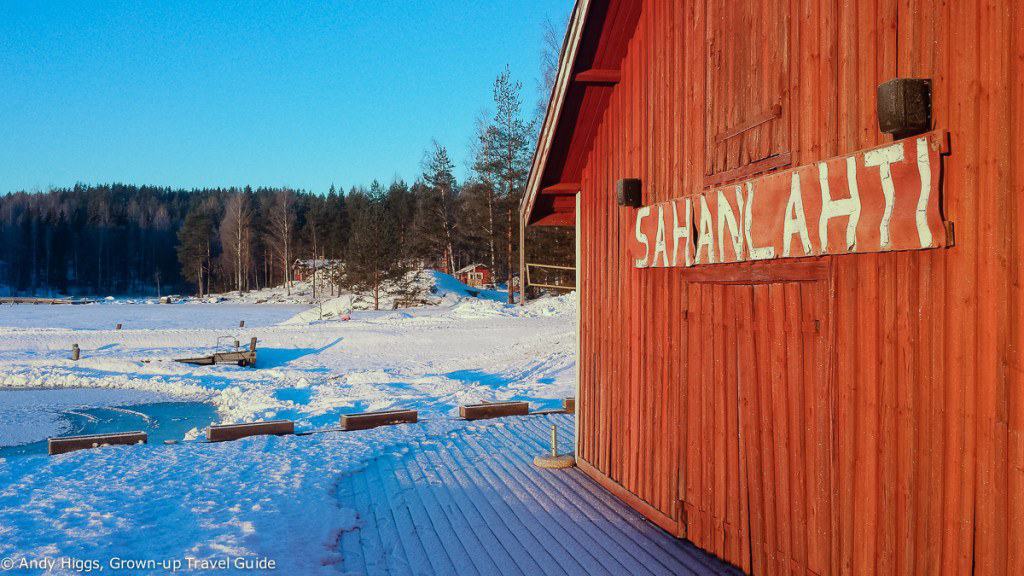 This was the last snap I took before heading to the bus – you get why I didn't want to go?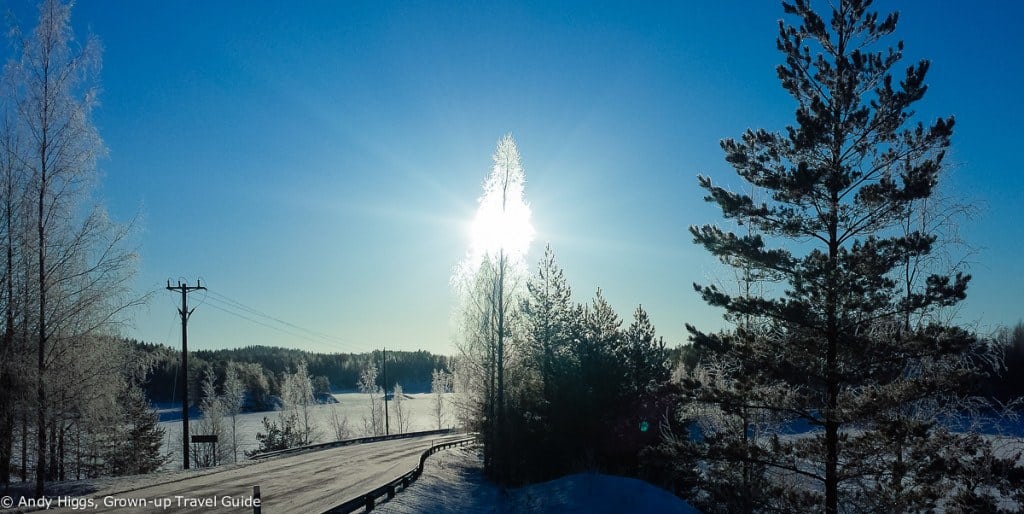 On our way back to Mikkeli to catch the train to Helsinki we stopped at a viewpoint on the main road. It was one of those places where you would have to try in order to take a bad photograph.
So there you have it – the secret is out. Winter holidays don't have to be a choice between escaping to the beach or skiing in the mountains. There is so much to enjoy by embracing the cold weather, the silence, the beauty of nature and the wildness of the countryside – and Mikkeli is the ideal place for all this and more.
But you don't need to forego comfort – there are unique places to stay and there's gourmet food to be sampled. You can be pampered in wellness resorts and sweat it out in a traditional smoke sauna. Why not try your hand at ice fishing and tramp through the forest on snow shoes?
Doesn't that sound more appealing than lying on a beach or a week spent skiing down the same slopes?
Further Information:
Season 30.8.-23-12-2015 and 11.1.-26.5.2016 
Ensuite room 20m². 
Double/twin EUR 80/night,  EUR 480/week 
Single EUR 70/night, EUR 420/week
Extra bed EUR 30, baby bed free of charge. 
Sahanlahti villas 
Villa with sauna 55 m² (bedroom, kitchen-living room, glazed porch, bathroom, toilet, gallery, sauna and terrace) 
1-2 pers. EUR 170/night, EUR 900/week 
3-5 pers. EUR 180/night, EUR 950/week 
Villa 45 m² villas with a shower (bedroom, kitchen-living room, glazed porch, bathroom with a toilet and terrace) 
1-2 pers. EUR 150/night, EUR 800/week 
3-4 pers. EUR 160/night, EUR 850/week 
Prices include bed linen, a hotel breakfast and a final cleaning. Walking poles, snow shoes, fishing equipment and Nordic skates can be used free of charge when booked at the same time as accommodation. 
Niinisaari Island – Guided snowshoe tours from Goosemeadow (Blacksmith, snowshoeing)
1h tour for first timers starting EUR 20/pp. but with a minimum price of EUR 100 (includes guide, gear and taxes)
2-3h tour with outdoor lunch starting EUR 35/pp but with a minimum price of 175€ (includes guide, gear, snack/food and taxes)
You can also rent just the snowshoes and wander on your own:
Shoes for adults: EUR 25€/weekend, EUR 50/week
Shoes for children: EUR 20/weekend, EUR 40/week