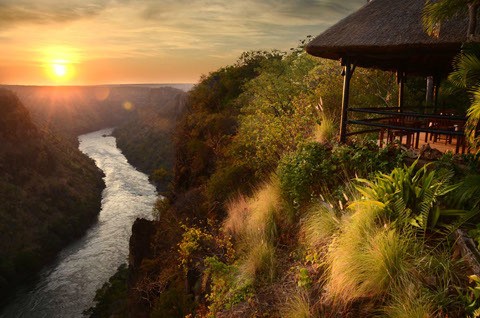 Today we're really excited to be able to share some details about our next amazing trip. Next week Grown-up Travel Guide returns to Africa! You'll be able to keep up with my journey by following the #zimbabwesafari2014 hashtag on social media (Twitter, Google +, Facebook, Instagram etc.) and of course right here.
In what promises to be the biggest adventure I've taken part in since starting this site I'll be visiting Zimbabwe and staying with Imvelo Safari Lodges at two of their properties.
This is no ordinary company either; not only do they provide luxury accommodation and bespoke safaris in unique locations, they are committed to sustainable tourism and helping the local communities.
Unlike some operators who are prone to exaggerate their eco-credentials, Imvelo are making a real difference. Each property is built on community-owned land and as well as providing employment opportunities the company contributes to the improvement of school and educational facilities, fresh water supplies and mobile health clinics.
Of course the land and wildlife are vital to the success of each lodge and a number of programmes ensure the welfare of both.
I'll be learning all about Imvelo and visiting many of their community projects during my stay. There'll be plenty of time for taking in the incredible scenery and wildlife too; this will be my first safari and to say I'm excited is somewhat of an understatement. This will also be my first time back in Africa since my Ghana days in the early 1990s – but it won't be the last.
Grown-up Travel Guide will be expanding its focus on Africa in the future to bring you inspiration for your own adventures.
This is the basic plan for my visit – I will edit this overview as activities are confirmed or if anything changes:
Wednesday March 26th
Fly from Trondheim to Copenhagen then on to Frankfurt with SAS
In Frankfurt I'll change to Lufthansa and try out the world's biggest aircraft for the first time; the A380 down to Johannesburg. As mentioned before the entire journey was funded using frequent flyer miles and will be in Business Class all the way. Unfortunately Lufthansa doesn't have its new Business Class seats installed in all of its A380s and this route is some way down the retrofit list – but I'm sure I can cope with the older product…
It's a night flight but there's no jetlag to worry about, so that will be a nice change.
Thursday March 27th
In JoBurg I transfer to South African Airways for the flight up to Victoria Falls where I get my entry visa and will be met by Imvelo's representative.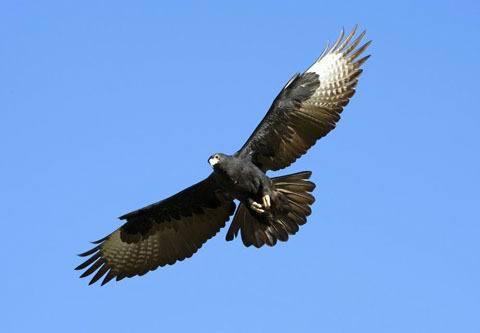 They will take me to Gorges Lodge where I'll settle in before viewing black eagles in the evening accompanied by sundowners and snacks. Nice.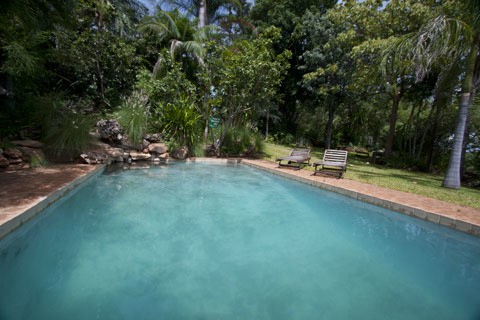 Later there will be a traditional dancing display and a barbecue dinner in the garden. I might manage to squeeze in a dip in the pool too…
Friday March 28th
I'll be waking up to a spectacular view from my room at Gorges Lodge. We head off after breakfast to the Victoria Falls and here I'll be in the capable hands of Shearwater Victoria Falls for the day. And what a day it promises to be…
First of all I'll be learning about the history of the incredible feat of engineering that is the Victoria Falls Bridge by taking the tram tour. With over 100 years to draw on the theatrical style presentation earns superb reviews and is an essential introduction to the area. I'll stop at the Bridge Cafe to take in the view (the only restaurant actually facing the Falls) and after a walk round town it'll be time for lunch at the Rainforest Cafe. Suitably refreshed I'll be off for a tour of the Falls before the main event – a helicopter tour! This will be amazing, especially as the Falls will be in full flow at this time of year and the best view will be from the air. Expect a lot of video footage and photos…
Later it's time for that obligatory sundowner cruise before dinner at the Boma restaurant, which includes a very touristy but nevertheless unmissable African cultural show with music, dance and a chance to consult a witchdoctor…
I'll then return to Gorges Lodge for the night.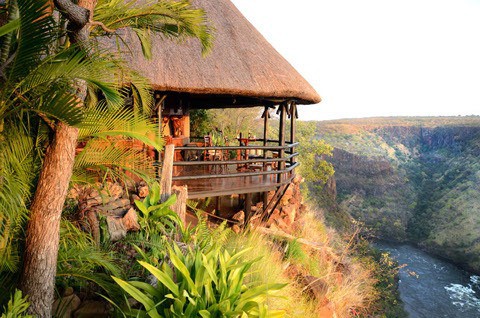 I'm certainly looking forward to experiencing this rather unique bar…
Saturday March 29th
I leave Gorges for Hwange and transfer to Bomani Tented Lodge. It'll take a few hours and should be an interesting drive. All being well I'll be there in time for lunch and in the afternoon will visit one of the community projects in the area.
Sunday March 30th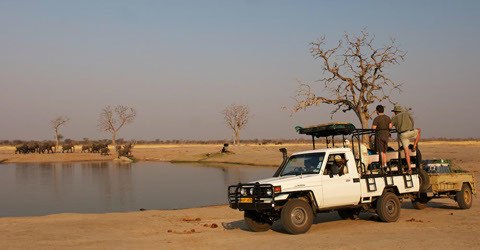 Today there's an early morning game drive and walk inside Hwange National Park on the programme. Fingers crossed for plenty of animals!
Afterwards we return to Bomani for brunch and time to relax before an afternoon game drive finishing up at the underground blind at Stoffie's Pan for sundowners and snacks.
Monday March 31st
I'll be taking part in a 'pump run' – in which the water holes are replenished to provide enough water for the animals. This being the wet season it will be mainly to let me experience what is involved, how the water supply and pumping in Hwange works and why it is so important to the wildlife's survival.
In the evening I'll be enjoying an al fresco dinner out under the stars by the lodge waterhole.
Tuesday April 1st
Today I'm visiting more community-based projects to see Imvelo's involvement in the schools and villages around the lodges.
We'll head back to Bomani for lunch and a chance to relax in my room in the afternoon – and do some work too as they even have WiFi here. In the evening it's time for an evening game drive before returning to the lodge for a farewell dinner.
Wednesday April 2nd
It'll be an early start as I need to get back to Victoria Falls airport for my flight back down to JoBurg, where I pick up the A380 again for the journey back to Frankfurt.
Thursday April 3rd
I arrive far too early in the morning in Frankfurt and will have to make sure I'm awake enough to find my connection to Oslo then finally back to Trondheim.
Sounds like an amazing week, right? If any of you have been to Zimbabwe or on Safari in general and have any tips or advice I'd love to hear it – just use the comments box below.
All images (c) Imvelo Safari Lodges