Image (c) Henry Bell/Sunway Safaris
I'm delighted to be able to share details of the next Grown-up Travel Guide adventure – it's time to add two new countries and a mass of experiences to the list as we visit Botswana and South Africa!
That's right – just two weeks from now I'll be returning to the most exciting continent in the world once again.
You'll be able to keep up with my journey by following the #botswanasafari2015 hashtag on social media (Facebook, Twitter, Pinterest, Instagram, Google +) and of course right here.
This particular adventure will be split into several parts – after a few days exploring Johannesburg, South Africa from the comfort of the Peech Hotel I will then fly into Botswana and join Sunway Safaris for what promises to be an amazing introduction to the country.
We fly back to 'Jozi' and I have five days left in South Africa before returning to Norway – I am still deciding exactly how to spend this time and will update you on the itinerary as it falls into place.
The Botswana leg of the trip is the culmination of several months of cooperation and planning together with Sunway Safaris. I'll be telling you all about this well-established African tour operator with one of the best reputations in the business but for now here's a quick introduction:
Established in 1994 by two guys with a minibus, a single itinerary and a huge amount of enthusiasm for travel in Africa, Sunway Safaris now run more than 250 safaris each year on 29 different routes in 11 countries.
Image (c) Bruce Taylor/Sunway Safaris
Sunway Safaris operates "affordable adventure tours and safaris for the young at heart". The company specialises in small group holidays with a choice of camping, staying in lodges or a bit of both. No matter which trip you choose the focus is on adventure, incredible wildlife, scenic beauty and cultural interactions.
Sunway Safaris has a fleet of custom built safari trucks, offices in both South Africa and Botswana. This is a young, growing company with over 50 employees, all sharing an insatiable enthusiasm and passion for Africa.
Like the sound of that? I knew you would. Well have I got news for you…this trip marks the beginning of a new era for Grown-up Travel Guide. I started this site because I wanted to inspire readers to follow me and see more of this wonderful planet of ours. Over time I realized that as well as telling you all about my adventures what I really wanted to do was take you with me and share new experiences together. I try to do this through words, photos and video but soon I'm going to add another option – Grown-up Travel Guide Tours.
We are working with some of the best travel companies out there to put together custom itineraries for our readers that tick all the Grown-up Travel boxes – adventure, excitement, comfort and above all fun. Sunway Safaris is our first potential partner so follow my trip to see what I make of their services…
Here is the current plan for my visit – more details will be published before departure:
Wednesday April 15th
Fly from Trondheim to Oslo with SAS then on to Frankfurt with Lufthansa.
From Frankfurt I fly to Johannesburg with Lufthansa on the A380 – this time in lovely new Business Class.
You may remember how Lufthansa was still using the old Business Class cabin in its new A380s when I flew this route last year?
I enjoyed it anyway but I am very happy that the retrofitting process is complete.
Thursday April 16th
Image (c) Peech Hotel
After arriving in Johannesburg I have arranged a transfer to the Peech Hotel.
"Set in the suburb of Melrose, a short stroll from the hustle and bustle of the city, The Peech is an eco-chic boutique hotel.
It has sixteen bedrooms spread across lush gardens and a bistro restaurant.The hotel blends an awareness for the environment and the community with chic surroundings, fresh food and smart design. It has been described as "Contemporary, edgy and Afrocentric" by Condé Nast Traveller and was awarded 'Best City Boutique Hotel' in Africa at the 2014 World Boutique Hotel Awards."
Nice. Expect a comprehensive review of the property on my return.
Friday April 17th
Image (c) Peech Hotel
Johannesburg – the Peech Hotel organises private tours and I plan visit Soweto with them. I'm really looking forward to exploring Jozi as this is a city which is shedding its bad reputation as quickly as it is building its good one.
Saturday April 18th
On Saturday I meet up with the guys and gals from Sunway and we fly to Maun with Air Botswana.
Here is our Botswana itinerary:
The adventure begins in Maun, a small town located on the South Eastern edge of the Okavango Delta and our access point to the wilderness of Botswana.
Image (c) Bruce Taylor/Sunway Safaris
We begin with an adventurous scenic helicopter flight into the Okavango Delta.
Local guides will take us deep into the heart of the Okavango Delta on mekoro (dugout canoes). The delta forms as water flows from the Angolan highlands out over the Botswanan flat Kalahari Desert sands creating a delicate, green oasis for birds & wildlife.
We will camp wild on a remote island in this amazingly dynamic environment. Camping with our local guides we learn more about their lifestyle & culture. The day ends with a relaxing sun-downer drink and a hearty meal prepared by our guide to celebrate the start of our journey.
Sunday April 19th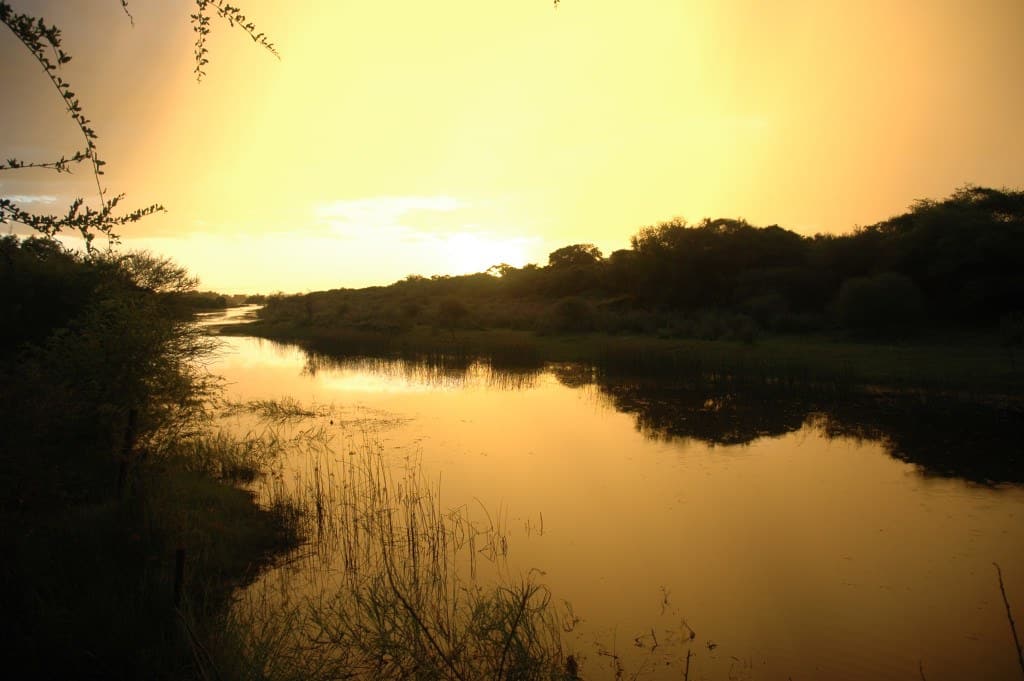 Image (c) Bruce Taylor/Sunway Safaris
Today we wake up to the birds singing, don our walking shoes and enjoy a hot cup of coffee before heading into the wilderness for an informative talk about the fauna and flora that makes up this magical ecosystem. Along the way we hope to encounter various game species, impala, wildebeest, giraffe, elephant and possibly lion from a safe distance.
After brunch we relax around camp and possibly take a swim in the crystal clear waters. In the afternoon we take a mokoro trip and polers guide us through the winding channels of the delta.
Monday April 20th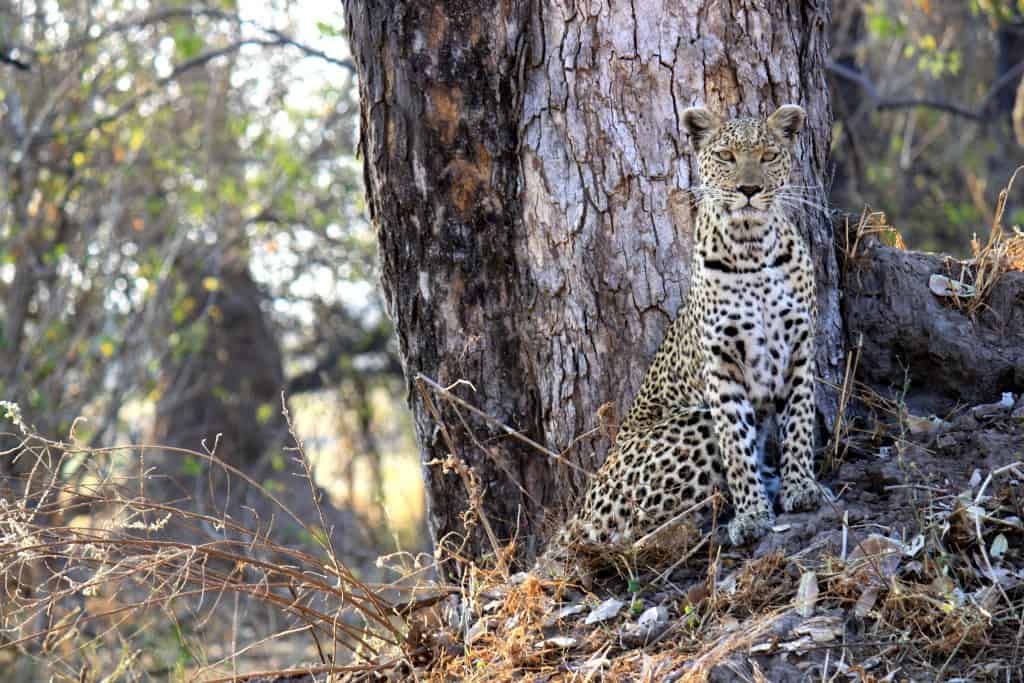 Image (c) Henry Bell/Sunway Safaris
We rise early and pack up the tents and take the mokoro back to the poling village where we meet our 4WD. We then drive from the Okavango Delta to Moremi Game Reserve. Chief's Island is the largest landmass within Moremi and was the Batswana tribe's richest hunting ground, before being declared a game reserve by the tribe. We will camp wild in a private campsite inside Moremi Game Reserve.
Moremi Game Reserve rates as one of the leading wildlife areas of the world and we explore the reserve in our open 4WD vehicle for fantastic game viewing! Grasslands, floodplains, forests, lily lagoons and winding water channels combine to form a variety of game viewing habitats.
Tuesday April 21st – Wednesday April 22nd
Image (c) Hans de Vries/Sunway Safaris
From Moremi Game Reserve we move north over the Khwai River to a tented bushlodge on a 180,000 hectare private concession.
We will spend time exploring the concession with its excellent game viewing. The concession lies between Moremi Game Reserve and Savuti in the Chobe National Park. There is a lot of elephant and buffalo movement through the area and also some of the lesser spotted species such Roan and Sable antelope.
On the final afternoon we will have time in camp to relax and enjoy the spectacle of elephants and other game coming down to the waterhole in front of the lodge to drink.
Thursday April 23rd
After breakfast we return to Maun.
After lunch we end the safari at Maun airport in time to catch departing flights back to Johannesburg.
Friday April 24th – Tuesday April 28th
Itinerary TBC
Wednesday April 29th
Fly from Johannesburg to Munich on South African Airways, then back to Trondheim via Copenhagen on SAS.
This is certainly going to be an incredible trip. Have you been to South Africa and/or Botswana? Do you have any tips to share – perhaps some killer ideas for how to spend my last few days in South Africa? Let me know in the comments field below then!