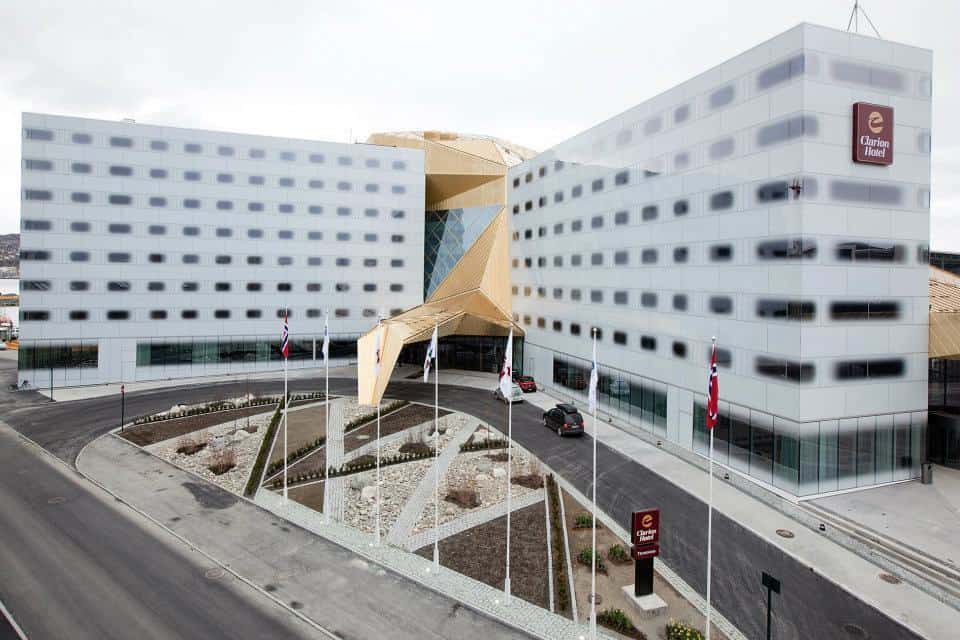 Post author:

Andy Higgs

Post published:

June 12, 2012
Image (c) Clarion Hotel & Congress Trondheim, Norway
We figured it was about time we covered some hotels in Norway, on account of the fact that Grown-up Travel Guide.com is based in, er, Norway. Even better, the opening of the biggest congress hotel in the country right here in our home town of Trondheim gave us the perfect excuse for some truly local coverage. Trondheim has a lot of hotels but clearly there is more demand than supply – mainly from the business and conference crowd – hence the opening of several new properties.
None has been more controversial than this one. It is huge and depending on your taste either hideously ugly or bold and daring. Opinion is very divided on this aspect, for me I found it quite interesting but I dislike the fact that it completely blocks the view of Pirbadet, Trondheim's indoor water park right behind it which is a far more attractive building. Still, its location and size allows the hotel to offer views over the fjord from many of its rooms. It also houses a large live music venue/conference hall.
By the water? That's not very central then?
Look, Trondheim's not exactly Tokyo. You can walk to the centre of town in ten to fifteen minutes and even less to Solsiden, the popular shopping and restaurant area. There is a shuttle bus service too if you can't handle such distances.
It is also very handy if you are arriving by cruise ship, as the terminal is in the same area. For all those lovers of Norwegian pop and rock music (there are some) it is also next to Rockheim, a new addition to the Trondheim cultural scene in the form of an interactive music museum. You know, you can play the guitar along with one of Norway's rockers, fiddle with things etc. It's actually very good fun and well designed, even if your knowledge of Norwegian music is limited to aha and a few 'null points' efforts at Eurovision. That's perhaps a little harsh given that a certain Alexander Rybak still holds the record for the most points awarded when he annihilated the rest of the contenders in 2009.
Getting back on track here if you would – this must be the newest hotel you've stayed at then?
Yes, it opened a couple of weeks before we visited which does account for some of the teething troubles. I've actually been there twice; once to check out the bar and live music and once to stay.
The local newspaper carried an advert for an opening offer with heavily discounted rooms for a few weeks after opening which was very popular. We were not the only guests who wanted to see what all the fuss was about. Clarion Hotels are part of the Choice chain in Scandinavia which in turn is owned by Petter Stordalen, a flamboyant (other adjectives also apply) millionaire who is not exactly shy of publicity – a sort of poor man's Richard Branson.
Image (c) Clarion Hotel & Congress Trondheim, Norway
He laughed off all criticism of the hotel's design and made a lot of noise about his recruitment policy for staffing the establishment which was to have an 'audition' process to find the most talented workers. We'll return to this later…
Clarion Hotel & Congress Trondheim, Brattørkaia1, 7010 Trondheim +47 73 92 55 00
Email: cl.trondheim@choice.no
When?
Late May 2012.
Vital stats:
Four stars (unofficial rating as Norway does not use the international star system). Opened 2012, 400 rooms and 3 suites over 9 floors.
Location, location, location?
Situated right next to the terminal for cruise ships at the dock area north of the city centre, the hotel is a ten minute walk from town. Public buses pass close by and the main train station is also within walking distance. Note that a pedestrian bridge is under construction which will link the station (and thus the town centre) with the Brattøra area which will make it even more convenient. Airport buses stop at the hotel in both directions if you are arriving by air. Pirbadet and Rockheim are basically next door, and there is a supermarket over the road.
Image (c) Clarion Hotel & Congress Trondheim, Norway
The best part of the location is the view over the water; you may be able to enjoy this from your room but the Skybar (above) is more spectacular.
What about parking?
Parking is ruinously expensive in Trondheim (and Norway in general) at the best of times but if you have to there are 300 spaces under the hotel. Rates on application to the hotel.
Why choose this place?
We were curious to try Trondheim's newest hotel. Yet there are plenty of reasons for picking this place – be it the proximity to Pirbadet, Rockheim, the cruise terminal or the railway station, the waterfront location or perhaps because of a gig in the concert hall.
Room
Image (c) Clarion Hotel & Congress Trondheim, Norway
There are four different types of room – Single, Double, Superior and Deluxe as well as several suites. We were booked into a Double and paid for an extra bed for our daughter. The room was modern and well-equipped but small – even without the extra bed it would have been cramped. Room features were as follows: LCD flat-screen TV, iPod dock, kettle, writing desk with chair, mini bar, iron, telephone, wired and wireless internet. The main bed was big and very comfortable, the additional bed was hard but did the trick.
Carpets?
Yes. This baffled me as they are not shown in the promotional images and not usual in Norwegian hotels. The carpets were clean (they could not have been used much given how new the property was) so that was fine but I'd much rather have had wooden floors.
Bathroom
The bathroom was small with a shower and toilet and supplied with the company's own-brand toiletries. Hair dryer provided. Underfloor heating but no shower door at all. It would seem that the architects had finally given up trying to prevent leaking shower cubicles by not bothering to install anything to stop it.
Free internet I hope?
Yes, free to guests who receive a code at reception. If you are belong to the Nordic Choice Club loyalty programme you can use your membership number to log on which is a nice touch. The service worked fine in all areas of the hotel as far as I could tell.