There is nothing quite like exploring the beauty of Australia at your own pace. Touring the country by road and stopping wherever you please, allows you to get up close and personal with all that Australia has to offer.
Bindi Irwin with a Kangaroo. Image source: eonline.com
However, planning a road trip like this requires a bit of preparation to ensure everything runs as smoothly as possible.
Finding a suitable vehicle is the first step towards ensuring a flawless and memorable road trip.
Factors to consider include; mileage and whether the vehicle comes with a shower, toilet or mini kitchen.
Choose a caravan or campervan that meets your budget and expectations, to provide all the important facilities you depend on. Once you have that sorted, you can focus on enjoying your trip to the fullest.
We have gone ahead and prepared this handy travel guide for you.
Here are the top three Australian road trip routes for your Australian camper or caravan adventure:
The Stuart Highway
This beautiful route begins in Adelaide and finishes in Darwin. Spanning over 3000 km of road, you will need a campervan or caravan that you can depend on.
Image source: Gumtree Caravans
The Stuart Highway takes you through the very heart of the Australian outback.
There are many fantastic highlights along the way, including the Kings Canyon and the Flinders Ranges.
Tasmania Ocean Loop
For adventurers searching for something a little more on the "wild side", the Tasmanian Ocean Loop tour is perfect for you.
Rugged beaches and sights filled with culture and historical significance will take your breath away.
You will need to take your wheels on the ferry from Melbourne to start your blissful journey into paradise.
The best time to go is early Autumn to Summer (December to April) – so you better start planning your journey soon!
This is also a great option for domestic tourists, who are people living in Australia and travelling a least 50km away from their home.
Cairns to Brisbane
If you want an adrenaline pumping experience, choose the classic route between Cairns and Brisbane. This fascinating road trip opens a whole string of exciting experiences and opportunities for the adventurous traveller.
Indulge in adrenaline pumping activities such as rafting, skydiving and bungee jumping. Or, take a dip in one of the wonders of the world, the Great Barrier Reef.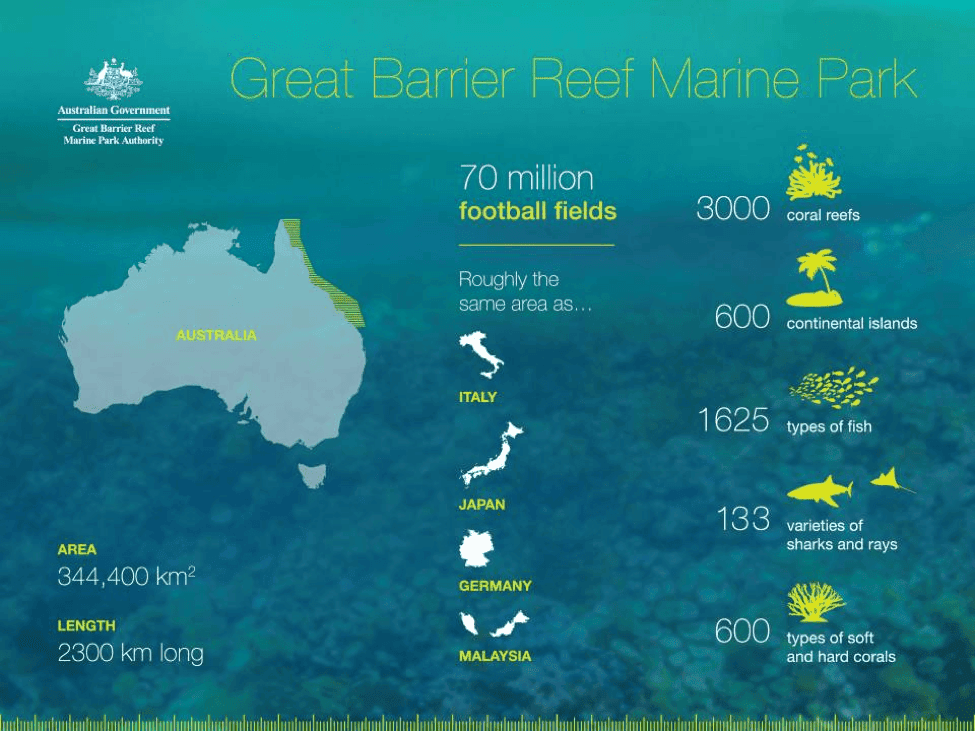 Great Barrier Reef info. Image source: gbrmpa.gov.au
The best part about taking a road trip around Australia in a campervan is the fact that you never have to worry about booking an expensive hotel room.
After a long day of travelling, sightseeing and adventure, you can rest comfortably in your mobile home without a worry in mind!