Snappy title, huh? Well, we thought so… Anyway, this is going to be the focus for a major section of Grown-up Travel Guide – we are going to show you how you can swap your regular two-week holiday for something really memorable – without having to pay a huge premium to do so. In fact we are aiming to find alternatives to the package tour to Greece/Spain etc. which are cheaper than the one you might be considering.
What if we told you could swap this:
for this: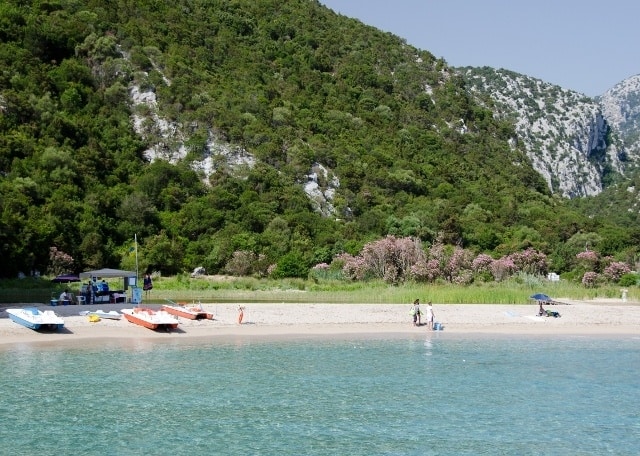 and actually end up spending less money?
You'd be surprised what you can get for your money these days – you can start by booking flights, car hire and accommodation yourself. We'll show you how we arranged a fortnight in Sardinia for a family – flights, an apartment and a hire car – at a total cost which was less than we paid for a package tour to a similar destination (this is the example above). The benefits go far beyond the savings; the resort we discovered was not offered by any of the tour operators, the accommodation was far better than we'd had before and best of all we were not surrounded by other tourists from our home town.
If you're happier sitting in a Greek restaurant watching Norwegian/British/American (delete as appropriate) shows on satellite TV while reading a two-day old copy of your local newspaper and skimming the menu (thoughtfully translated into your own language, of course) for the food you're used to getting at home, then this may not be for you. But then you're probably not the kind of person following this website anyway.
Another way to pimp your holiday is to start 'thinking outside the box'.  You'd be surprised, right? But the travel industry is nothing if not competitive, and the discounts, offers and free extras offered as enticements can ensure you can get a seriously Grown-up Travel experience next time you're planning that summer break – or indeed a holiday at any time of the year.
We'd like to make this series of articles as universal as possible and for that we need your help. We've already decided on example budgets for couples and families in the UK and Norway – and we would expect most of our European readers to be able to relate to these, but if you have a specific request and are based in a different part of the world let us know where you are, what you generally spend on a 1 or 2 week holiday and how many people will be travelling. It would also be good to know what kind of holiday you are looking for (beach, city, countryside etc.) so just add your details to the comments section below and we'll see what we can find.
The first article in this series will cover the aforementioned trip to Sardinia in detail and we will be adding new posts as we plan our travels for 2013 and beyond.
So watch this space and see if we can help you to pimp your holiday! 
Images (c) Juan Herrero_EPA, Andy Higgs, Grown-up Travel Guide.com, gssq.blogspot.com