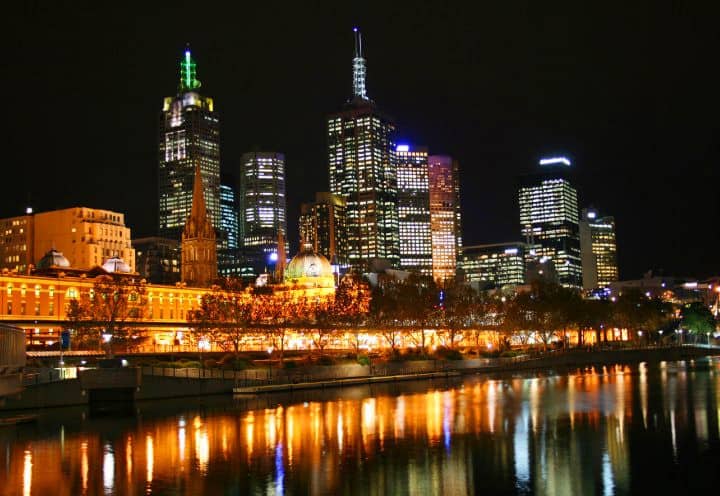 Photo credit: photographerglen via photopin cc
The most populous city in Victoria, Melbourne has a reputation to keep and a buzzing, multicultural population to entertain. Its array of bars and clubs that span from lively all-nighters to subtlety and sophistication means it has become a rarity in achieving satisfaction for every type of party-goer. The towering skyscrapers and glistening canals provide the perfect backdrop to an unforgettable night out, as long as you remember it!
Bars
For a bar with difference, you can go no further than Chill On Ice Lounge. Experience your cocktails while being surrounded by sculptures made entirely from ice! You'll be provided with a hat, coat, gloves and even Ugg boots to keep you warm in the minus ten temperatures, so you've got no excuse not to give it a try. Open until 12am on Fridays and Saturdays, its coolest way to start off your evening or simply go for a chilled out few.
Something with just as much sophistication but a little more warmth to it, M.O.O in the centre of Melbourne has a boastfully extensive wine list for those looking to enjoy a couple of glasses. Its plump leather couches and private booths create that heightened sense of class that compliments Melbourne perfectly. It also has a sister bar Penny Blue that is renowned for its DJ booth come nightfall.
Home to just as good a selection of beers and wines, Aviary is the perfect shout for something a little more laid back. Right in the middle of Melbourne, this inner city bar flaunts a nice selection of desserts if you're interested in giving your drink a little company.
Clubs
Camino Bar is for those who are looking to dance the night away as well as drink. With a unique sound and lighting system, two dance floors and three bars, you'll soon find yourself not wanting to bar crawl anymore. Awesome DJ's and even better alcohol means you'll not only be having the time of your life, but you might also be sharing it with some of Australia's best and brightest celebrities.
Those looking to step it up even more can head up to Co Nightclub on the third level of the Crown Entertainment Complex in Southbank. Open exclusively on the weekends and host to celebrity DJ's each week, this truly is the hub of the Melbourne clubbing scene. With performances from acts all over the world and regular CD launch parties, there's no-where better to rub shoulders with all your favourite artists while drinking a few, and dancing a lot.
The aptly named la di da is for those looking for a slightly different clubbing experience. With an extended late license you can continue your night here well into the morning. With a stylish interior and drinks and food to match, this is for those nocturnes who want to dial it down a notch. Also, with versatility in the size of its function rooms, you can party with the rest of them, or keep it intimate if needs be.