Photo credit: PH-BQP KLM B777 via photopin (license)
Introduction
Yes, it happened. As I'm sure the majority of you will be glad to know, my brief run of Business and even First Class long-haul flights came to an abrupt end this summer. Let me clarify; I didn't run out of airline points (I have enough for several lengthy stretches stretched out at the front end of the cabin) but was invited on a trip to Japan, and wasn't in charge of organizing the flights. Or the budget, which was perhaps more important.
I was hardly going to turn down my first visit to the land of the rising sun due to having to fly Economy. In fact I didn't even worry about it beforehand; having spend 90% of my life in the cheap seats those few times in the lap of luxury hadn't caused any permanent damage. My plan to survive the journey was to resort to the time-honoured combination of movies and a large amount of alcohol. I should add that this plan had only had limited success in the past, but there was no harm in trying again.
The route
The complete route was nothing less than epic: first I would fly from Trondheim to Amsterdam with KLM and then six hours later (!) on to Osaka with the same airline.
That second one would be my longest flight ever in Economy Class, thus ensuring that the difference to my last trip of any length was going to be felt. At just under 11 hours and around 9250 kilometres, it's not quite the longest distance I've yet flown in a single stretch (that was about 9460 kilometres from Paris to Bangkok, but that was in First Class so doesn't really count). It would also land me the furthest east I've ever been from Greenwich.
Oh and after that I would be heading on to Okinawa, another couple of hours up in the air but this time on ANA.
Unlike South Africa there is a major time difference between Norway and Japan (the latter is 7 hours ahead at this time of year) so jetlag would likely be a problem. Given my inability to sleep well on planes no matter what class of cabin I fly in, it seemed inevitable that my first day in Okinawa would be a tiring one.
The damage
A little different here – this trip was paid for by the Okinawa tourist board as part of a press trip. The Amsterdam to Osaka flight described here goes for about EUR 1100 in KLM Economy.
I did pay for a better seat – I didn't bother with 'Economy Comfort' as I had read that while these do have slightly more legroom, this legroom is obstructed by a media box on the Boeing 777. Instead I opted for an aisle seat at the rear of the plane where the fuselage tapers inward and there are just two in the row. If it was full I would not have to clamber over two other passengers to get out and if it wasn't chances were high that I'd have both to myself.
On the ground – the lounge
Flying in Economy doesn't get you access to the official KLM lounge, naturally enough.
However there are a number of ways to access one of the independently-run versions and since I had such a long wait at Schiphol I took advantage of this.
I have a 'Priority Pass' card which I received free of charge with a credit card a few years back. This is a full version which means that access to any of the participating lounges is free; there is also a limited version that gets you in the door but gets you a charge on your credit card later. It can still be worth it, and with the renovation work going on at Amsterdam airport I would say it definitely is, just to get a little peace.
Don't expect gourmet food, free champagne and a sleeping area; however I was pleasantly surprised by the generous amount of space, excellent free wifi, reasonable food and complimentary beer and wine. There was also a dedicated working area with loads of power sockets which I took advantage of.
Yet six hours was a long time to kill and crappy Heineken only goes so far. After doing some work and reading up on my destination I'd had enough – it was time to find somewhere else to while away the wait.
On the ground – the pub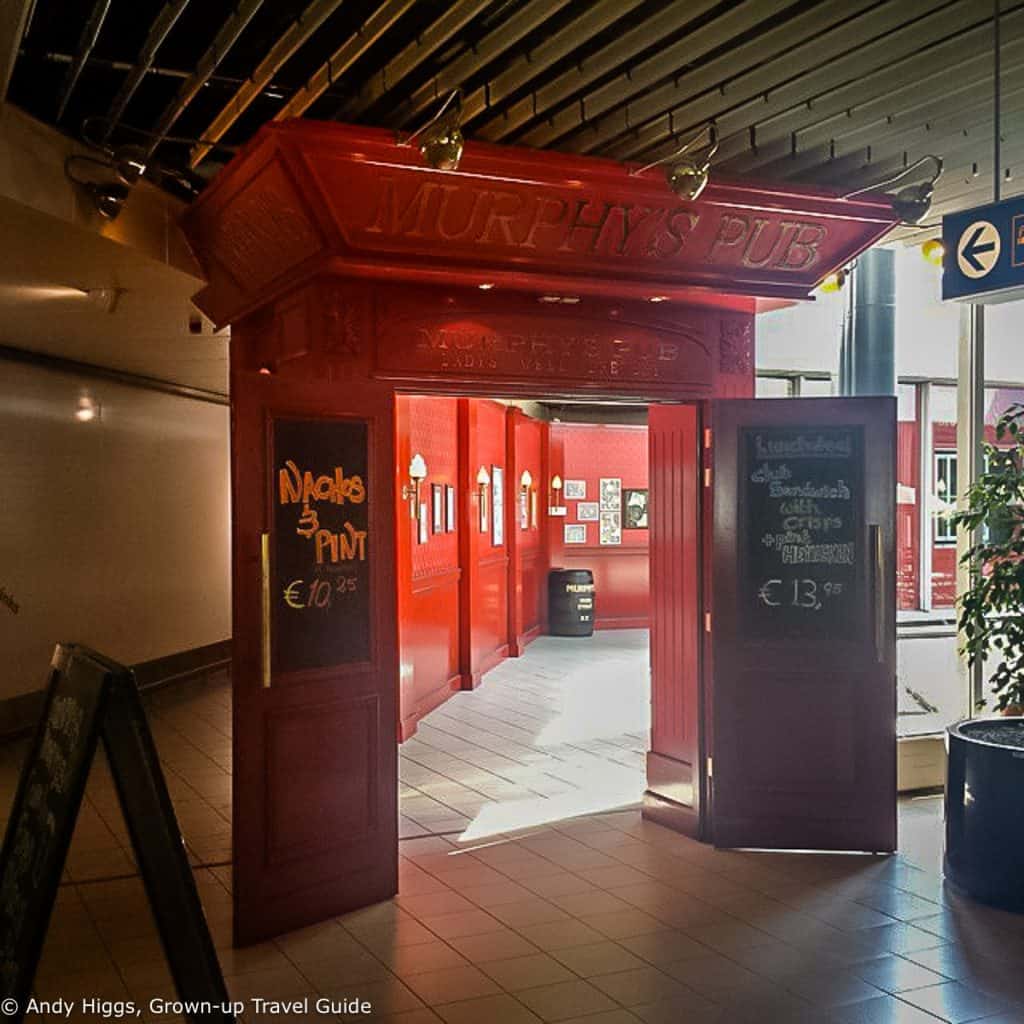 There are quite a few bars and restaurants at Schiphol but my pick would be Murphy's Pub – yes it's your typical "Irish bar" found all over the world but you can get a decent pint (the red ale is excellent) as well as salt and vinegar crisps.
I don't need much more, but there is a food menu if you are hungry.
Best of all, it's a friendly and unpretentious place; like it or not you'll soon be talking with one of the other patrons and I ended up spending about three hours chatting with a fellow Brit. An interesting fellow who spent half his time doing contract work in the UK and half in the middle of nowhere in rural Thailand with his wife.
We got through several rounds before I had to leave for my flight, to be honest I hope he made it to Bangkok. He had about four more hours to kill in there and if he maintained the pace we had initiated the chances of his getting out of there at all were slim, to say the least.
Boarding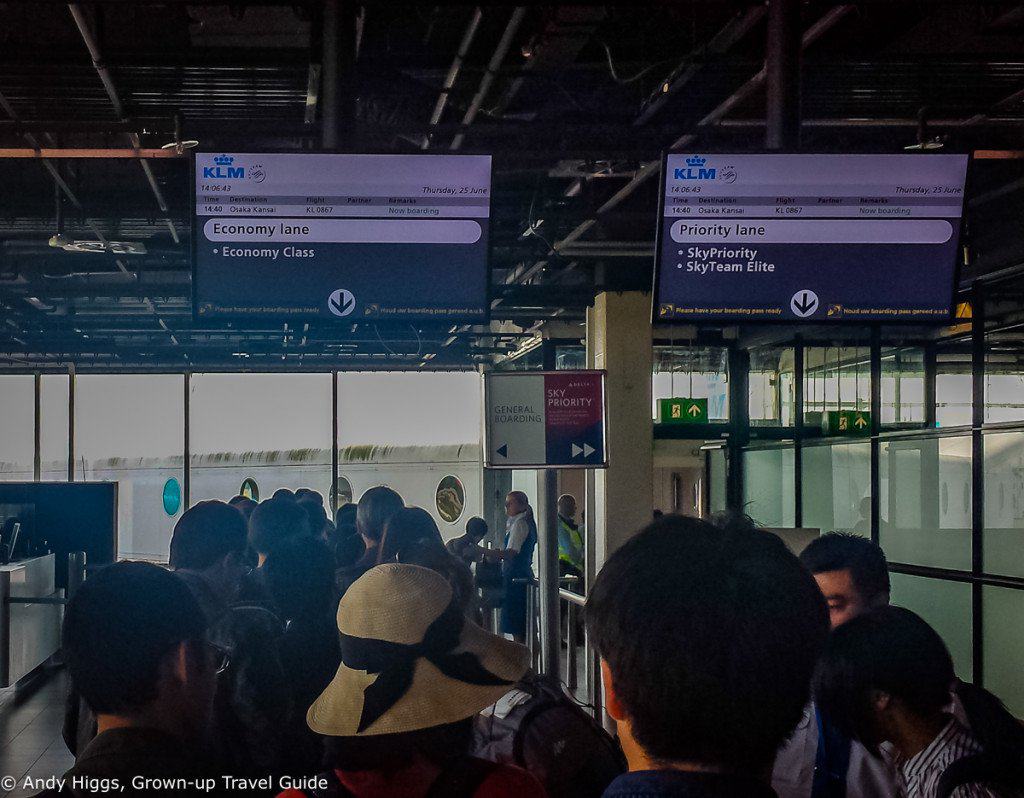 It was fairly clear that the plane was far from full so I assumed my plan to capture two seats to myself was going to work.
Before long we were allowed onto the plane and I made my way to the rear of the aircraft.
The seat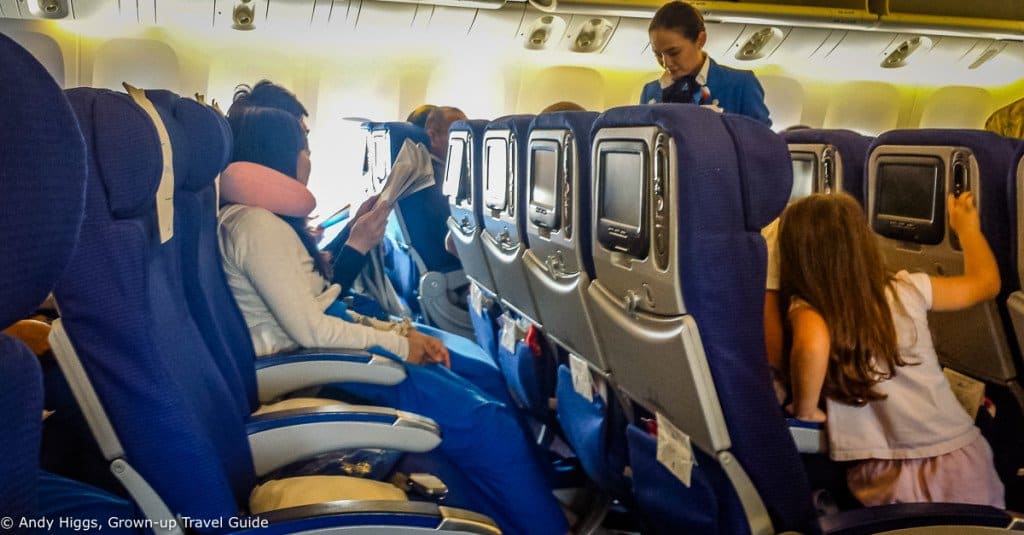 The seat was to be the first of many positive surprises. This is an old plane; the 777 is one of the oldest models in the KLM fleet but a statistically very safe and highly reliable beast. It also hails from an era before airlines realised they could reduce the amount of space per passenger to an absolute minimum and we would go along with it.
Compared to the latest aircraft, the seats on the 777 are big and there is plenty of legroom.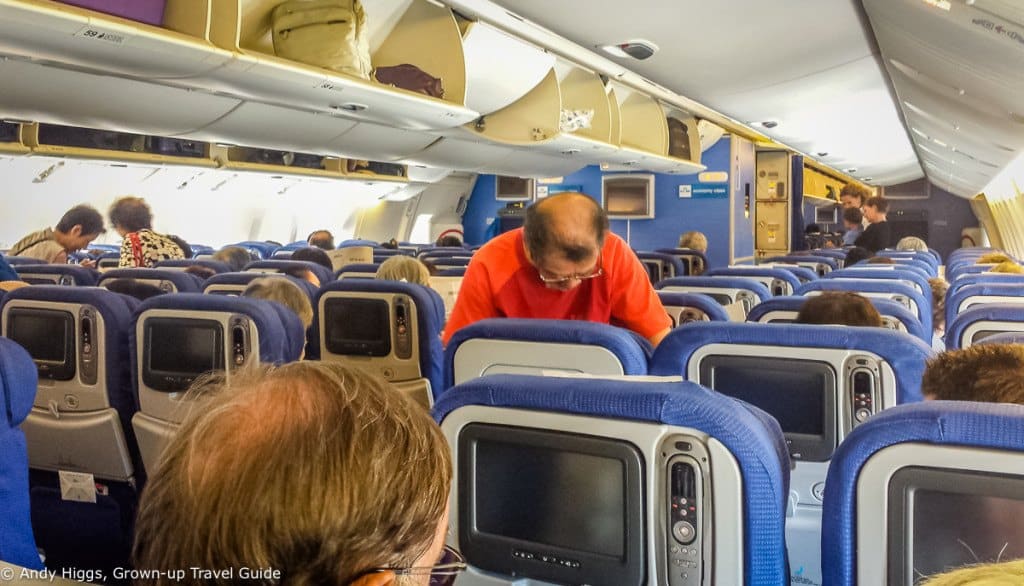 The cabin was slightly showing its age but was still in good condition. Whether it was the amount of beer that had entered my system in the last few hours or the amount of space I had to stretch out – or perhaps a combination of both – I felt positive about spending nearly half a day here.
The entertainment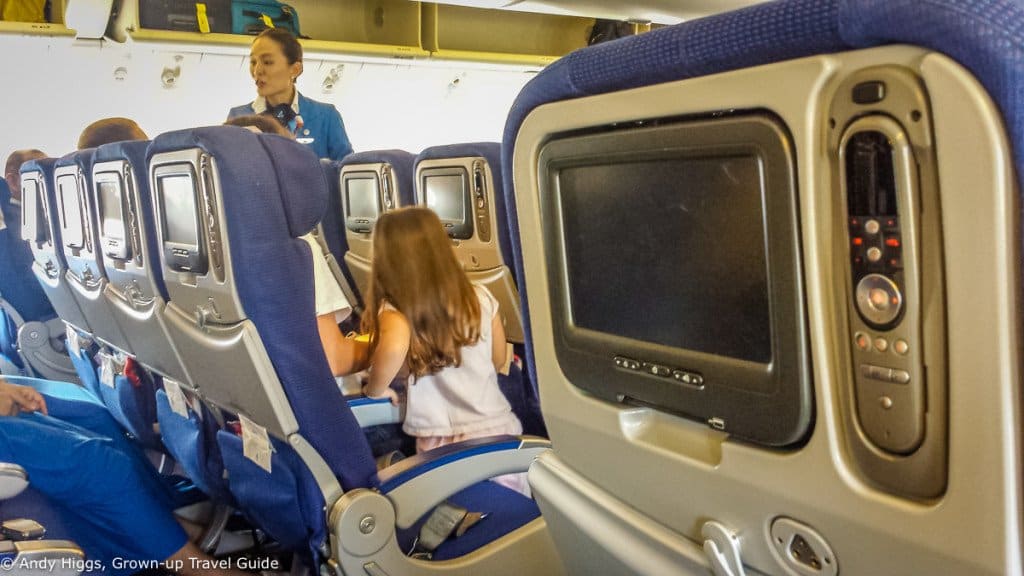 Each seat has its own LCD monitor which is operated with a wired handset. These are as old as the plane itself and small by today's standards.
However, once again I found my expectations exceeded when I started browsing the films and TV series.There is a lot of entertainment on offer and even for a movie nut like myself there was more than enough that I hadn't seen to keep me occupied all the way to Osaka.
A set of in-ear headphones are provided – not particularly comfortable or high quality but the standard 3.5mm plug means that you can use your own if you have them with you.
The food and drink
KLM did it again – the food was excellent. You don't get a large menu or proper silverware, and caviar is but a distant dream – but this was some way above regular Economy Class catering.
I chose the Japanese option and it was very tasty – sorry for not getting any photos but I still find it a bit awkward to do so now and again…
Naturally the beer on offer was Heineken so I opted for red wine and was served a very good South African.
Suitably sated, I settled back to watch a couple of films as we flew due east.
The flight
We left a few minutes late but arrived on time due to the fact that airlines always give themselves a fair amount of leeway in the schedules they publish.
Service was very good with attentive, efficient and friendly cabin crew.
I even nodded off for an hour or so which says something about how relaxed I was.
Breakfast was good too, served about 90 minutes from Osaka.
Landing was smooth and disembarkation swift – and with that I was in Japan for the first time in my life.
The return flight was during the day so I didn't need to worry about trying to sleep. Otherwise my experience was essentially identical – great service and catering, a comfortable and spacious seat and more than enough entertainment. It was even more empty than the outbound so again I had two seats to myself.
This video shows a few clips from both flights as well as a brief one from the lounge in Amsterdam:

The conclusion
While I would always try to use airline points for Business Class if I was booking such a long flight myself, these flights restored my faith in Economy Class for long-haul. KLM provide excellent value for money and their schedules are very appealing – especially to South Africa where they are the only airline to operate daytime flights on the outbound route. I will be using them in the future and have no qualms about flying in Economy after this experience.
So all in all my expectations were comfortably exceeded and KLM deserve praise; I no longer dread the prospect of 11 hours at the back of the plane. Well, as long as I'm on the right airline, of course…
Flight report – vital statistics
KLM Flight 867 Amsterdam (AMS) – Osaka (KIX) on Thursday June 25, 2015
Class flown: Economy
Departure time: 14:40 
Arrival time: 08:35
Duration: 10 hours, 55 minutes
Economy Class configuration: 350 seats in 3-4-3 layout. 
On board-internet: No
Type of seat: Standard seat
Seat width: 17.5″
Monitor size: 9″