You could be forgiven for feeling a sense of deja-vu right now; didn't I already review this place?
But no, I'm not having a senior moment here – it was in fact the art'otel berlin kudamm that was given the once-over back in May. This is a newer art'otel property within walking distance of its sister hotel round the corner.
Yes, it pains me to use lower case letters for these names. And don't get me started on the incorrect/US spelling of centre. If you were here in the room with me you would probably be able to actually hear me gritting my teeth as I type. However, I have decided to be amenable by going with the official branding and leaving it there.
Seriously. Let's move on.
Instead of repeating the whole silly and slightly embarrassing tale I recounted in the review of the other art'otel I'll underline this so you can click on it and read it if you are not up to speed.
Basically I had screwed up royally and was without accommodation in central Berlin during the busiest week in the hotel calendar – the ITB travel trade fair in March.
I managed to solve the problem by using cash and hotel points – so I paid cold, hard Euros for the two nights at the first hotel and used my Club Carlson points for three nights here at the art'otel city center west.
So, did I regret blowing those well-earned points?
art'otel berlin city center west, Lietzenburger Strasse 85, Berlin D-10719 Germany, (49) 30 88 7777 0
When?
Early March 2015.
Vital stats:
Four stars. Opened 2002, 152 rooms over 7 floors.
Location, location, location?
In much the same way as its sister hotel, the art'otel's location is its star feature. Situated on a street running parallel to the Kudamm, everything is within easy reach. You can be here in twenty minutes by taxi from Tegel Airport and several U-bahns stops are within walking distance. Plenty of buses pass by the door too.
A quick note with regard to ITB: if you are planning to attend you probably know there is a shuttle bus service which provides free transport between certain hotels and the trade fair site. This is way more comfortable and convenient than joining the masses on the S and U-bahn.
But in order to take advantage of the service you need to be staying at one of the participating properties and preferably one at the start of the route – the buses are usually full after the first three or four hotel stops on the way out to the trade fair.
These hotels are often the first to be fully booked and some of the most expensive properties; but have I got a hot tip for you?
The answer's yes, by the way: one of the hotel shuttle bus routes starts just round the corner and although the art'otel is not an official stop the neighbouring hotel is. So just join the rest of the visitors outside the Abba hotel fifty yards up the road and voila – free, comfortable transport to and from ITB.
You can thank me later – perhaps you can buy me a weissbier at the Erdinger stand on the way out of ITB.
What about parking?
While Berlin's excellent public transport system means you won't need a car, parking is available in a private car park for EUR 16.50 a day.
Why choose this place?
For its location and price. No matter your reason for visiting Berlin this is an excellent location in the former West. Which as I never tire of telling you, is where you should be staying anyway.
There are several excellent restaurants in the area, including a superb Spanish joint and a wonderful Peruvian place. More on these in an upcoming article about places to eat in City West. The quiet backstreets south of the hotel are lovely for a wander, too.
The art part of the art'otel equation here is its focus on Andy Warhol. Featuring classic works such as the Marilyn Monroe portraits as well as over 200 photographs taken by his lifelong friend Christopher Makos, there is plenty to see here. Tours are available for those wishing to learn more about the decor, too.
Room
There are three categories of room: artroom, artroom xl and artsuite. On this occasion I was accommodated in an artroom xl, which was quite spacious.
Here's a video overview so you get the full picture:

First impressions were good – I liked the size and the non-fussy decoration and furnishings. There were signs of wear and tear on the walls and in the carpet, but nothing to complain about (you can see this in the video).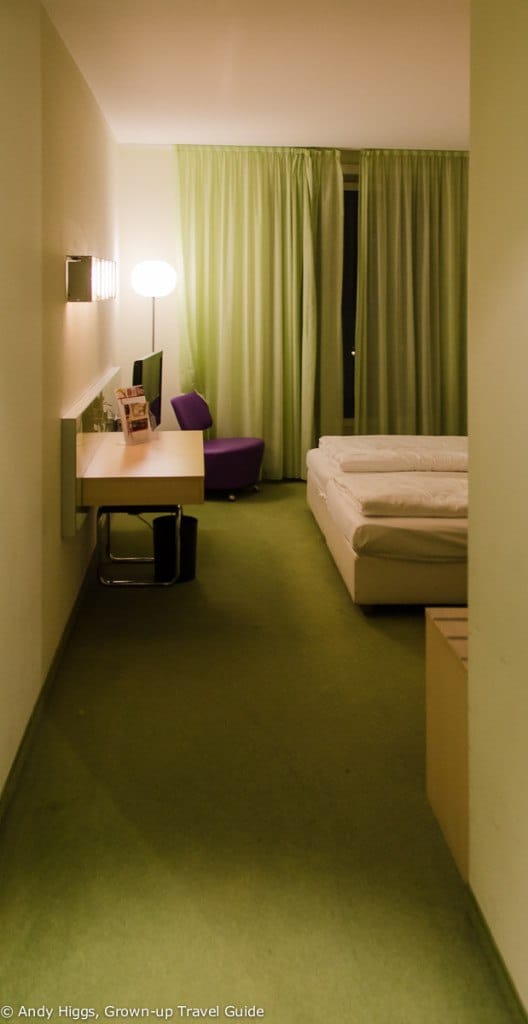 The bed was large and comfortable and the desk was functional. A proper chair would have been better to sit on when working rather than the stool provided.
I always like being able to open the windows and was pleased to see that this was possible here too.
There were a reasonable number of power points in the room overall but I would have liked more near the desk.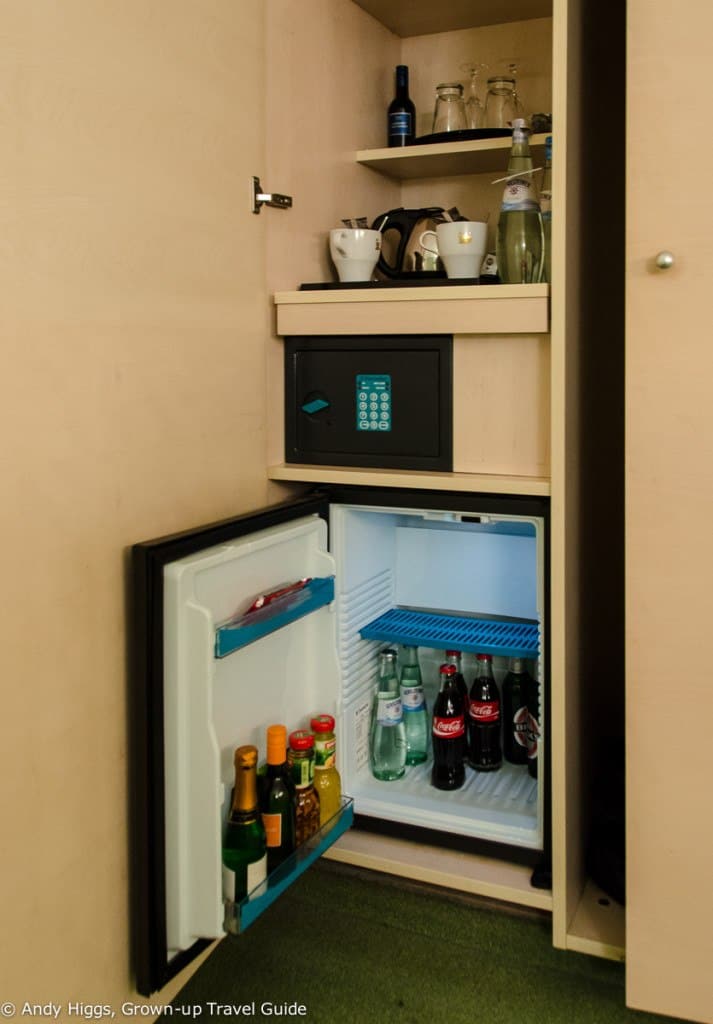 A mini-bar is a plus in my book, even if it is obviously cheaper to buy beer elsewhere. I generally treat myself to a cold one to welcome my arrival but rarely delve into the rest of the contents.
It's always good to be able to make tea and coffee – even if it is only the instant stuff.
The wardrobe was large with plenty of hangers and overall the room had a good amount of storage space.
Carpets?
Yes – and they are probably ready for replacement. My advice would be as it usually is: get rid of them and install laminated floors instead. It might be time to reconsider the whole green colour scheme too.
Bathroom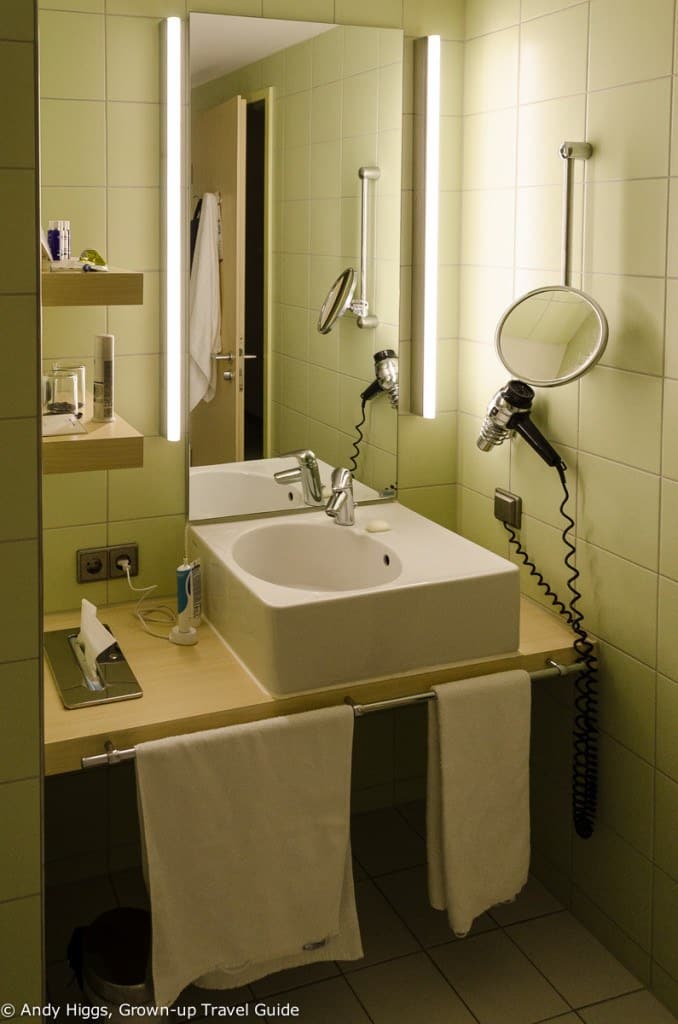 The bathroom was a good size with sufficient shelf space to satisfy most guests.
Plus points for the full-sized bath, even though it was looking a little tired.
Ditto for the excellent water pressure from the shower. Of course the floor was covered in water after a shower, but isn't that always the case in hotels?
Good quality toiletries from Elemis are provided along with a bathrobe, slippers and hair dryer.
Free internet I hope?
Yes, free and and decent quality wi-fi is available all over the hotel. You can also pay extra for faster access but I didn't feel this was necessary.
Bar and restaurant?
I liked the bar next to the lobby; it was popular in the evenings and prices were reasonable. They could perhaps expand their selection of beers but then I'm always looking for more in this department. Overall a pleasant place for a drink after a long day.
Pool, sauna?
No pool but the hotel has its own sauna but I didn't get the chance to try it. This is Germany so expect the full 'tackle-out' experience. Just saying…
The breakfast was included, right?
Breakfast is not included in the cheapest rates or in award redemptions. Like I said in the other review the area is full of cafes offering cheap and good breakfasts if you want to go out or are too late for the hotel.
But I did eat here and found the buffet to be quite a good way to start the day. I think you can do better for EUR 15 though. On the plus side, children under 12 eat free.
Service
Service was excellent – friendly and efficient on all fronts including reception, cleaning, bar and restaurant staff.
Any points/miles to earn?
Yes, art'otel is a Park Plaza brand which in turn is part of the Club Carlson network. This is a good loyalty scheme for Europe and I have both earned and burned a lot of points over the years by staying at Radisson, Park Inn and Park Plaza properties. Join it if you haven't already.
Can they look after your bags after you check out?
Yes, they are happy to do so.
The Damage
Rates start at around EUR 85 per night for advance booking without breakfast. Berlin imposes a 5% tax on hotel rooms but if you are staying on business and can prove it you can get this taken off – I've never bothered but will probably do this next ITB when in town for the whole week and paying for it.
As mentioned before prices jump drastically during ITB, the Berlin Film Festival and the other big events taking place in town. Plan and book ahead or you will pay over EUR 200 for the same room – even then it may be worth your while compared to other properties, but do check around.
A night here will cost you 28,000 Club Carlson points, which I consider to be good value.
The verdict please your honour...
The Good
Wonderful location for Berlin and City West. Excellent value for money (even during peak periods.) On the ITB shuttle bus route, more or less. Good bar.
The Bad
Breakfast was a little expensive for what was offered. The rooms would benefit from a little renovation.
The Ugly
Nothing to report here.
Closing comments:
A big step up from the art'otel kudamm, although I was in a bigger room so a direct comparison is perhaps a touch unfair.
I really liked this hotel and will almost certainly use it again for ITB. In fact I would use it whatever the reason for my trip to Berlin if I wanted a good value hotel in a central location.
It's not luxurious or overly designer-cool, but you get a lot of bang for your buck.
And that's a very good reason to stay at the art'otel berlin city center west.
Travelling to Berlin? Check out these strange observations before you go…