2020 is finally behind us and vaccination programmes are being ramped up in Europe; it looks like we will finally be able to get away in 2021. We will probably have to wait longer to be able to travel further afield, but there is every reason to hope that a short trip to the continent will be possible in the summer. While we don't really know when the borders will reopen and restrictions lifted, we can at least use this time to dream a little and plan for the day we can visit foreign lands once more.
With that in mind, I'll be sharing some ideas for not just where to travel, but why I recommend a particular destination. And as you know by now, we like to suggest something more original than a weekend in Paris.
Latvia has many attractions for visitors; but in this article I am going to focus on the culinary – if you like good food and drink (and let's face it, who doesn't?) then you are going to love Latvia. But you will need to know where to look for those hidden gems. So pay attention!
Nothing beats the freedom of renting a car – you can explore off the beaten track and at your own pace; stopping whenever you want. Distances are short in Latvia so you can cover a lot of ground in a brief trip.
I would suggest the following itinerary for a short break: Start by collecting your hire car at the airport and spend at least one night in Riga. I recommend Kuldiga for your next stop. The next day, check out the the cliffs at Jurkalne before heading south to sleep in Leipaja. Spend a night at Kuksi Manor on the way back to Riga and return to the capital on on your final day.
It's easy to arrange accommodation yourself online and I give a suggestion for each overnight stop. This round trip will give you an excellent introduction to Latvia which can be fitted into a 5 day break – but the longer you have, the better. You can follow this route in either direction and spend as many nights in each place as you wish, and of course change or add other destinations as you see fit.
But I have taken this route, loved it and more importantly ate and drank my way along it so I can vouch for all the places I suggest here 🙂
Riga
Accommodation tip: Hotel Valdemars Riga
There are plenty of excellent places to eat but there is also a place with great food and beer brewed on the premises, so don't miss this one:
Alkimikis Brewery
Riga has a growing and exciting craft beer scene and one of the best of a great bunch is the Alkimikis Brewery and pub.
Very much a microbrewery, its American founder and his team have been producing excellent ales and lagers in small quantities for several years now.
Their enthusiasm is infectious and when I was there we all wished we could have stayed longer. It's the sort of place you can easily visit for a beer or two and end up staying the whole evening.
Paired with yummy Latvian snacks, we tasted chili porters, black saisons and more and were shown around the small but perfectly formed brewhouse.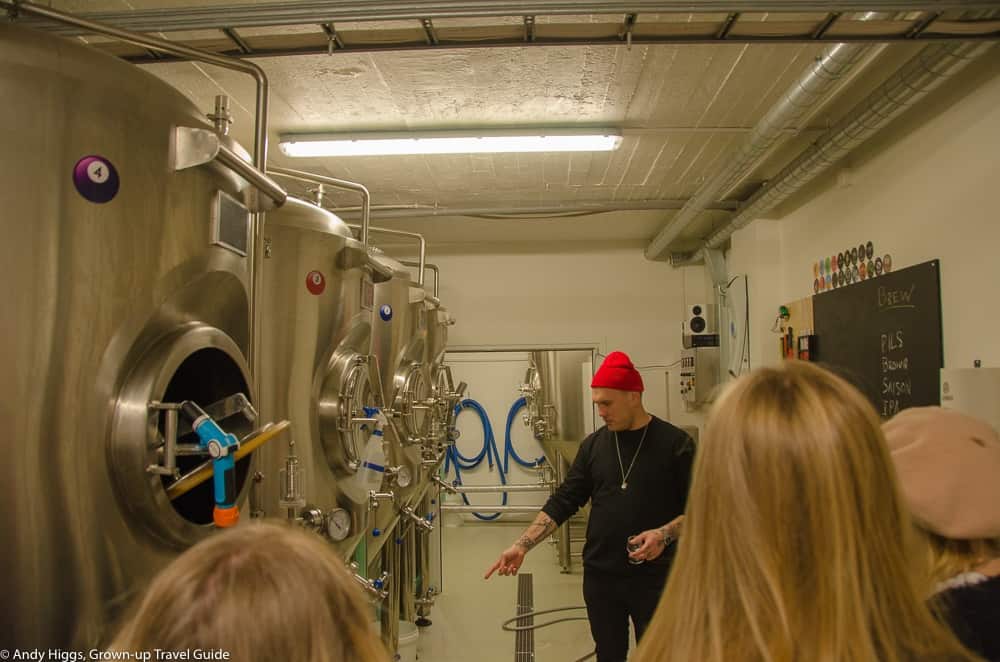 I would go as far as to say that Alkimikis is reason enough to visit Latvia, and given that their beer is only available on tap or in bottles at the pub and a few locations in Riga, you will have to visit in order to see what I am talking about.
Alkimikis, Lāčplēša iela 12, Centra rajons, Rīga, LV-1010, Latvia
On the way to Kuldiga, take a stop off at this place to buy some traditional Latvian bread:
Laci Bakery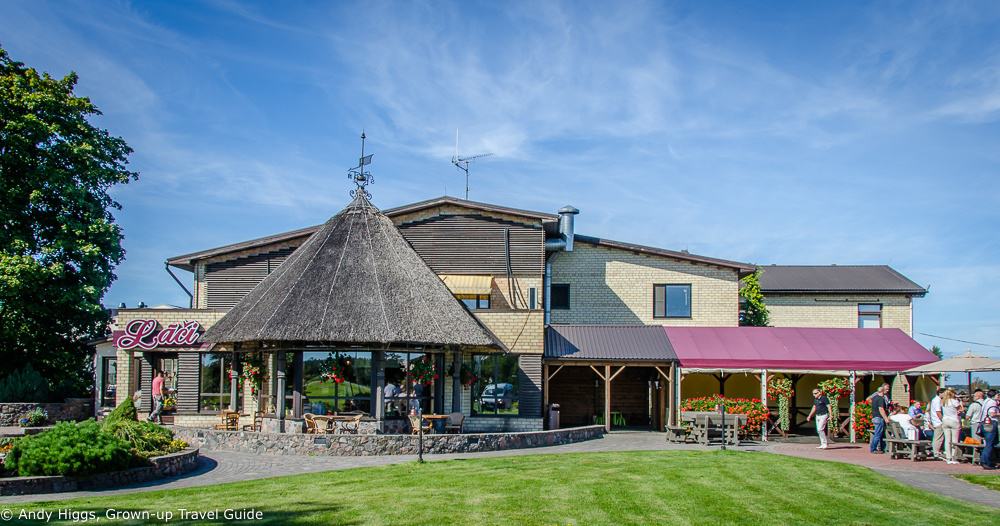 Laci Bakery is a popular stop on the route west to Liapaja, and with good reason. Here, traditional Latvian rye bread is baked as it has been for longer than most locals can remember. Using wood-fired ovens and only natural ingredients, bakers work 24/7 producing loaves of various sizes to satisfy seemingly unending demand.
The loaf is then slid into the first oven and baked at 500 degrees Celsius (yes, you read that right) for a few minutes to form the black crust.
After this shock treatment the bread is removed and placed into a somewhat more reasonable 250 degree oven for the rest of the process.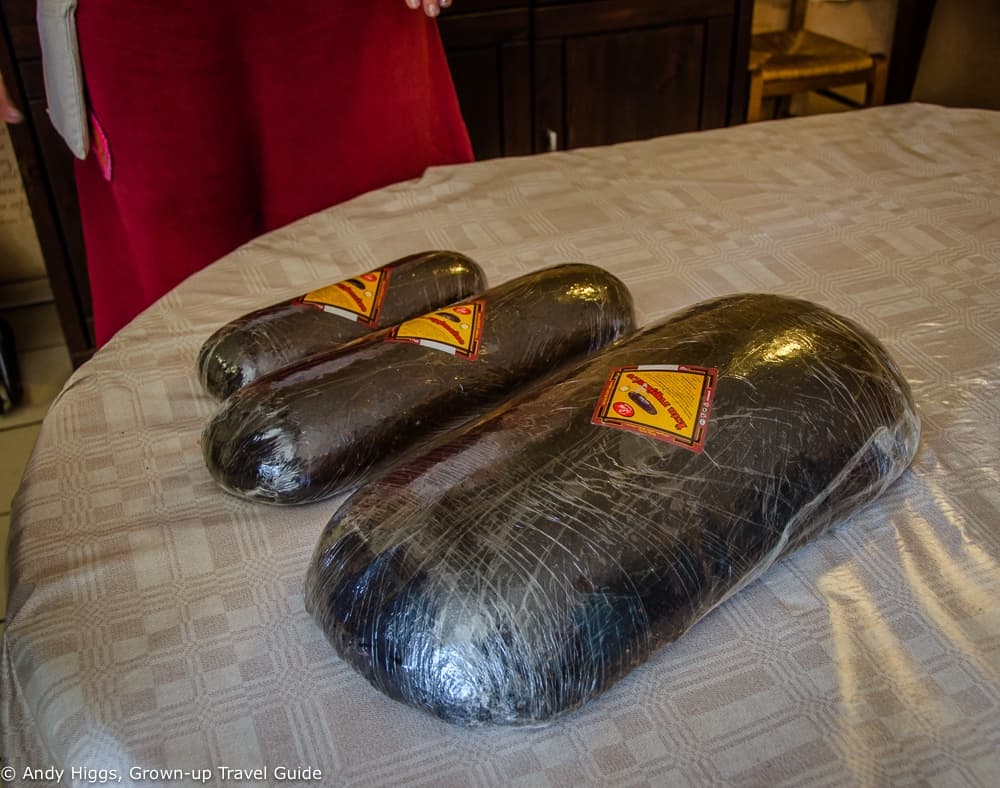 And this is how the final product looks – here you can see a 1kg, 2kg and a whopping 7kg version. The bread keeps for some time without losing its freshness and makes a great souvenir.
The cafe and restaurant is excellent too and a good place to relax before driving further. As you might expect, bread and bread products feature heavily on the menu…
Laci Bakery, "Benūžu – Skauģi", Babītes pag., Babītes nov., LV-2107, Latvija
Kuldiga
Accommodation tip: Comfort Hotel or Boutique Hotel Virkas muiža
Kuldiga is a lovely town to stroll around with some interesting old buildings and sights. There's a lot to see and do, but it's the food and drink we're interested in here.
Goldingen Room
Sometimes a trip turns up a real discovery.
This place turned out to be an unexpected revelation. We knew it was one of the best rated places in the country, and serves Italian food, but who would really have thought that I would eat the best pizza I've ever enjoyed at any restaurant, anywhere? In a tiny Latvian town?
It's true. The owners had training in Italy and it really paid off.
They have a proper wood fired stone oven and know how to use it. The menu includes pasta and other dishes but you can't come here without trying the pizza.
The base was incredible and my four cheese was divine. Topped with blue cheese and slices of pear, this was artisanal pizza of the highest quality.
Add excellent service, a superb wine selection and delicious desserts, and you'll understand why we chose to come back here again the day after:
Oh yes.
Quite simply, an amazing experience and fantastic surprise. Spread the word!
Goldingen Room, Baznicas iela 2, Kuldiga, Latvia
Wine tasting in Kuldiga Castle Cellar
For an unusual treat, descend into the cellar of the old castle, which is the only remaining part of the original building.
Here they offer wine tasting in an interesting environment and we were given an introduction to Latvian wine by local producer Alvils Elksnis. He has been making wine from fruit and berries for several years and has achieved success not only at home but also in wine circles abroad. A big part of his mission is to prove that excellent wine can be made from ingredients other than grapes, and we were certainly convinced.
With the help of a translator, his passion for his craft really shone through.
I enjoyed all the wines we tried, which included bottles made from raspberries, redcurrants, strawberries and blackberries. Alvils' company is called Smilškalnu Vīns which is probably easier to pronounce after a few glasses.
But probably not…anyway, check them out on Facebook and don't hesitate to give the wine a try if you get a chance.
If it's a Sunday when you leave Kuldiga, stop for some cakes…
Alsunga
Not far from Jurkalne, the road passes through Alsunga. It's the home of the Suiti people – a small Catholic community in this otherwise Lutheran part of Latvia. Today about 940 inhabitants live in the village and since 2009 Alsunga has been a UNESCO designated site due its unique culture.
As we drove into town we noticed a couple of stalls selling some kind of cakes, so stopped to have a look.
Known as sklandrausi, these sweet treats are filled with mascarpone available in different varieties – the apple ones are particularly delicious. Just be aware that sklandrausi are heavy going – sharing is a good idea…
Jurkalne Seashore Bluffs
From Alsunga, break your journey at these spectacular cliffs and fill up on local food…
Pilsbergu Krogs
Not just a restaurant, but also a hotel and art gallery, Pilsbergu Krogs is just five minutes from the beach.
They use local ingredients, including fish, in their recipes and quality is extremely high. It costs a little more than many places but (a) it is absolutely worth it and (b) it is still very cheap compared to most other European countries.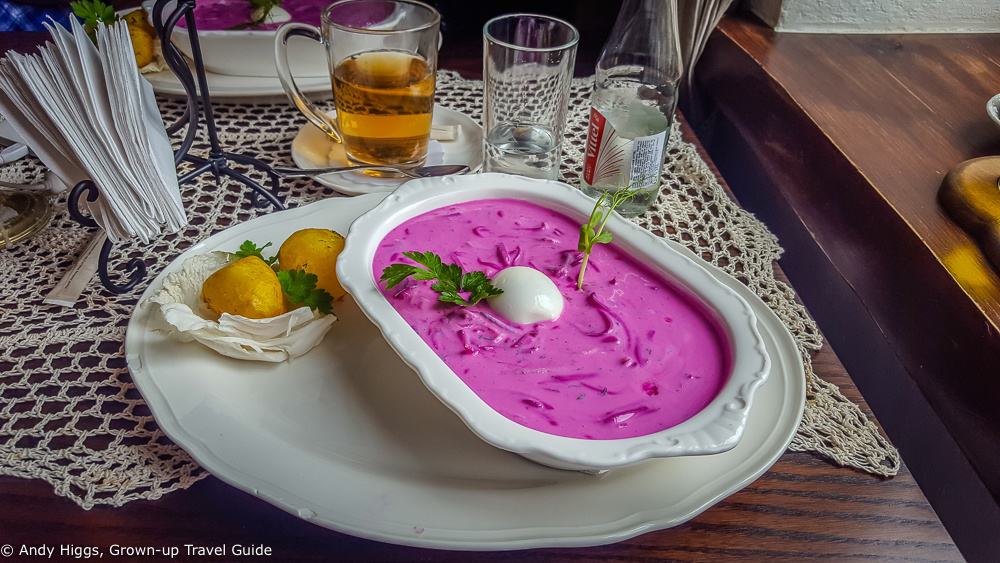 The beetroot soup was amazing.
Pilsbergu Krogs, Jurkalne, Pilsbergi, Latvia LV-3626
Liepaja
Accommodation tip: Promenade Hotel
My favourite place in Latvia (so far), Liepaja is often called the coolest city in the country. It is probably one you have never heard of, but probably should have. It has plenty going for it – a strong musical and artistic tradition that infuses daily life, a fabulous Blue Flag beach, great nightlife, cheap and excellent restaurants and cafes and some lovely old buildings.
Darbnica
An excellent place for lunch, Darbnica was right up my street as it has a good selection of local beers – in fact they serve only Latvian beer here, which is great.
They also cook up a mean burger and fries, which I scoffed along with this lovely pale ale.
Darbnica, Lielā iela 8, Liepaja, Latvia
Liepaja Beach
I had heard that Liepaja has a great beach, but wasn't prepared for this. The fine white sand stretches as far as the eye can see in both directions.
There are plenty of facilities but the beach is not overdeveloped with cafes and bars, which is a positive in my book. Having said that, a man needs a cold beer at the beach and I found two good spots to quench my thirst.
Veju Darzs
A simple cafe with food and drinks at very reasonable prices, Veju Darzs is located at the southern end of the sandy strip. You can get some shade inside the tent or sit out and soak up the sun.
Red Sun Buffet
Further north is the busier Red Sun Buffet.
Closer to Moscow than London, it's a very popular place to hang out with good cocktails, snacks and food. And beer, too – a good selection of local craft beer in fact.
I would urge you to spend longer in Liepaja, but when you do leave, make your last night count at a historic manor house.
Kuksi Manor


Dinner here will be a highlight of your trip. Meals are generally made to order with guests choosing from available products; the restaurant is not open to the general public.
I had the duck which was perfect and the accompanying wine was superb.
Breakfast the next morning was rather incredible too, as you can see from the picture.
A highlight for me was this local goat cheese – possibly the best I've ever tasted.
Kuksi Manor, Kuksasa, Jaunsatu pagasts, LV-3128 Latvia
I hope this article has whetted your appetite and got your feet itching – put Latvia top of your list for your first post-Covid holiday, and enjoy!