This article about Liepaja is part one of the series "A Latvia Road Trip"
"Teaser" with original itinerary
A Latvia Road Trip: Part One – Liepaja
A Latvia Road Trip: Part Two – Jurkalne, Kuldiga, Edole Castle and Kuksi Manor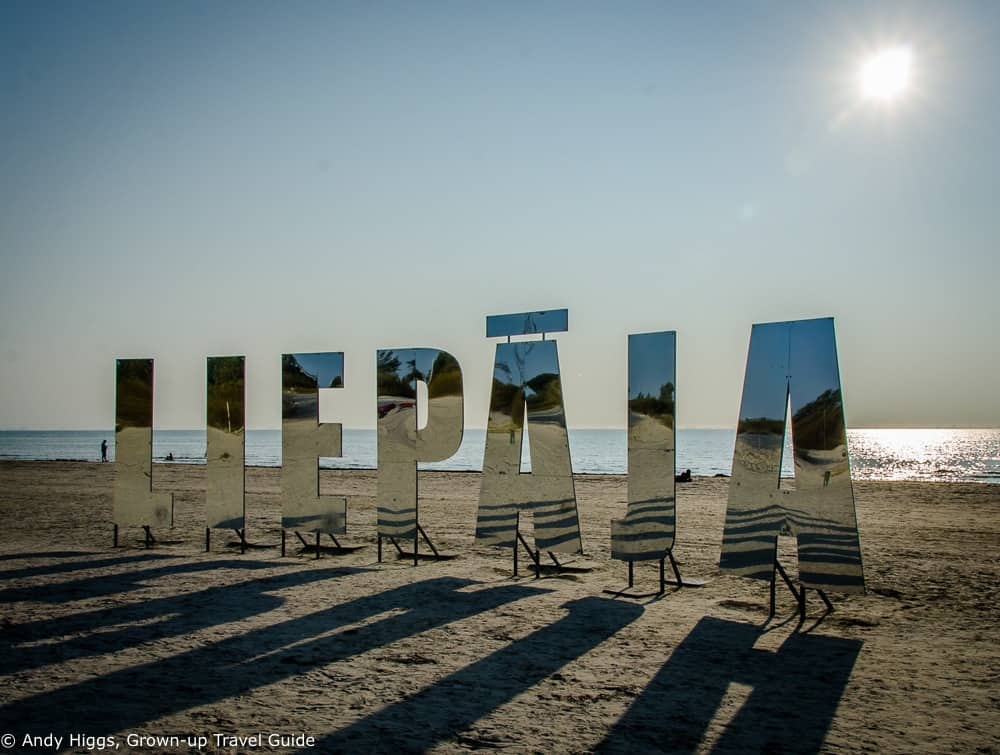 Not two weeks after returning from the #CitybreakGermany campaign, it was time for me to pack my bags again for the next project arranged by the Nordic Travel Bloggers collective. This one would take me to a new country for my list, too – Latvia. As the title suggests – or rather, states – #LatviaRoadTrip involved touring part of the country in a rental car. We were to avoid Riga altogether in favour of exploring western Latvia, taking in both the coast and inland areas. With me on this journey were three other bloggers – Ann-Mari from Norway as well as Katarina and Helena from Sweden. The trip was sponsored by Latvia Tourism with its partner Air Baltic and local operators. As always, all opinions are my own.
Rather than having to wake up before dawn to be able to make the first flight our of my home town and a connection on to Riga, on this occasion it was decided that I would fly down to Oslo the night before and stay at an airport hotel. I would then get a decent night's sleep before the flight to Latvia the next day. I could scarcely believe my luck and wish that other operators could show this degree of consideration for participants. It works out better for them, too – I mean I always try to be professional but it can be hard to maintain an appropriate level of interest on the evening of the departure day after 3 hours sleep… I thus found myself at Gardermoen Airport in Oslo at 8 p.m. on Thursday 8 September. Knowing that my hotel had no restaurant I had a pizza in the terminal before getting the shuttle bus to the Thon Hotel Gardermoen. It's a budget place (by Norwegian standards, at least) and undergoing renovations but was comfortable enough and I slept well.
The next morning I took the bus back to the airport after breakfast to check in for the Air Baltic flight to Riga. I had been upgraded to Business Class, which was a bonus but I didn't have high expectations for such a short flight. I was to be proved very wrong, however…
Before the flight itself I took advantage of the benefits of being at the very front of the plane – I skipped the queue at check-in by using the dedicated Business Class desk and then relaxed in the SAS Lounge to which I now had access.
I didn't have long to wait before the boarding commenced and I soon found that I had one of the two Business Class seats on the tiny propeller plane and the other was unoccupied, which made me feel a little self-conscious at first.
That lasted all of about thirteen seconds after which I settled back with a welcome drink of orange juice (0925 was a little early for wine, after all.)
We we soon airborne and breakfast was served soon after the "fasten seat belts" sign was switched off.
I regretted having eaten at the hotel as this was far better – but I ate it as well, naturally 🙂 Before I knew it we began our descent into Riga Airport and landed ahead of schedule. Service on board was excellent and I was pleasantly surprised by the quality of the Business Class experience on a short-haul flight. I could absolutely get used to this…
On the way from Riga to Liepaja
After clearing customs I was met by two representatives from the Latvian Tourist Board and escorted to the Hertz rental office where I met Katarina and Helena (Ann-Mari was due to arrive later in the afternoon.)
Our car awaited – a shuttle bus took us to the car park and we just about managed to get our gear into the Volkswagen that would be our chariot for the next few days. The plan now was to visit a couple of local sights before returning to pick up Ann-Mari and then driving to the coastal town of Liepaja in the evening. And first of all it was time to bake some bread…
Laci Bakery – a worthy stop en route to Liepaja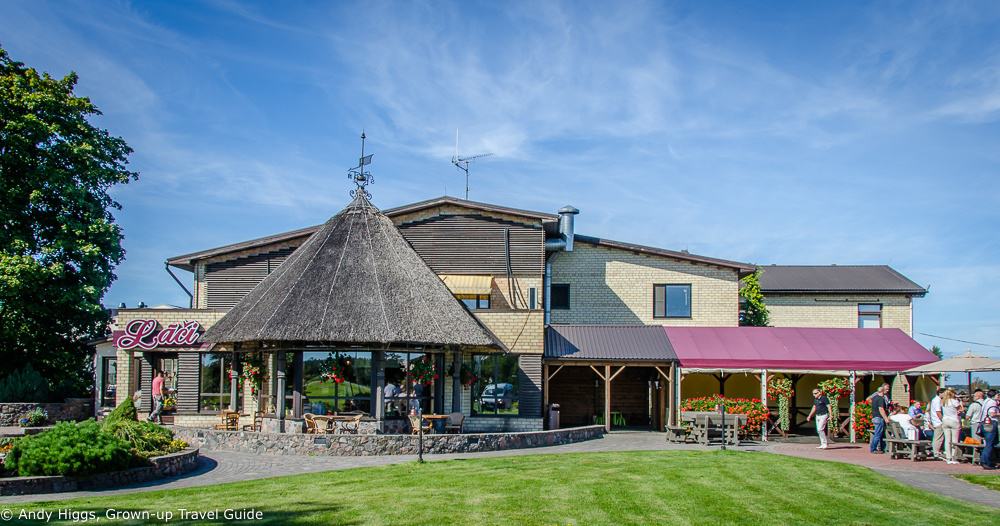 Laci Bakery is a popular stop on the route west to Liapaja, and with good reason. Here, traditional Latvian rye bread is baked as it has been for longer than most locals can remember. Using wood-fired ovens and only natural ingredients, bakers work 24/7 producing loaves of various sizes to satisfy seemingly unending demand.
Visitors can sign up for a tour and bake their own bread, too. Well, form it and bung it in the first oven, anyway. All of which entails wearing this very fetching protective clothing as shown above.
As you can probably imagine it's hot work, even for just one loaf. Our guide Zane joked that the bakers get a free sauna every day at work which I guess is one way of looking at it… It's a lot of fun though. After wetting your hands it's time to bring a clump of dough onto the baking spade, then form it into shape.
Adding a personal touch is a good idea so you can identify your bread afterwards – H for Helena, in this case.
The loaf is then slid into the first oven and baked at 500 degrees Celsius (yes, you read that right) for a few minutes to form the black crust.
After this shock treatment the bread is removed and placed into a somewhat more reasonable 250 degree oven for the rest of the process.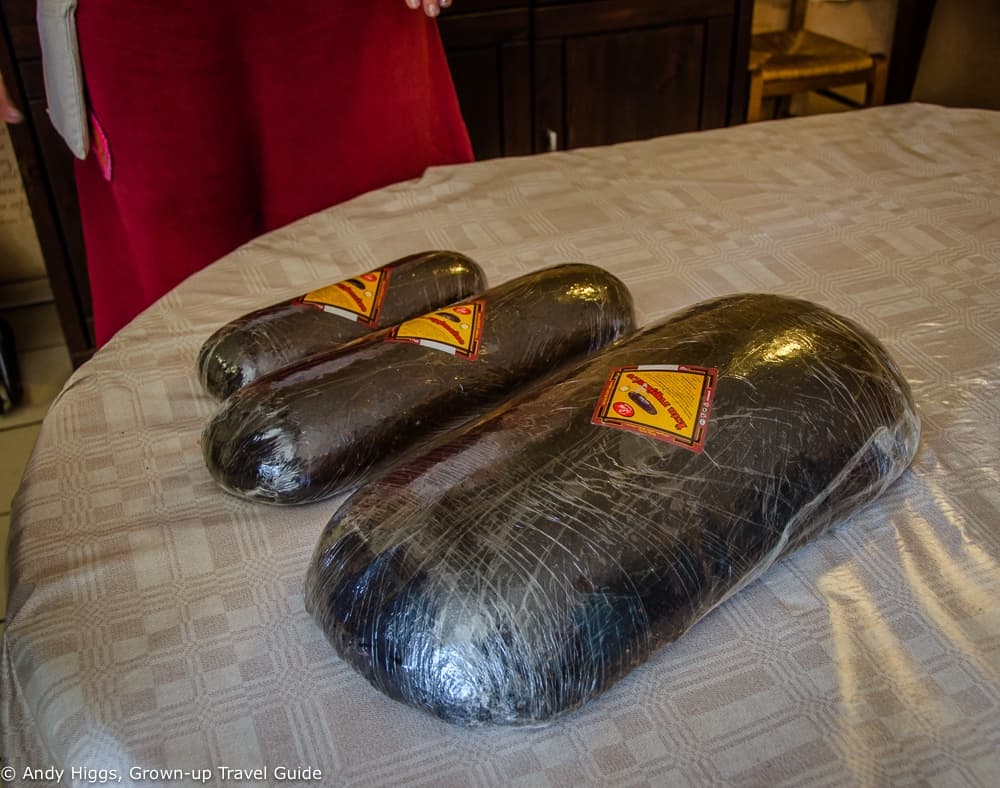 When made professionally, this is how the bread looks. Here you can see a 1kg, 2kg and a whopping 7kg version.
While our bread was baking we had a chance to make something sweeter.
Zane put the tray in a timed oven for a few minutes after which our cookies were ready.
Very tasty they were too.
Laci Bakery is a big hit with school groups and kindergartens as well as travel bloggers.
The cafe and restaurant is excellent and reason enough to come here even if you don't fancy playing baker. Bread and bread products feature heavily on the menu and while we were having lunch our finished bread was delivered. I took mine home and am about half way through my loaf. This bread keeps for some time without losing its freshness and is a great souvenir.
Check out this video which shows the bakery and the bog boardwalk mentioned in the next section:
Laci Bakery, "Benūžu – Skauģi", Babītes pag., Babītes nov., LV-2107, Latvija
Kemeri Bog Boardwalk – stretch your legs on the drive to Liepaja
Next on our list we had two choices given the limited time available – visiting a beach or a bog. We chose the latter first and hoped that we might be able to hit the sand before returning to Riga airport to collect our Norwegian colleague. Alas, time was not on our side but we did get a quick look at the former. The Great Kemeri Bog Boardwalk is a walking trail in the very scenic Kemeri National Park. After one false start whereby we missed the starting point, we found our way to the car park and followed the signs into the woods. It's a fair walk before the boardwalk proper begins – a narrow path of wooden planks through the bog. We didn't have time to walk far but I filmed our journey which you can see in the video above.
There are two options – a shorter 1.4km walk or the full arc which is some 3.4km long. If you take the longer option you will reach an observation platform with superb views of the bog from above. If you have the time to see a different side of Latvian nature, set aside a couple of hours for this. One tip I have is to use insect repellent – the mosquitos can be fierce here.
What we missed – Jurmala Beach Resort
A combination of bad navigation, bad planning and bad traffic meant that we had to skip what is probably the most famous attraction near Riga – Jurmala. A kind of French Riviera transplanted onto the Baltic Sea, Jurmala has long attracted visitors on account of its 26km white sand beach, healthy air and spa facilities. Rather than one beach town, Jurmala is actually a series of 14 townships with Dzintari and Majori considered the centre. Being just 25km from Riga, it is a hugely popular getaway destination for city folk and traffic can be a problem at weekends.
Jurmala has a few unusual characteristics – the seafront area has mostly been kept free from development with hotels and restaurants a few blocks from the sand. It is also the greenest resort in Latvia; 64% of Jurmala comprises natural areas and 34% is forested. There are some beautiful old wooden buildings here, many of which are protected and of historical significance. And if you have children, or are just young at heart, you can splash around at Līvu akvaparks – the largest water amusement park in Northern Europe.
Liepaja
Known as "the city of wind" and less formally as the coolest city in Latvia (in terms of being hip rather than chilly), the country's third largest in terms of population is probably one you have never heard of, but probably should have. It has plenty going for it – a strong musical and artistic tradition that infuses daily life, a fabulous Blue Flag beach, great nightlife, cheap and excellent restaurants and cafes and some lovely old buildings. Located south-west of Riga, a journey of about two and a half hours by road, Liepaja is a regional centre with a popular university and about 75,000 inhabitants.
It also has quite a history…situated between the sea and a lake, Liepaja was originally a fishing village. It morphed into a significant trading port under the rule Jacob Kettler (1610 – 1681), Duke of Courland and godson of England's King James I. The growing city experienced its first decline as a result of the Great Northern War when its people were almost wiped out by an outbreak of the plague in 1710. It was not until the 19th century that Liepaja would make a comeback; this time as part of the Russian empire. Its influence grew once again and was boosted by the establishment of the Naval Port in 1904 when it became home to the first Baltic fleet of Russian submarines.
The city's golden age was the early 20th century – the majority of its Art Nouveau buildings were constructed during this period and the many parks were laid out. The good times did not last, however. World War II saw Liepaja devastated by fighting Soviet and Nazi troops and the city centre was badly hit. When the war was over the Soviets took over, snatched the naval base and essentially removed the city from its maps. Even Latvians from other parts of the country were forbidden to visit Liepaja. Yet its citizens somehow managed to maintain their traditions and were among the first to rally for independence in the 1980s.
Liepaja is now known as a progressive city with beautiful architecture, a superb beach and nightlife than continues until the morning. It is also renowned as the birthplace of Latvian music and art, with a huge number of musicians and artists coming from the city. Here are a few of the highlights for visitors that we experienced in Liepaja:
The promenade at Liepaja
Since we were staying just a block away, the Promenade was a natural place to begin exploring. You can wander past the boats and yachts and stop off for a coffee or beer at one of the many establishments along the waterfront.
It's also lively at night, with several bars and a club or two that seem never to be without guests no matter what the time of day.
Liepaja is famous for its amber which still washes up on the shore. The Amber Clock contains around 50 litres of the stuff donated by locals.
The Great Amber Concert Hall
Away from the waterfront you can't fail to notice this rather amazing piece of modern architecture. Completed in 2015, the concert hall has outstanding acoustics and is home to the Liepaja Symphony Orchestra.
Dinner – Upe Restaurant, Hotel Liva
We arrived very late on Friday evening and rushed to the Liva hotel where we had a booking for dinner. We were grateful that they waited for us and had to forego the entire 3 course set menu as the kitchen would soon be closing. Nevertheless I had delicious pork ribs and a sumptuous dessert, as well as a hugely welcome cold beer, so I wasn't complaining about missing a starter. At first glance Upe looks like a standard hotel restaurant but it is nicely decorated in natural materials and the kitchen makes use of its own grown herbs, spices and vegtables. It makes a good introduction to Latvian cuisine.
Upe, Lielā iela 11, Latvija, Liepāja, LV-3401
Karosta Naval Prison
After a good night's sleep and a hearty breakfast it was time to do some time. Karosta Naval Prison, just outside Liepaja, is one of the most popular attractions the town has to offer. This may seem a little odd but it is way more enjoyable than it might first sound.
The spooky jailhouse was actually in use right up to 1997. Not long after, one of its former wardens decided that it needed to be preserved and went about establishing a visitor centre.
There are plenty of options although some are for groups only. I recommend that you start with the guided tour to get to know the place before opting for a night in solitary…
As is evident from the cross on top of the roof, Karosta was originally intended to be a hospital when built in 1900, but before it was even finished it was turned into a military prison.
Buy your ticket here. Tours leave on the hour and are both fun and informative. And a little scary…
The entrance is at the rear of the building.
Before going inside, your guide will give you some historical and geographical background information.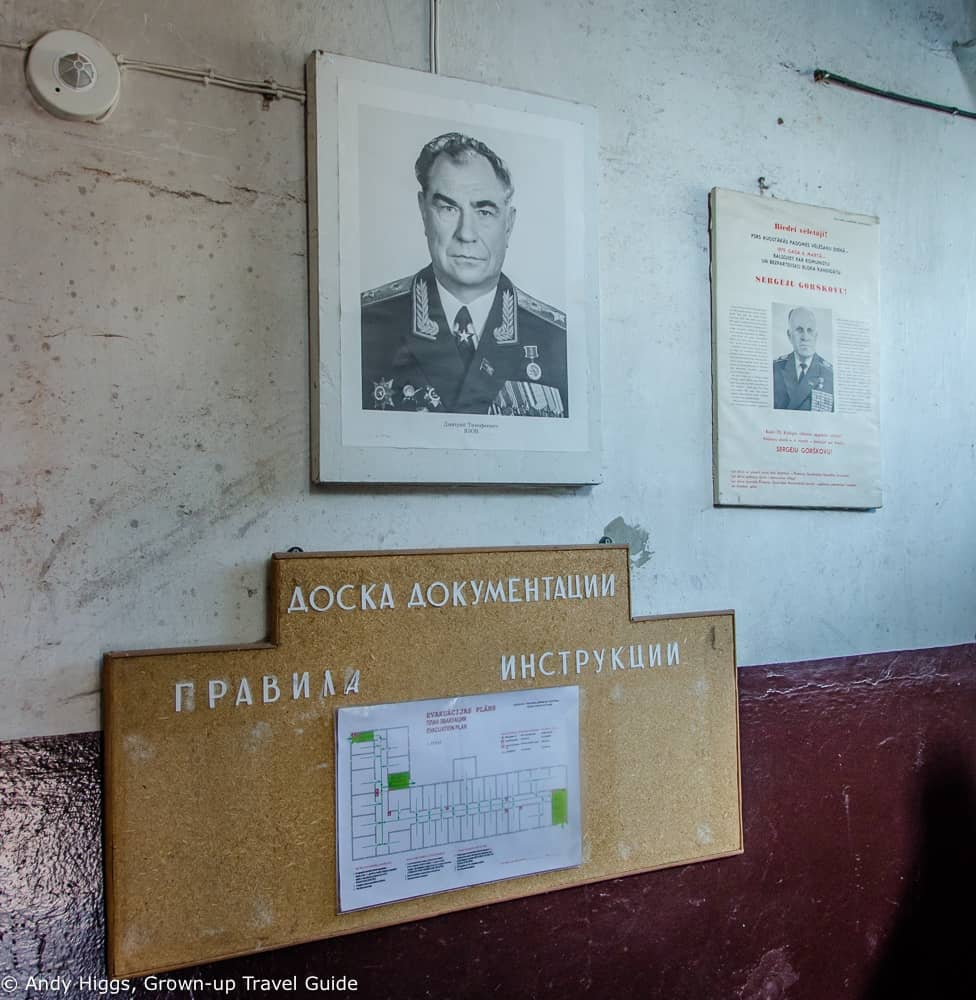 The prison was used to punish "bad soldiers". Most did not spend more than a few days here, but I can definitely imagine that was enough…
Karosta is a treasure-trove of memorabilia and items from a bygone era.
Don't let nuclear fall-out stop you from walking the pram.
Our guide, Juris, really knows his stuff.
At the end of the tour, we found out why. It's all fascinating stuff, but if you want to make it all a but more real you can book a room for EUR 17 a night. You will be treated like a prisoner and your room will be checked regularly and you can expect abuse from guards in period costume. The toilet facilities are authentic – and horrendous. If you prefer some peace and quiet you can upgrade to solitary confinement in cell 26.
There are some interesting exhibits outside the prison too.
Karosta Prison, Invalīdu iela 4, Karosta, Liepaja
Darbnica
We had the afternoon to ourselves after "escaping" Karosta, and I spent it walking around town. But first I needed lunch so I popped in to Darbnica as I heard it had a good selection of local beers. Indeed it did – in fact they serve only Latvian beer here, which is great.
They also cook up a mean burger and fries, which I scoffed along with this lovely pale ale.
Darbnica, Lielā iela 8, Liepaja, Latvia
Music Notes Walk
Since Liepaja is famous for its music, it makes perfect sense that musical notes on the pavement lead you round several trails in the town. I followed two of the trails which gave me a good tour of Liepaja.
There are a lot of lovely old wooden houses in town, but some are desperate for a little TLC. Well, quite a lot of TLC.
You'll find some interesting street art and installations, too.
I was struck by the cleanliness of the centre and how well the parks, flowers and trees were kept.
This route eventually leads to the beach, which is where I was headed.
Watch this video to see what I saw when walking around Liepaja:
Liepaja Beach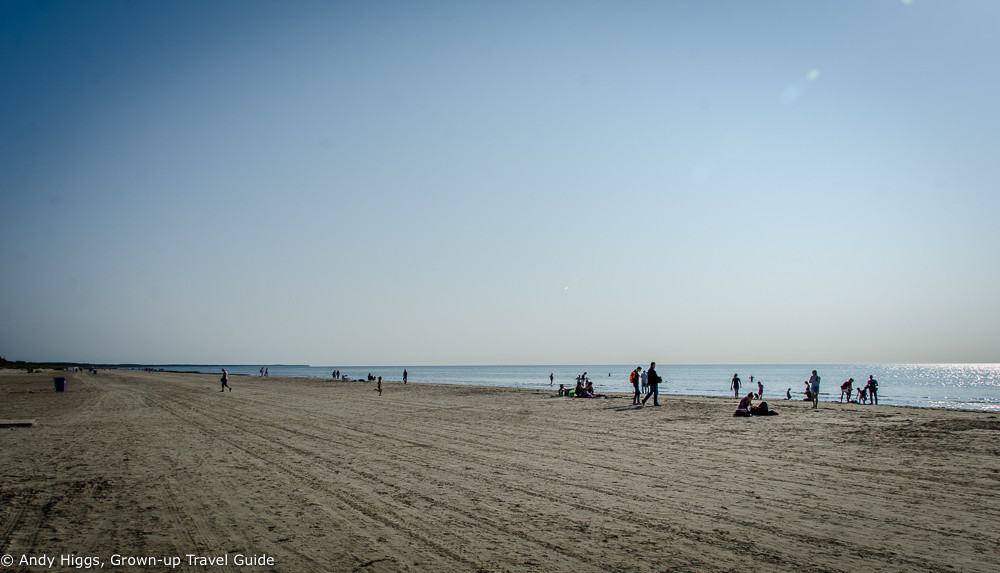 I had heard that Liepaja has a great beach, but wasn't prepared for this. The fine white sand stretches as far as the eye can see in both directions.
There are plenty of facilities but the beach is not overdeveloped with cafes and bars, which is a positive in my book.
Having said that, a man needs a cold beer at the beach and I found two good spots to quench my thirst.
Veju Darzs
A simple cafe with food and drinks at very reasonable prices, Veju Darzs is located at the southern end of the sandy strip. You can get some shade inside the tent or sit out and soak up the sun.
Red Sun Buffet
Further north is the busier Red Sun Buffet.
Closer to Moscow than London, it's a very popular place to hang out with good cocktails, snacks and food. And beer, too – a good selection of local craft beer in fact.
Dinner – Fifth Bud Restaurant
After working on my tan during the day it was time to meet the rest of the group for dinner. Fifth Bud is a modern and friendly restaurant in the centre of town with a good selection of dishes on the menu. Once again we had a fixed option and once again I had pork, although cooked in a different way to last night. It was excellent and the wine was very good too.
Fifth Bud Restaurant, Andreja Pumpura iela 5, Liepāja, LV – 3401
Fontaine Hotel
For our accommodation in Liepaja, it was a case of "and now for something completely different". The Fontaine Hotel is the quirkiest part of the quirky Fontaine empire, which consists of two hotels, several bars, restaurants and nightclubs owned by a former Danish rock musician Louis Fontaine. He fell in love with Liepaja and decided to come and live here, changing the nightlife scene forever. It's easy to confuse the more eclectic Fontaine Hotel with its larger and (slightly) more conventional sister property across the road, the Fontaine Royal (pictured earlier in the Promenade photo)
The Fontaine is located in two crumbling buildings and each room has a unique design. We stayed in the annex, pictured above.
More of a hostel in style than a hotel, albeit with private rooms – there is both a shared living area…
…as well as a kitchen if you feel inclined to make your own meals.
I stayed in the African Safari room, which really did feel like a room in a budget African hotel, especially the hot and damp scent in the bathroom.
Here is a video of the room which also shows the main building and exterior:

I slept well here and the location is great, but if returning I would rather stay at the Fontaine Royal right on the Promenade. Two of the members of our group had issues with their bathrooms and the place does need some maintenance. Since prices are similar at both hotels I'd recommend going for the Royal – indeed we sneaked a peak at the most expensive suite which was lovely, and costs a princely EUR 115 a night…
Fontaine Hotel, Juras iela 24, Liepaja, Latvija, LV-3401
So there you have it – I have added Liepaja to my list of destinations perfect for a short break and I suggest you do too. Whilst at its best in the summer, I think it has enough to offer all year round and is unbeatable value. The fact that it is not overflowing with tourists is just the icing on the cake; so make a note of this hot tip 🙂