Melbourne's nightlife is nothing like anything else in the world. From sexy Jazz clubs to comic lounges, to island-vibe tiki bars, there's something for everybody — even the ones with the quirkiest tastes. So if you're looking for a little more than just your average sports pub or bar, here are some of Melb's quirkiest bars.
1.   Berlin Bar
            16 Corrs Lane, Melbourne, Victoria 3000
            03 96393396

If you've ever had a fascination for period films, then you're in for a treat. When you have to look for a specific door in one of China Town's many cobblestone alleyways, the fancy feel of being in on something exclusive and "secret" really makes you feel like one of the cool kids in the block.
Ring the bell and you'd find yourself escorted by a staff member and allocate your party to East or West Germany, where you get to be part of an immersive theatre experience. You get two different worlds in a shared space where the divide of East and West clear with one side ladened with opulent crystal curtains, white leather settees, and fine chandeliers, while the other side roughed and toughed with rustic style crates, steel bunkers, army style woollen blankets, and 80s tabletop video games.
But since this is Berlin, you get to choose from a positively sinful selection of German beers and "illegal" cocktails smuggled in from neighbouring countries. Dive into a historical stage and the deliciously dangerous vibe of Berlin's olden times where the booze is free flowing and jazz music complements both the opulence of the East and austerity of the West.
2.   Bartonica
            335 Flinders Lane, Melbourne, Victoria 3000
           03 96299921
Image by Bartonica via Facebook
https://www.facebook.com/bartronica/photos/a.300906980104619.1073741826.300655733463077/567899133405401/?type=1&theater
If you're a lover of the 80's, then this throwback bar is definitely right up your alley. First of all, it's an arcade — like a true blue old school arcade with all of your nostalgic childhood games like Street Fighter, Fire Escape, Mario Kart, Sonic the Hedgehog, and Mortal Kombat.
Posting a #flashbackfriday photo just became cooler when you have all the old school consoles with you. It's like a game night with your mates on a Friday after class except you don't have a curfew and you get to indulge on something a little stronger than kool aid.
Be sure to bring the whole squad with you because competition with a healthy dose of trash talking among friends always makes for a fun-filled evening. If you have a mate who lives around the area then finding the place shouldn't be hard.
If you're taking a car hire Melbourne service, don't worry because there's street parking and a couple of multi level car parks around. Just remember that if you'll be indulging in craft beers then you ought to have a designated driver for the night.
3.   Croft Institute
            21 Croft Alley, Melbourne, Victoria 3000
            03 96714399
Image by The Croft Institute
http://www.thecroftinstitute.com.au/gallery/the-croft-institute-gallery.aspx
What happens when a mad scientists dabbles into mixology? You get one of the coolest and most eerie-themed bars this side of town has ever seen. Enter with caution as the Croft Institute sets the mood with shelves filled with the brim with spirits and lab apparatuses and glassware, dim lights hanging from the ceiling, old school leather patient stools and even a hospital bed, giving you a chilling insane asylum vibe.
Even if the "poisons" on the shelf may seem intimidating, don't be scared to try them out and tickle your tastebuds with quirky drinks. If you're there on a weekend bust out your best zombie moves as the DJ plays the best electro beats. Just don't expect any 90's R&B or boy band tunes. Sorry, no Britney either.
Pro Tip! If you're planning on a having a drink sesh with your mates at Croft, you're going to want to be there before 10PM. Otherwise, your door fees are pricier.
4.   The Alchemist
            361 Brunswick St, Fitzroy, Victoria 3065
            03 94198250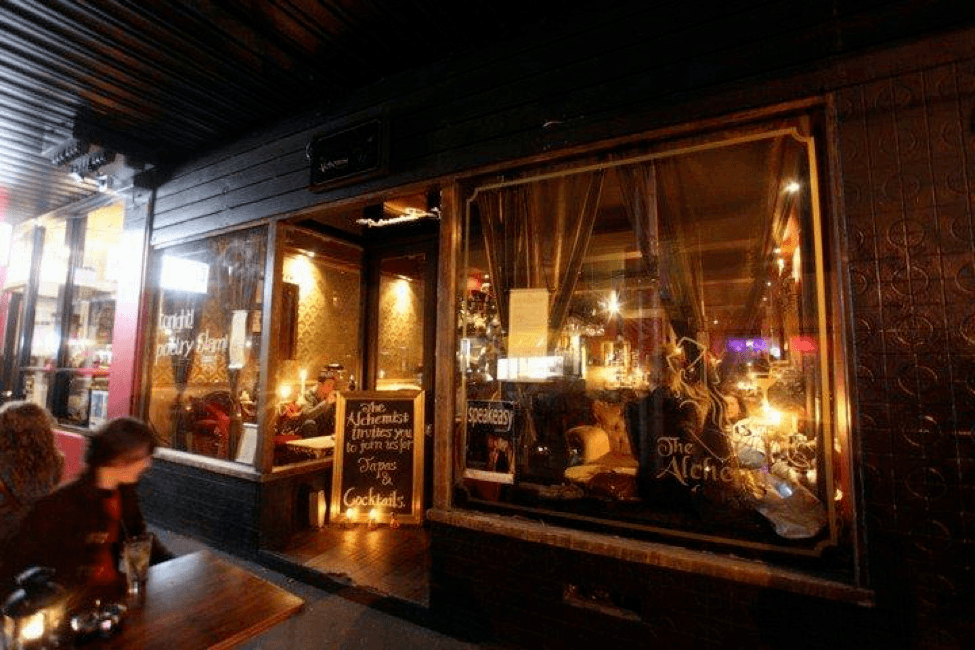 Image by The Alchemist via Facebook
https://www.facebook.com/TheAlchemistfitzroy/photos/a.142147845806078.17747.142144262473103/143155132372016/?type=3&theater
Beyond a barely visible sign on Brunswick Street is a charming bar with satin drapes and baroque couches. We have another a science themed bar but unlike Croft, The Alchemist is too luxe to be considered cool but eerie.
Step back through time in this elegant mix of pharmacology and luxury with real century old apothecary items accessorising the space. From old scales to chemist flasks, it's like being in a different period of time. Speaking of, be sure to check out the "Periodic Table" on display so you can pick your poison for the night.
By the way, be sure to check out their Facebook page for events. From funky tunes to jazz bands to even poetry slams, the Alchemist hosts a lot of exciting happenings.
Pro tip! While the bartenders can't turn lead into gold, they can still work wicked magic with muddlers and shakers. So be creative and ask them to make a one of your own inventions. They'll be more than happy to give it a go and may even take your cocktail to the next level with some special ingredients.
Please take note, and we have to mention that it's a good idea to get a car hire in Melbourne days in advance. Getting a car rental will allow you to hop from one quirky bar to another, and the convenience makes it a no-brainer. And don't forget to assign a designated driver, as drinking and then driving is definitely not a good idea.