London has a wonderful market scene and there are hundreds of markets which take place all over the city throughout the week.  Not only are these markets great places for locals to shop for their weekly produce but they are also excellent places for visitors and tourists to head if they want to pick up a bargain souvenir or present for someone back home.  From artisan food to vintage clothing and plenty in between, there are lots of popular markets to choose from and today we are going to share with you five of the coolest markets you can find in the city: –
Backyard Market, East London
Brick Lane is one of East London's best known markets and it has a wonderful variety of stalls and sellers offering fantastic bargains.  However just a short distance away from Brick Lane is one of the newest additions to East London is Backyard Market.  This arts and crafts market is located behind the old Truman Brewery and is open on Saturdays and Sundays.  Saturday opening hours are 11am-6pm and Sunday opening hours are 10am-5pm.  There is a real focus here on supporting young designers and artists from the community and you can find items such as jewellery, art prints, clothing and more.  The great thing about this market is the fact that it is arts and crafts means that you are very likely to go home with an individual piece rather than one of hundreds.  There is also an international food section if you want to try some delightful cuisine for a decent price.  Brick Lane is also worthy of a visit so we would recommend combining a visit to East London with a trip to the two markets; just be aware that Brick Lane market can become overrun with tourists by midday.
Portobello Road Market, Notting Hill
Portobello Road Market is one of London's most popular markets but there is a good reason for this: this long stretch of stalls offers a lovely array of products from antiques to modern accessories.  The market itself is also surrounded by a wonderful range of shops, coffee shops and restaurants meaning that there is plenty to see and do even when you've exhausted the market itself.  Notting Hill is a very affluent area of the city and is home to many celebrities so you never know who you might spot as you wander up and down the stalls either. The market is well connected by public transport and should be simple to reach if you are staying at the Shaftesbury Premier London Paddington.  The main Portobello Road Market takes place on a Saturday between 9am and 7pm although there are smaller markets which take place throughout the week.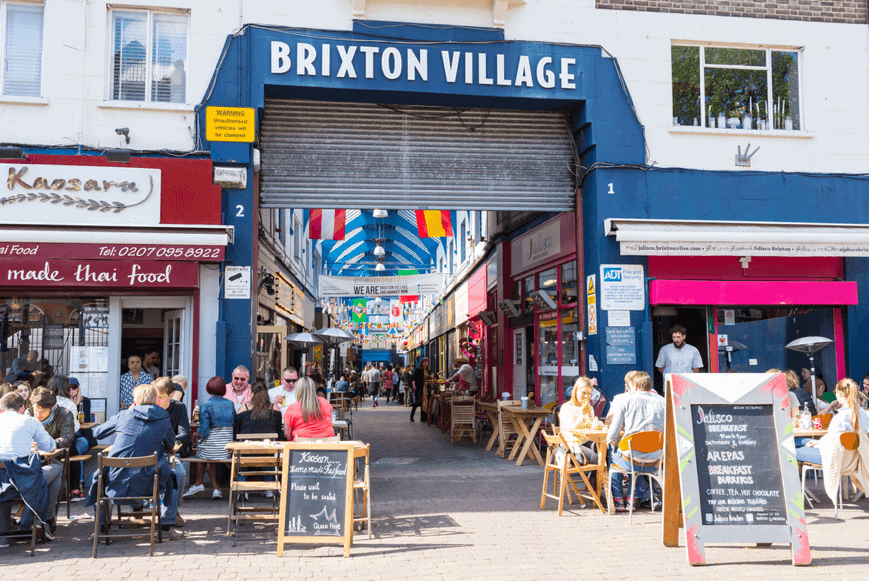 Brixton Village Market, South London
For a long time, Brixton Village was considered to be a rundown part of the city but it has recently undergone a huge restoration project and is now one of the trendiest parts of the city to reside in.  Stylish cafes, chic restaurants, boutique, and independent stores and plenty of culture all combine to make Brixton Village a fabulous place to explore.  One of the big draws of Brixton Village Market is the international food which can be found here.  Dishes from Europe, India, Asia, South America, and the Caribbean can all be bought at the market as well as stalls selling goods from these countries as well.  It's also a fairly inexpensive place to eat whether you are choosing food from the market or heading indoors to one of the restaurants making it a good place to head if you are visiting London on a budget too.  The market and the shopping arcade which surrounds the market is open every day from 8am until 11pm except on a Monday when they close at 6pm.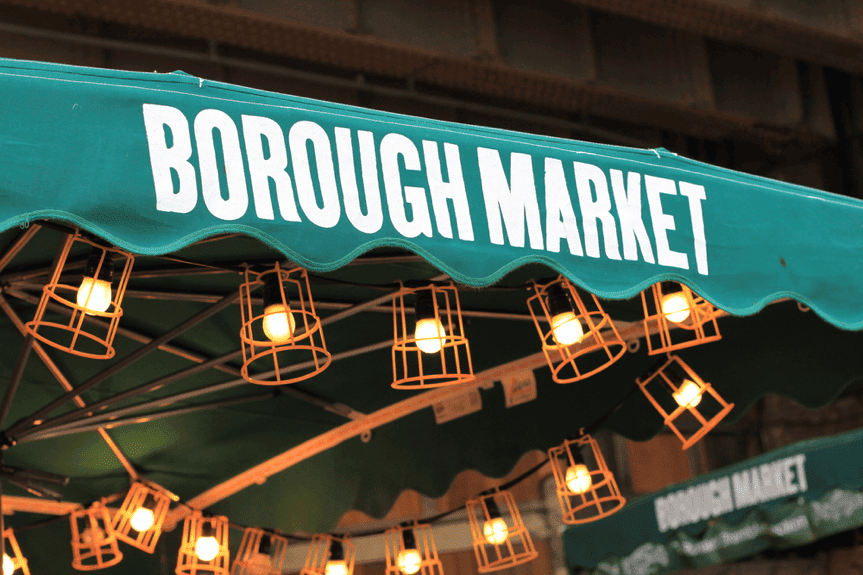 Borough Market, Central London
Borough Market is one of the oldest, and largest, markets in the city and it continues to be a foodie's paradise even in the present day.  The market has been in place in Southwark for more than 1,000 years and many of the sellers who gather here are also the producers of the items on sale; farmers, fishermen and bakers are all also stallholders and that is one of the things which makes Borough Market such a wonderful place to shop as you are really talking to the experts when you buy.  The items sold are fairly priced, and you can source foods from all over the world represented here.  If you are staying in one of the London hotels near Hyde Park then you are well placed to arrive at Borough Market when it opens; Monday to Friday the market is open from 10am until 5pm (6pm on a Friday) and on Saturdays it opens at 8am and sellers shut up shop at 5pm.  The market is not open on a Sunday.
Columbia Road Flower Market
Without a doubt, one of the coolest places to head on a Sunday morning is the Columbia Road Flower Market.  Each Sunday the street is transformed into an array of brightly coloured flowers, rich scents, and exotic plants.  Even if you aren't looking to buy any flowers it is still worth heading down to Columbia Road to take in the atmosphere and to wander amongst the stalls.  Columbia Road is also home to 60 independent shops which include those selling antiques, restaurants, delis, and homeware stores.  It's the perfect place to head on a Sunday morning for a walk around the stalls before following up with brunch at one of the many wonderful coffee shops surrounding the market.  Best of all, everything from the flowers to the items sold in the shops is very fairly priced so its perfect if you are visiting the city on a tight budget.