Antalya, the capital of the Turkish Riviera, is a popular destination for Europeans seeking a beach vacation. Most visitors make it downtown to Kaleici to wander the winding cobble-stone streets of the old city and admire the picturesque harbour. On a particularly hot day a few tourists will take refuge in the world-class (and air-conditioned) Archeological Museum. First things first though…
Turkish visa requirements
Are you going on a holiday or business trip to Turkey in 2019 or 2020? Unless you are a member of a visa-exempt country, you will need to apply for a visa. British citizens need to apply for a visa to enter Turkey. Even underage children are only allowed in if they possess their own Turkey visa. Are you not in possession of a valid visa? Then the Turkish immigration service will stop you at the passport check after your arrival in Turkey.
What is an e-visa Turkey?
This is an official travel authorization from the Turkish government to enter the country through land, sea or air. When this website mentions the visa for Turkey, it always refers to the electronic variant known as the 'e-visa Turkey'. You can apply for this travel permit entirely online, and after it has been granted it will be sent to you by email (example e-visa). You can submit an application for yourself, for somebody else, or for an entire travel party at once.
Back to the story. There are many other options within an hour's drive of Antalya…
For ancient ruins and golden beaches – Phaselis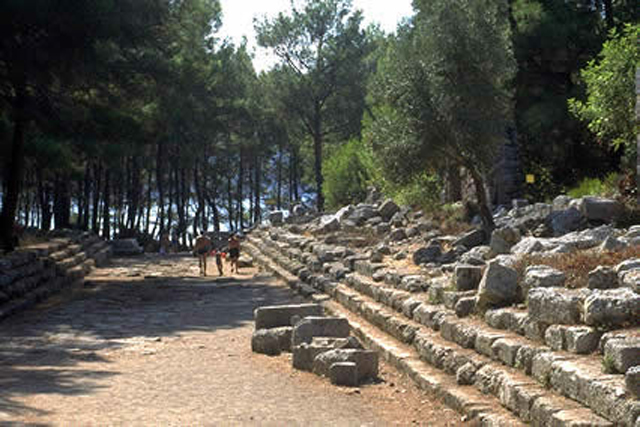 Image (c) Ellen Rabiner
Why not enjoy some ancient ruins with your swimming and sunbathing? With the remnants of the ancient city right on the secluded cove, Phaselis is the best of both worlds. You can get there from Antalya by bus, or rent a car and take the scenic drive yourself. It's a straight shot up the coast, so you can't get lost. Keep in mind though, that after you pay your 8 TL to enter the site there's nowhere to buy food or drink. So remember to pack a lunch, and bring plenty of water. You'll also need a hat to protect you from the powerful sun.
For snow and skiing – Saklikent
Image (c) Ellen Rabiner
Feeling the need to cool off? Head up to the region's ski resort and have a snow-ball fight before returning to your beach hotel for a swim. Take the ski lift for a short ride, and you won't believe the alpine views, or the fact that this snowy landscape is about an hour from your beach hotel in Antalya. In case you can't tell from the snow, it really is cold up there, so bring a jacket.
For opera in the amphitheatre – Aspendos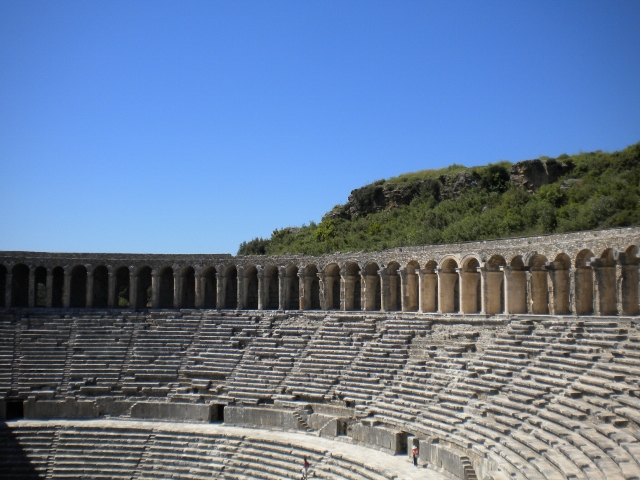 Image (c) Ellen Rabiner
It's not the Colosseum, but it's pretty darn big, and it's all in one piece: the theater at Aspendos is one of the best-preserved theaters of the ancient world. Beautifully situated in the mountains, anyone can get a perfect photo. If you're visiting between June and August you can also see an evening performance of opera or ballet in this magnificent space. Aspendos has the single most impressive building, but Perge has more extensive remains of what was a large ancient city. There's a lot to see here, and not much shade, so remember to bring a hat for sun protection.
For more ancient ruins and more golden beaches – Olympos
Image (c) Ellen Rabiner
Like Phaselis, Olympos combines ancient ruins with a pristine beach. Unlike Phaselis, Olympos isn't deserted, so you don't need to pack a lunch. Adjacent to Olympos is Cirali, where you can see the eternal flames of the chimera.
For sandy beaches, coffee and prosciutto (and ruins) – Side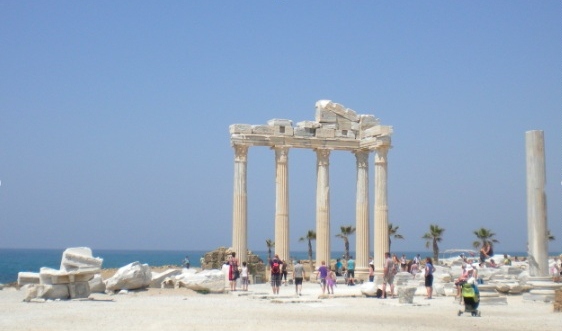 Image (c) Ellen Rabiner
Another beach/ancient ruins combo is available in a day-trip to Side. The advantages of Side are a) it has a sand beach, which is much more comfortable to walk on than the stone beaches of Antalya and Olympos; and b) it's upscale European focus means real coffee is readily available, so you don't have to settle for the Nescafe that Antalians keep trying to pass off as the real deal. You can also have real Italian prosciutto. (Antalya, like most of Turkey, is a pork-free zone.) The downside of Side is what you'd expect from a place catering to European tourists: it's expensive, and everyone's trying to sell you something.
For mountain hiking and a refreshing waterfall – Termessos and Duden
Image (c) Ellen Rabiner
If you've brought your hiking boots you might want to take the climb up to see the most dramatic ancient theater setting at Termessos. It's not as big as the one in Aspendos, but instead of being surrounded by mountains, Termessos' theater is actually built into the mountain top, creating a unique view. The mountain-top location of Termessos rendered it invincible even to Alexander the Great. You can still see many remains of this ancient city, including temples, baths, and an extensive necropolis. After climbing a mountain and hiking through ruins you'll need to cool off, so stop at the Duden Waterfall on your way back to your hotel. The damp caves are quite a relief after a day in the sun.
And there's always time for a swim when you get back to the beach. In fact, in the summer the beaches are busier at night. Once the sun goes down, the weather is comfortable, and families picnic there until all hours of the night. So wherever you've been all day, join the locals for a refreshing dip under the stars, and enjoy coming back to the place Ataturk called "the most beautiful city in the world".