For travellers in the know, Costa Rica is a dream destination. You have probably heard about Costa Rica's best beaches but it has less familiar treasures such as Liberia and Guanacaste Costa Rica. This article will show you just 6 of many reasons Costa Rica should be at the top of your wish list…
Meet a sloth – and other amazing wildlife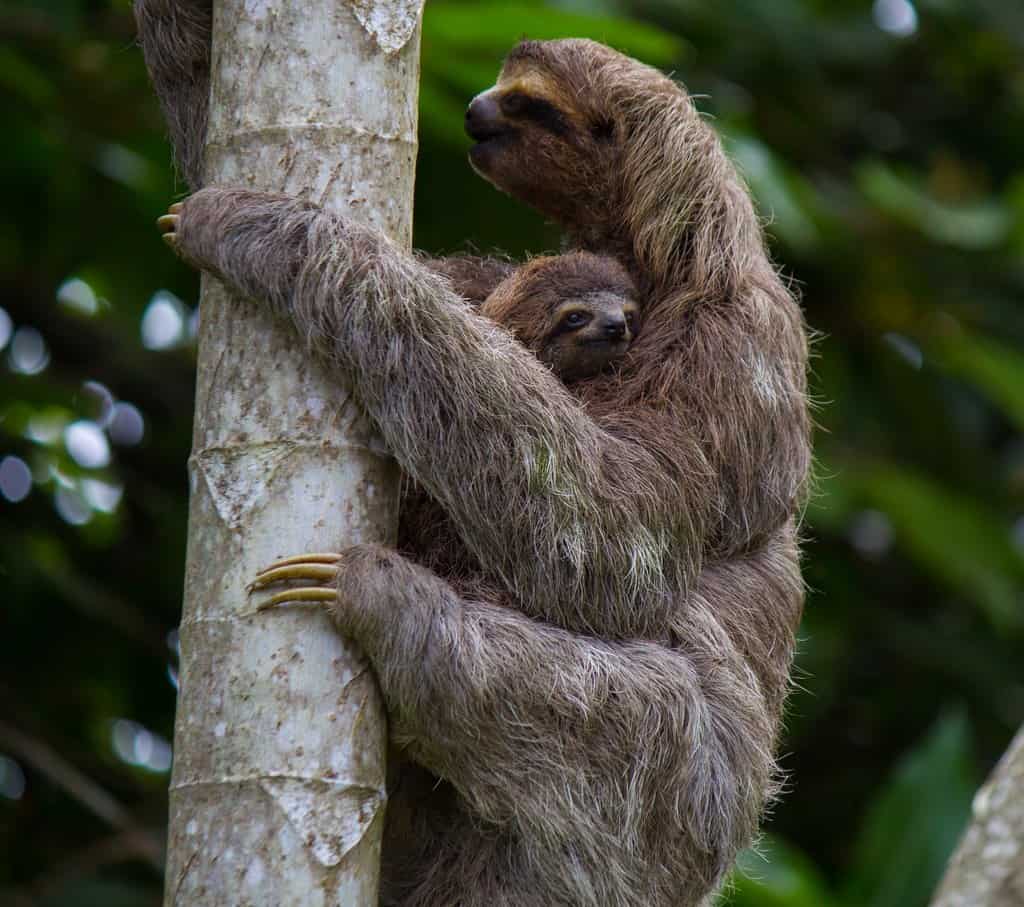 Photo credit: jorge.cancela Costa Rica via photopin (license)
Who doesn't want to get up close and personal with these guys? You'll have plenty of time to watch them, too – as the slowest mammal in the world, the sloths isn't going anywhere fast. They can be found all over the country so keep your eyes peeled for them up in the trees.
For a more intimate encounter and to learn all about these unhurried animals visit the Sloth Sanctuary.
It doesn't stop there, though. Costa Rica is unique in the fact that there is nowhere else in the world with such a variety of animal habitats i such a small area. Take a holiday in Costa Rica and a safari in Africa and you'll feel like you are taking part in a live version of "Planet Earth".
With a little luck and perseverance you will be able to see crocodiles and caymans, capuchins, dolphins, toucans ocelots and the wonderfully-named Strawberry Poison Dart frogs.
Eat and drink your way around the country
You won't go hungry in Costa Rica, either. Fuel your adventures on the local cuisine which is hearty and delicious fare. You'll not want to miss the national dish of Gallo Pinto – fried rice and beans served with eggs and sour cream or cheese. A typical breakfast, this will keep you going for hours.
Fans of coffee and chocolate will feel like they are in heaven too. Great coffee is served everywhere and chocolate is not difficult to find, but for the ultimate experience head for the Timbirina Biological Reserve and join one of their day or night tours which explain the chocolate-making process and allow participants to sample plenty of the finished product. Finca Kobo, an organic farm, also offers excellent tours and ends with a chocolate fondue…
On a somewhat healthier note, Costa Rica has wonderful fruit, too – papaya, mango, avocado, pineapple, bananas and plantain are all staples of the local diet.More exotic varieties include star fruit, guanoabana, nance, mamon chino, mangosteen,pejibayes and nance – don't be afraid to try something new.
Experience the rainforest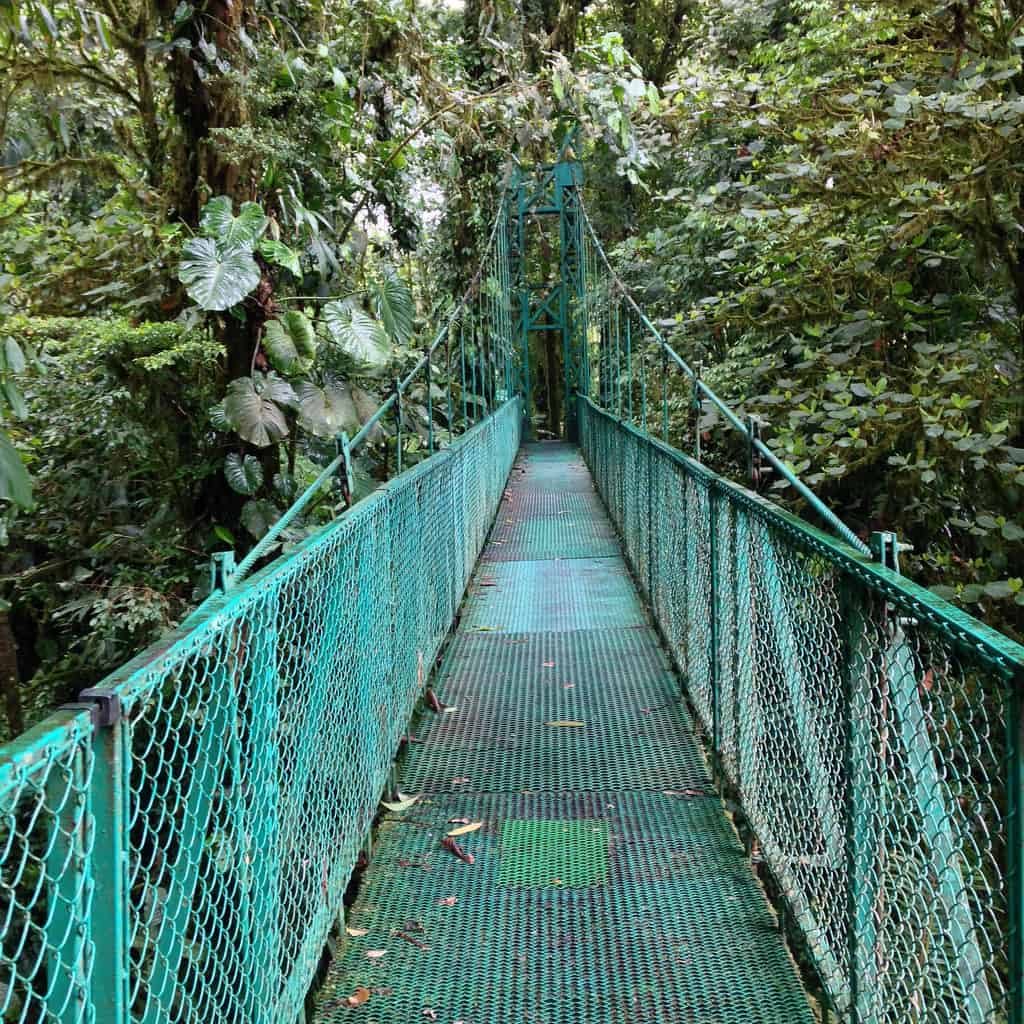 Photo credit: Globe-Trotting.com Costa Rica, Monteverde rainforest bridges via photopin (license)
As well as all its animals, Costa Rica can boast an incredible 10,000 species of plants and trees. Its tropical rainforests are home to two-thirds of all living animal and plant species on the planet. About 25% of the country is made up of protected national parks and rainforests which hold 5% of the worlds biodiversity.
But the statistics will fade into insignificance when you experience the rainforest for yourself. There is a wide range of options for all tastes, from the sedate walking tour to the more adrenaline-boosting zippiness and canopy tours.
We recommend a tour with a guide to help you learn a little about the natural environment – Manuel Antonio National Park is a good choice. Costa Rica is famous for its environmental efforts and all activities are planned so as to minimise impact. Other parks to explore include Tenor, Corcovado, Carara and Miravalles.
Hit the beach
Photo credit: José Pestana View Playa Tocuchare I… via photopin (license)
Well, we had to include the beaches, didn't we? Some people come to Costa Rica with the sole intention of lazing on the sand, which is fair enough but in our opinion the beaches should be seen more as the icing on the cake.
Well over 99 per cent of the coastal land of Costa Rica is protected by maritime zones, which prohibits construction within 200 meters of the high tide mark. This means its 300 beaches have a far less developed feel and wildlife is abundant near the shore.
Given its geography, visitors to Costa Rica can swim on both Pacific and Caribbean beaches. It only takes a few hours to travel from one side to the other, which is perfect as both have so much to offer.
On the Pacific side of Costa Rica, vivid turquoise waters wash up along miles of gorgeous palm-tree lined, white-sand beaches, providing the perfect place to soak up the sun.
The Caribbean coast is different form other parts of Costa Rica. It is known for its Rastifari culture and laid back vibes – as well as some of the most picture-perfect beaches in Costa Rica.
Surfers and sun seekers alike are well-served and the waters are warm. Just avoid the rainy season if sunbathing is your main priority.
Adventure activities
We touched on this earlier, but it warrants its own section. Just about all the activities available in Costa Rica are based on nature and adventure. The amazing diversity of terrain and the different climates provide a unique setting for some of the best fun you can have anywhere.
We already mentioned canopy tours and zip lining, but that is just the beginning. You can try your hand at canyoning, white-water rafting, cliff diving, stand-up paddle boarding, snorkelling, diving, fishing and kayaking. Not enough for you? How about skydiving?
In fact, it's safe to say that if you can imagine it, you can probably do it in Costa Rica. And you can have your adventures knowing that the operators are doing everything to minimise the environmental impact of your crazy fun. Have a look at some of the best Costa Rica tours offered by Bookmundi to find out more.
The people
Last, but definitely not least – in fact perhaps the best reason to visit – the locals are some of the friendliest and happiest people you are likely to meet. It's understandable given their relaxed way of life – "pure vida" (pure life) is their mantra.
Costa Rica ranks as one of the happiest countries in the world, based on its high quality of life, good life expectancy rate (79.3 years) and small ecological footprint. It abandoned its army decades ago – which surely helps – and it's easy to imagine that just living in such an extraordinarily beautiful country would keep a smile on your face.
There are many more reasons to visit Costa Rica, but even these 6 mean that you probably want to already…