London is bursting at the seams with places to see and things to do, but you still have to eat, right? If you've never had a proper English breakfast, then you don't know what you're missing – apart from several hundred calories. In the past the humble transport cafe was the place to go for a serious fry-up, but these days brekkie comes in many forms and can be enjoyed in a variety of places. We've gathered 6 of the best here – we've considered both the grub itself and the premises in which it is served to ensure that each and every entry on this list will provide a memorable experience…
When you want a real English breakfast in an iconic setting – The Regency Cafe
Image obtained from Flickr.com under Creative Commons (c) Craig Groble
How about a traditional English breakfast in a cafe so authentic it's been used as a film location? But the fact that the Regency was frequented by Daniel Craig in 'Layer Cake' is far from the only reason it deserves a visit. Place your order and marvel at the benign dictatorship style of management – you'll hear one voice commanding the kitchen and soon be enjoying some of the best fried food in the capital. Don't settle for less than the full English and don't expect any modern riffing on the breakfast of champions. Enjoy the tiled interior and exterior of the establishment that has been serving its punters since the 1940s in Pimlico. Portions are generous and prices reasonable. If you miss brunchtime note that the Regency closes from 1430-1600 but then opens again until 1900 making it a good option for dinner too.
Regency Cafe, 17-19 Regency Street, Westminster, London, SW1P 4BY. Tube to Pimlico
No website
When you want to clinch that deal over breakfast (or just show off) – The Wolseley
Image (c) Loic Le Meur
For a rather different breakfast experience than the Regency Cafe, book a table at the Wolseley. A few doors down from The Ritz on Picadilly, you'll still be choosing from a traditional – but extensive – menu of British breakfast classics. The 1930s interior and uniformed waiters may inspire you to try something from the past such as kedgeree (with its origins in India) or kippers, but pink grapefruit, crumpets, porridge and Bircher muesli are also on the list. The Wolseley is sure to impress your guests or business contacts with its black lacquered wood and marble decor, high ceiling and stunning chandeliers. Service here is as faultless as you might expect and the food doesn't disappoint. Breakfast is served until 11.30 but if you think that's unrealistic the Wolseley is open all day and in the evening too.
The Wolseley, 160 Piccadilly, London W1J 9EB Tube to Piccadilly Circus or Green Park
When you're seriously hungry – The Breakfast Club
Image obtained from Flickr.com under Creative Commons (c) Annie Mole
Now a chain with four branches, the Breakfast Club is an all day diner with a flamboyantly retro style. We're big fans of its Hoxton and Islington establishments but you can also find them in Soho and Spitalfields – and whichever version you try the experience will be the same – first of all you may have to queue for a table as the Breakfast Club is seriously popular. Secondly, you won't leave hungry. The breakfast and brunch menu is huge; healthy options include fresh fruit smoothies, muesli and porridge; you can have your eggs pretty much any way you can imagine or go for a full English or American style pancakes. There are some more exotic variants like burritos and wraps too and you'll not be bored waiting for your food to arrive – each premises is decorated with kitschy American and 80's memorabilia, and in the Hoxton branch the waiting area for the toilet is in fact the 'world's smallest disco' complete with music and disco ball. The staff are welcoming and efficient and clearly love working at TBC which is always good to see. Late risers take note – The Breakfast Club is open all day.
The Breakfast Club – four locations: See website for details and opening times
http://thebreakfastclubcafes.com/
When you have to take a vegetarian (or god forbid are one yourself) – The Workshop Cafe
Image (c) theupcoming.co.uk.jpg
The Australian brunch scene is big in London and it's worth trying their take on the first (and most important) meal of the day. Originally called St Ali but now the Workshop Cafe, this place has its roots in a cafe in Melbourne that has been pulling in the punters for over ten years. Coffee is treated very seriously, with beans roasted in-house to ensure control over the whole process and expert staff. Rather than a full English the focus here is on healthy, innovative dishes inspired by travels around the world. Turkish pied bread forms the base for your eggs; brioche French toast is served with poached English rhubarb and blood orange mascarpone; the classic Bircher muesli is here perked up with fresh raspberries, labna and pumpkin seeds. The house speciality is sweetcorn fritters with kasundi, a homemade spiced tomato chutney that goes beautifully with haloumi, or homemade banana bread with espresso marscapone.
The Workshop Cafe, 27 Clerkenwell Rd, EC1M 5RN. Tube to Farringdon
http://www.workshopcoffee.com/
When you need sustenance before hitting the market  – Smiths of Smithfield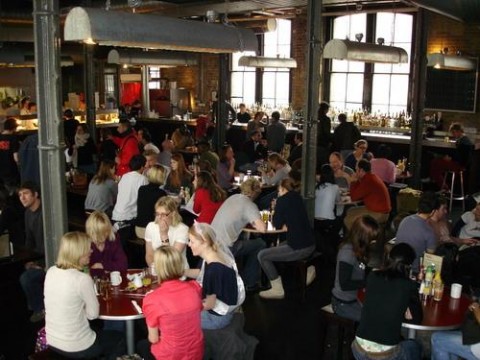 Image (c) Solea via Trivago
Smithfields Market has a few options for breakfast including a couple of pubs where you can even get a pint at the crack of dawn. For more regular requirements Smiths is our favourite with its industrial decor and large menu of quality, reasonably priced food. The small premium you pay over cheaper places is reflected in the quality of the ingredients; Smiths has some of the best sausages and bacon in the capital and the vegetables are fresh and tasty. It does get busy here and before about 0930 you may wait a while to get served even if you do get a seat. The suits like Smiths too but are usually gone after the morning rush. A late breakfast will keep you going until the middle of the afternoon or if you're feeling particularly louche you could have yours at the end of the day – accompanied by one of Smiths' alcoholic milkshakes, neatly called "hardshakes". It's hard to think of a more deliciously decadent way to spend a few hours in this vibrant part of town.
Smiths of Smithfield, 67-77A Charterhouse Street, London EC1M 6HJ. Tube to Farringdon
http://www.smithsofsmithfield.co.uk/
When you want to enjoy breakfast on the riverside – Towpath
Image obtained from Flickr.com under Creative Commons (c) D1v1d
With a picture postcard-perfect location right beside Regent's Canal, Towpath is a lovely place to enjoy breakfast while watching life on the river. With a commitment to simple but tasty food and excellent coffee, this place has done a roaring trade since it opened its doors in 2010. Naturally the outdoor seating areas are popular – there are tables in front of the cafe but also on a raised deck a few metres further along the path. Heaters allow guests to sit outside a little longer than would otherwise be comfortable while choosing from the menu on the blackboard – with an early morning selection ranging from toast and jam to muesli, porridge and grilled cheese sandwiches. Later in the day there's a more Italian feel with dishes reflecting seasonal ingredients. The coffee alone could be worth the journey here, a smooth blend coming as it does from a small roastery near Florence. Service can be a little slow on really sunny days but it's always friendly; surely there's no better place in Hackney for breakfast when the weather's good?
Towpath, Regent's Canal towpath, between Whitmore Bridge and Kingsland Road Bridge N1 5SB. Tube to Haggerston
No website
We hope you enjoyed these tips – if you think we've missed anything out or you have questions or comments please do let us know in the box below – and make sure you sign up for email updates or subscribe to the RSS feed by using the links on the right so you don't miss a thing from Grown-up Travel Guide!