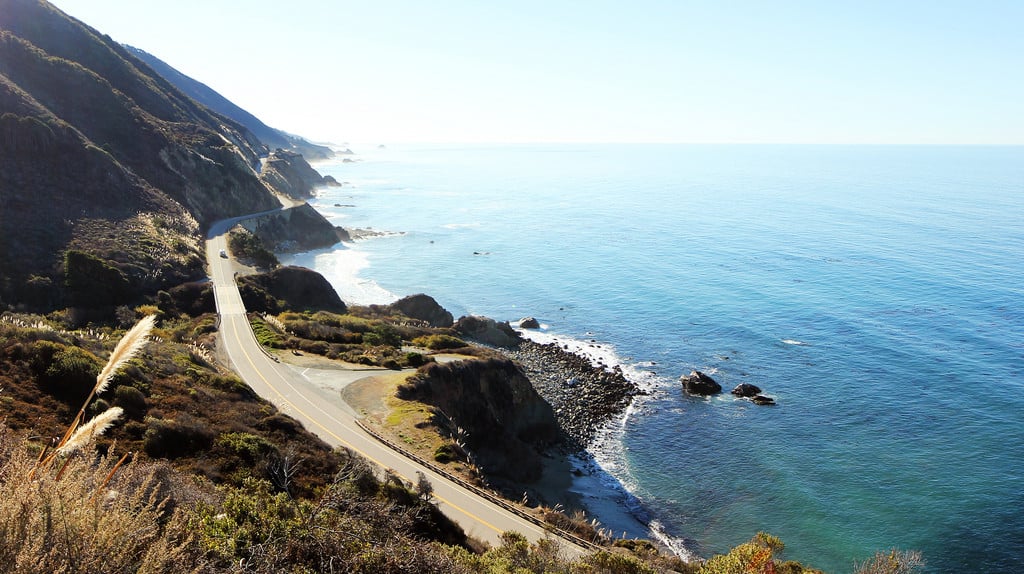 Photo credit: cliffside via photopin (license)
Let's face it – who hasn't dreamed about getting behind the wheel of a convertible and zooming around the Golden State? I certainly have – one of my big plans when I was a tad younger was to fly to Los Angeles, buy a car and just drive…then sell it when I was done.
That still seems a good plan – and many visitors do exactly this, some even driving across to the east coast to sell their vehicle at a profit (west coast cars have less rust). You do need to factor in fuel and coverage – check here to find the best price on Californian car insurance – but it's still going to be quite an adventure.
Alternatively, you could rent a car – and if you do, pony up the extra for a soft-top.
Right, we're all set – so where to go? Here are 6 of our favourite Californian road trips:
Route 1 south – Santa Barbara to San Diego
We start with the classic – this is probably what most people have in mind when they consider driving in California. The Pacific Coast Highway is a thing of beauty and takes in some lovely towns on the way. From the Mediterranean style of Santa Barbara you move on to the beach town of Ventura. An even more stunning beach awaits at Santa Monica.
Spend a couple of days in Long Beach and Huntingdon Beach before shopping it up in Costa Mesa. Crystal Cove sees the coastline turn more rugged before another stunning beach at Laguna. If you fancy something different, pop into Legoland before ending your trip at wonderful San Diego.
The wild north – San Francisco to Crescent City
And now for something completely different. Get away from it all up north – from San Francisco you drive to Marin County and Point Reyes before taking in the art and culture of Mendocino.
Pull over to take the Skunk Train then jump back in to drive the Avenue of the Giants and the incredible Humboldt Redwoods State Park.
Travel back in time in Ferndale and Eureka before viewing half of the world's oldest trees in the Redwood National and State Parks. Your trip ends in the last city in California – Crescent City.
Route 66 – Santa Monica to Anza-Borrego Desert State Park
Another classic – but here we're sticking to the Californian section of Route 66.
Dubbed "the mother road" by the novelist John Steinbeck, this highway was the route that the pioneers took in the 20th century on their trek west to find the Californian dream. Huge numbers of people upped sticks and moved to the Golden State between the 1930s and 1960s.
You won't be following the original route exactly as a lot of it has been lost and redirected. But there are still plenty of clues and landmarks along the way and it's also worth breaking from the route for some other attractions.
Instead of following the herd heading west, drive it eastwards and progress from Santa Monica to the Californian desert near Nevada. 
Craft beer and volcanoes – Sacramento to Eureka
Starting in the state capital of Sacramento, this superb road trip then heads northeast to a wild region of California. Here you can visit stunning volcanoes such as Lassen Peak and Mount Shasta.
You can leave the car for a while and hike the empty trails for some solitude. Lakes and waterfalls dot the landscape and rivers coarse through the woods.
Get back in and head west through the forests and head back in time in Eureka, where the wild west was at its wildest back in the day. Today it's a haven for beer and art lovers.
The Sierra Nevada – Lake Tahoe to Calaveras Big Trees State Park
Follow California's main mountain range, the Sierra Nevada which forms the eastern border of the state. Lake Tahoe is a great place to start – its turquoise water is irresistible so don't fight it but just jump in for a dip.
Continue through the mountains to the monoliths of Yosemite, stop off at Mammoth Lakes and don't miss the world's largest living things (trees) at Sequoia & Kings Canyon National Parks.
Another place not to be missed is California's most famous ghost town, Bodie.
Natural and manmade wonders – San Francisco to Napa Valley
Photo credit: Morning Glow via photopin (license)
This road trip is actually a circuit; starting and finishing in San Francisco. After enjoying the city it's time to head off on Highway 1 to Monterey. Then it's off to Carmel to see if you can catch a glimpse of Clint. This 17 mile drive is one of the most scenic in the world.
But you have more – Big Sur is 90 miles of picture-postcard views and an experience you'll never forget. Then it's Los Angeles – you'll need a few days here. Head into the desert, stopping at Palm Springs before the glitz of Las Vegas.
Try not to lose all your holiday money and fill up with water for the ride through Death Valley to Yosemite. Spend some time here before cooling off in the wine country of Napa Valley. When you're ready, San Francisco is down the road.