It's hard to imagine that you'll run out of things to do in Amsterdam if you're just in town for a weekend break. But if you're there for longer – or perhaps have been before – you should consider taking a day trip to see what the surrounding area has to offer. The Netherlands is a small country and transport connections are excellent, so you have plenty of choice. We've put together this list to help you out – hopefully there should be something for everyone:
Delft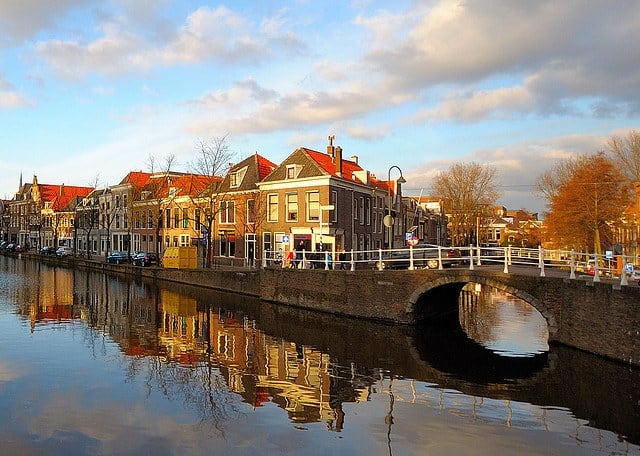 Photo credit: sub_lime79 via photopin cc
Chances are you'll have heard of Delft because of its world famous porcelain. Yet while "Delft Blue" probably remains its greatest claim to fame, the town has other attractions worth the hour it takes on the train from the Central Station. Delft was also the home of Jan Vermeer, has a spectacular church (Oude Kerk) with five spires and a restaurant that hit the headlines in 1997 when Bill and Hillary Clinton sampled its poffertjes.
At the Royal Delft factory you can learn about the history of "Delftware" and its production. Although these days we think of the blue and white designs as quintessentially Dutch, the motifs were copied from Chinese porcelain and given a Dutch twist with the addition of windmills and tulips, for example.
Museum Het Prinsenhof – located in a 15th century convent – tells the story of William of Orange and the Dutch Republic. Feeling peckish? Time to try those aforementioned Presidential pancakes at Het Wapen van Delft.
Train to Delft (one hour). For fares and schedules visit the Dutch Railways website
Zaanse Schans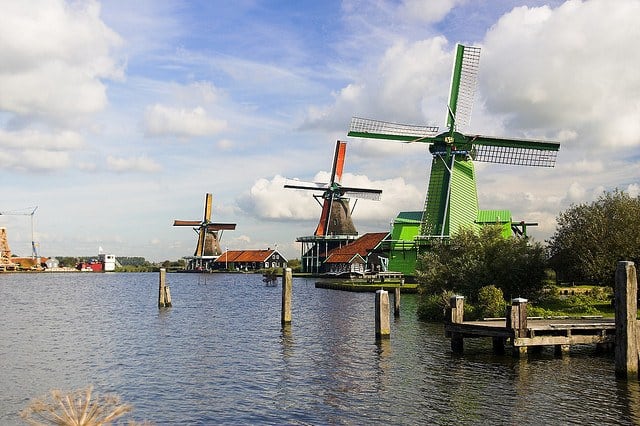 Photo credit: Roni G via photopin cc
You could be forgiven for assuming that Zaanse Schans is an elaborate outdoor museum or cultural theme park showcasing old Dutch charms – but this is a real working town. It just happens to showcase old Dutch charms extremely well – as well as the obligatory windmills and clogs you'll find historic buildings, a cheese farm, arts and crafts stores, local delicacies and even the trail of Peter the Great.
The best place to start is probably the Zaans Museum. As you'll find out, the town was an industrial centre in its heyday; as evidenced by the number of windmills here. Five of them are open to the public and along with the Windmill Museum they provide an insight into how important mills were in the manufacture of a range of products.
At the Wooden Shoe Workshop you can see how those cute but painful-looking Dutch wooden shoes are made. The cheese farm De Catherinahoeve demonstrates the production process and you can have a taste too. I would also contend that a wheel of Dutch cheese is the gift for that special someone – surely the recipient cannot fail to be impressed by the effort it would take to get one home?
The Peter the Great connection is detailed at the Czar Peter House where the man himself stayed while in the Netherlands.
Train to Koog-Zandijk (20 minutes) then ten minute walk. For fares and schedules visit the Dutch Railways website
Or bus from Amsterdam Central Station (45 minutes). For fares and schedules visit the Connexxion website (currently only in Dutch)
Rotterdam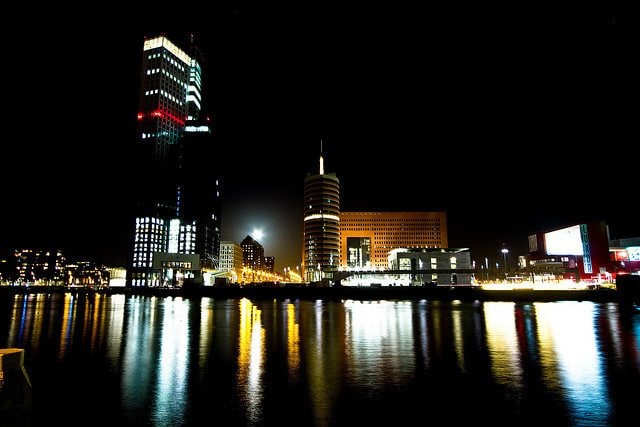 Photo credit: zilverbat. via photopin cc
And now for something completely different. Rotterdam may only be an hour from Amsterdam by train but when you disembark it almost feels like a different country. Having been almost wiped off the map by air raids in World War II, Rotterdam is a modern city often shamefully ignored by visitors to the Netherlands. Those that make the journey are rewarded by spectacular architecture (don't miss the Kubus apartments) and a proud, cosmopolitan people – over half of the population have at least one parent who was born outside Holland. The Wereldmusem (World Museum) does a great job of detailing Rotterdam's heritage.
Rotterdam is also known for having one of the busiest ports in the world. Make sure you visit the open-air Havenmuseum (Harbor Museum) which is home to a number of ships built between 1850 and 1970. For more on naval history make your way to the Maritime Museum and finish in style aboard the Museumschip Buffel ("The Buffalo" Museum Ship).
Still not culturally sated? Museumpark in the city centre is where you'll find some of Europe's best museums and galleries displaying the works of old masters as well as contemporary challengers.
Train to Rotterdam (one hour). For fares and schedules visit the Dutch Railways website
Fort Pampus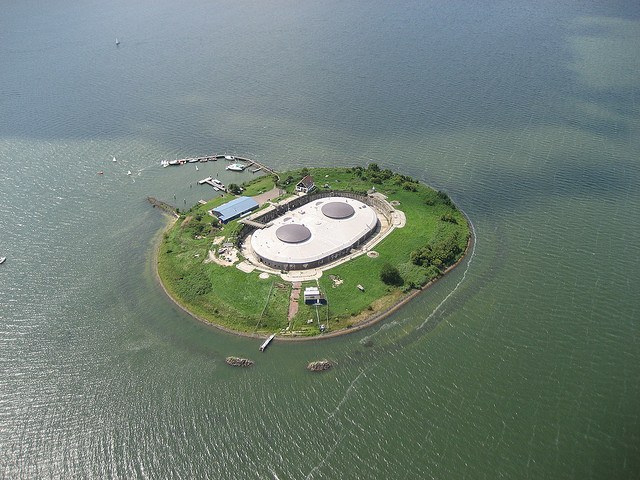 Photo credit: Remon Rijper via photopin cc
Any list of day trips from Amsterdam would not be complete without including Fort Pampus, a UNESCO World Heritage site reachable by ferry from Muiden after a bus journey from the Central Station. It is only open from 1 April to the end of October but makes for a memorable day out for the whole family.
Fort Pampus is an island fort that was part of the Stelling van Amsterdam (Defence Line of Amsterdam) – a 135 km long defence system encircling the city. Rather than using walls, the defence line relied on water – by flooding the area Amsterdam could protected against invaders within 48 hours. The defence line was built between 1883 and 1920 – a little too late, as it turned out. The development of the aeroplane scuppered the security offered by the defence line almost as soon as it was finished.
While the water management technology used is unique and the reason for its place on the UNESCO list, Fort Pampus is also home to a wide variety of wildlife, hosts treasure hunts and games for children and has an air of mystery due to its being closed to the public until 1991.
The island is completely man made – some 3800 piles were driven into the sea in its construction. Fort Pampus was abandoned when the last fort-keeper retired in 1933 but was used by the German invaders in World War II who bombed the island for target practice.
Bus from Amsterdam Central Station (40 minutes). For fares and schedules visit the Connexxion website (currently only in Dutch)
Then ferry to Fort Pampus (20 minutes)
Zandvoort
Photo credit: maessive via photopin cc
If you get lucky with the weather in Amsterdam (heck, it does happen) and you've gone through our list of outdoor activities you could do a lot worse than spend the day by the sea. The North Sea, to be precise; Zandvoort is easily reached by train and only about 25 km from the Central Station. From here you can take your pick from three fine beaches at Zandvoort, Bloemendaal-aan-Zee and Ijmuiden that cater to slightly different crowds. "Crowds" being the operative word on sunny weekends as locals leave the city behind to feel the sand beneath their toes; try to come during the week if you want to avoid the masses. A little more solitude can also be found by exploring the sand dunes on foot or by bike.
Zandvoort is more family-oriented while Bloemendaal-aan-Zee a few clicks north is developing in a more 'trendy' direction, if I may be so pretentious. Ijmuiden is another 7 km up the coast and has a wide beach but an industrial backdrop. The huge steel works hasn't stopped the beach from gaining a blue flag award though – indeed all three beaches have this distinction. Oh and don't rush back to Amsterdam after your day at the seaside – watching the sunset with a drink on the beachfront is worth getting a later train for.
Train to Zandvoort (30 minutes). For fares and schedules visit the Dutch Railways website
Alkmaar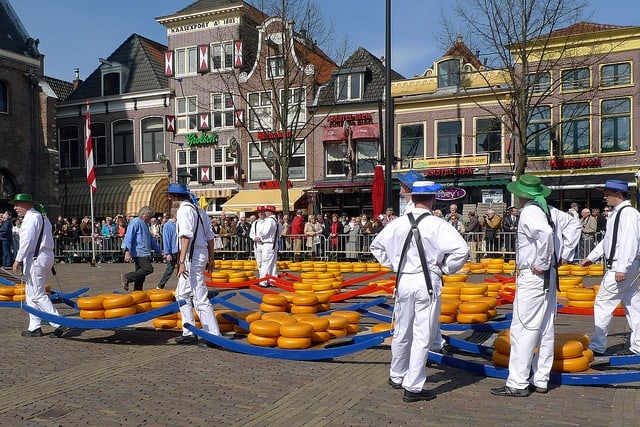 Photo credit: vtveen via photopin cc
Not many visitors make it to Alkmaar but don't let that stop you – indeed this is often incentive enough for those looking for something a little different. It's not a big place (the population is under 100,000) but is a cheese powerhouse. Often compared to Winsconsin in the USA, its people are also known as kaaskoppen ("cheeseheads") and during the summer the cheese market is its biggest draw. Rather oddly for a 'market' you can't actually buy cheese there as it is held to demonstrate the old traditions involving handclaps and weighing of the product.
If for some inexplicable reason you don't like cheese (what?!) then check out the Great Church or one of the museums – there are places focusing on beer or the Beatles for example. The former needs no explanation and you probably won't need much justification to give it a visit but you may be wondering why Alkmaar is home to exhibits related to the Fab Four. Well, John Lennon's first guitar was made here. So now you know.
Train to Alkmaar (50 minutes). For fares and schedules visit the Dutch Railways website
We hope you like these suggestions. If you think we've missed something please tell us in the comments section below!