Yes, I appreciate that this sounds like a bit of a stretch, to put it mildly. According to recent statistics, San Francisco  has more restaurants per capita of any city in the entire U.S. of A, with nearly 40 per 10,000 households and just shy of 4500 establishments, depending on where you draw the city limits.
It also has the equal highest number of bars of any city, a position it shares with Las Vegas, and is the only metropolis to end up in the top ten for both restaurant and bar densities. "Bar density", incidentally, is a fabulous term and I for one would encourage global rankings in this vital area.
So you are right in thinking that it may be a little presumptuous of me to find 6 of the best during my first ever trip to the place – and only a five-day stay at that.
Calm down though, as this is in no way a definitive list. But I did discover some real gems, and since I ate out for every single meal in the city I tried quite a few places.
Furthermore, these recommendations include options for (almost) any time of day, from breakfast to a last beer on the way home.
Some places I was hosted, which is clearly indicated in each case, while others I found and funded myself. My opinions are my own for all of them, as you well know by now.
So let's get the ball rolling…
For breakfast: Caffe Capriccio
If you are staying at a place without breakfast, if your hotel's breakfast is a sad affair or if you simply didn't make it down in time before they stopped serving, head to North Beach.
What do you look for in a breakfast place? Personally, I am not really a morning person so I prefer somewhere low-key and unpretentious. I definitely don't need hipsters with handlebar moustaches and fedoras in my face at 7 a.m., nor do I need a specific kind of single-origin Tanzanian coffee grown on the slopes of Kilimanjaro and harvested by female tribeswomen to give me a good start to the day.
What I do need is excellent food, great – rather than uniquely exclusive – coffee and a peaceful atmosphere. Friendly but restrained service helps if I am feeling a little delicate, which is often the case in the early hours. I can live without wifi but others will appreciate it, I'm sure.
This is why Caffe Capriccio was my port of call every morning I was in San Francisco. Obviously it helped that it was right across the street from the wonderful San Remo Hotel, but there are plenty of other cafes within stumbling distance but none of them ticked all the boxes. I would have gladly travelled here each day if I had been staying elsewhere, too.
As with the hotel, the location of Caffe Capriccio is perfect for sightseeing; you can load up on calories before walking up Lombard Street which is just three blocks away or ensure you have enough caffeine for the boat trip to Alcatraz, which starts close by.
North Beach is a quiet, mostly residential area and Caffe Capriccio is a real local's place. The breakfast menu is short and simple and includes oatmeal, granola, fresh fruit and a variety of bagels.
I developed a mild addiction to the tomato version with red onion, capers and cream cheese but broke it on one occasion to try the smoked salmon, which was divine.
The coffee was fabulous, too – so drop Starbucks and go local. Caffe Capriccio is excellent value and the perfect place to start a hard day of sight-seeing in San Francisco.
If you do have a late start, breakfast is served until they close or you can pick from an enticing lunch menu if you prefer.
Caffe Capriccio, 2200 Mason St, San Francisco. Tel: 415-772-0937 Open 0700-1600 Monday-Friday, 0800-1600 Saturday and Sunday
Lunch: Tap 415
I was hosted by Tap 415 for my lunch. The opinions and weight gained are all my own.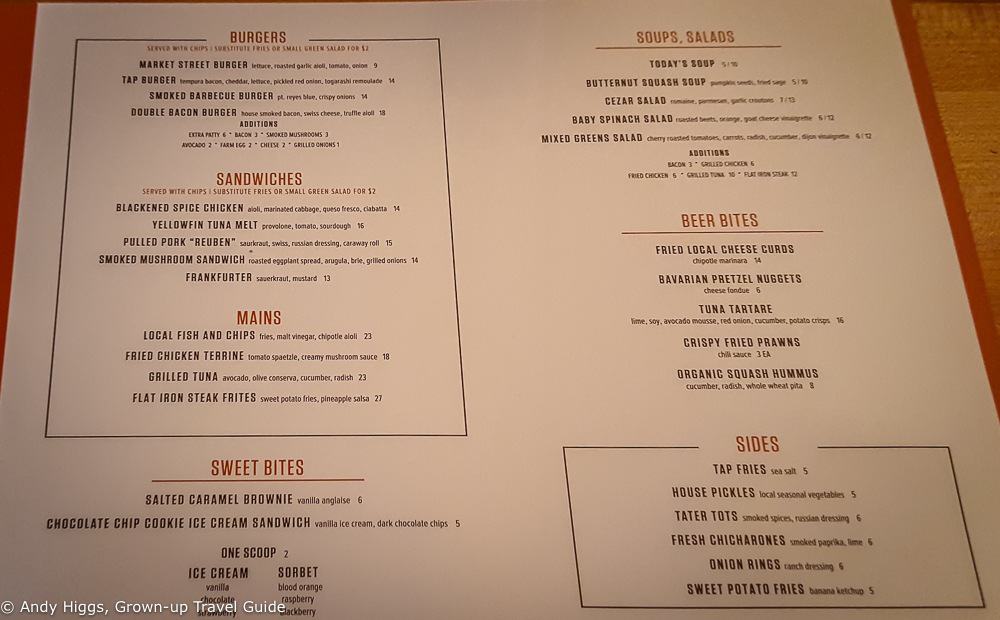 On my first full day in the city I had an appointment for lunch arranged by the restaurant's PR representative. Having had a leisurely start to the day and a relatively late breakfast, I was not crazily hungry as I made my way to Tap 415, but I was prepared to take one for the team and try everything placed before be in the name of a proper review.
A shopping centre is not the most auspicious-sounding location for an eatery but then this is no ordinary mall, either. The Westfield San Francisco Centre (yes, with the correct spelling belying the corporation's Australian roots) is, like other Westfield properties, an upmarket affair.
With more than 170 shops covering high-end fashion, luxury goods and of course a range of dining options and a spectacular glass dome covering the atrium area, this is a step up from the Whitgift Centre in Croydon, after all.
Tap 415 calls itself a modern beer garden, which is a good description as there are plenty of close-together tables which make for easy socialising with strangers.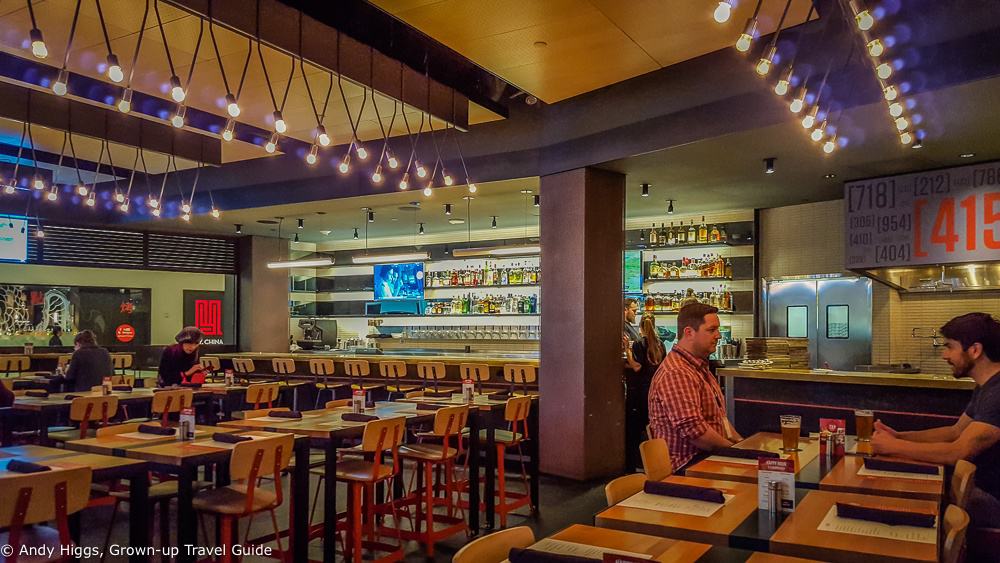 After finding a seat I had a look through the menu together with the duty manager. Tap 415 has a good selection of dishes, including burgers and sandwiches made using bread baked in-house baked bread, home-made ice cream, freshly-pressed juices, "adult milkshakes", beer, wine and cocktails.
It was suggested that I try a few different dishes which have proved very popular with diners, and naturally I was up for that.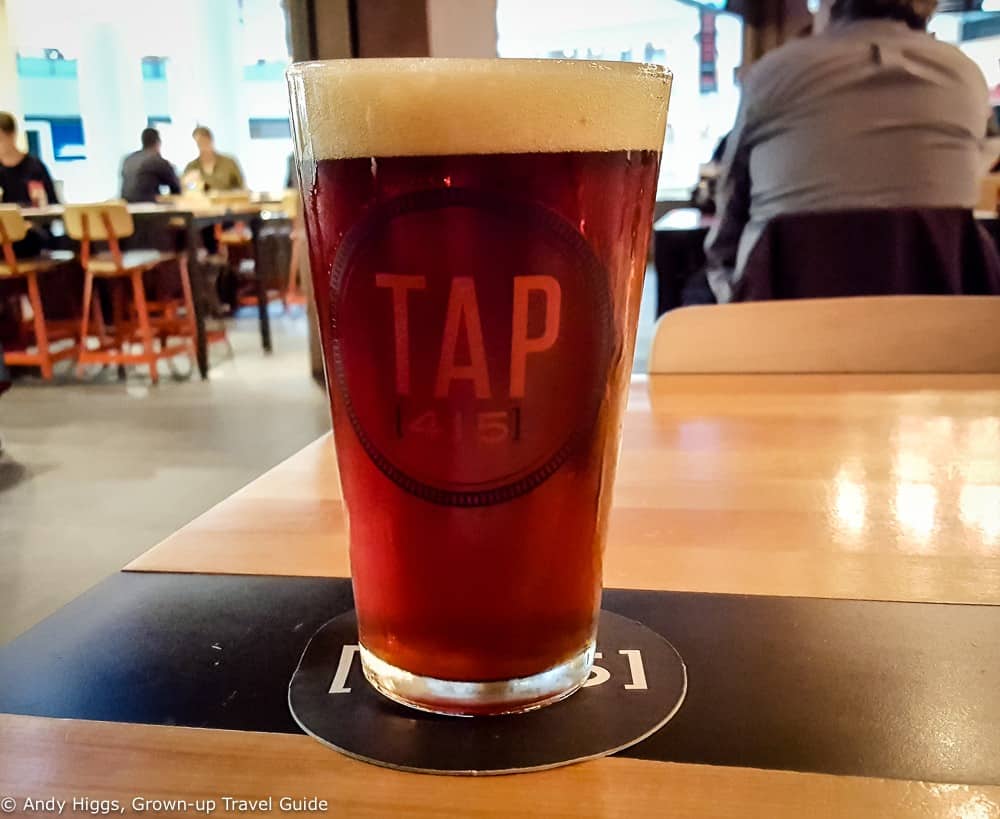 First of all I tried some "beer bites" together with a lovely pint of Prohibition Amber Ale from local craft brewery Speakeasy.
The Bavarian pretzel nuggets with cheese fondue dip were amazing. Essentially bite-sized pretzels with a cheesy sauce, what's not to like?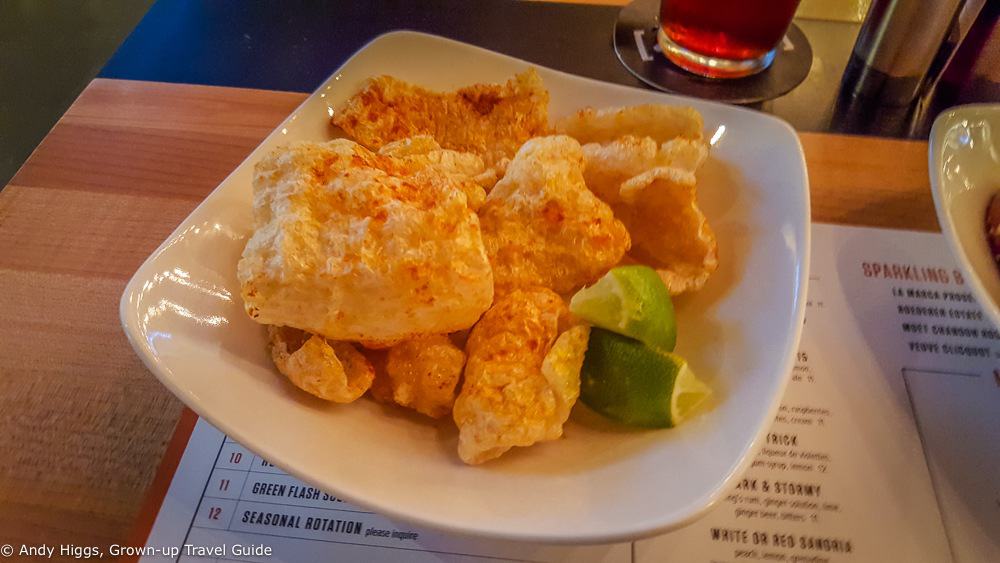 Moving on to a side dish, I sampled (read:finished off) a pile of chicharones – deep fried pork crackling (read:pig skin) dusted in smoked paprika and served with lime wedges. You may be starting to understand my comment about gaining weight.
A slightly healthier detour arrived in the shape of butternut squash soup, which was delicious, before we returned to the comfort food highway.
For my main course I had the wonderful Tap Burger, with tempura bacon, cheddar, lettuce, pickled red onion and togarashi remoulade. And fries, of course.
By this point I was obviously full, but with my loyal blog readers in mind I felt it my duty to try a dessert. A salted caramel brownie with vanilla anglaise was the very definition of going out with a bang, but fortunately I did not explode.
Tap 415 is an excellent place for a beer, a light lunch or a full meal – and is an unexpected delight in a shopping mall. The fact that the restaurant sources its ingredients from local farms and ranches and focuses on sustainability is an added bonus. You can save big by visiting during the happy "hour" between 3 and 6 p.m., too…
Tap 415, Westfield San Francisco Centre, 845 Market St, San Francisco. Tel: 415-266-7900 Open 1130-2100 Monday-Saturday, 1130-2000 Sunday
For beer: Anchor Brewery Tour
Now clearly I could have dedicated an entire blog post to a guided tour of the legendary Anchor Brewing Company, but it is really something that everyone should plan for, not just die-hard beer geeks.
You are also going to have to book – unless you are extremely lucky – as soon as you have confirmed your plane tickets. Or if you are really organised and are planning your trip to San Francisco more than 3 months in advance, set yourself a reminder 90 days before arrival as this is the earliest you can make reservations. You can find full details and book online here.
One more thing – the tap room is not open to the public unless you have a place on a tour, so you can't just turn up for a beer.
There are two tours every day with an extra one on Fridays and I've included details of the times and prices at the end of this section. The earliest kick off at 10 a.m., which you may think is a little hardcore, but then as the guys at Anchor say, "how can you drink all day unless you get an early start?"
Anchor Brewing Company can justifiably claim to be the father of America's craft brewing revolution. The history of the place is amazing, and I'm not going to spoil it by trying to tell you the whole story as that is half the fun of the tour.
What I will say is that it was saved from bankruptcy by a local fan who could not bear to see his favourite "steam beer" disappear. He just so happened to be the heir to an enormous family fortune (the Maytag corporation) although the brewery was so run-down that he allegedly bought it for less than 5000 dollars…
He did have to invest a huge amount of time and money in getting it back on its feet, though, and began experimenting with different styles of beer as well as the superb steam beer for which Anchor is famous (and indeed holds the patent to – possibly the only beer style to actually have originated in the States).
Today the brewery is flourishing and running pretty much at full capacity – and Anchor is happy to stay at a manageable size so has no plans for global expansion, thankfully.
After arriving at the brewery I checked in my online ticket and made my way to the taproom to meet the rest of the group.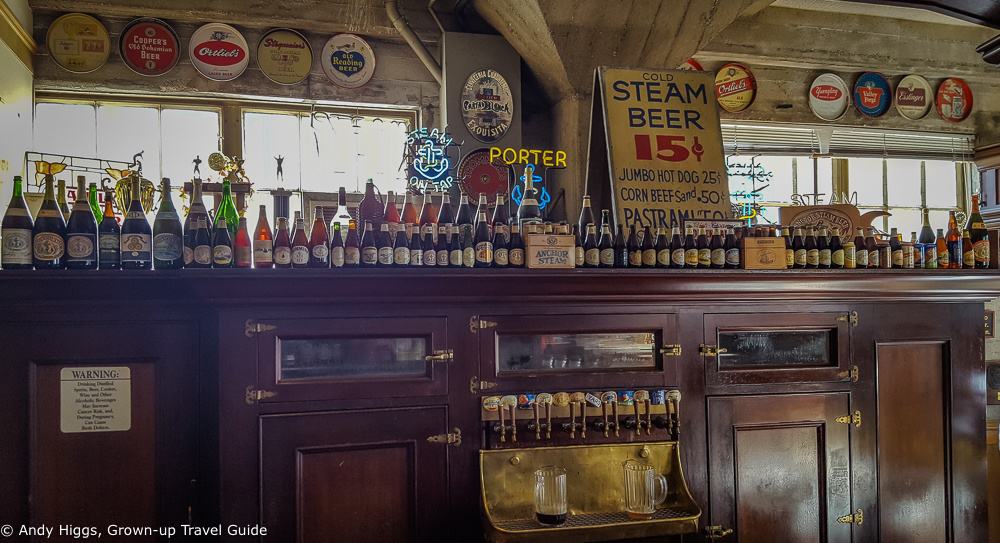 There's plenty to look at while you wait – as well as historic beer bottles and old brewing equipment there are some fascinating vintage photographs to gawp at too.

I've been on a few brewery tours in my time but this was the first one where we got a beer before being shown around the premises. I liked that a lot.
We started off with a lovely sample of Anchor Steam Beer fresh from the tap – I defy even the hardiest of beer haters not to like this one. With a rich malt flavour and a nice blast of hops, it's a unique amber ale/lager hybrid that brings the best of both ale and lager into one refreshing beer.
It was first brewed in 1896 and takes its name from the fact that Californian brewers had no ice to cool down their boiling wort – so they placed the open barrels on the roof and let the breeze from the bay do its trick, resulting in billowing steam visible from several blocks away.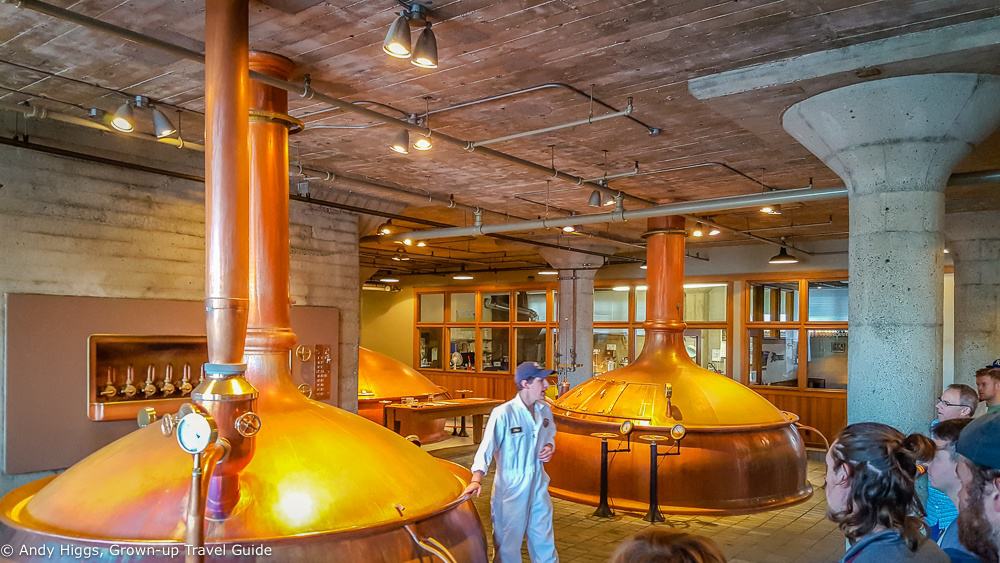 It was then time to see how this liquid gold is made. The traditional copper kettles are beautiful and highly efficient, running pretty much round the clock to keep up with demand.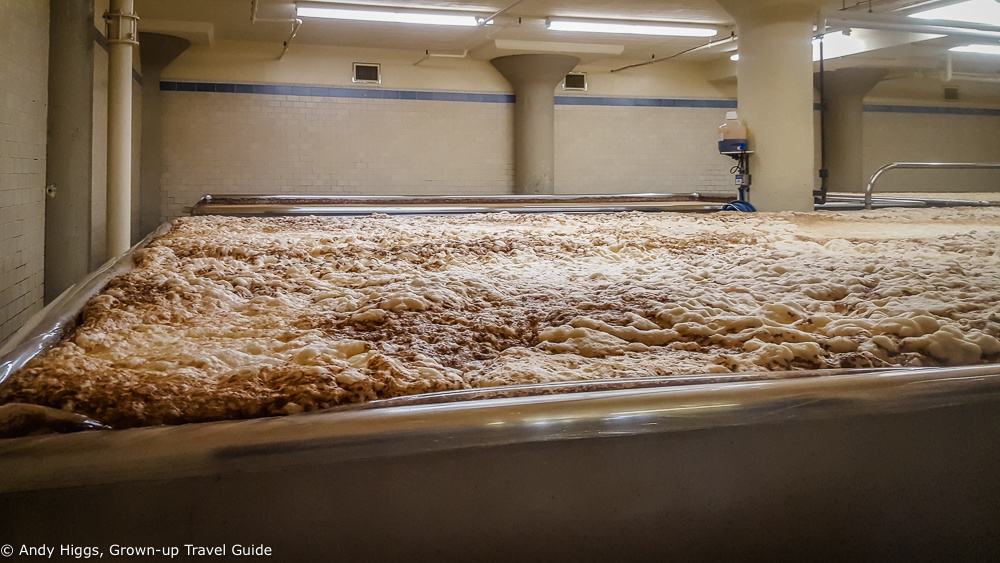 It was interesting to see that Anchor still use open yeast fermentation, kept in a highly protected atmosphere of course (I took this picture through the glass window).
The tour takes in all areas of the brewery and our guide was both informative and a lot of fun – with so much history  there are some great anecdotes, as you can imagine.
In case you don't hear it, make sure you ask about the fate of one of the original German owners. A clue – it involves one of San Francisco's iconic cable cars. But with a twist…
Once the tour was complete we returned to the tap room to be served a bunch of Anchor's other beers. Make no mistake, this is good value – I lost count of how many we got to try and they were all good, and the Porter was a highlight. There is plenty of inspiration and wisdom to be found on the walls of the tap room if you begin to struggle…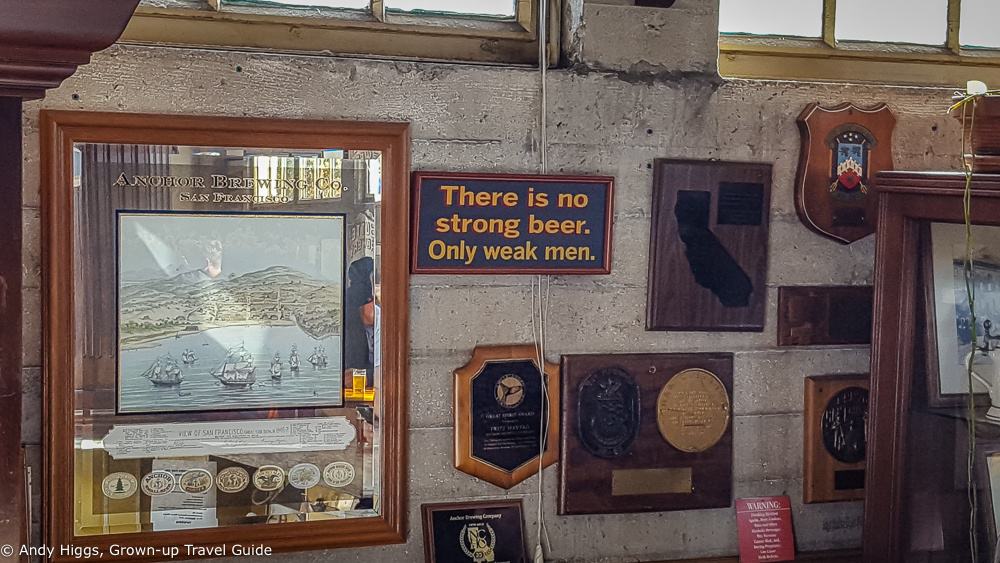 Quite.
Anchor Brewing Company, 1705 Mariposa Street, San Francisco. Tel: 415-266-7900 Tours: Monday to Friday at 10:00 AM and 1:00 PM as well as Saturday and Sunday at 11:00 AM and 2:00 PM – Cost $20 per person. Additional "Happy Hour" tours on Friday, Saturday and Sunday at 4:40 PM – Cost $25 per person 
For Vietnamese cuisine with a French twist: Le Colonial
I was hosted by Le Colonial for my dinner. The opinions and newly-developed love for Vietnamese food are all my own.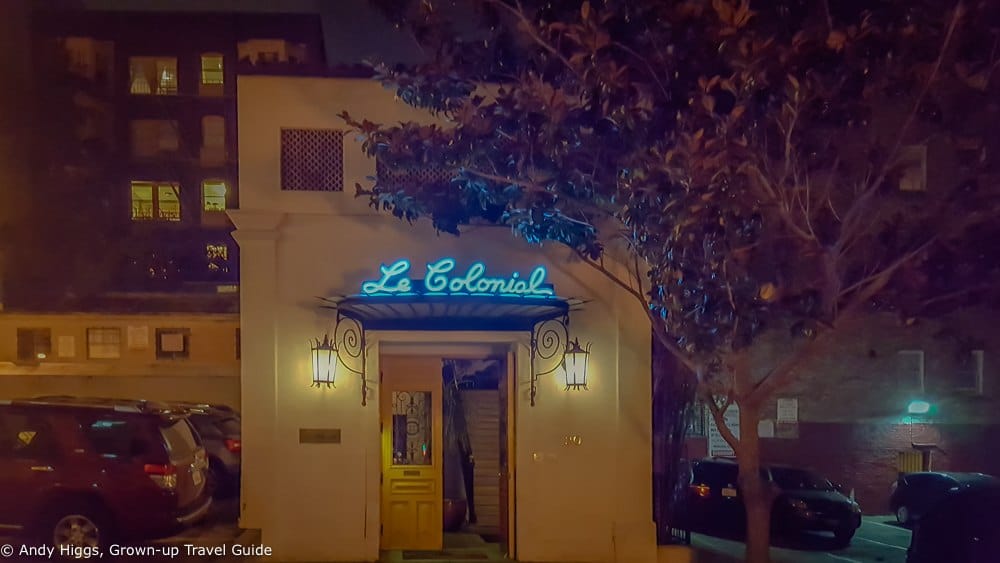 I'm aware that I am a late arrival to the "Holy crap, Vietnamese food is amazing" party, but then I never did the whole gap year in Asia thang and haven't travelled much in that part of the world. For some less explicable reason I haven't really tried it at a restaurant closer to home either, but consider me a changed man after this experience.
I didn't really know what to expect from Le Colonial, the  information I had received did sound very promising, as did the online research I carried out when hunting for reviews.
I do have plenty of friends who rave about Vietnamese cuisine, and for all their faults the French do know what they are doing in the kitchen, so a combination of both ought to be something special.
Situated in a quiet courtyard a few blocks from Union Square, Le Colonial is certainly stylish.
After passing through a very pleasant semi-outdoor area I entered the restaurant itself, which is beautifully decorated to recall  1920's Vietnam. With tropical plants and rattan furniture, shutters on the windows and candles on the tables, it's easy to forget that you are in downtown San Francisco.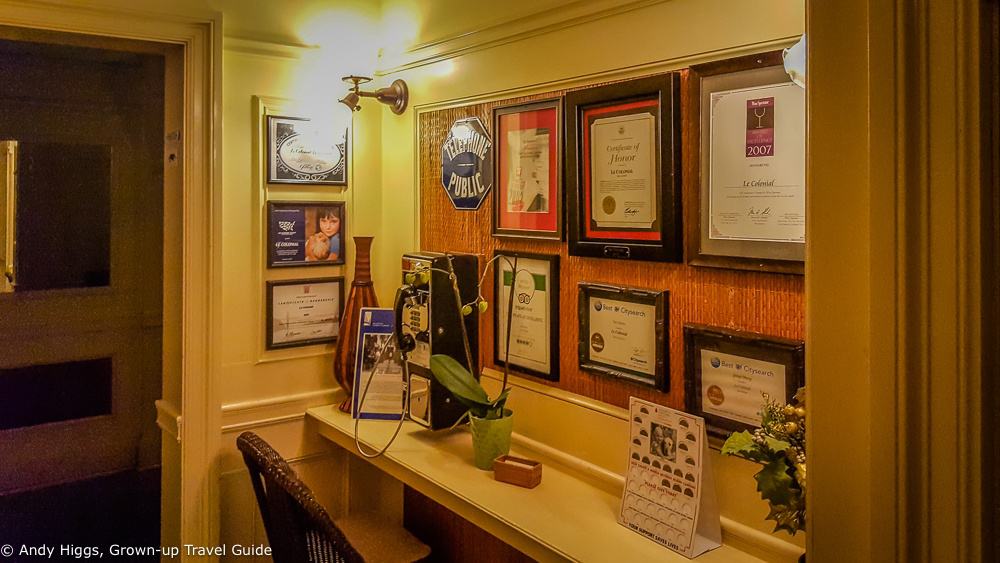 Old signs and black and white photographs line the walls, together with the many awards Le Colonial has won since opening its doors.
I also loved the ceiling fans which added to the exotic atmosphere. After being shown to my table I made my choice from the extensive and enticing menu.
As well as food, Le Colonial's international wine list deserves a mention with more than 200 different types, of which around 20 are available by the glass.
To start things off I chose Suon Nuong – hoisin & passion fruit glazed baby back pork ribs, pickled pineapple & shaved radish. It was perfectly spiced and extremely tender.
For my main course I had Bo Luc Lac: wok-seared filet mignon cubes, sweet-savory soy, pickled red onion, fingerling potatoes, cherry tomatoes & crispy lotus chips. And yes, it was as good as it looks right here. 
The side dish of rice was beautifully presented, too. Throughout the meal the service was wonderful, with the waiter managing to achieve that balance of attentiveness and distance that is the holy grail for diners such as myself.
Again, it was curiosity rather than hunger that led me to have a dessert, and I was not disappointed. What you are looking at here is a Riz au Lait – long grain rice cooked in coconut milk with passion fruit bavarois, tropical fruit and sesame nougatine.
It was a perfect ending to a perfect meal – and one that properly sparked my interest in Vietnamese cuisine. As well as the lovely dining area, Le Colonial also has a very popular bar and lounge on the first floor for tea, cocktails, appetizers or casual dining.
I will definitely be back at Cosmo Place next time I am in San Francisco – and I urge you to pay a visit should you be, too.
Le Colonial, 20 Cosmo Place between Sutter and Post and Jones and Taylor, San Francisco. Tel: 415-931-3600 Open 1730-2200 Sunday-Wednesday, 1730-2300 Thursday-Saturday
For fabulous – and sustainable – seafood: Fog Harbor Fish House
I was hosted by For Harbor Fish House for my dinner. The opinions and deep sense of longing for their clam chowder are all my own.
At this point in the proceedings you may be wondering why I still haven't tried seafood, which is after all something for which San Francisco is justifiably famous.
Worry not – I made up for it with a visit to the Fog Harbor Fish House.
Not only is the food here superb, it is sustainable, too. The Simmons family, which owns and operates several restaurants in San Francisco including the Fog Harbor Fish House, made a complete switch to sustainable seafood meeting the Monterey Bay Aquarium's "Seafood Watch" guidelines back in 2013, for which they should be applauded.
Located at tourist trap numero uno, Fisherman's Wharf, the Fog Harbor Fish House nevertheless delivers fine dining and great value despite being at Pier 39.
It was extremely busy when I visited for dinner, too, so reservations are highly recommended.
I was seated by the window with a nice view over the water, and was soon deciding on what to order.
The presence of pumpkin on the menu was due to the fact that Halloween was the next day, so I got into the spirit of things by ordering the curry salmon for my main course.
On hearing that I was a bit of a beer geek, my waiter recommended a very tasty Napa Smith lager. 
I had already heard that the Fog Harbor Fish House does a mean clam chowder, so I had to start with that, obviously. It was indeed delicious and the homemade sourdough bread was the ideal accompaniment.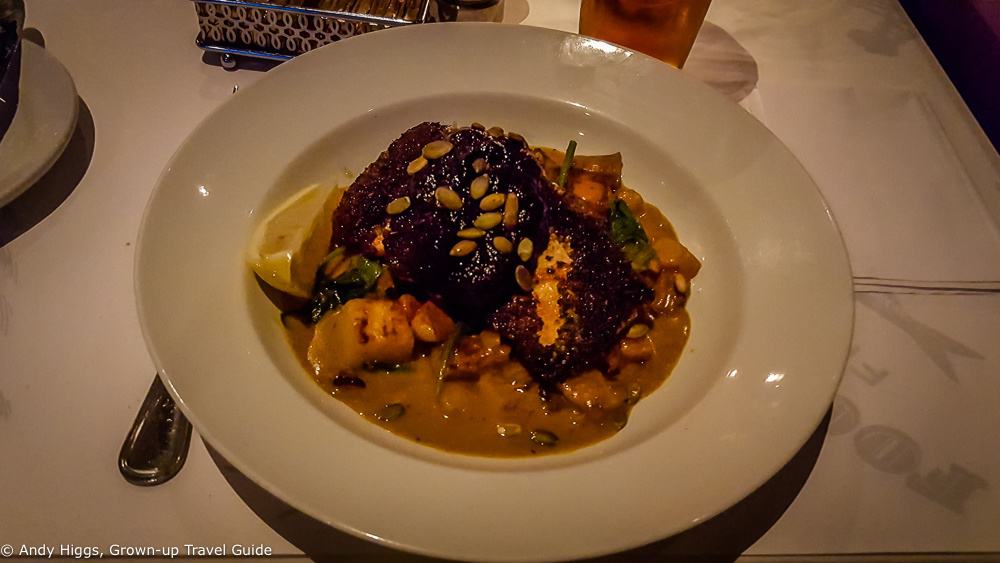 The main course did not disappoint – I took my waiter's advice and had the salmon blackened which complemented the curry sauce, butternut squash and sweet potatoes wonderfully.
In fact this was one of the best dishes I tasted in San Francisco, and a good reason to visit at the end of October…
It saddens me to have to report that I couldn't manage a dessert. Sorry to let you all down but I will try harder next time, I promise…
Anyway, in conclusion the Fog Harbor Fish House is an excellent restaurant in an area where you generally struggle to find them; just make sure you make a reservation and see what I mean for yourself.
For the ultimate view of San Francisco: Cityscape Lounge, Hilton Union Square
I always say that the best thing to do for a first visit to a city is to get high. By which I clearly mean in terms of altitude – if you can find a rooftop bar or a viewpoint it's a good way to get your bearings.
This has not been as easy as you might expect in San Francisco for some time, but all that has changed with the grand re-opening of the top-floor cocktail bar at the Hilton Union Square.
46 floors up, with stunning 360 degree panoramic views of the entire Bay Area, the Cityscape lounge is hard to beat. Add signature cocktails, excellent wines and a good range of beers as well as small plates and appetizers, and you have the perfect venue to watch the sun go down.
The views really are amazing in all directions, and I was happy to get there in time to watch night fall.
As well as new buildings popping up on the skyline, San Francisco's notoriously ever-changing weather ensures that visitors get a slightly different experience every time they pop in for a drink.
There's plenty of seating both at the bar and in the central area but most people opt for a window seat.
Cityscape features private areas for groups – and if you really want to throw an unforgettable party you can hire the entire space for an evening.
As the sun went down, the city began to light up.
Now tell me that wasn't worth seeing in person?