So the time has finally come. Today I'm going to give you access to my own personal hotlist of places to have a great meal in the City West area of Berlin. That's around the Kurfurstendamm in former West Berlin, to those of us of a certain age.
You know I've been trying to get you to leave Prenzlauer Berg and Mitte for this part of the German capital for years now, right? If my reviews of the 25Hours Hotel Bikini, the art'otel berlin city center west and the art'otel berlin kudamm have finally convinced you to stay the right side of the Brandenburger Tor next time you visit then you'll be glad to know that there are a number of superb dining options within a block or two of the KuDamm.
I stay here every year when visiting for the ITB trade show and never fail to eat at these places – sometimes more than once.
These aren't speakeasies, pop-up restaurants or invitation-only home cooking clubs. A couple are fairly well known but most are places that you may otherwise walk right past – don't make that mistake. All are tried, tested and have received the Grown-up Travel Guide seal of approval.
Generally speaking you won't need to make a reservation except where noted but it makes sense to do so, especially if there is a big event taking place in town.
Just promise me you won't take the last table when I'm there too – otherwise you'll make me regret sharing my information…
Pizzeria Ali Baba
Image (c) Pizzeria Ali Baba
This is my go-to place for a superb pizza and a weissbier. I have a tradition of eating here on my first night in Berlin and often on the last one too.
A real local institution, Ali Baba has been serving the neighbourhood for over 40 years and is always busy. There are two large dining rooms and a bar area which also serves as a take-away collection point. If you get there and it's full – which is often the case – you can grab a drink at the bar while you wait for a seat. It's unlikely to take long as they fill every available space in the house. Don't be surprised if you're seated at someone else's table; it's all part of the fun.
It's a very laid-back and often loud place to enjoy dinner and offers excellent value. They serve pasta and other dishes too but for years now I have stuck with pizza number 187 (Diablo) – spicy salami and jalapenos washed down with a bottle of Erdinger Hefe. I'm equally unadventurous with dessert – you can't go wrong with the homemade Tiramisu.
Bleibtreustraße 45, 10623 Berlin-Charlottenburg. Tel: 030/88 11 35 0
Opening hours: Sunday to Thursday 1100-0200, Friday and Saturday 1100-0300
http://www.alibaba-berlin.de/Home.html/ENG/index.html
Marjellchen
Image (c) Marjellchen
You don't just come to Marjellchen for the food – although it's fabulous – you come for the atmosphere and most of all for the hostess. It's actually more like being invited to eat in her front room and you'll be made to feel right at home. Serving huge portions from an East Prussian menu, it's fair to say that like most traditional German restaurants this is for the meat-eaters. Vegetarians are catered for with a few dishes but carnivores will have the most fun.
At home we still talk about the duck we ate here – it's seasonal but often available – as one of the best meals we've ever tasted. That was several years ago but still holds true so try to time your visit well.
Yet the rest of the menu has plenty of highlights so you'll not be disappointed. Save a little space for dessert – well, a lot. There aren't many light options here…
Note that of all the places in this article, Marjellchen is one where a reservation is definitely recommended if not essential. So plan ahead and make that call…
Mommsenstraße 9, 10629 Berlin. Tel: 030/88 3 26 76 
Opening hours: Daily from 1700
Bier's KuDamm 195
Image (c) David Yates, andBerlin.com
Now if you're visiting Berlin, you've gotta have currywurst. That much is a given, but do you join the queue outside that 'original' place in Prenzlauer Berg, head off to Kreuzberg or go organic at Wittenberg Platz? These are all good options, but I suggest you try something else. Currywurst and Champagne, for example? Yes, you read that right. Long a favourite place for politicians, actors and even visiting dignitaries, this tiny place on the KuDamm is a cross between a typical imbiss and an indoor eatery – although it's mostly standing room only.
Being indoors is a bonus when the Berliner Luft is blowing across the city and I know you are curious to taste curry mit champagne, so what are you waiting for?
By the way the wurst is good, the fries are fabulous and in my book the borderline rude service a bit of a bonus. And it's open until at least 5 a.m. every day – so is very popular with night owls.
Kurfurstendamm 195, 10707 Berlin. Tel: 030/88 1 89 42 
Opening hours: Monday to Thursday 1100-0500, Friday and Saturday 1100-0600, Sunday 1200-0500
Restaurant Serrano
Image (c) Restaurant Serrano
And now for something completely different. Peruvian, anyone? Trust Berlin to have not one but several Peruvian establishments. This, however, is the best of the bunch by a large margin. Situated on a quiet back street literally round the corner from the art'otel berlin city center west and a few hundred metres from the KuDamm, Serrano serves a fusion of traditional dishes and modern recipes using fresh ingredients.
The results are delicious and pair well with the good range of Spanish wines on offer. With friendly service and a relaxed atmosphere this is one of Berlin's best places to eat – and don't miss the website and the video there…
Pfalzburgerstr. 83, 10719 Berlin. Tel: 030/88 9 29 24
Opening hours: Daily 1700-2300
http://www.restaurante-serrano.de/home.html
La Caleta
Image (c) La Caleta
Talking of Spanish, La Caleta is a phenomenal Spanish restaurant just off the KuDamm. Come for the superb food and wine but stay for the wonderful hospitality. The couple (originally from the Canary Islands) that own this place are so friendly that you won't want to leave. If you ever doubted that Spanish food could match Italian, it's time for an education. I believe that the Italians are better at marketing while the Spanish are better at cooking – a meal at La Caleta will convince you too.
It's not a big restaurant and is very popular so I would advise making a booking here to avoid disappointment.
Wielandstraße 26a, 10707 Berlin. Tel.: 030/88 62 74 75
Opening hours: Monday to Friday 1800-0000, Saturday 1800-0000, Closed Sundays
Cafe Bleibtreu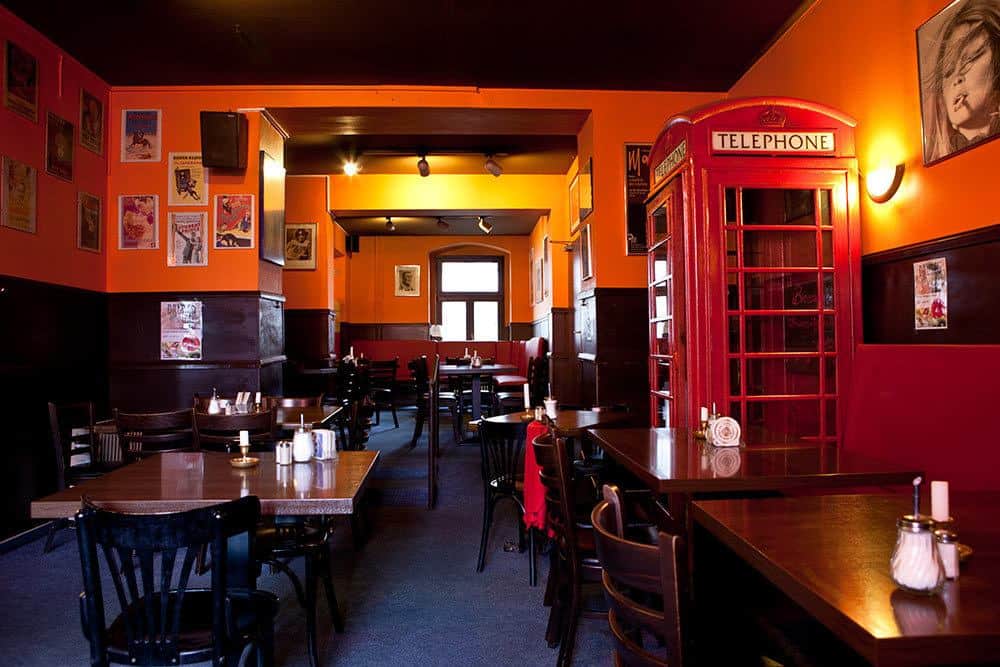 Image (c) Cafe Bleibtreu
This part of town is perfect for a wander, and the parallel streets crossing the KuDamm near Savignyplatz are some of the best in Berlin for strolling and window-shopping. There are also plenty of cafes and restaurants too, and many combine both elements. One of the oldest in Charlottenburg is Cafe Bleibtreu which offers a full an extensive menu from 9 in the morning until midnight or so. The atmosphere is cozy, it has one of Berlin's last red British phone boxes (there used to be many here) and an excellent range of hot and cold drinks.
I've been here for lunch and dinner and always left happy, but brunch is perhaps my favourite…
Bleibtreustr. 45, 10623 Berlin. Tel.: 030/88 14 75 60 30
Opening hours: Sunday to Thursday 0900-0030, Friday and Saturday 0900-0130