Rather like New York, Chicago is a great place to take the children. In some ways it's an easier one too – it's more relaxed than the Big Apple and people seem to have a lot more time for you here. Naturally it depends what your kids are used to – it's still one big city with plenty of huge skyscrapers that will enthrall those not used to seeing much above five floors high. You'll find it hard to choose between the Skydeck at the Willis Tower and the John Hancock Observatory so just do like most other visitors and do both. There are plenty of parks and in the summer the sandy beaches may be an unexpected treat – as is the entrancing turquoise water of Lake Michigan. Older children will love following in the footsteps of Batman, Ferris Bueller and countless other movie characters who have walked the streets of the Windy City. Aside from the obvious ones – and those lesser-known Chicago sights and activities that may appeal to younger visitors here are six suggestions specifically aimed at youngsters…
When you want to keep them occupied – Chicago Children's Museum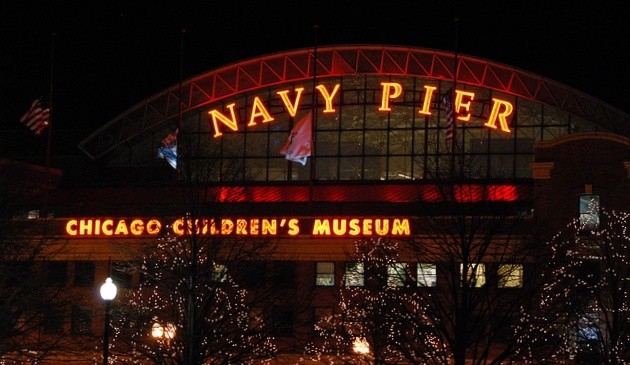 Photo credit: afagen via photopin cc
If you're visiting Chicago with children up to the age of about 8 the Chicago Children's Museum should be at the top of your list for places to go. You'll find it on Navy Pier which means that there will be plenty to do when you exhaust the possibilities of the museum itself. It's a good mix of innovative educational programmes and interactive exhibits covering science, maths, reading, the arts and diverse cultures. The little ones can build a dam in WaterWays or a skyscraper in Skyline, create a flying machine or enjoy an 'outdoor' adventure in Treehouse Trails. There are also temporary exhibits and new activities as well as special performances throughout the year. The Museum Store is a treasure trove of quality toys, gadgets, and of course Children's Museum merchandise. Tickets are cheap and the on-site cafe is very good too
Chicago Children's Museum, Navy Pier, 700 East Grand Avenue, see website for public transport details
Opening daily 1000-1700
http://www.chicagochildrensmuseum.org/
When you want to experience a proper children's menu – Prairie Grass Cafe
Photo credit: kurmanstaff via photopin cc
Tired of those tired children's menus? Then this is the place to eat. Former Ritz-Carlton chef Sarah Stegner opened this family-friendly and far more affordable restaurant in Northbrook, which means it's out in the suburbs – but don't let that stop you. There's plenty for parents of course but kids will go nuts for the Tall Grass burgers, chicken cutlets and create-your-own-pizza Fridays. Door County cherry soda makes for a tasty beverage and to finish you can't go far wrong with their delectable coconut cream pie.
Prairie Grass Cafe, 601 Skokie Blvd., Northbrook, (see website for directions)
Opening hours vary, see website for details. 
http://www.prairiegrasscafe.com
When you want to give them a history lesson they'll love – U505 submarine and Museum of Science & Industry
Photo credit: proforged via photopin cc
Chicago notches up another entry in the record books with the Museum of Science and Industry – the largest science centre in the Western Hemisphere. It boast over 35,000 objects and almost 14 acres of interactive experiences designed to spark scientific curiosity and creativity. Perhaps the most enticing attraction is U-505, the only German U-boat in the United States. Entry into the sub costs extra but is definitely worth forking out for. The vessel was built in Hamburg, Germany more than 70 years ago and you'll feel like sardines in a tin as soon as you enter. It was the underwater home for 59 men but has only 35 beds so sailors had to sleep in shifts—several of them snoozed on bunks right next to a huge torpedo. U-505 was hunting for American and Allied ships off the coats of West Africa when depth charges from the USS Chatelain blasted the submarine to the surface in June 1944, ending its reign of terror in the Atlantic Ocean. Children are sure to find the experience exciting and the rest of the museum has enough to keep them occupied for the rest of the day.
Museum of Science and Industry, 5700 S. Lake Shore Drive, see website for public transport details

Opening hours vary – see website for details
When you want to reward/bribe them – Toys et Cetera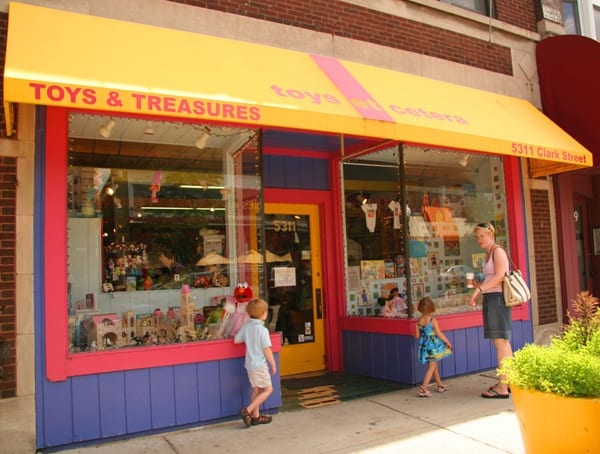 Image (c) Toys et Cetera
Toys et Cetera have several outlets in Chicago (other locations are Hyde Park, Lincoln Park and Evanston), all of which specialise in toys and games which encourage potential couch potatoes to leave the TV behind and get moving, thinking and interacting. From classic wooden building blocks and bestselling children's books to very cool wristwatch walkie talkies, the range is impressive. You'll find locally produced arts and crafts supplies from Made By Hands, glove puppets, puzzles and games. There are also plenty of toys for use outdoors for extra fun while hanging out in one of the city parks. The stores provide free gift wrap for everything you buy too.
Toys et Cetera, 5311 N Clark Street Chicago
Open Monday-Friday 0930-1900, Saturday 0930-1800, Sunday 1100-1700
When you want some quiet time – Harold Washington Library Center
Photo credit: danxoneil via photopin cc
Not only is it the largest public library in the world, this enormous building also has an extensive area specifically for children devoted to new technology – kids can make use of a recording studio or try video-editing software, as well as a load of other digital stuff. And let's not forget the books – the enormous Thomas Hughes Children's Library on the second floor is a great place to take a load off and have a quiet read. The library also offers a wide range of events and art exhibitions – the auditorium is regularly used for dance and music performances, author talks and children's programmes. If you need to get online there are public terminals on the third floor. Named after the city's first and only African-American mayor, the building fills an entire city block.
Harold Washington Library Center, 400 S. State Street
Opening hours vary, see website for details
http://www.chipublib.org/locations/15/
When you want some screamingly good fun – Six Flags Park
Photo credit: mopeyjoe via photopin cc
To finish up how about a big, brash, USA-style theme park? Six Flags Great America is located north of Chicago in the suburb of Gurnee and is open from May to October. The rides here range from family-friendly to downright nuts; in addition the park plays host to a variety of shows, concerts and festivals. The park is renowned for its superhero and cartoon character-branded roller coasters which include Batman the Ride, during which you'll race around the track which reaches 12 stories high at speeds up to 50 mph. Six Flags Great America is also home to the classic American Eagle Wooden Coaster and the Hurricane Harbor water park which is open during the warmest part of the summer and is an ideal way to cool down – don't forget your swimming stuff. There are of course shops and restaurants on site too.
Six Flags Great America, 1 Great America Parkway, Gurnee
Open May-October, opening hours vary, see website for details
http://www.sixflags.com/greatAmerica/index.aspx
We hope you enjoyed these tips – if you think we've missed anything out or you have questions or comments please do let us know in the box below – and make sure you sign up for email updates or subscribe to the RSS feed by using the links on the right so you don't miss a thing from Grown-up Travel Guide! 
If you are planning to visit these best places, then you can apply for a US ESTA