Miami is not just for guys in pastel coloured suit jackets with their sleeves rolled up, supermodels and starlets. Okay, I'm showing my age with the first reference there but the point stands – most people think of Miami as party central for the hedonistic adult crowd. But it has plenty for families with children of all ages too.
So, if you are primarily heading to Florida for the theme parks of Orlando, spend a few days at the start or end of your trip and make sure the young ones are going home with a few memories not related to Mickey Mouse or Harry Potter.
You just can't get the best out of a trip to Florida without renting a car. You can explore what Miami and Florida has to offer its visitors under your own steam and get to places impossible to reach by public transport. Which is most of them, to be honest. Make sure you use a reputable price comparison site like Discover Cars to find the best deal – these guys also offer full coverage insurance which is particularly important in the US.
Miami Airport has a huge rental car centre which is more like a dedicated airport terminal and a very convenient pick-up and drop-off location. Collect your baggage on arrival and then follow the signs.
But back to Miami itself. Given the fabulous weather that is generally par for the course in the Sunshine State (clue in the name), the beach is clearly a good option. But there is much more besides, both indoor and outdoor.
Here's six of our favourite things to do with kids when staying in Miami, Florida.
When you want to show them a pool like no other – The Venetian Pool
Image (c) SocialBedia on Flickr https://www.flickr.com/photos/socialbedia/2432649418
Your cookie-cutter rectangular sports pool this is not. It's a thing of beauty – you won't find any other swimming pools in the US National Register of Historic Places, after all.
It was created in 1923 from a coral rock quarry, where much of the original coral rock was used to border and further accentuate the pool. It also features two large historic lookout towers, and a somewhat legendary bridge.
There's 820,000 gallons of spring water from an underground aquifer in there, and in the spring and summer seasons, the pool is filled and drained daily.
The Mediterranean architecture will knock their – and your – metaphorical socks off.
The Venetian Pool, 405 University Drive, Coral Gables
Opening hours vary according to season – see website for full details.
https://www.coralgables.com/departments/CommunityRecreation/venetianpool
When the beach is calling – Matheson Hammock Park
Image (c) Jimmy Baikovicius https://www.flickr.com/photos/jikatu/18634009732
Perfect for toddlers or those wanting to chill at a wave-free beach, Matheson is great for beginners. Matheson Hammock Park is a lovely scenic park with an unusual feature–a man-made atoll pool, which is flushed naturally with the tidal action of nearby Biscayne Bay. Its tranquil breeze-swept beach is a haven for families who enjoy its warm, safe waters and beautiful waterside views.
The park also has a full-service marina, snack bar and restaurant built into an historic coral rock building, picnic pavilions and nature trails.
Matheson Hammock Park, 9610 Old Cutler Road
http://www.miamidade.gov/parks/matheson-hammock.asp
When you want them to love you more – Sloane's Ice Cream
Image (c) Sloan's Ice Cream
Okay, I can't guarantee they'll love you more but you are definitely going to jump a few ranks in their estimation after hitting this place. I'll let the proprietors explain…"Sloan's ice cream is unlike anything you've ever tasted before. We have lots and lots of unique flavours that are all made with the finest ingredients. Our award-winning luxury ice cream truly is the BEST, if we do say so ourselves, and keeps our loyal fans coming back for more!
The heavenly aromas of freshly baked waffle cones, cookies and brownies are irresistible. An entire wall of bulk candy, fabulous chocolates, chocolate apples, whimsical gifts and fluffy friends surround you.
Like everything at Sloan's, the décor is over the top with pink walls, twinkling chandeliers, moving trains and magical glass bathrooms. We look forward to seeing you at Sloan's… where everything is "Made in Wonderland".
Sloan's Ice Cream, 8300 NW 36th St. Doral
https://www.sloansicecream.com/
When the wilderness is calling – Everglades National Park
Image (c) Eric Baker on Flickr
The Everglades is an expansive area of land in south Florida, which consists of 1.5 million acres of wetland. The Park protects an unparalleled landscape that provides important habitat for numerous rare and endangered species like the manatee, American crocodile, and the elusive Florida panther.
You can take a short walk on the Anhinga Trail to spot abundant wildlife–turtles, herons and alligators! Climb atop Shark Valley's 65-foot observation tower for a bird's eye view of the glades. Watch as the sun sets over Flamingo, the southernmost point in mainland Florida. Explore the pinelands by bike, paddle amongst the mangroves on Nine-Mile Pond, or tour the historic Nike Hercules missile base.
Or best of all, have the time of your lives flying over the waters on an airboat tour…
https://www.nps.gov/ever/index.htm
When it's time for Cuban culture – Little Havana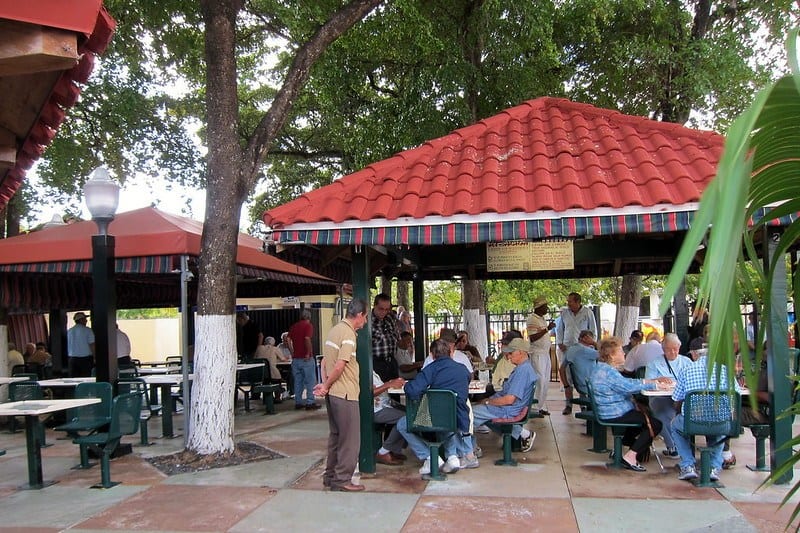 Image (c) Wally Gobetz – https://www.flickr.com/photos/wallyg/6564434025
Little Havana – the heart of Miami's Cuban diaspora – is part of what makes Miami such a dynamic cultural destination. The neighbourhood is centred around Calle Ocho (Southwest Eighth Street), a vibrant thoroughfare lined with Latin-inspired restaurants, bakeries, fruit stands, cigar shops, rum bars, art galleries and music venues.
It's also where you'll find the famed Máximo Gómez Park (known as Domino Park),where locals gather to talk politics over heated games of dominoes. The street is lined with murals and other artwork, from the mosaic tiles near Domino Park depicting classic symbols of Cuban heritage – cigars, musical instruments and tropical fruit – to walls covered with portraits of Cuban legends, including revolutionary poet José Martí and beloved singer Celia Cruz.
One of the best ways to dig into Cuban culture is through its food. Whether you make a pilgrimage to the classic, family-owned Versailles or pay a visit to one of Little Havana's other top Cuban restaurants, you're going to want to sample everything from strong, sweet Cuban coffee to the savoury Cuban sandwich (made with roast pork, ham, Swiss cheese, pickles and yellow mustard pressed into crusty bread).
These restaurants, which have a casual, convivial atmosphere, sport ventanitas (little windows), where you can order delectable treats on the go – try an empanada or a guava and cheese pastelito (pastry). Head to Azucar Ice Cream Company for artisanal ice cream and sorbet with tropical flavours.
https://www.miamiandbeaches.com/neighborhoods/little-havana
When it's time for educational fun – The Phillip and Patricia Frost Museum of Science
Image (c) Frostscience.org
Dedicated to sharing the power of science, sparking wonder and investigation, and fuelling innovation for the future – not a bad vision, right? Located in Downtown Miami's waterfront Museum Park, Frost Science is divided into four buildings: The Frost Planetarium, Aquarium, and North and West Wings. Here, you and your children can learn about the core science behind living systems, the solar system and known universe, the physics of flight, light and lasers, the biology of the human body and mind, and much more.
It's huge and rightly acclaimed, and highlights include the giant maze of mirrors, the superb planetarium and enormous aquarium.
The Phillip and Patricia Frost Museum of Science, 1101 Biscayne Blvd, Miami
We hope you enjoyed these tips – if you think we've missed anything out or you have questions or comments please do let us know in the box below – and make sure you sign up for email updates or subscribe to the RSS feed by using the links on the right so you don't miss a thing from Grown-up Travel Guide!