Why waste your money on a boring multiplex? The British capital – itself the star of countless movies – has plenty of  more memorable places to watch them too…
When size matters – BFI IMAX
Image (c) BFI IMAX
We start with the biggest: Now this may seem hard to get your head around but if you stacked five of London's iconic double-decker buses on top of one another that would be about right. Measuring an amazing 20×26 metres, the BFI IMAX cinema screen is the largest in the UK and turns a trip to the cinema into a full-blown experience, matching its epic size with a high quality digital surround-sound system. IMAX really draws you into the acxtion – especially when films are made using the (extremely expensive) cameras needed. A superb example is The Dark Knight; several sections of the movie were made in IMAX which explains why it is often on the schedule here – the opening bank robbery scene will blow you away.
The seats are set at a sharp angle to make sure you get a clear view, and this is one place where a good 3D movie can really come alive too. I'm still no fan of 3D but if you do want to experience it at its best then this is the way.
It's great that BFI IMAX screen great films too – not just documentaries to show off the technology but Lord of the Rings all-nighters and soon the Batman trilogy…
BFI IMAX, 1 Charlie Chaplin Walk, South Bank, Waterloo, London SE1 8XR
Tube to Waterloo
http://www.bfi.org.uk/whatson/bfi_imax
When value matters – Prince Charles Cinema
Image obtained from Flickr.com under Creative Commons (c) ichabod2009
The Prince Charles Cinema just off Leicester Square is a London institution. For years it has pioneered an eclectic and inventive programme with a large degree of audience participation – I remember it as the spiritual home of the Rocky Horror Picture Show and the groundbreaking sing-along Sound of Music but these days you can also experience the swear-along South Park and even better the quote-along Big Lebowski. The latter includes (natch) White Russians and a bowling competition before the show. There are themed movie seasons too and when you begin to tire of the hip films the Good Bad Movie Club presents an entire season of the best of bad cinema. Long renowned for its cheap ticket prices (members pay a laughable £1.50 for an afternoon matinee) the Prince Charles has recently been renovated and expanded with a second screen showing new  premium titles as well as its cheaper classics.
Prince Charles Cinema, 7 Leicester Place, London
Tube to Leicester Square
http://princecharlescinema.com/index.php
When style matters – The Electric Cinema
Image (c) Electric Cinema
The Electric Cinema in Notting Hill is a favourite for London's cineastes and opened its doors on the Portobello Road in 1911. The cinema survived both world wars and being bombed – indeed it stayed open during the Blitz and informed audiences when the air raid sirens wailed to allow them to make their way to the nearest shelter – and get their money back en route. The Electric managed to fight off moves to transform it into a bingo hall and was instead subject to extensive redevelopment at the beginning of this century. The venue is famous for offering a luxurious film-going experience with its big leather seats and footstools as well as two-seat sofas for couples at the back. Tables for food and drink are also provided and the cinema shows a variety of quality films covering both art house and mainstream releases. One for impressing a partner, methinks…
The Electric Cinema, 191 Portobello Road, London
Tube to Ladbroke Grove
http://www.electriccinema.co.uk/index.php
When history matters – The Phoenix
Image (c) Sign 2000
East Finchley's Phoenix Cinema is housed in one of the oldest purpose-built cinemas in the UK. It has a beautiful vaulted ceiling which dates back to 1910, an art-deco cafe and balcony (great on a sunny day). It is also an important part of the community and held dear by the locals. For over 30 years the cinema has been managed by a charitable trust which means it has maintained complete independence and can present first run feature films. All profits are ploughed back into the upkeep of the historic building, which itself has been used as a TV and film set – most famously it was portrayed as a 19th century theatre in Interview with the Vampire. Fans of British comedy may also recall it being featured in Black Books.
The Phoenix Cinema, 52 High Road, East Finchley, London
Tube to East Finchley
http://www.phoenixcinema.co.uk/
When charity matters – The Lexi
Image (c) Lexi Cinema
The Lexi in Kensal Rise is a cinema with a difference. It claims to be the "first social enterprise independent boutique digital cinema in the UK" and gives all its profits to charity. Most of the staff are volunteers and the Lexi sees its purpose as being a resource for the entire neighbourhood. To this end it offers parent and baby shows, kid's clubs, matinees for an older audience, film clubs, discussion groups and Q & A sessions with filmmakers as well as a full programme. All money raised is donated to support a community elsewhere in the world. For example, the Lexi has supported the upkeep of a school, the construction of a creche, a community vegetable garden for research into sustainable farming methods, a community cinema  and much more in Lynedoch Village in Stellenbosch, South Africa. This is the first eco-village in South Africa and is overseen by the Sustainability Institute. So you can enjoy yourself with a good conscience when you visit the Lexi.

The Lexi, 194b Chamberlayne Road, Kensal Rise, London
Tube to Kensal Green
When fresh air matters – Queen of Hoxton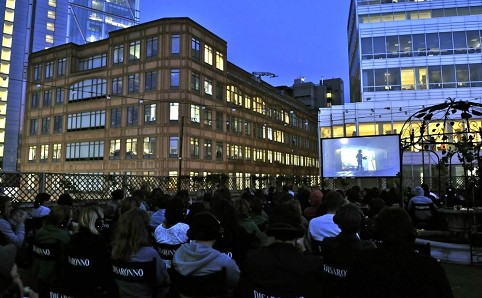 Image (c) Time Out London
If you want to do something different and the weather allows, what about catching a movie on a Hoxton rooftop? Good for claustrophobic film-lovers too, the Rooftop Film Club holds screenings in the summer months and is extremely popular – get on the mailing list for 2012 to be in with a chance of securing tickets. The programme includes recent film releases as well as cult classics and you can enjoy a cold beer and choose from a selection of home-cooked food while you're at it. There are few better ways to spend a couple of hours on a warm summer's evening in the British capital – which are not as infrequent as you may imagine.)
Queen of Hoxton, 1-5 CURTAIN ROAD, LONDON, EC2A 3JX
Tube to Shoreditch High Street
www.http://www.queenofhoxton.com/ (venue information)
http://rooftopfilmclub.com/ (Film Club information and mailing list sign-up)