This is a guest post by Lisa Phillips with additional material by Andy Higgs
When it comes to iconic landmarks in Melbourne, there are a few that cannot be missed: a stroll down the beautiful Yarra, a visit to the exciting Crown Casino, and a day in the city's bayside suburb, St Kilda.
Located 6km from the Melbourne CBD, St Kilda is home to some of Melbourne's finest cafes and restaurants, hubs of entertainment, and beachside experiences. If you're planning a trip to Melbourne, take a day from your itinerary and visit these places in one of the city's most loved suburbs.
Luna Park
Image obtained from Flickr.com under Creative Commons (c) HeGra28
Like Sydney's attraction of the same name, Melbourne's Luna Park is a drawcard for the young and old. With a multitude of rides including the Scenic Railway, Enterprise, and Metropolis, Luna Park is a thrill for everyone. On top of this, Luna Park also boasts a mirror maze and a flight simulator pod – that's something you don't find in every suburb! The entrance itself is quite something – you walk through Mr Moon's huge mouth to be greeted by a fine mix of historical (and listed) attractions and modern high-octane rides – it is the park's 100th anniversary this year.
Luna Park has a great location overlooking Port Phillip Bay and its most famous attraction is the Scenic Railway Roller Coaster, a large wooden affair that not only provides a thrilling, high-speed ride around the outside of the entire park but also the best view of the Bay in St Kilda. There's something for all ages from mini roller coasters to scarily fast thrill rides. And best of all, entrance is free!
St Kilda Sea Baths
Image obtained from Flickr.com under Creative Commons (c) Andru1308
Located on the beachfront, the St Kilda Sea Baths are not just baths – this strip is home to restaurants and health clubs as well. With water taken straight from the sea, the baths are great for relaxing; there's even a hydrotherapy spa and an aromatherapy steam room so you can forget all your endless worries about work or finding travel insurance. Australia's iconic baths also have a beautiful beachside view to boot…what's not to love?
The Sea Baths are a local institution and unique in Australia, dating back to the middle of the 19th century and make the most of their prime location by housing some of the best restaurants in St Kilda as well as bars, cafés, a sea water pool, gym and an award winning day spa.
Belgian Beer Café/Village Brasserie
Image obtained from Flickr.com under Creative Commons (c) andrew j. cosgriff
Set in a historic building, the Belgian Beer Café is one of St Kilda's favourite spots for a bite to eat or a pint to drink. The Belgian Beer Café is famous for its selection of European beers; ranging from a Hoegaarden to a Belle Vue, this is a place to go for a relaxing drink after a long day of walking. The café also plays host to live music every week, so you can sip on your drink to the sound of Jazz or Latino music.
Stop Press: The Belgian Beer Café has changed its name to the Village Brasserie and is expanding; this from the official website, "Village Melbourne will be an urban cultural community hub on the historic grounds of the former Royal Victorian Institute for the Blind, along the leafy St Kilda Road "Boulevard". The Village Project will see the refurbishment and expansion of all heritage buildings on site, including the original school and lodgings of the blind, the theatrical and music auditorium Ormond Hall, the hidden chapel, the elm tree shaded gardens and of course the Belgian Beer Café Bluestone premises.
Building on the decade-long success of the Belgian Beer Café Bluestone, the Village Project is embracing the time for change. The unique spaces will develop into a free form canvas promoting and nurturing all forms of musical, theatrical and artistic expression. Underpinning the concept will be an ever evolving range of quality and innovative food and beverage offerings. The site will incorporate weekend fresh produce stalls, cafes open seven days, as well as restaurant and bar facilities that will all operate in sync to complement the moods arising from the artistic forms created on site.
Village Melbourne will be given all the time it needs to grow and develop. A staged process will ensure that all participants, including the public, will have the opportunity to provide creative input and energy. Diversity and interest will bring about a more valuable experience for all."
Now that sounds great. The Village Brasserie is already open and serving great food and even greater beers.
http://villagemelbourne.com.au 
St Kilda Pier and breakwater
Image obtained from Flickr.com under Creative Commons (c) Halans
St Kilda Pier has been a Melbourne landmark since the 1950s; it's a great place to walk, the fishing is good and the panoramic views of the city and Port Phillip have an enduring appeal. The historic St Kilda Pier Kiosk which dates from 1904 was destroyed by fire in 2003 but has been faithfully restored. The Pier is popular day and night and is a symbol of the St Kilda area.
The St Kilda breakwater was built in the mid-1950s when it hosted yachting events for the 1956 Olympic Games. The big attraction here is actually a well-kept secret – it is home to a colony of around a thousand Little Penguins who have lived there since 1974. This is the only confirmed breeding site for Little Penguins directly attached to the Australian mainland. They leave their burrows before dawn to spend their days feeding on fish in the bay before returning after the sun has set. You may also catch a glimpse of Native Water Rats among the rocks – both are protected species, so make sure you do not handle them, use flash photography, bring your dog or leave rubbish
http://parkweb.vic.gov.au/explore/bays-rivers-and-ports/port-phillip/things-to-do/st-kilda-pier-and-breakwater
Catani Gardens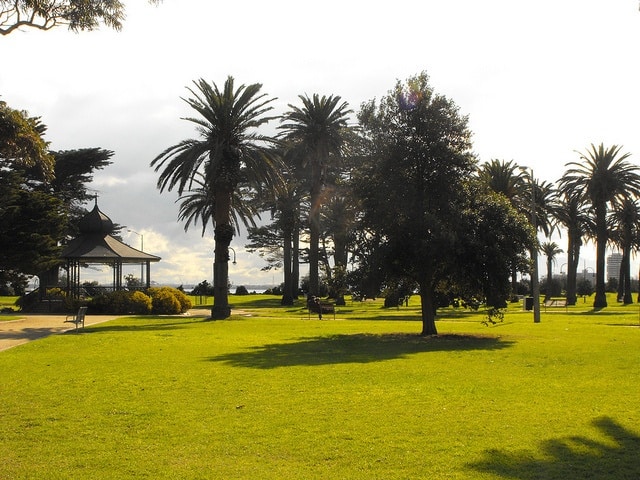 Image obtained from Flickr.com under Creative Commons (c) Andrew M Butler
Make sure you visit the Catani Gardens, some six hectares of landscaped gardens with trees, walkways, and places to sit and enjoy the beauty of nature and your surroundings on the St Kilda shore. Designed by Carlo Catani from Italy in the 1920s, the gardens are not just a fine place to spend an afternoon reading or taking a stroll – they are now of State historical, architectural, horticultural and aesthetic importance. With their famous grand avenues, rows of palms and historic monuments, the Catani Gardens are another attraction of which the locals of St Kilda are rightly proud.
Veg Out St Kilda Farmers' Market
Image obtained from Flickr.com under Creative Commons (c) Herald Chia
If you happen to be in St Kilda on the first Saturday of the month you can visit the Veg Out St Kilda Farmers' Market and pick up some organic and low impact vegetables, herbs, cheeses, honey, juices, wine, free range eggs, smoked meat and fish – the list goes on. And everything is sold directly by the grower/producer. The Farmer's Market brings the countryside to the city and offers the best seasonal fresh produce in Victoria. Quality is very high and as the market is plastic bag free, bring your own basket or bags.
http://www.vegout.asn.au/farmersmarket.html
About our guest author: 
Lisa Phillips is a freelance writer who loves the Belgian Beer Café in St Kilda. She can't wait to visit again and order another ice cold Belle Vue beer. Before she travels, she always organises reliable travel insurance. Australia is always where she'll call home.