The Kowloon Peninsula at night – Photo by chiyuen, CC BY-SA 3.0
This former British colony — Hong Kong rejoined the Chinese state government in 1997 — consists of the Kowloon Peninsula and 263 separate islands. A real economic center of Asia, Hong Kong is a vibrant, bustling city and has become a top travel destination for everyone from gap year students to retired pensioners.
Where to stay: When it comes to style, the landmark Peninsula Hotel in Tsim Sha Tsui, Kowloon, is where you need to rest your head. This world-famous luxury hotel, with its fleet of chauffeur-driven Rolls Royce cars, has been featured on the silver screen and hosted its legendary stars since opening in 1928.
Getting around: Hong Kong has a vast public transport infrastructure, with the MTR (Mass Transit Railway) as the most efficient. Within the MTR system, you'll find underground, aboveground and light-rail services, but there is also an extensive bus network throughout the city. Find out more about what's available on the official website of the Hong Kong Special Administrative Region's Transport Department.
Day 1 – Exploring Kowloon
Kowloon is an extraordinary mish-mash of British and Asian cultures; it's a curious place to explore and contains some of the top and several unique attractions in the city. Nathan Road's Golden Mile is one of those must-do experiences. The sheer spectacle of this main thoroughfare of the peninsula will be enough to keep you occupied for days as you negotiate your way through the endless stalls and stores to Sam's Tailor — the home of the 24-hour suit. Counting luminaries like Naomi Campbell, Roger Moore, Bill Clinton and, erm, Boris Johnson among their celebrity clients, these bespoke tailors will meet your every whim within a day's turnaround.
Heading south down Nathan Road, you'll come across another curiosity, the Hong Kong Space Museum. With its distinctive egg-shape, the Space Museum houses an OMNIMAX Show cinema, a permanent astronomy and space exhibition and a planetarium. And that's not counting the year-round themed exhibition it hosts. The entrance is HK$10 for adults and half that for the little ones.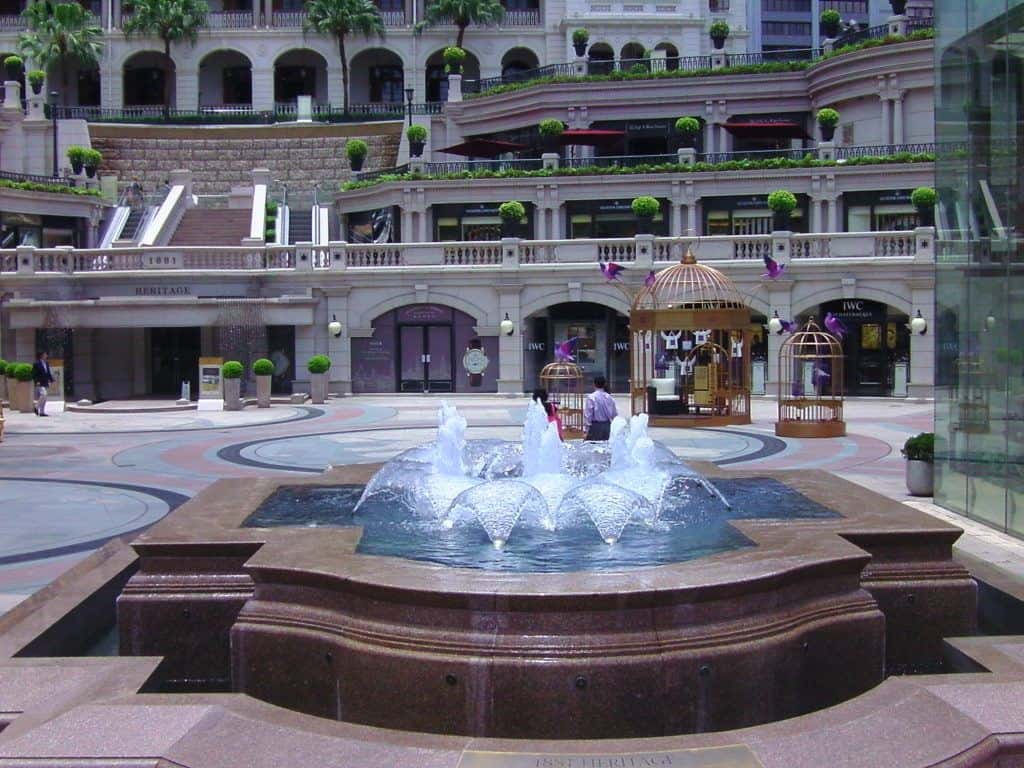 The fountains at The Peninsula Hotel – Photo by Globetrotter19, CC BY-SA 3.0
Other cultural must-dos include a visit to the Wong Tai Sin (Great Immortal Wong) temple. Built in honor of the Taoist deity Wong Cho Ping, it's an extraordinary place of worship for the three main Chinese religions: Buddhism, Confucianism and Taoism. And after that, what could be better than a stroll down the Avenue of Stars featuring none other than China's leading man himself, Bruce Lee.
Day 2 – Macau
Just a one-hour ferry ride away from Hong Kong, Macau offers a different take on East meets West culture. There's plenty here that you can do in a day, from exploring the UNESCO World Heritage site at the center of the city to tasting some of the delicious Macanese and Portuguese cuisine available from food stalls and restaurants alike.
Macau's historical Fisherman's Wharf – Photo by 9old9, CC BY-SA 3.0
You'll also find plenty of casino mega-resorts in Asia's answer to Sin City, but for a unique experience, head to the Macau Palace. This floating casino inspired the fictional Golden Dragon Casino in the James Bond movie "Skyfall," so it's a must-see! Although it's the smallest casino on the island, there are plenty of table games available, including the ubiquitous baccarat and the more traditional European variants, such as blackjack and roulette.
Ferries from two terminals in Hong Kong set sail for Macau approximately every 15 minutes during the day (times can vary a little in the evening and public holidays). The ferry from the Hong Kong Island terminal sails to the main Macau terminal whereas the Kowloon Ferry (which departs from 33 Canton Road in Tsim Sha Tsui) sails to the Taipa terminal. One-way tickets cost around HK$165. Don't forget to take your passport because you will need it to enter Macau and reenter Hong Kong.
Day 3 – Wan Chai
The Wan Chai District may have a reputation as Hong Kong's red-light area, but don't let notoriety put you off. Both locals and expats alike choose to live in this vibrant neighborhood, and it's packed full of interesting architecture, cultural institutions like the Hong Kong Arts Centre and some of the best bars and restaurants in the city.
Begin your day in Wan Chai with the two-hour Heritage Trail. This leisurely walk encompasses both the architecture in the district and its culture, making it an easy way to experience its two faces. The trail starts at Mallory Street then ends at Wing Fung Street. Although you can join the trail at any point, you'll get the most out of it if you experience it from the start.
After you've finished the trail, you might want to stop for a moment and breath in the fresh(ish) air and see the greenery at Tamar Park. Then it's time to crack on with a bit more sightseeing; the aforementioned Arts Centre is around the corner from the park, and you can also easily reach the Pak Tai Temple.
The Butterfly Sculpture at Tamar Park – Photo by Wong35Lau27, CC BY-SA 3.0
Mei Garden (128 Lockhart Road) and Chao Chao Gyoza (31 Amoy Street) are two of the best dim sum and dumplings hot spots in the district. Like most of Hong Kong, however, there's a wealth of international cuisine available in the area from French (Maison ES, 1A Star Street) to Thai (The Spice House, 35 Amoy Street).
Wan Chai is packed with fantastic and wildly entertaining bars and joints, including Red MR's karaoke spot; however, the highlight has to be the outrageous Ophelia (200 Queen's Road E. Lee Tung Street). Decked out like a lavish 19th-century opium den, you'll find drag shows, alongside real-life mermaids suspended above the bar and the most decadent cocktails in the entire region. Just make sure you don't miss your flight home!