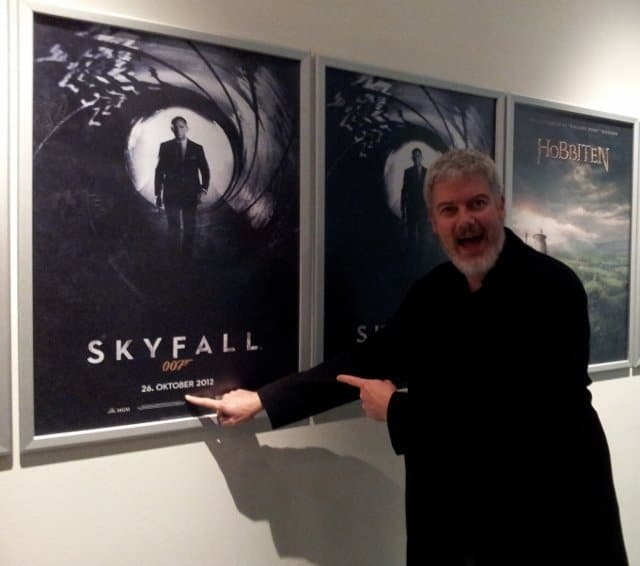 26th of October? Suckers! It says the 24th on our tickets…  Image (c) Andy Higgs, Grown-up Travel Guide
Luck is a funny thing. Sometimes you have it, more often it eludes you. On this occasion, I could scarcely believe my luck. Due to the fact that I happen to have a relatively obscure Norwegian credit card (I ought to give them a quick plug given the circumstances – the company is called Two Cards) and that I was paying attention to my email inbox one morning, I ended up bagging two tickets to an exclusive premiere of the latest James Bond film, "Skyfall" last night.
Now Oslo is a rather unlikely setting for such an event and as regular readers know is far from one of my favourite cities, but we decided to make the most of it and live like Bond for the night – as far as is possible on a limited budget. Mari Anne and I were to fly down from Trondheim and stay over in the Norwegian capital; we eschewed a private jet (or even parachuting in which would have been a little more 007) for good old budget airline Norwegian but had decided that nothing but the Grand Hotel in the centre of town would do. I contacted the hotel a couple of weeks in advance and told them about the website and our plans; the manager was kind enough to offer me a media rate with a free upgrade to a deluxe room.
After a early but survivable start and a painless flight my Bond girl and I landed in Oslo and took the airport express train into town. From the Nationaltheatret station it's a ten minute walk along the main drag, Karl Johans Gate, to the hotel. You certainly can't fault the location a stone's throw from the Norwegian Parliament building. Not that I had any plans to throw any stones. The Grand Hotel is indeed very grand and warrants a full review which we will publish next week.
Image (c) hotels-oslo.com
After checking in we tested out the pool, sauna and steam room on the 8th floor, which I'm sure Bond would have liked. Granted, it's not quite as high up as the hotel pool in Shanghai he uses in Skyfall, but since that was actually filmed indoors in London and digitally moved to China our experience was perhaps more authentic. Oh and no, I didn't try the blue trunks thing so you won't have to wrestle with that mental image.
Image (c) Andy Higgs, Grown-up Travel Guide
We needed to eat early as the film would start at 1900. We had booked a table for 1630 but since we're not that familiar with Oslo we left the Aston Martin DB5 in the garage and took a taxi to the new waterfront area of Tjuvholmen. Sushi is something James Bond has yet to try but he would have appreciated both the surrounding area and the modern class of the Alex Sushi restaurant itself – as well as the excellent food. It's true that with both Shanghai and Macau featuring in Skyfall we probably should have gone for Chinese, but we decided to veer a little from the theme here. Suitably sated and very excited, we were ready to go a couple of hours later.
Resisting the temptation to use the Lotus to drive off the pier and into the water, then zoom underwater across the bay to cut some minutes off our drive time we once again took a taxi to Ringen Kino. The premiere was to take place in the "Luxury auditorium", with just 68 leather reclining seats and plenty of legroom. All the places were taken and we joined the queue to pick up our tickets. When asked for my name I couldn't help but say, "Higgs…Andy Higgs" but it was rather pointedly ignored by the lady who asked us to surrender our mobile phones in exchange for free pop, popcorn and chocolate.
With my heart now racing we took our seats before the decent sized screen. After a brief introduction from the sponsor of the premiere, Terra, which underlined just how few other people in the world had seen the film we were about to see, the cinema went dark and the screen widened. After a brief panic when the film took a rather long time to start, the new MGM lion logo appeared and we were off.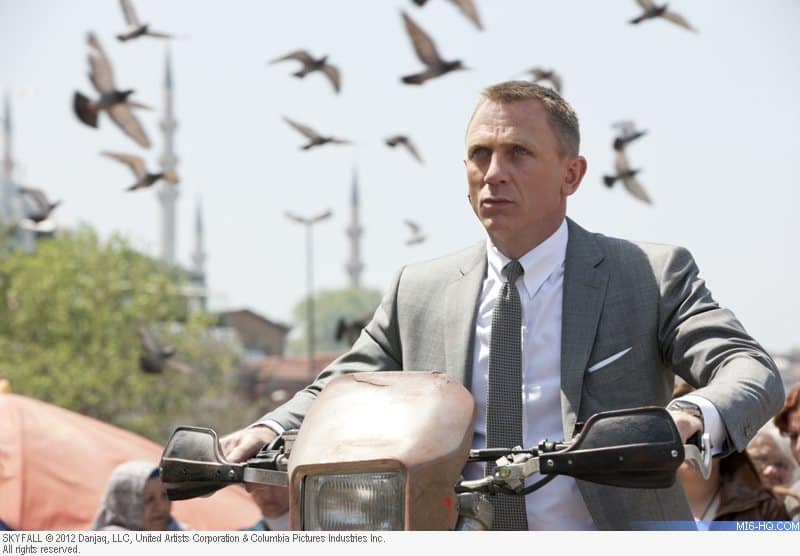 Image (c) mi6-hq.com
The pre-credits scene in Turkey is one of the best – you'll have seen the scene in the trailer where Craig jumps from a digger into a train as it's back wall is ripped off – but you'll be surprised how he gets there and how on earth they came up with that idea…
The animated opening credits are darkly artistic and visually mesmerising, with Adele's superb theme again one of the best. And it just gets better – Bond had to get back on track after the convoluted (but still exciting and hugely successful) Quantum of Solace. The stakes were also high given that the film franchise is celebrating its 50th birthday this year and fans are expecting the 23rd film to provide a fitting tribute. With Sam Mendes on board as director our hopes were raised even higher – and he didn't disappoint. It it is, as you may have heard, superb. Daniel Craig gets to show what a great actor he is and benefits from an excellent script with which to work.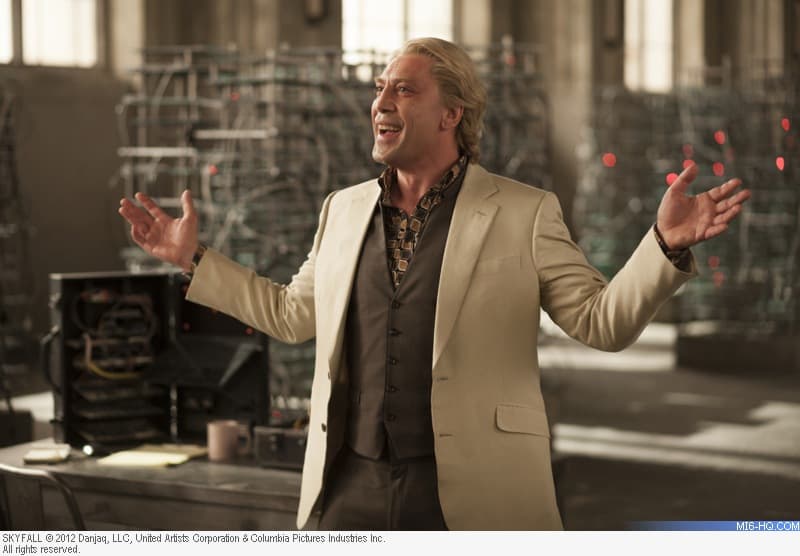 Image (c) mi6-hq.com
The stunts are amazing, the one-liners have returned (and are really good) and the bad guy is the baddest ever. Javier Badem nails the role and is genuinely unsettling as Silva. Mixing sadistic nastiness with some comically camp touches he creates a memorable villain.
The lengthy sequences in London are beautifully filmed and show the director's love for the city – even when blowing quite a lot of it up. The whole second act is a real change from the 'assault on the evil headquarters' concept and there are references to loads of Bond films from the past – see if you spot the nod to Live and Let Die. And yes, the original Aston Martin is back – complete with extra equipment. There is another great comic moment when Bond is driving M that I'll also refrain from spoiling, but suffice to say it's a gem.
The film delves into Bond's past and questions his relevance – as he begins to doubt it himself. Q is back in an appropriately young and nerdy version wonderfully played by Ben Whishaw.
Image (c) mi6-hq.com
The banter between Bond and Q is a special delight for fans. The gadget guy's return is not all – there are at least two massive events that I am not going to spoil (I can't believe they've been kept quiet and hope they remain untold when you see it). And I'll bet 50 Kroner you don't guess what 'Skyfall' actually refers to…
From start to finish Skyfall is a triumph for Bond's 50th anniversary, people are going to be begging Sam Mendes to return but whether he does or not he'll go down in history for taking the concept to the highest level. It's the best film so far and we feel incredibly lucky and privileged to have been among the first in the world to see it. Bond, my friends, is most definitely back. Roll on number 24!