Image (c) Holiday Inn/IHG
Look, you know we love London. Like the vast majority of visitors to the UK, we almost always include the capital in our travel plans. We'll continue to do so, too, and recommend you to do the same.
But there is a lot more to England than the Big Smoke. What's more, you don't actually have to travel far from the city to find somewhere to get away from it all for a weekend.
We've given you some suggestions in the past and will add to the list in the coming months – today we'd like to suggest the town of Maidenhead. Not heard of it? You're not alone; but trust us on this…
Maidenhead is a pleasant enough town in its own right but is also close to some of the best attractions west of London. Your best bet is to rent a car for the weekend – there are good deals to be had from Heathrow Airport which is only 17 miles away.
With transport sorted, now you need somewhere to stay where you can kick back and perhaps even enjoy a little pampering; the Holiday Inn Maidenhead is an ideal choice.
The hotel is located in a quiet residential area but is only 2 miles from the M4 motorway and about a mile from Maidenhead town centre.
There is free parking and if you have children in tow you'll be pleased to know that under-12s eat free when sharing a room with their folks. Perhaps even more appealing is the fact that Legoland Windsor is an easy 8 mile drive away – this may be stretching the definition of a "weekend away from it all" but is guaranteed to keep the little ones amused.
Royal Windsor is the same distance away and a beautiful town to visit for sightseeing, a pub lunch or some shopping. A tour of Windsor Castle is a must-do; most people find Queen Mary's dolls house to be the highlight.
If you're feeling lucky and you've timed it right, a few hours at Ascot Racecourse is a very special experience – especially if you get tickets for the main event, Royal Ascot and even better, Ladies Day. But it's fun any time there is a race on – and a lot more laid back outside of Royal week.
Those more interested in food and drink will love the fact that the charming village of Bray is close to the hotel too. Home of the legendary Fat Duck (currently closed for refurbishment) it also boasts The Hinds Head – a Michelin star pub and restaurant with a menu overseen by Heston Blumenthal.
I can tell you from experience that the food is excellent here and good value too – somewhat cheaper than the Fat Duck fixed menu…
A boat trip along the River Thames should also be on your list – you can start from Maidenhead itself, Runnymede (where the Magna Carta was signed) or Windsor. A full day cruise allows you to view Windsor Castle and Eton College from the water and if the weather is good, there are few better ways to spend your time in the area.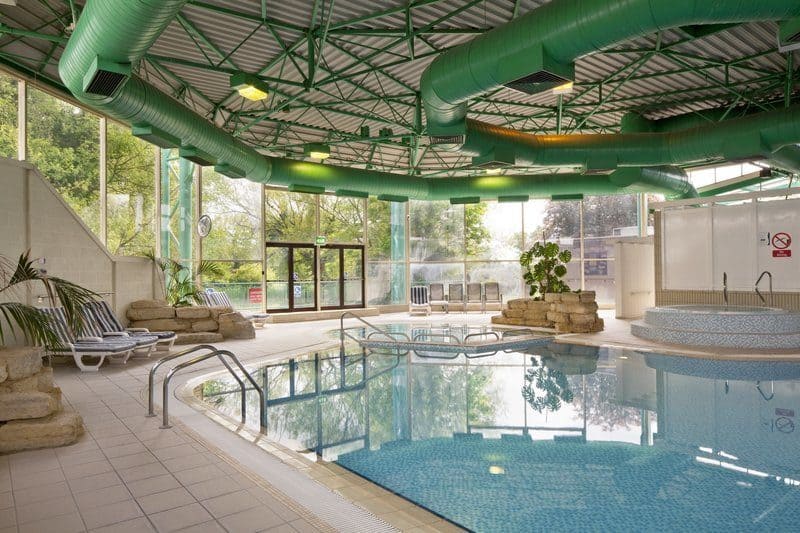 Image (c) Holiday Inn/IHG
With your sightseeing done – or perhaps if you just want to stay put – you'll be pleased to hear that the Holiday Inn Maidenhead boasts its own Spirit Health Club with a large indoor swimming pool, children's pool, jacuzzi, sauna and a steam room.
If you want to burn some calories the Club has two gyms, too. For that aforementioned pampering, an on site Beauty Therapist offers a selection of treatments.
All in all, you have everything you need for a stress-free weekend!
This post was brought to you by Holiday Inn