This post is brought to you by Grown-up Travel Gudie Contributor David Fenton
Abu Dhabi is a glitzy, fascinating city in the United Arab Emirates, but too often it's overlooked in favor of Dubai. It's often treated more as a place to just have a short layover than as a holiday destination. But that's a mistake! Abu Dhabi is a wonderful city with delights for everyone, regardless of their interests. If you have a layover, look into extending it into a multi-day affair so you can get the most of your time there, or better yet, just plan your whole trip to Abu Dhabi. Here are some reasons why it'll thrill you:
The Beaches and Pools
Abu Dhabi is an island, and you know what that means: beaches galore! And they're great beaches too with plenty of sand, sun and surf. Of course, you'll want to be careful where you go. You could be fined for dressing too skimpily in this conservative country. But on most private beaches and at pools, you'll pay a nominal fee and can dress how you like. You have plenty of options.
The City Skyline
Abu Dhabi is an attractive modern city, and its growing skyline rivals that of any great city in the world. You'll find great views along the seafront Corniche promenade, and it can also be fun to head to the Corniche for people-watching when the weather isn't too hot. Make sure you take those perfect photos to send to your friends and family!
The Sheik Zayed Grand Mosque
It doesn't matter what beliefs you ascribe to; Abu Dhabi's Grand Mosque is worth a visit! It's an immense building made up of over one thousand columns, but its extravagance doesn't obscure its spiritual nature. No matter what hour you're there, you're likely to find plenty of worshippers at this mosque, which is one of the most important in the country. At full capacity, there could be as many as 41,000 worshippers at once (although obviously this isn't an everyday occurrence).
The Abu Dhabi Heritage Museum
Curious what life was like in Abu Dhabi before the country got rich from oil and all these skyscrapers, malls and other trappings of modern society sprung up? The Abu Dhabi Heritage Museum, located at the end of the Corniche, will give you a look at life in the desert. It also includes stalls selling great souvenirs, spices and more. It's one of the best places in the UAE for learning about the rich history of the country.
The Emirates Palace Hotel
If you thought the Grand Mosque had some beautiful architecture, it's nothing in comparison to the Emirates Palace. Wander through the immaculate gardens and marvel at the interior of the hotel, which is decorated with marble, gold and crystal chandeliers. It's opulence at its finest.
The Shopping
If you thought you could find a large selection of goods at the airport, it's only a small fraction of what you can find in the city! Abu Dhabi Mall is a great place to do a little shopping. With over two hundred shops, you'll be busy for hours. Men, if you're rolling your eyes, perhaps you'll want to use the free WiFi to catch up on some Netflix during the wait. Just make sure to use a VPN to bypass the site's geo-restrictions! Also make sure to check out the Afghan Souq and other markets in the city.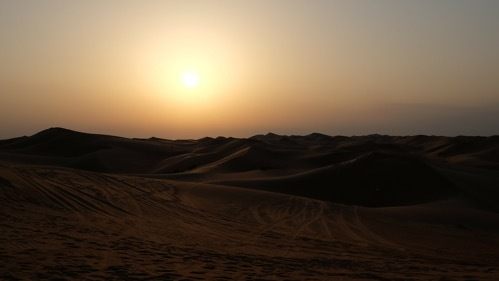 The Surroundings
Abu Dhabi makes a great base to see other parts of the UAE. Drive out to Jebel Hafeet. Along the way and at the summit of this peak, you'll have great views of the desert. Or head out to Sir Bani Yas Island's wildlife park where you'll have the opportunity to drive amongst amazing animals that you generally don't see outside of zoo cages, such as cheetahs, gazelles and hyenas. The island is also home to Ferrari World, the world's largest indoor theme park. Or check out the Emirates National Auto Museum, located about an hour south of the city. There's plenty more to see and do in the area, so get out and explore!
The Multiculturalism
If you don't speak Arabic, that's not a problem. Plenty of people in Abu Dhabi speak English. And regardless of what type of food you're looking for, you'll be able to find a plethora of restaurants to suit your tastes, tons of shopping for brands from around the world and plenty more. See, Abu Dhabi's population is actually largely made up of foreigners, so don't worry about feeling out of your depth; you'll get by just fine.
These reasons, among many others, make Abu Dhabi a premiere tourism destination, and one that should be on many people's bucket lists for 2016!
Have you already traveled to Abu Dhabi? What tips can you give other readers? Tell us your stories in the Comments area!