When I was growing up, it was all very simple. 'Skiing' meant downhill skiing in the Alps – or for some brave people, Scotland. Artificial slopes were rare and skiing was a luxury that most people in the UK had never experienced. Due to the neat combination of family friends owning a chalet in Switzerland, our living in Belgium at the time and thus a lot closer to said chalet and a father who was quickly hooked on the whole concept, I was lucky.
Yes, that's me.
With the skiing seed thoroughly planted in the Higgs household the annual trip to France or Austria became a regular event during my youth and although I eschewed ski school as I saw it as wasting time better spent careering down slopes as fast as possible, I became competent. A firm believer in speed over style, I may not be the most graceful sight on the hill but I generally got down without crashing too often.
As I pored over the piste maps of whichever resort we happened to be staying in I did notice the trails marked 'langlauf' for something called cross-country skiing but never seriously considered the possibility of spending most of my days in the mountains moving horizontally. This was clearly a pastime for weird people. Snowboarding had yet to make an impact and despite a few innovations (anyone remember the ill-fated mono-ski?) there was basically only one way to get down the slope short of taking the chairlift or rolling.
Carving skis had not yet arrived so tight parallel turns were the calling-card of the real pro. Needless to say I had no time for this either.
When I left home and began travelling I fell out of the skiing habit (well it wasn't easy to find a slope in West Africa) but moving to Norway pulled me back into the world of winter sports.
My, how things have changed. First of all if you talk about skiing in Norway then people assume you mean cross-country skiing. Fact. And yes, I took it up myself and love it now – sometimes even more than downhill. For the latter I now use carving skis but still fail to look graceful; some things will never change…
We've already looked at the pros and cons of both downhill and cross-country skiing. I can't see myself taking up snowboarding as that's best left to the kids and I have a strong dislike for baggy trousers and sub-par nu-metal. But in the Spanish Pyrenees, in the beautiful resort of Vallter 2000, I discovered what may just be the ultimate skiing experience.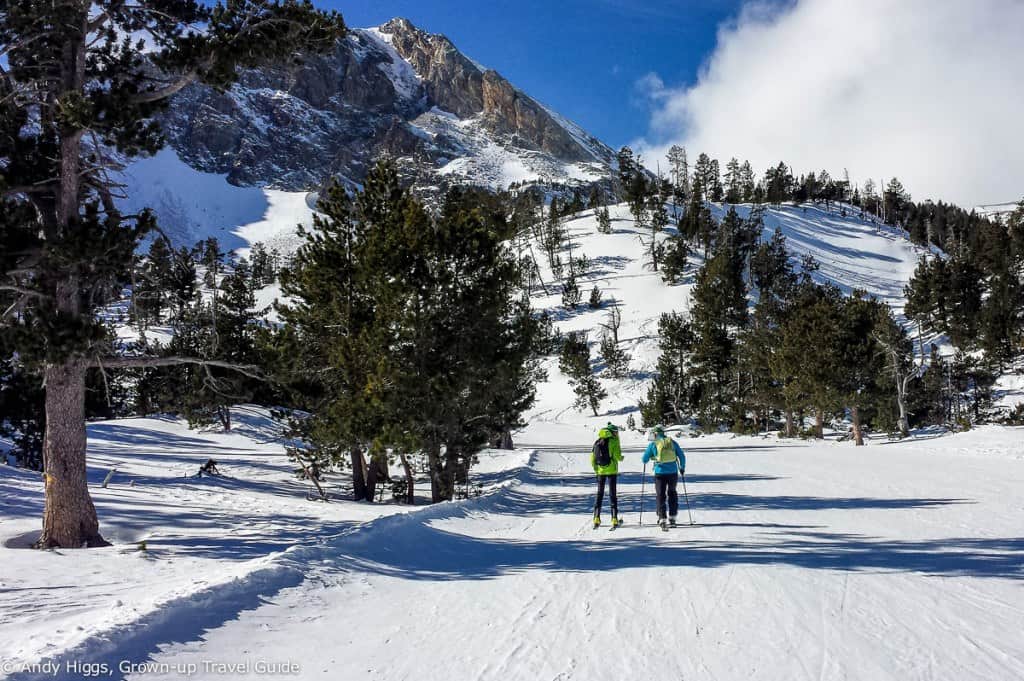 Ladies and gentlemen, allow me to introduce alpine touring. Also known as ski mountaineering, ski touring, randonnee and probably a few other things, this sport combines the best of cross-country and downhill skiing into one cool package.
You get the freedom of cross-country skiing – no more lift queues or staying within the poles on a narrow piste. In theory you can go where you like, but the best way to start is by hiring the gear and making use of a specific area at a resort. Like Vallter 2000 – which perfectly marries a Mediterranean climate with outstanding snow and a large alpine touring area.
The road up to the resort is also amazing, as you can see from the photo here.
But back to the skiing. First things first – you'll need to go with a guide. These guys and gals know the mountain and the dangers, and will ensure that you don't wander into a potential avalanche zone or over a cliff. Remember that you will be exploring off the groomed ski runs and you need to be safe.When I visited Vallter I was lucky enough to hit the trails together with local expert Jaume Villa Corbella. Not only that, but we were joined by local legend and ski mountaineering champion Nil Cardona for the morning which was a real honour.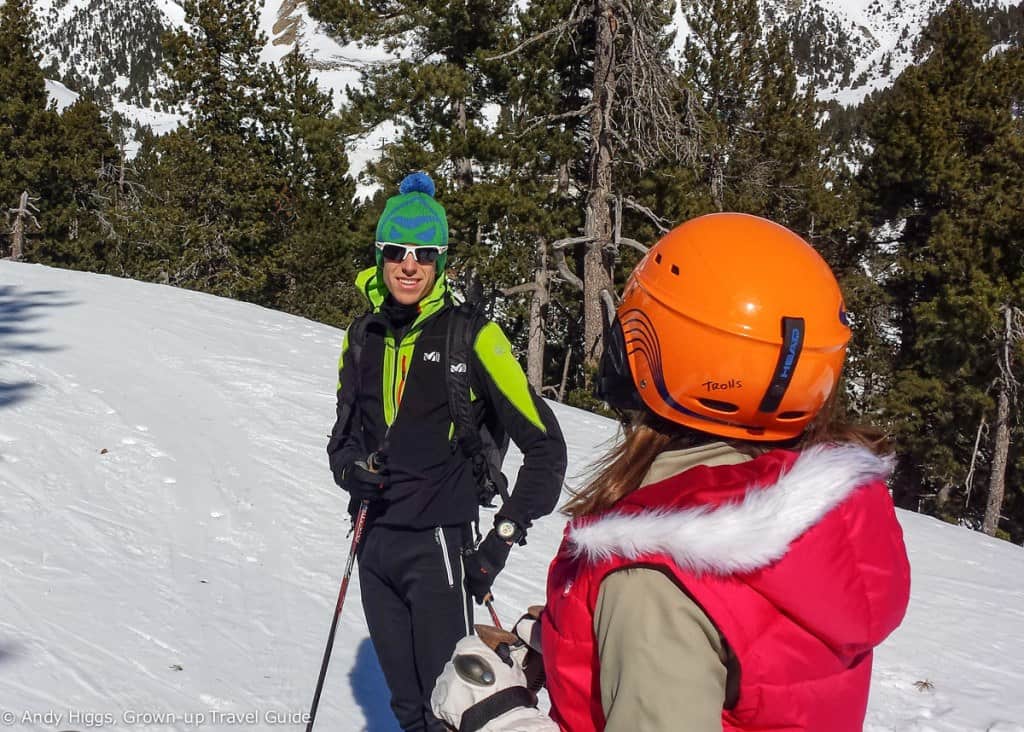 I soon became acutely aware that I have some way to go before I can contemplate going professional like Nil (above).
After meeting up with your guide it's time to get your equipment. Alpine skis are lighter and more flexible than regular carving equipment; but they are also wider to keep you from sinking quite so fast into deep snow. Yet as with cross-country skis your heels are free to allow you to 'walk' – until you reach the top when you can click into your bindings and ski back down like you are used to.
When walking you can also adjust how much 'travel' you need by using an intermediate setting; so that your heel remains free but is stopped by a kind of block half way. This is for going up steep hills so that you don't have to let your heel go all the way flush to the ski which would be a waste of energy as well as very uncomfortable.
The boots are also lighter, more flexible and more comfortable than their downhill equivalents, while alpine poles are longer to provide support while walking but made from carbon-fibre so very lightweight. They are usually telescopic allowing for easy adjustment.
Now you're probably wondering how you on earth you walk up a hill on skis in the first place. Well, you use skins. These are strips of material which you stick to the bottoms of your skis to increase traction using a special type of glue. A bit like velcro, the surface of the skin is rough in one direction and smooth in the other, so the rough side stops you sliding back down and when you reach the top you reverse the skins (or simply take them off) and can descend freely. Yes, they used to be made from animal hide but fear not, these days they'll almost certainly be synthetic.
You'll also need a helmet, goggles or glasses and a backpack with water and something to eat is a good idea.
After kitting up we were driven to the foot of the alpine touring area in Vallter which is a short distance from the hire shop. When everyone in our group was ready we began the ascent.
Now let me just make this clear – alpine touring is hard work. Or put another way, it's great exercise. And it's so much more rewarding than simply getting on a ski lift.
If you take it easy and pace yourself you'll appreciate the many advantages alpine touring has over regular downhill or cross-country.
We were blessed with superb weather on the way up which made it even more memorable. One by one, our group began to get smaller as people began to drop out.
To my immense surprise I was soon the last man standing and completed the ascent together with Jaume (above) just as the clouds arrived. Nil left us a little earlier as he had to finish his daily training regime which entailed going up and down ten times or something. Okay, I don't remember but it was brutal.
The feeling of accomplishment on reaching the summit (actually, it was only half way up but it was 'our' summit) was amazing and trumped the total exhaustion I felt. With the weather closing in we had little time to enjoy the views so we ripped off our skins for the descent.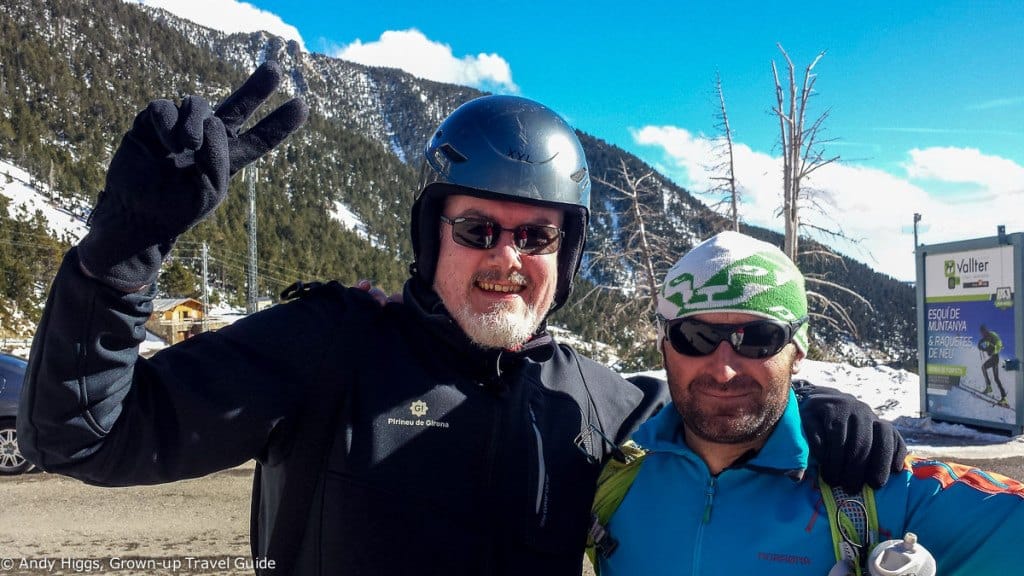 I think we must have used something like two hours to go up and took all of five minutes to go down, but it was all worth it.
Now I can't wait to try alpine touring again – and I hope to return to Vallter 2000 to do so. As part of a longer ski holiday it's a great addition to 'regular' skiing – you could buy a 5-day ski pass for the lifts and then have a day or two exploring off the tracks. The feeling of exploring is wonderful and it's not often you get to plough through untouched snow on a winter break yet also be able to bomb down the hill afterwards.
Vallter 2000 is the ideal destination to try alpine touring for the first time – and it also offers snow-shoeing as well as both cross-country and downhill skiing. For the ultimate break, fly into Barcelona Airport, hire a car and drive to La Molina for your downhill fix, then out to Vallter 2000.
The journey here is spectacular too, and we'll be letting you know about plenty more hot tips in the Spanish Pyrenees in due course.
After all, when was the last time you did something for the first time?
I was invited to visit Pyrenees by the Costa Brava Tourist Board as part of the #InPyrenees blog trip but as always my opinions are my own. I have already decided to take my family to La Molina to ski this year, so that should be all the proof you need!