As Spring slowly but surely begins to reach Europe our thoughts often turn to planning a break to enjoy the warmer weather in one of the continent's great cities. The latest articles on Amsterdam on the GowithOh site inspired me to check out flights to the Netherlands and my wife and 12-year old daughter didn't take much convincing.
GowithOh provide some great information to help you plan and their Dutch primer is a real help. Everyone knows the Dutch generally speak English embarrassingly well, but being able to use some phrases in their language will be really appreciated! You can also find a weather guide to help you decide when to visit Amsterdam and all the practical information you need to get from the airport and around the city. There are some excellent 3-day themed itineraries too with something sure to interest everyone, including kids.
At this point I know what you're thinking – Amsterdam for children? But bear with us here; it may be more renowned for its adult attractions yet Amsterdam is one of the most child-friendly big cities in Europe. Not only are there the usual facilities such as play areas, high-chairs and the like, there are plenty of sights, attractions and activities which particularly appeal to the younger ones.
Don't forget to read out other articles about Amsterdam for inspiration – many of the more unusual places we mention offer fun for all the family. A GowithOh apartment is an ideal base to live like a local without the restrictions of  hotel when travelling together.
But what about some more suggestions for the young'uns? Here's six ideas – do let us know what you think.
When you want to teach them about life in warmer climes – Tropenmuseum
Photo credit: amsfrank via photopin cc
This huge and beautiful building was originally built in the 1920s to promote Dutch colonialism but now gives visitors an interactive experience of daily life in the tropics (okay, and the sub-tropics) through its excellent exhibitions, most of which include captions in English. From the ancient (jewellery, religious artefacts) to the modern (cars, washing powder) the huge variety of exhibits are arranged by geographical region. You can walk through simulated South Asian and North African villages and the museum is particularly strong on music – it is Amsterdam's leading world music venue – and you can hear different instruments at the push of a button. The shop has a superb selection of books and souvenirs, and don't miss the restaurant for global food and the views from the terrace.
Tropenmuseum, Linnaeusstraat 2, 1092 CK, Amsterdam
http://www.tropenmuseum.com/smartsite.shtml?ch=TMU&id=5853
When you want them to cultivate their inner Jamie Oliver – Kinderkookkafé
Image (c) Kinderkookkafé.nl
It's been going for over 25 years so the folks at Kinderkookkafé clearly hit on a winning idea which combines a play area and a restaurant. It's run on a nonprofit basis and the concept is simple – children aged 2 and up can mix, arrange and put together their own meals just like in an arts and crafts project, and then go and play either indoors or out until their masterpiece emerges from the oven and they're called back to the kitchen to deliver it to the table. The restaurant has plenty of kid-sized chairs and tables for the under-12s and of course a bunch of toys to keep them occupied when not 'working'.
Kinderkookkafé, Vondelpark 6B, 1071 AA Amsterdam
http://www.kinderkookkafe.nl/  (Dutch only)
When you want to show them the city but save your energy – Canal Cruise
Photo credit: Randomness is Everything via photopin cc
The wonky buildings and narrow canals of Amsterdam fascinate children of all ages and the best way to take it all in is on a boat ride through its winding waterways. If the weather is good, an open-top boat is ideal whereas you'll appreciate the warmth of the glass-top variety if it's chilly. There are several different types of cruise available from a range of operators – perhaps a pizza cruise is just the ticket? Whichever version you choose it's a leisurely way to get some sightseeing done with your feet up.
Cruises start near Central Station, various companies and tours
When you want to show them how the floating half lives – Woonbootmuseum
Image (c) houseboatmuseum.nl
Having got their interest on a boat tour, take them to the Houseboat Museum to learn about life on the river. This is actually a museum on a boat, and apart from the descriptive signs and a small slide show, the Hendrika Maria is arranged as a houseboat would be. You'll get a real idea of what it's like to live on the water – there's more space than you might expect and it might seem an appealing life – although it is rather marred by the smell of the public urinal right next to the museum.
Woonbootmuseum, Prinsengracht, near Anne Frank House; see website for map
http://houseboatmuseum.nl/engels/index.html
When you want to have educational fun and a great view – NEMO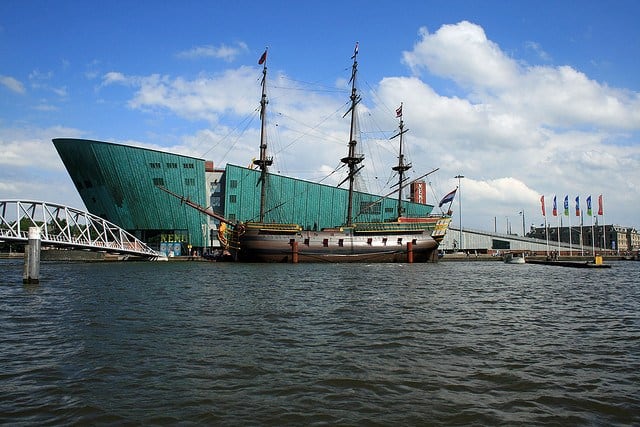 Photo credit: jay8085 via photopin cc
Nobody coming to Amsterdam with children should miss out on this place. NEMO is a science centre housed in a large and rather remarkable green copper-faced building that looks like some kind of futuristic ship next to the city library. Inside are four floors of, interactive exhibits aimed purely at children and teenagers. And outside (or rather on top) is the city's largest summer terrace where you can relax and take in the amazing views. Just the thing after a busy time spent playing with mirrors, sound experiments, lasers and in the 'laboratory' where you can find answers to life's most important questions like 'how do you make cheese?' Adolescents and parents will either cringe or enjoy the top-floor exhibit, 'Teen Facts'.
NEMO Science Centre, Oosterdok 2, 1011 VX Amsterdam
When you want them to experience Dutch street food – Various locations
Photo credit: Accidental Hedonist via photopin cc
Hungry after all that sightseeing? Amsterdam's got you covered, and you don't need to sit down in a restaurant either. No, we're not encouraging use of those dubious food vending machines but rather something more traditional – you can't beat 'Vlaamse frites' (French fries, albeit Dutch style).  Fresh, thick chips, dusted with a little oil and salt, served in a paper cone and eaten with a plastic fork. Do as the locals do and smother them in mayonnaise or more exotic variants such as peanut sauce, chili mayo etc. For something sweet afterwards (assuming you still have room) there are plenty of options – 'pannenkoeken' (pancakes), gauffre (waffles) and 'poffertjes' (fried donuts dusted in powdered sugar). There are stalls all over the city centre, but near the Central Station is a good starting point.
We hope you enjoyed these tips – if you think we've missed anything out or you have questions or comments please do let us know in the box below – and make sure you sign up for email updates or subscribe to the RSS feed by using the links on the right so you don't miss a thing from Grown-up Travel Guide!