You'll find the first part of this article, along with a full introduction to the company I travelled with, right here: An unforgettable Botswana safari: Part 1 – The Okavango Delta. So if you haven't already, go and read that first!
As you'll now recall, at the end of Part 1 we had cruised back to the mainland from the campsite that had been our home for the past two days and rejoined our vehicle and driver Kenny.
We were also reunited with the rest of our luggage that we had left with Planet Okavango/Sunway Safaris at Maun airport after arriving in Botswana. For the next leg of the journey we would be travelling in an open Land Cruiser which now pulled a trailer containing our bags and camping equipment, while a support vehicle carrying food, cooking gear and utensils would follow behind.
After bidding farewell to our polers who had been perfect hosts, we set off for the drive to Moremi Game Reserve where we would spend a final night wild camping before staying in a lodge for our last two nights in Botswana.
The actual distance between the poling station and our designated campsite was not much more than 150km but the plan was to use most of the day to get there as rest stops, lunch and game drives were included in the itinerary.
We also needed to stop to try to restock on gin as for some reason our entire supply had disappeared in two nights. I put it down to evaporation in the heat…
Leaving the waters of the Delta behind, our convoy drove through the bush towards the main road from Maun, passing well-kept farms and homes on the way. After crossing the Thamalakane River we were back on tarmac once again. Turning northwards we set off for the next village of any size, Shorobe, which lies roughly half way between Maun and the South Gate of Moremi Game Reserve.
Shorobe is the last place to buy supplies before heading into the reserve, but unfortunately the bottle store was all out of Gordon's. We would just have to struggle by with wine and beer then…
Just outside the village the road ends, or rather is replaced by a gravel one. Recently repaired, the worst of the potholes have been filled and despite the appearance of some new ones, the 20 km or so to the Mawana veterinary checkpoint and control fence (a.k.a. the buffalo fence) took no time at all.
It was also enlivened by our spotting the first elephant of the day, happily wandering around beyond said fence. After all, boundaries are very much an abstract concept to the average elephant.
Arriving at the checkpoint we had a short break while some formalities were completed, after which Kenny gave us a pep talk about what to expect – the main point being to keep on the lookout for animals as there was a good chance of seeing some before we even reached the main gate into Moremi.
The support vehicle sped on ahead to set up for lunch. Soon after, we passed through the buffalo fence checkpoint and continued for a couple of clicks until reaching a fork in the road. Here the choice is simple: take a right for Chobe or a left for Moremi.
Left it was, and before we could say "I wonder how long it will be before we see some more wildlife out here?" we had slowed to a halt as Kenny had spotted some zebra.
They were a little too far away for a good picture, so we carried on for all of four minutes before this guy seemed to offer a better photo opportunity.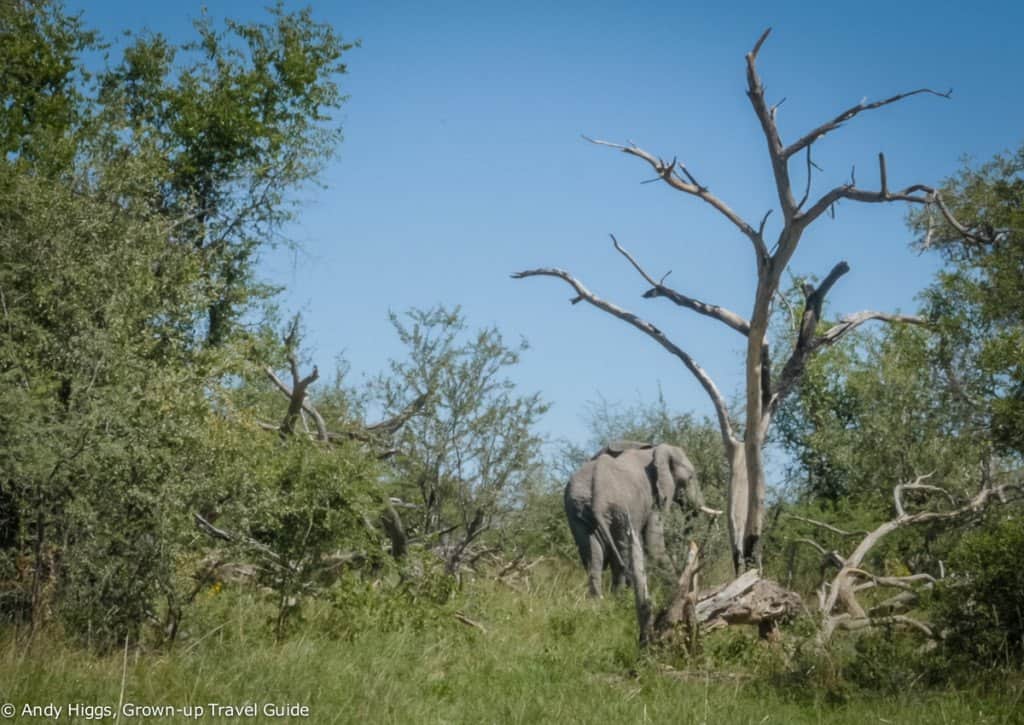 Not too far from the road, this beautiful elephant was going to give me my first 'keeper' of the day for one of the Big Five. No doubt about it. Just needed to change camera for the bigger zoom – I switched from Panasonic to Nikon as he turned around…
…to position himself with pin-point accuracy directly behind this dead tree. What?! I mean come on old chap, play the game here!
But no. He took a long, hard sniff in our direction and was clearly not impressed.
I was left with another entry in the "animal's bum" category – a very competitive niche in the safari photography world.
Still, the dead tree was quite nice.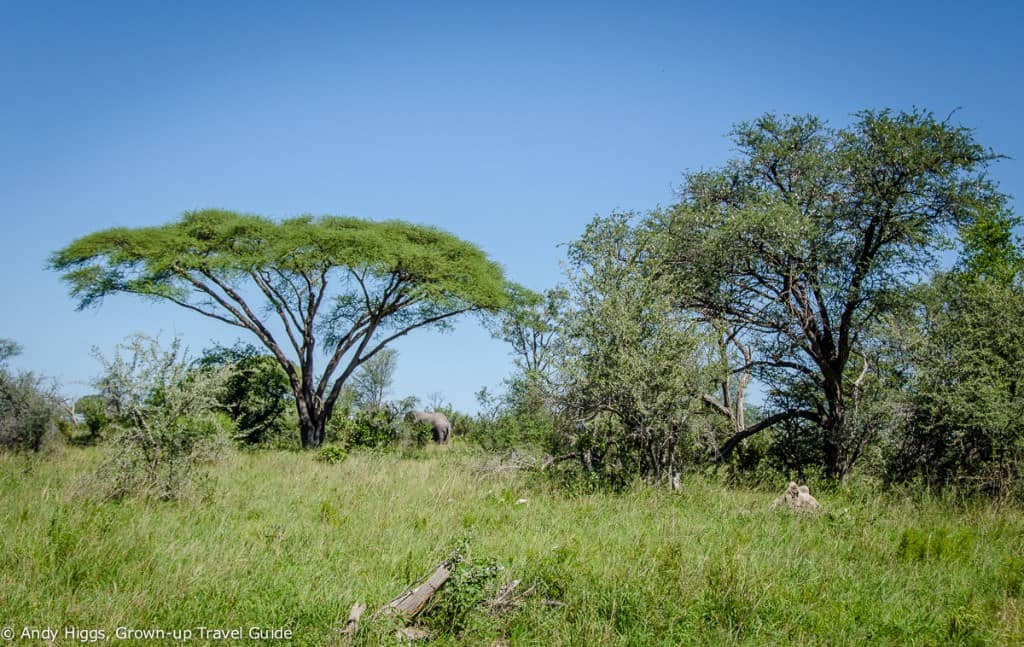 And he did have the decency to pose under an almost picture-perfect acacia tree before hightailing it in to the bush.
We motored on for a short while until we happened upon this far more amenable giraffe.
Instead of hiding or running away, this guy seemed anxious that we took our time to get his best side. After satisfying himself that everyone had done so he returned to his lunch, until our passage was blocked by a gang of impala. Okay, I know that's not the correct collective term for impala but it seemed an appropriate one.
As if to prove the adage about 'safety in numbers', this herd (see, I do know the correct term) were far less nervous than these beautiful animals tend to be when alone.
A few minutes later we arrived at the South Gate entrance to Moremi Game Reserve where we stopped for lunch.
Wish you could watch the morning's events in video form? Got you covered…
Moremi Game Reserve
Moremi Game Reserve covers an area of around 3900 square kilometres and is often referred to as the first reserve in Africa established by local residents. The Batawana people, concerned at the depletion of their land through hunting and the encroachment of cattle, had the foresight to proclaim Moremi as a game reserve in 1963, taking its name from their deceased Chief. The reserve was expanded with the addition of new sections in the 1970s and 1992.
Moremi protects the central and eastern areas of the Okavango Delta and most of the boundaries consist of nothing more than lines on a map – animals move across the whole of northern Botswana virtually unhindered. This fact, along with the diversity of ecosystems in this part of the country, are just part of why the country is such an incredible destination for wildlife.
Most of the land is completely flat and vast floodplains are a major feature – when water levels are high tracks can be submerged and impassable and some areas may be cut off. Access is strictly for 4WD vehicles only – with good reason, as you will see later in this article.
There are several picnic areas at the gate and Tony had organised lunch of hot dogs, salad and cold drinks. We were immediately joined by some over-friendly birds; clearly they are used to being fed by visitors and were very persistent – once they have realised there is food to be had with minimal effort, they're not going to go back to hunting for it. It was a bit weird to see such tame animals amidst all the wildlife and hopefully future visitors will think twice before tossing scraps to them.
Mind you, they come for the leftovers too – as do the monkeys – so it's just as important to take your rubbish with you when you leave.
We did just that, packed up and clambered aboard the 4WD once more to head into Moremi Game Reserve itself.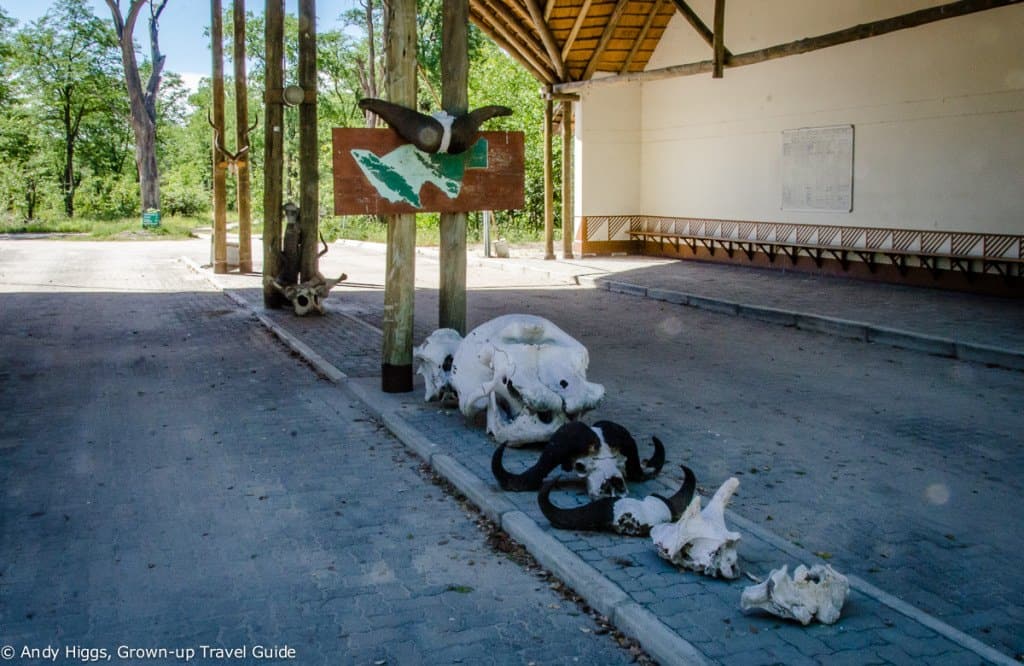 A motley collection of skulls at the gatehouse.
The sightings board is where visitors and guides record what they've seen – always fun to read. It was clear that there had been considerable lion activity in the past few days – perhaps we would get lucky?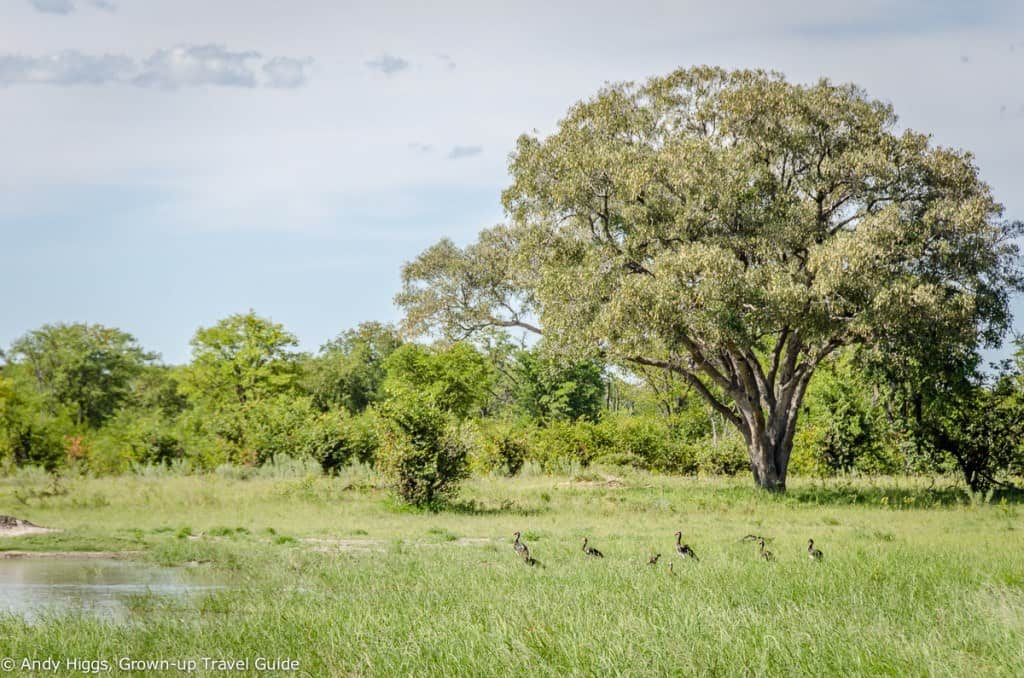 From this point on we were spotting animals at an incredible rate – from birds on the wetlands (not sure what these ones above are called, as it happens – any suggestions gratefully received!)…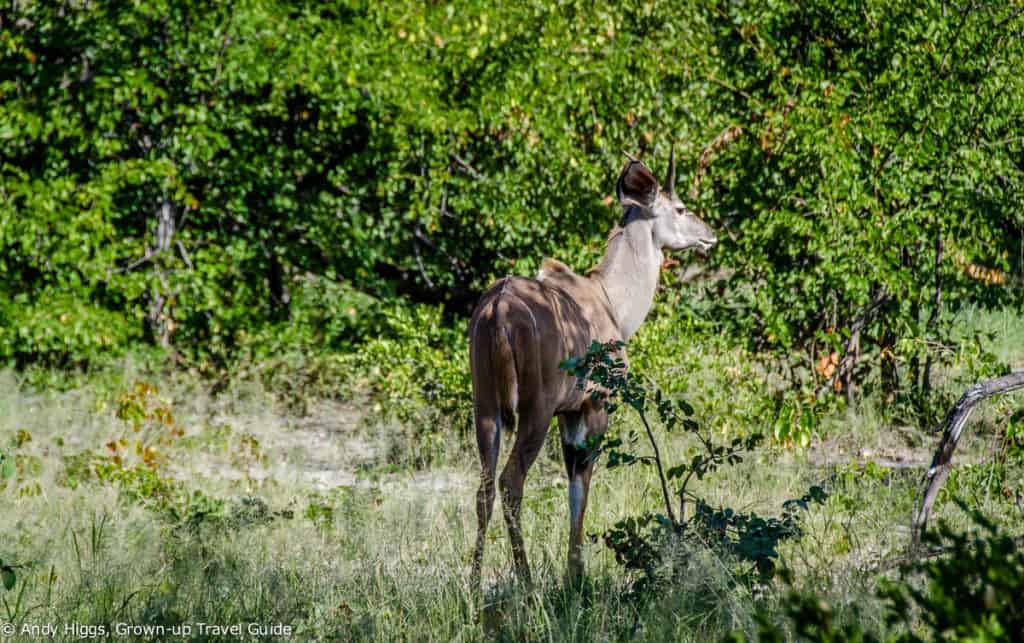 …to magnificent Kudu like this bull here, in the forest.
And we finally did get closer to one of the Big Five – this fine one-tusked elephant wasn't camera-shy at all.
Monkeys are a common sight in Moremi – as well as terrorising the larger camping areas – or at least scavenging for food there – they are often seen near the roads.
This rather snooty-looking couple is a pair of Kori Bustards – the largest flying bird native to Africa. The male of the species is the heaviest animal on the planet capable of flight – quite an achievement when they can weigh up to 18kg (roughly twice the weight of the female).
It's very important to keep your eyes open when on safari – and also to take in the whole picture. Initially I was too busy watching the birds by the river here to notice the large reptile lazing in the sun a few metres away from them.
The rains had been heavy this year and this was evident by the depth of the water remaining on the floodplains. Our plan was to head for our prebooked site, set up camp and then have a sundowner game drive. Mother Nature, however, had other ideas.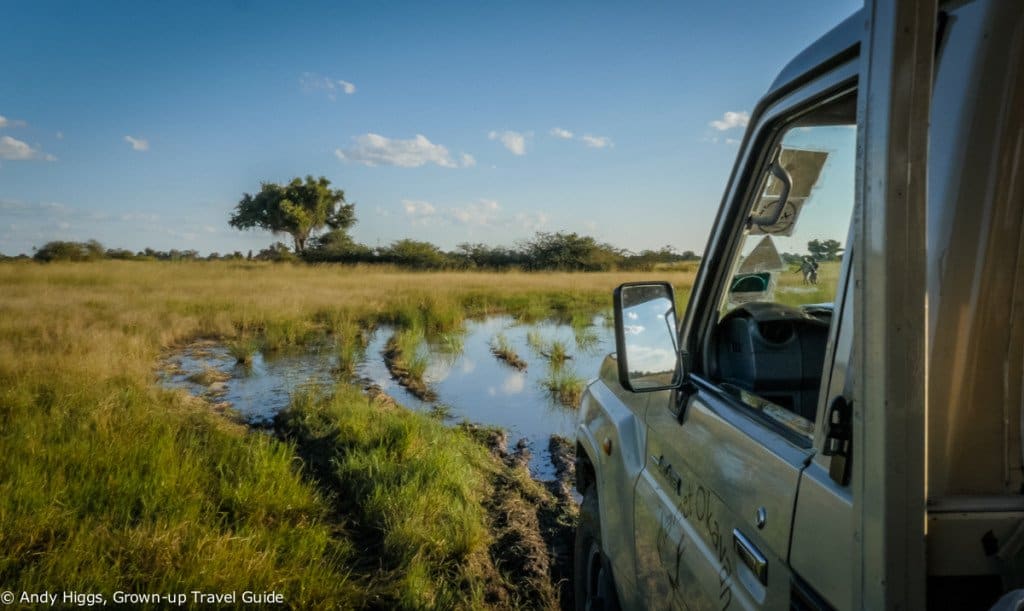 You see the "track" ahead? That's the way to our campsite. There comes a point when even a top-of-the-line 4WD won't help – and we had reached it. Kenny and Tony scouted the route and it was clear that we would have to find a detour.
Unfortunately it wasn't quite as easy as just backing up and doing a quick three-point turn. On engaging reverse and stepping on the gas, the wheels dug deep into the mud.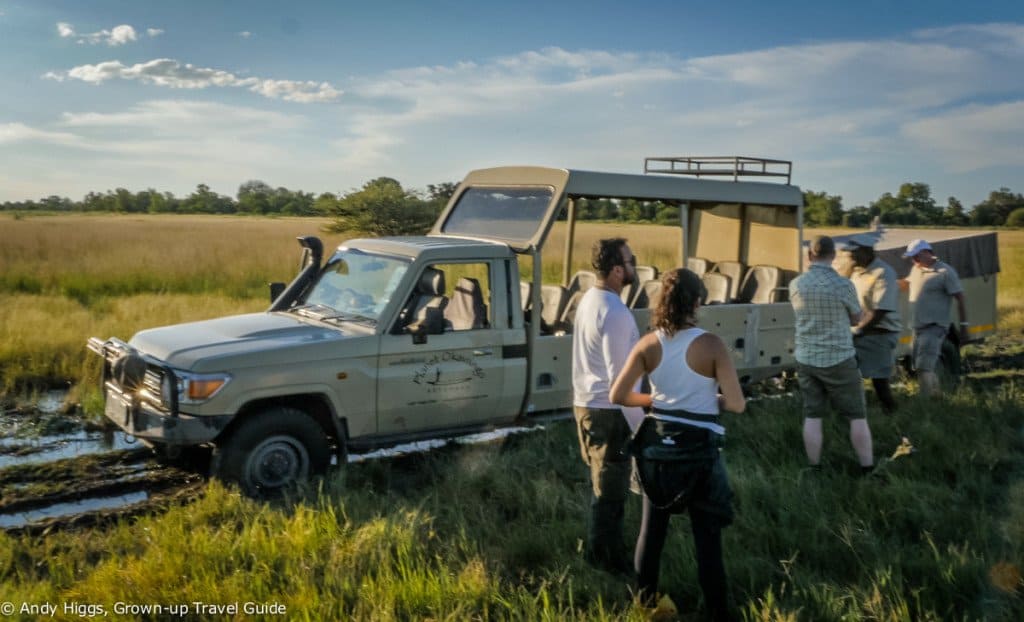 Luckily we had our support vehicle with us. And a tow rope – so we all hopped out while the experts sorted it. It didn't take long before the other 4WD had pulled us out and we could continue and move on to Plan B. Skirting around the floodplain, we would now approach the campsite from a different, and hopefully drier – angle.
This seems a good opportunity to add the next video – one demonstrating some of the challenges of driving on safari:
Time was not on our side – with only half an hour of daylight left we had to pitch camp before darkness fell as driving at night is prohibited in Moremi.
Shortly after crossing a rickety log bridge we met a vehicle coming in the other direction. After talking to the driver Kenny found out that this route too was underwater – on to Plan C.
This was to occupy a different campsite than the one we had booked – assuming that one was vacant and nobody arrived to take it before the sun set, we would be in the clear.
In this regard it seems it was a case of third time lucky – there was a site just a few hundred yards away from the bridge which was unused and so we pitched up there. And nobody came to turf us out, either.
After a quick demonstration we were able to assemble our tents ourselves and found that Sunway had not been exaggerating when they told us it was a five-minute task. While we unloaded our gear, Tony and Kenny got the fire going and set up the latrine and shower areas.
The latrine works thus – a pit is dug and the excavated soil piled close by. A toilet seat on a chair frame is positioned over it and a tarpaulin screen set up.
The shovel is the bush equivalent of the 'vacant/engaged' symbol – if the shovel is against the tree, that means vacant. It it's missing, the facility is engaged.
When nature calls, you take the shovel and make your way to the latrine. You do what you have to do and then cover what you did by shovelling soil from the pile into the pit.
You return the shovel and can clean up at the washstand – a canvas 'sink' with soap and hot water.
Neat, huh?
The bucket shower is ingenious, too. A large bucket is hoisted up on a tree branch on the edge of the campsite with a shower tap attached. Water is heated on the fire and the bucket is filled, the flow is then controlled using the tap. With a tarpaulin screen to provide privacy (or save the rest of the party from a sight for which they are ill-prepared) you can freshen up after a long day in the bush. Showering in warm water under the stars is a wonderful experience – I heard both lion and hyena while washing my hair.
Suitably cleansed, we gathered round the fire for pre-dinner drinks and soon Tony and Kenny served us a feast – a local take on a mixed grill with steak, 'Boerwoers' from South Africa, a spicy 'farmer's sausage, stew and an assortment of vegetables. It was as delicious as ever and further served to emphasize that you shouldn't come on safari and expect to lose weight…
It was an early night for everyone after a long day and I slept soundly, waking just before dawn.
Another stunning sunrise was accompanied by the bush orchestra as we packed up our gear before breakfast. The vehicles were loaded and before long we moved off, rejoining the track north towards the Khwai River.
Once again it didn't take long before we made a sighting.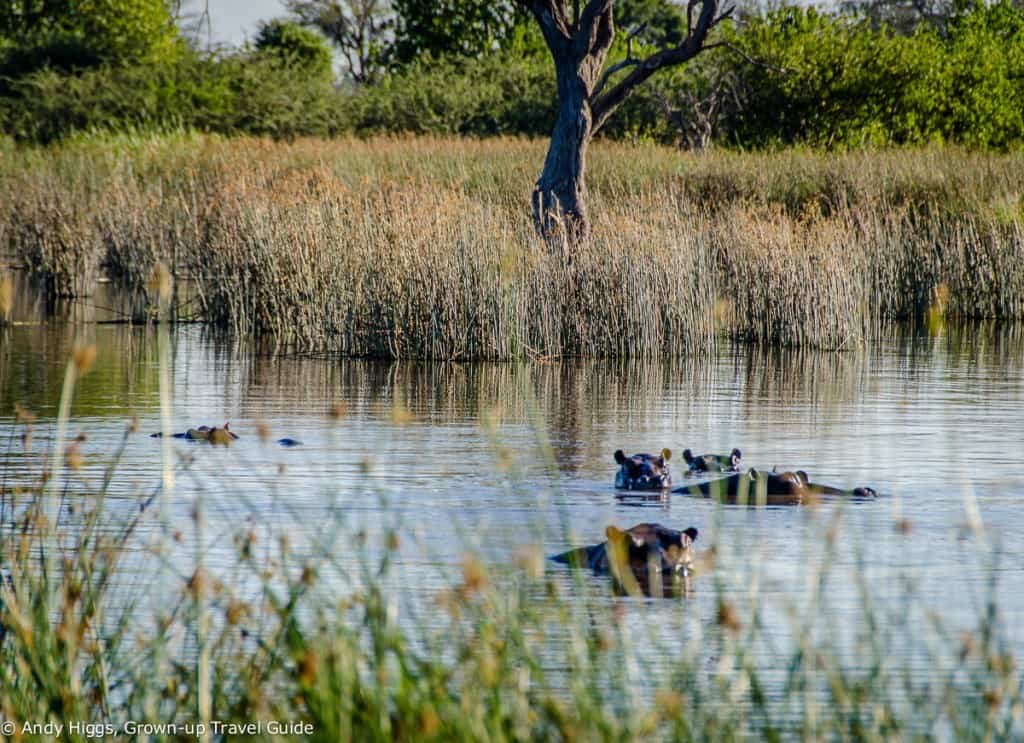 Ever get the feeling you're being watched?
From the enormous hippo to the pint-sized but beautifully colourful lilac-breasted roller in the space of ten minutes – Moremi Game Reserve offers plenty of contrasts.
I filmed many – but by no means all – of the animals we saw during our time driving in and just outside the reserve and put it all in a video for you. See how many individual species you can spot and identify – there are a few I still need help naming…
After making a loop around the Khwai airstrip (no planes at the time, just impala on the runway) we met another vehicle. This didn't happen often at all so we exchanged information, and learned that they had seen two lions not ten minutes away.
Kenny wasted no time and we set off in the direction they had come from through the mopane forest and before long we saw another jeep parked just by the edge of the track. We could also make out what they were watching – a beautiful male lion, hiding in the shade from the intense heat.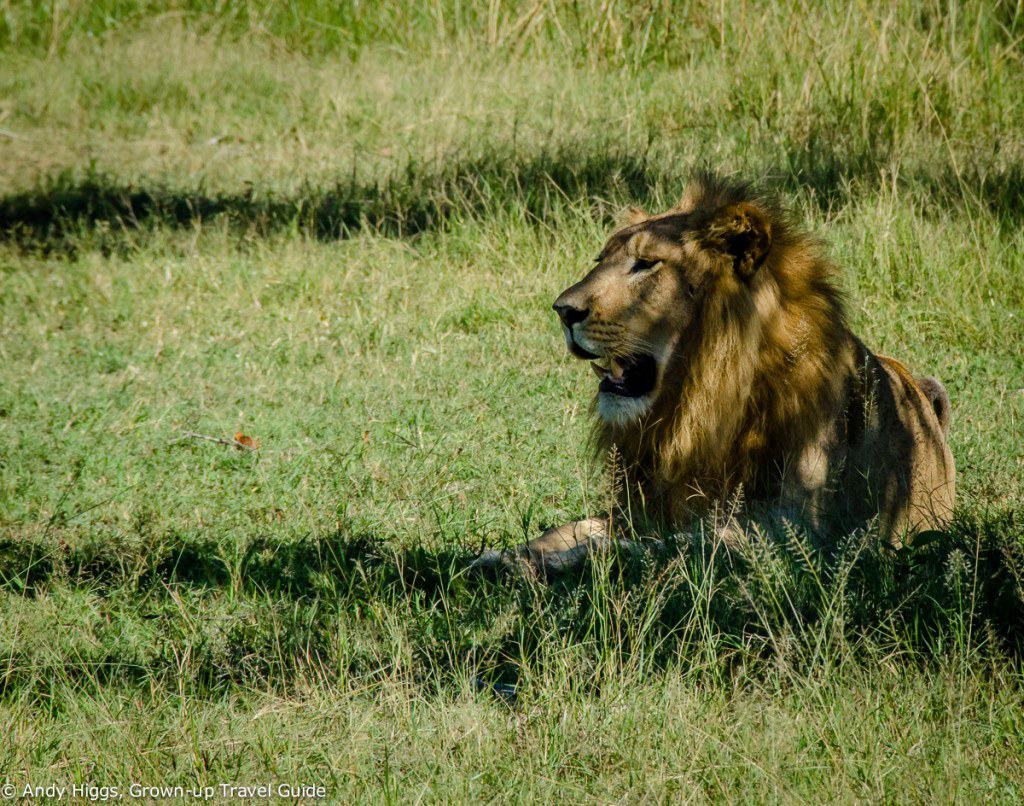 We pulled up behind the other vehicle, shut off the engine and began taking the first of a thousand photos. Each.
Even though he stubbornly refused to move into a better-lit area it was still an occasion where the overly and often incorrectly used word "awesome" could be properly applied. A second lion was concealed behind a nearby bush and we only saw him when the first one went over to his buddy. They then sauntered off into the forest and away from the track, so our audience was over. It was one of the closest encounters I have had with a lion and was a incredible experience; we were lucky to have got there when we did.
Nothing can be guaranteed on safari – although it has to be said the odds are in your favour in Botswana. But that's what makes it exciting – no two days are ever the same.
Coming face-to-face with lion seemed like an appropriate high note on which to end the afternoon and it was indeed time for us to drive to Hyena Pan, the lodge where we were to stay for the next two nights.
Leaving the reserve the same way we entered it, we stopped for lunch at a different picnic site at North Gate before heading over the pole bridge and on through the village of Khwai to the road north.
Before long we turned off the main road and onto a sandy track that would take us to the lodge. About forty minutes later we arrived, to be greeted by the staff singing a welcome. After unloading our bags we got our first look at this gorgeous property with its perfect location – right on a waterhole (the 'pan' of the name) regularly visited by elephant and giraffe. Collapsing into a comfortable sofa with an ice cold beer, we could just sit there and watch as our first guest arrived.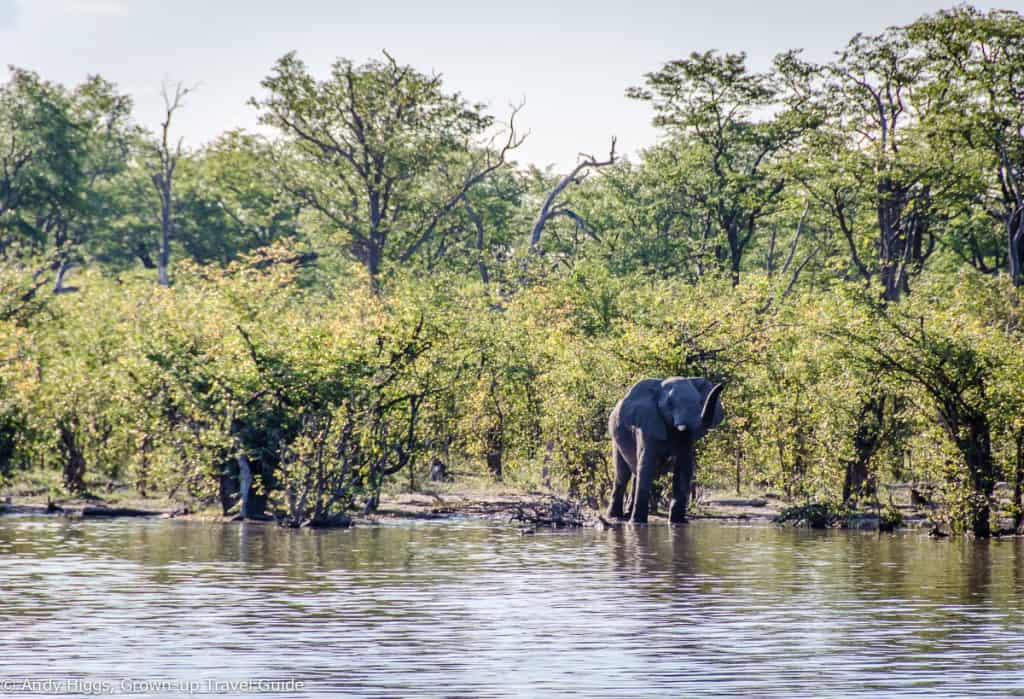 We clearly passed the test, as he went off and brought his family and friends.
They weren't backward in coming forward, either – seemingly unbothered by our presence just a few metres away.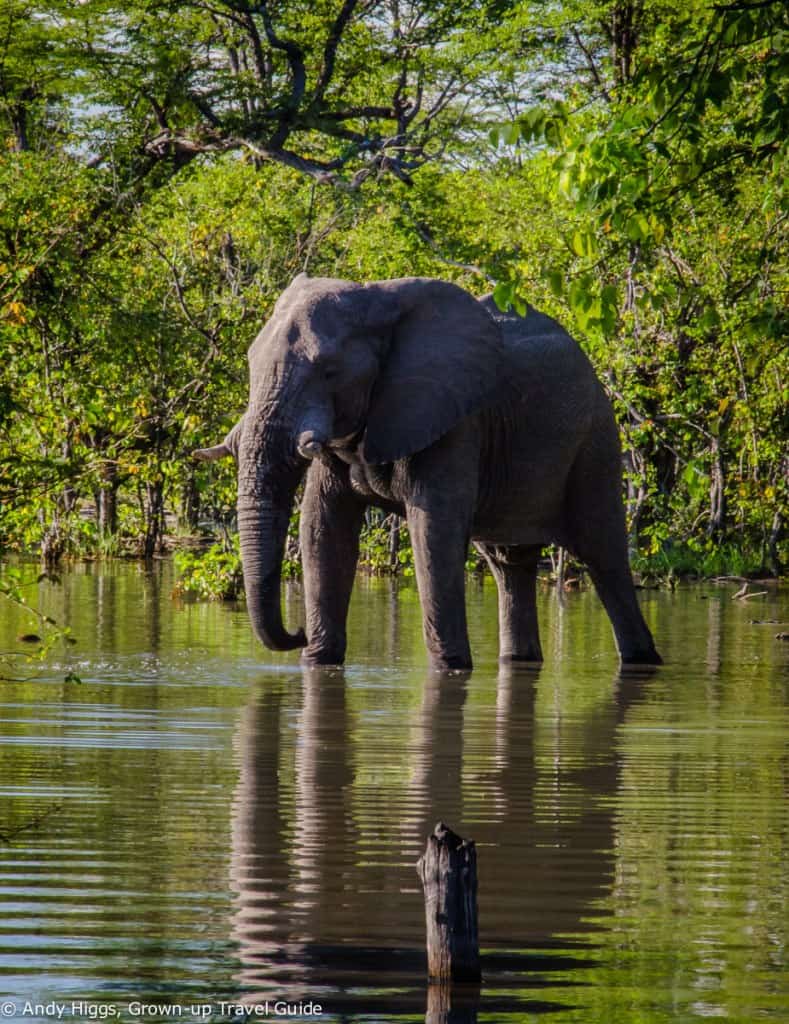 One of them wandered over to have a look at our tents, too.
Before long it was time for dinner – but Hyena Pan deserves an article all of its own. So I'll leave you here as we enjoyed sundowners on the terrace – check back soon for a full review of the lodge and a round-up of our last couple of days in Botswana.
Like what you've read so far? If you haven't already done so, sign up for our email newsletter (use the box on the right at the top of the page). You'll then be the first to hear about our small group tours where you can join me and Sunway Safaris in southern Africa – including everything here in Botswana and much more besides!