Andalusia is one of Spain's prettiest regions.  Boasting hills, rivers and lots of farmland.  The architecture comes with a rich history.  This is not a destination for holidaymakers looking to party, it is a place of culture to soak up the arts and discover stories hidden within it's beautiful people and atmospheric back drops.
Set above a deep gorge you will find the city of Ronda. There is a huge contrast between the capital of this country, Madrid, and the beautiful hidden qualities of this fascinating city
Ronda is a very beautiful ancient city with enormous visual and cultural appeal.
It has a rich architectural and historic heritage which spans the ages from Julius Caesar, who first declared it to be a city, to the present day.  Known as Achinipo in Roman times, this city offers rich opportunities to all those who seek a source of artistic, aesthetic and cultural inspiration.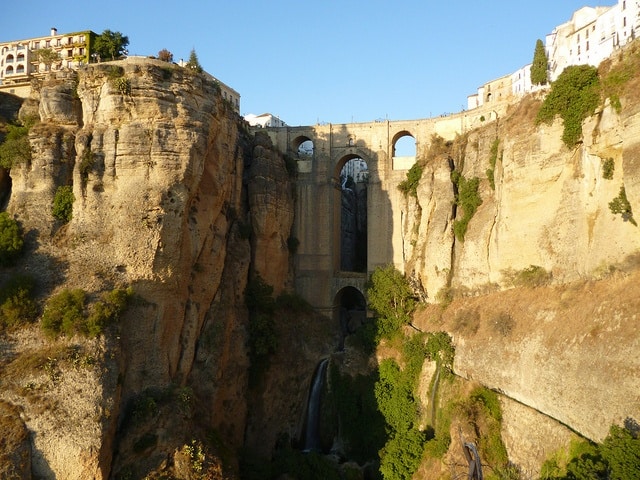 Perched on top of two huge rocky outcrops the ancient and more modern parts of the divided city are joined by the towering Puento Nuevo or New Bridge.  From this elevated position Ronda overlooks the magnificent El Tajo gorge offering views of a stunning natural environment. In the spring months the valley floor is carpeted in flowers. The clarity of colour intensified by the Spanish sunshine and renowned quality of light.
The Puento Nuevo, which was completed in 1793 took 47 years to build. It is an amazing example of ingenious engineering daring do, skill and human endeavour. The bridge straddles the crevasse in an elegant contrast to the eroded surface of the surrounding rock face. A river runs underneath, cascading down in a waterfall to the valley floor below and the beautiful roman ruins such as the amphitheatre and superbly preserved arched 13th century Arabic baths.
Elegant 16th and 18th century architecture, such as the bullring which is one of Spain's oldest and best preserved examples, ecclesiastical and contemporary buildings sit side by side.  The Moorish Mondragon Palace is now a museum which holds a broad range of interesting historic artefacts especially jewellery and funereal objects. The beautiful gardens are a tranquil oasis.
Image from Bud Ellison
Descalzos Viejos is a 16th century monastery that has been converted into a bodega that offers private winery tours. A refreshing break perhaps from those cultural and artistic challenges.
Photographers and painters will revel in the views and visual contrasts between ancient eroded stone and man-made constructions. In the beauty of the natural environment, the local caves, tumbling waters and crystal clear pools. Bathed in sunlight, especially at dawn and sunset  colours shimmer.
Sculptors , designers and architects will find the sheer scale of the surroundings, the textures of natural surfaces, crumbling ruins, winding terraces, water movement and architecture intriguing.
Landscape gardeners, textile designers, jewellery designers will all find this place inspiring and full of inspirational source.
A visit to Ronda should be on every creative persons must do list, professional and student alike.