Are you planning on backpacking in Dubai? Then you'll no doubt want to know the things you can do in the city on a budget. Take a look to find out.
Are you planning on backpacking in Dubai? Then you'll no doubt want to know the things you can do that won't cost you an arm and a leg. The city may be lavish but if you do your research, you won't need a wealthy bank balance to boot. Here you can discover how to make the most of the beautiful city without forking out a fortune.
Study History at Dubai Museum
Dubai Museum is the oldest building in the city, and it costs absolutely nada to go and discover what life was like in Dubai many years ago. What was once a small pearl diving and trading community is now unrecognisable. A true must-visit if you wish to learn the ancient history of Dubai and its original heritage.
Make the Most of the Public Parks
Contrary to what you might believe, Dubai is more than just skyscrapers and shopping malls. Al Safa Park is one of the most popular public spaces in the city, and it's no wonder why. It's home to plenty of picnic and barbeque areas, making it the perfect place for you to stop and have a bite to eat, as well as take in the spectacular views.
Al Safa Park costs just 3AED to visit and is an old favourite of the residents. Be sure to visit it as well as the many other green spaces and parks that Dubai has to offer.

Bettyx1138 under CC by 2.0
Shop at the Souks
Whilst Dubai is home to the biggest shopping mall in the world, Dubai Mall, it's hardly the place to go if you're on a budget. However, you should go along for the experience! But, if you actually want to buy something, perhaps a memento for yourself or a present for someone back home, head to the Creek. Here you'll find souks galore, where you can buy gold, spices, pashminas and perfumes.
Just remember to haggle hard. It may be daunting but it's the only way to pick up a bargain! If you need some haggling tips to help you, take a look here.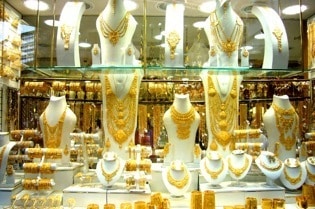 Theodore Scott under CC by 2.0
Visit Jumeirah Mosque
The city's largest mosque is open to the public and non-Muslims, providing a fantastic opportunity for people to learn all about Islam and Emirati culture. Jumeriah Mosque is an extraordinary piece of Islamic culture that hosts question and answer sessions and tours by the Sheikh Mohammad Centre for Cultural Understanding, 6 days a week.
Be sure to visit this impressive place of worship whilst travelling around Dubai and take a camera with you. Surprisingly, you'll be able to use it inside!

Susanne Nilsson under CC by SA 2.0
Stay in Cheap Accommodation
It's all about finding the perfect balance. Don't slum it, but don't pay a ridiculous amount either. Whilst it would be nice to stay in a swanky hotel, you can stay in self-catering accommodation in Dubai's most sought after locations, including Dubai Marina and Jumeirah Beach Residence, at affordable prices. That way, you can save a bit of money for dining out in the city!
At My Dubai Stay, you can rent one bedroom accommodation in Dubai for as little as £80 per night. Book today and be guaranteed an enjoyable stay, without paying through the roof, whilst holidaying in this stunning city.