This is an article by Kristin Addis
In our everlasting quest to inspire and inform Grown-up Travellers we present the latest in our series of articles containing ideas for alternative things to do and see in well-known destinations. This time we've brought in some expert outside help in the form of guest writer Kristin Addis and we've widened our net to include ideas for an entire country…
Finally getting round to San Marino?
Er, not yet, no. A little further east…
The beauty of Baku?
We could be here all day. No, it's the land of smiles – Thailand. You know, where I just got back from.
Neat. And I thought you just randomly published stuff here…
Ahem…well let's just say the phrase "happy coincidence" may well apply. Anyway, moving on…
5 things in Thailand you can show off about on your return*
* if you do all 5, you should definitely have grounds to show off…but feel free to pick and choose.
Bangkok is a perfect place to use as a hub from which to explore this part of Asia. With cheap flights from House of Travel allowing low-cost entry, Thailand is an excellent starting point.
Over to you, Kristin…"It's no secret that much of Thailand has quickly grown from an exotic holiday destination to a full-blown tourist trap. While it may be difficult to find enriching cultural and off-the-beaten-path activities in this country, it's not impossible. There are still plenty of things that one can do here that can't be done anywhere else, and quite possibly haven't been experienced by any of your friends or family.
Meditate with Monks at Wat Suan Mokkh
At some point most young Thais spend a year or so living as a monk in order to better understand their Buddhist roots. Several wats (temples) in Southeast Asia provide an opportunity for foreigners to do the same, usually for a minimum of ten days. Wat Suan Mokkh involves ten days of silence, waking at 4am each day, meditation through most of the morning, afternoon, and evening and complete disassociation from reading, electronics, and the outside world in general. While challenging, this provides an amazing opportunity to get off of the typical tourist trail.
Climb to the Lagoon in Railay Beach
Image (c) Be My Travel Muse – Kristin Addis
Many tourists head to Krabi -or even Railay – to climb the mountains or bask in the sun. However, few attempt the climb to the lagoon from just under the lookout point in Railay. Though not a simple ascent – the trail is often very muddy and quite steep – the route through the Jursassic Park-esque jungle and the reward of the glowing lagoon at the bottom make this an exciting afternoon activity.
Photo credit: plusgood via photopin cc
Make sure you're in good physical condition as well as in the mood to get muddy and swing from ropes before taking on this challenge.
Find the Quiet Northern Tip of Koh Phangan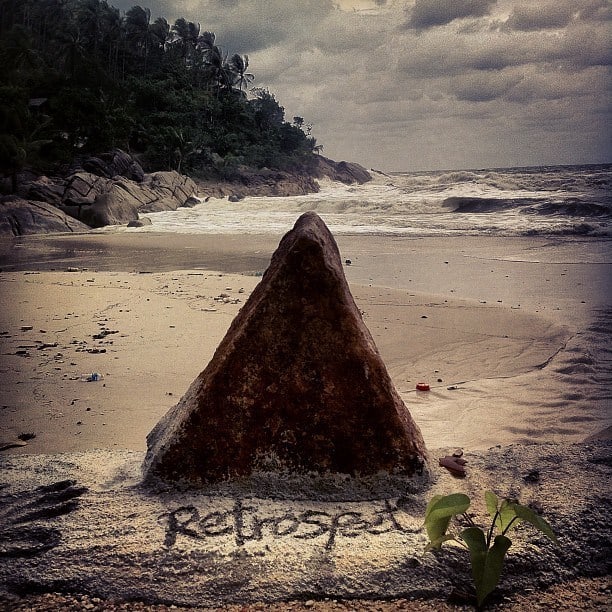 Image (c) Be My Travel Muse – Kristin Addis
Most people hear Koh Phangan and immediately think of the Full Moon party in Haad Rin. While this is probably now the most identifiable aspect of the island, there is a lot more here than meets the eye…indeed the northern tip of the island is quite secluded and has barely changed in the past decade. With just four sets of bungalows and accessible only by boat, Bottle Beach is a great place to holiday away from the raucous crowds.
Ride a Bike Around Sukhothai
Image (c) Be My Travel Muse – Kristin Addis
Many tourists in Thailand head to Ayutthaya and completely bypass Sukhothai, Thailand's first ancient kingdom. With better-preserved ruins and fewer tourists, Sukhothai rivals Angkor Wat in terms of beautiful ancient architecture. Starting early in the morning and taking a bicycle around the ruins almost guarantees a peaceful day in Sukhothai's old town.
Find a Secluded Beach in Khao Lak
Image (c) Be My Travel Muse – Kristin Addis
Most of Khao Lak looks like a tourist trap – everyone from backpackers to resort dwellers occupy the beaches here almost all year round. It has bounced back quickly despite being the area in Thailand hardest hit area by the Tsunami in 2005. The main drag of town is populated by a ton of tourists, McDonald's and suit making shops. Fortunately, heading 10-20 minutes north by motorbike or car pretty much guarantees a secluded beach. It is one of few areas where one can get away from tourists so quickly and easily."
About our guest author:
Kristin Addis is the Chief Blogette at Be My Travel Muse – a website geared towards independent women travellers who like to head off the beaten path in Asia and Australia. She is a former investment banker and now travels and shares her budget plans around the world, exploring off-beat destinations.